The barns at hamilton station: Review and tasting notes
My latest Virginia winery field trip brought me to The Barns at Hamilton Station, located in tiny Hamilton, Virginia, just ten miles west of Leesburg.
In 2017 The Barns at Hamilton Station won the Virginia Governor's Cup (Virginia's foremost wine competition) with their 2014 Cabernet Sauvignon, marking the first time the award has gone to a winery in Loudoun County.
Proprietors Andrew and Maryann Fialdini are only the third owners of The Barns property.
I wondered about the name (The Barns at Hamilton Station), and then it hit me. There are barns (plural) on the property, and they are located less than a mile from Hamilton Station, a former stop on the old Washington & Old Dominion Railroad.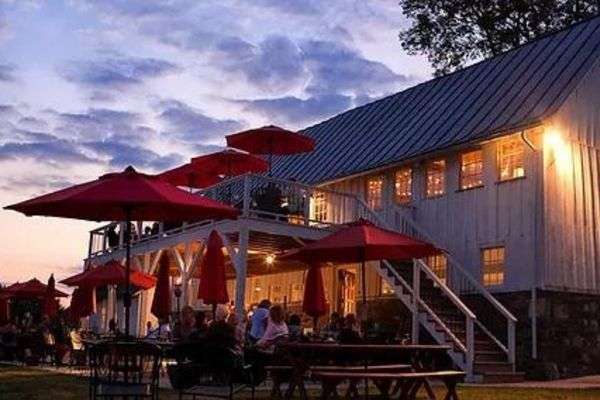 The property consists of 11 acres, two of which are under vine — planted to Petit Verdot and Viognier.
The Barns At Hamilton Station sources most of their grapes from vineyards in Hillsboro, Shenandoah, and Charlottesville.
For terroir sticklers, the grapes for the winning 2014 Cabernet Sauvignon were sourced from Charlottesville — from mostly Carter's Mountain with some additional fruit from Mount Juliet vineyards. At present, winemaker Michael Schaps (based out of Charlottesville), produces about 3,000 cases per year for The Barns, and the wines are only available at the winery.
The Tasting Room At Barns At Hamilton Station
The tasting room is inside the beautifully restored 107 year old bank barn, built in 1910.  This place has some history! Speaking of history, while rounding out my research for this article fell down a rabbit hole of interesting Virginia facts. You're welcome!
All of the floors are original, and the tables in the tasting room are made from reclaimed barn wood. The massive and spectacular chandelier is made out of repurposed wine barrel staves.
In a stroke of repurposing genius, the front of the tasting bar is made out of the original pig pen roof.
I love the patina on this. How can I incorporate a vintage pig-pen roof into my house?
The Fialdini's have done a terrific job preserving, displaying, and repurposing the many historical and architectural relics found on the property.
For those of you who enjoy the occasional cigar, The Barns has a Cigar Cave, which is a stop along the Virginia Wine & Cigar Trail. Yep, that's a thing. Who knew?
The Barns At Hamilton Station Wine Tasting
I was hoping to taste the 2014 Cabernet Sauvignon, but they are completely out of it. The Virginia Governor's Cup competition requires wineries to reserve fifty cases of each wine they submit for marketing purposes.
By the time The Barns scraped together that quantity, they didn't have any left. Ultimately, a good problem to have.
The Barns 2014 Chardonnay /86 points
100% Chardonnay sourced from the Wild Meadow vineyard in Hillsboro. Aged for 3 months in French oak and 6 months in stainless steel. Crisp, with flavors of citrus and green apple. A racy acidity holds everything together.
The Barns NV Bliss /85 points
A blend of equal parts Chardonnay and Viognier plus 17% Riesling.
Fermented in stainless steel. The Riesling is a supporting character, but very apparent, bringing a cohesive acidity to the blend. Loads of apples, stone fruits and citrus.
The Barns 2015 Viognier /85 points
This wine wins for distinctiveness. Fermented and aged in stainless steel. Lately, my palate finds Viognier a bit flabby, but this one has piles of citrus and acid. If I had smelled this wine blind, I might have called it a California Sauvignon Blanc.
Super interesting. I couldn't help but buy a bottle.
The Barns 2015 Bank Barn White /83 points
A blend of Vidal Blanc, Traminette, Petit Manseng (aged in oak, all others in stainless), Rousanne, Riesling and Chardonnay.
An easy-going fruit basket of wine. Slightly sweet at 2.7% residual sugar. Not my thing, but folks who like sweet(er) wines will love this one.
The Barns 2014 Bank Barn Red /84 points
A blend of Chambourcin, Syrah, Petit Verdot, Malbec and Cabernet Sauvignon. Fruit forward (a basket of berries) and uncomplicated, with nearly invisible tannins.
The tasting room often chills this wine and serves it cold. It would make a super sangria, too!
The Barns 2014 Cabernet Franc /86 points
A blend of 82% Cabernet Franc and 18% Cabernet Sauvignon. Aged in French oak. Abundant tobacco and old leather, spiced cranberries and white pepper. I really wanted to take a bottle of this wine into the cigar cave and drink it there!
The Barns 2013 Merlot /84 points
100% Merlot. Aged for 10 months in French and American oak. Cherry, tobacco, cranberry, and earth. A bit tart, perhaps, but amiable nonetheless.
The Barns 2014 Malbec /84 points
Made in the French style (contrasting the jammy Argentine expression). Grapes were sourced from Hillsboro.
Aged for 6 months in oak and 3 months in stainless steel. Fairly light bodied, yet quite tart and tannic, with notes of blueberry and violets.
The Barns 2014 Petit Verdot /86 points
The grapes for this wine were sourced from Charlottesville. Blackberries, blueberries, sage, violets and lilacs. Dense, but smooth tannins. Very enjoyable.
The Barns 2013 Meritage /87 points
A blend of Cabernet Sauvignon, Cabernet Franc, Petit Verdot (dominant), Merlot and Malbec. Aged for 18 months in French oak. Bright fruit, cocoa, baking spices. Well balanced with integrated tannins. A bottle of this came home with me. $32.
The Barns 1910 /84 points
Named for the year the bank barn was built (I love it!). 100% Chambourcin, aged for 14 months in French oak. 6% residual sugar and 18% ABV.
Chambourcin is a hybrid grape of unknown parentage, and admittedly not one of my favorite grapes — most Chambourcin tastes like herbal Nyquil to me.
1910 is a pleasant wine, but it's a bit medicinal for me (it's the Chambourcin). If someone broke out a cigar, though . . .
The Barns At Hamilton Station Bottomline: A comfortable and cozy spot to spend an afternoon.
If the weather isn't ideal, the barn is warm and dry. If it's nice outside, there are plenty of spots to sit a spell and relax with a glass of very good wine.
For those of you who like destination biking, The Barns would make an excellent rest stop along the Washington and Old Dominion Trail route.