The Paella Wine Pairing to make your Spanish friends proud (plus tips to make the perfect Paella)
Looking to impress your friends and family with your culinary skills? Want to take your taste buds on a trip to Spain without leaving your kitchen? Look no further than paella, the beloved Spanish dish that's as versatile as it is delicious.
I apply the same paella pan ownership philosophy to that of horse or boat ownership. It is a far better plan to have a friend own the paella pan. Because that friend would almost certainly make you paella.
Then, your only task would be to find the perfect paella wine pairing. We can tackle that.
We've got you covered with the ultimate guide to pairing wine with paella.
"This wine knocked my socks off — reminded me of a baby brother to Unico. So rich and expressive, and absolutely killed it with the paella."
And if you're lucky enough to find yourself traveling in the Iberian Peninsula be sure to check out this article recommending some of the best places to eat paella in Seville!
So grab a glass (or a bottle) and let's dive in!
Comment Below With Your Favorite Wine Pairing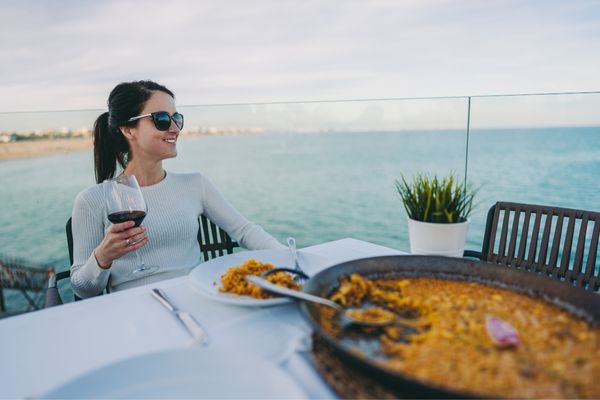 I have a friend that makes an insane paella, so I asked said friend to make paella . . . and I volunteered to bring a couple bottles of Spanish wine to go along with it.
I have some very good family friends from Spain who shared the secret to a good paella — don't overcook the rice.
It sounds like a simple thing, but a potentially great paella can be totally ruined by a big clump of mushy rice. Some (our Spanish friends) prepare paella on the grill. You really should smell this when it's cooking.
It's hard not to fall in love with Spanish wine. It's a very special, very diverse wine region of the world. I suppose they all are though.
Paella Wine Pairing From Spain's Duero Valley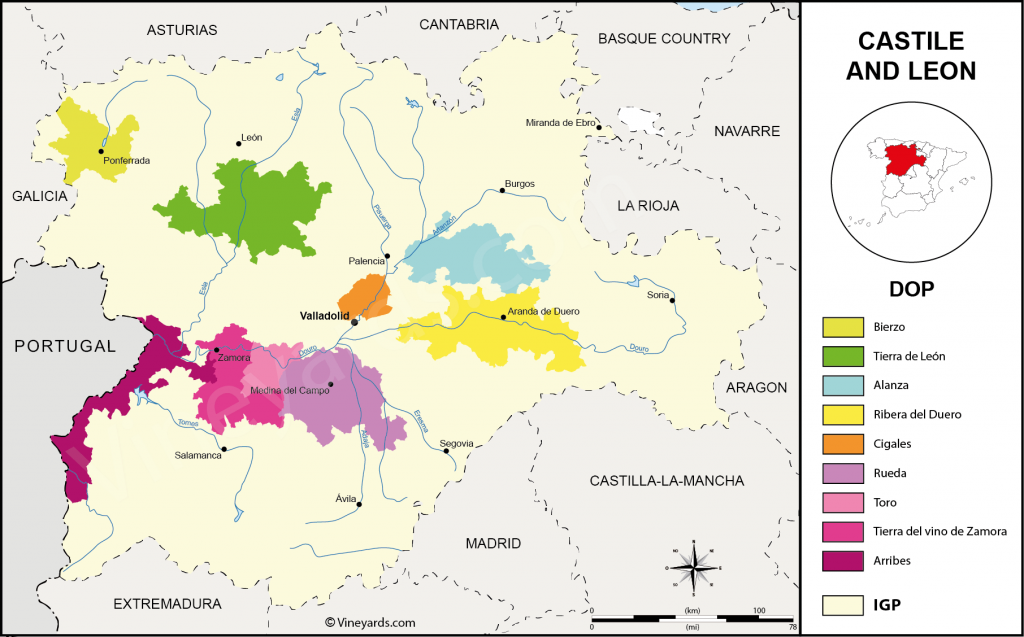 The wines served were from the Duero Valley in Spain. One from Ribera del Duero and the other from Rueda.
The two regions are neighbors, just to the north and west of Madrid. Together, the region is sometimes referred to as Ribera y Rueda.
Wines from Ribera del Duero fall under the very technical category: So Freaking Good.
Ribera del Duero sits on a plateau, divided by the Duero River (the water source for the valley). The climate in Ribera del Duero is harsh continental, with its searing summer heat (I've visited this part of Spain in the late summer, and it's only about 6 degrees cooler than the surface of the sun) and bone-chilling winters.
Most of the wines in Ribera del Duero are Tempranillo based (one of the best wine grapes on the planet).
Surprisingly, Ribera del Duero didn't earn their DO status until 1982. According to DO regulations, Tempranillo must make up a minimum of 75% of all red wines.
The balance can be a blend of Cabernet Sauvignon, Merlot, and Malbec with up to 5% Albillo or Garnacha.
Locally, Tempranillo is called tinto fino or tinto del país (to differentiate it from the Tempranillos of Rioja).
Paella Wine Pairing- History Of The Verdejo Grape
The Verdejo grape originated in Northern Africa and was brought to Spain sometime around the 11th century.
It was largely forgotten for centuries, but revived in the 1980s by Marques de Riscal. Today, somewhere around 90% of the grapes grown in Rueda are Verdejo.
Aside from a few very scattered plantings around the world, Verdejo's true home is Rueda, so if you find yourself with a bottle of Verdejo, you're drinking something very unique.
Verdejo is ideally suited to Rueda's harsh continental climate, with super-hot summers and brutal winters. Another plus? Rueda has large diurnal temperature swings (the difference between the day's highest temperature and the night's lowest temperature). This is important because the high temperatures allow grapes to ripen fully, while the low temperatures preserve a grape's acidity.
According to DO regulations for Rueda, wines labeled Rueda must contain at least 50% Verdejo, and can be blended with Sauvignon Blanc and Viura. Wines labeled Rueda Verdejo must contain at least 85% Verdejo, and are often 100%.
Paella Wine Pairing- Protos Verdejo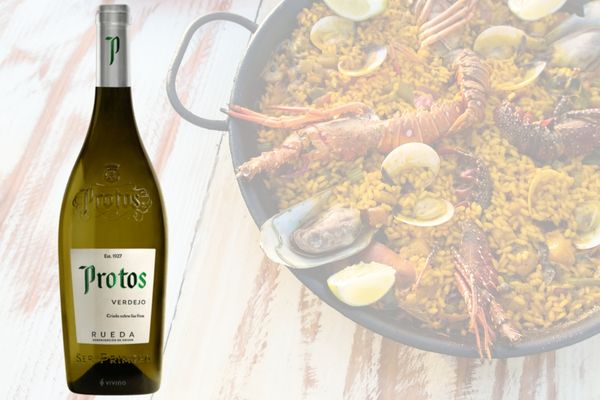 Protos comes from the Greek word for first, and Protos was the first winery founded in the Ribera del Duero region. This wine is 100% Verdejo.
The grapes are harvested at night. ¿Muy interesante, no? It's still quite hot (an understatement) in Spain in September, and if the grapes burst open during picking during daytime temperatures, then oxidation can begin immediately, which is generally a bad thing (unless you're going for Sherry).
Flavors of green apple and citrus, evolving slightly toward the tropical on the finish. Lean and refreshing, with a razor-sharp acidity. A surprise guest-appearance by basil on the finish. Overall, it reminded me of Pinot Gris with a backbone. And it's cheap, too. This is a €6 wine in Spain. $15ish in the USA.

Buy Now On Vivino


Buy Now On Wine.com

Paella Wine Pairing- Finca Villacreces Ribera del Duero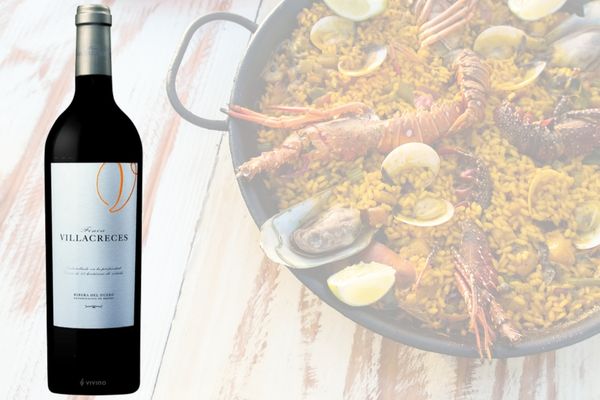 For many centuries, Villacreces was a retreat for Franciscan monks. Its neighbor is Vega Sicilia, arguably the most famous winery in the region (if you've ever had the outrageous pleasure of drinking a bottle of Unico, you know why).
The land passed to private hands in 1836, and is today owned by the Familia Anton, who also own the Michelin-star restaurant, Zaldiaran, in the Basque Region.
A blend of 86% Tempranillo, 10% Cabernet Sauvignon, and 4% Merlot. Aged 14 months in new French oak.
This wine knocked my socks off — reminded me of a baby brother to Unico. So rich and expressive, and absolutely killed it with the paella.
There's so much going on in the glass . . . blueberries, chocolate, vanilla, graphite. Smooth and balanced, with a finish that goes on for over a minute.
This wine is going to do great things after a few years in the bottle. Retail = $30ish.

Buy Now On Vivino


Buy Now On Wine.com

Both wines were muy simpático with the paella, but highly capable of standing on their own, as well.
Here's to the fantástico wines of Ribera y Rueda . . . and to not owning a paella pan!
Paella Wine Pairing FAQ
What wine goes good with paella?
We would suggest choosing a wine from the Duero Valley (just north of Madrid). We paired our paella with Protos Verdejo and the Finca Villacreces Ribera del Duero. Safe to say our Spanish friends were impressed.
What do Spaniards drink with paella?
It's so easy to pair paella with a rosé or Rioja. To make things interesting, try Protos Verdejo and the Finca Villacreces Ribera del Duero. We absolutely guarantee rave reviews. Like, seriously.
What is paella usually served with?
It's best to serve paella with grapes, of the fermented variety. If you're referring to food pairing, veggie dishes are always good to serve with paella. They tend to be lighter side. Make an easy garlic roasted green beans. Toss in olive oil, garlic and lemon. Chef's kiss!
Is there wine in paella?
Wine is used in paella. Cooking should be done with decent wine. You could use one of the wines we are serving with dinner but I would max out at $15 for the "making" wine.
What red wine goes with seafood paella?
We served Finca Villacreces Ribera del Duero and our Spanish friends lost their minds. We'll tell you where you can buy it.