No Rules, Best Wine For Sangria (plus 7 recipes)
pssst… the Tempranillo recipe is my favorite
For those of us in search of the perfect summer cocktail, nothing quite beats a cold, fruity glass of Sangria. Everyone seems to have their own best wine for Sangria recipe… but I like to think the best part about Sangria is that there are no rules.
While choosing the best wine for Sangria is not an exact science – I've gone ahead and done the hard work of experimenting with different flavor combinations that I think work best together.
Feel free to experiment with your own – there are no wrong answers!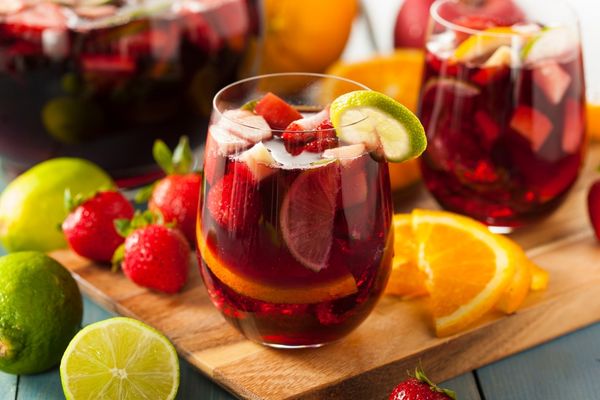 What Is Sangria Vs Wine?
Sangria is an alcoholic punch made typically with red wine and fruits. Red wine Sangria is a wine cocktail originally from Spain and Portugal.
Some recipes incorporate sugar, fruit juice, and/or soda water, along with spirits such as brandy or flavored liqueurs.
While the locals of these Iberian countries don't consume much red wine Sangria (or white wine Sangria for that matter), it has gained a following with tourists.
There's no set recipe for Sangria, and nowadays it's quite common to see this vibrant wine cocktail made with white or rosé wines.
Best Wine for Sangria – White And Rosé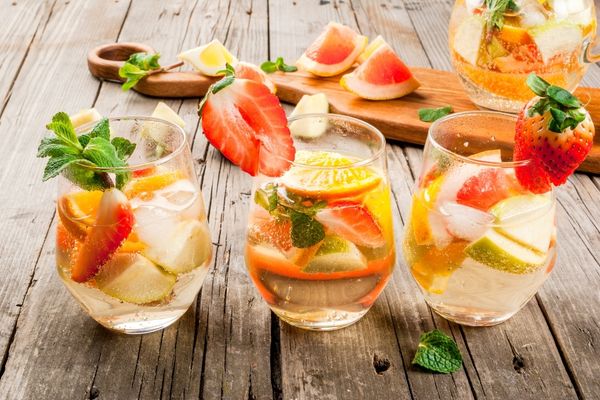 While some say the best wine for Sangria is red wine, and is the classic choice, there's nothing wrong with using summer white or rosé wine.
In fact, I think the natural fruitiness found in these wines actually lends them to being a better suited wine for Sangria.
Vinho Verde (Portugal) Casal Garcia, Vinho Verde N.V.
If there's one thing that Portugal is known for, it's their Vinho Verde white blends. Vinho Verde translates to "green wine" and hails from the northern Minho province. This Portuguese wine region is gaining tons of popularity for delicious, vibrant white blends at incredibly low price points.
I suggest you enjoy a glass of this delicious wine solo first, then turn it into a zesty white Sangria!
Best Wine For Sangria Recipe Using Vinho Verde: Orange, black cherry, lime juice, lemon lime soda
White Blend (Spain) Félix Solís, Mucho Más Blanco N.V.
This Spanish white blend combines two notable varietals, Verdejo and Sauvignon Blanc, creating a zippy, herbaceous, and citrus-forward white wine.
The addition of Chardonnay mellows out the acid and offers a little oak – which won't be too noticeable once you combine this refreshing blend with tart fruits and a dash of sugar.
Best Wine For Sangria Recipe Using Félix Solís: Green apple, pear, orange, sugar, pear brandy
Gewürztraminer (Washington, USA) Chateau Ste. Michelle, Gewürztraminer 2019
I love Gewürztraminer, with its peach, lychee and mango flavors, plus subtle sweetness that proves to be wildly refreshing.
In my opinion, it's the best summer wine, making it a great, affordable choice to serve as your next white Sangria. Pair this refreshing wine with tart fruits to balance out the sugar – and send me my invite for your next Sangria party!
Best Wine For Sangria Recipe Using Gewürztraminer: Orange, tart cherries, lime juice, soda water
Rosé Blend (Spain) Félix Solís, Mucho Mas Rosado N.V.
It only seems natural that rosé would make for the perfect Sangria wine. I found this blend to be the perfect combination of fruity, dry, and easy drinking.
Made with Garnacha, Bobal, and Tempranillo, you're guaranteed to get a fruit-forward and refreshing Sangria.
Best Wine For Sangria Recipe Using Rosé: Blood orange, strawberry, lime-flavored soda water
Best Red Wine For Sangria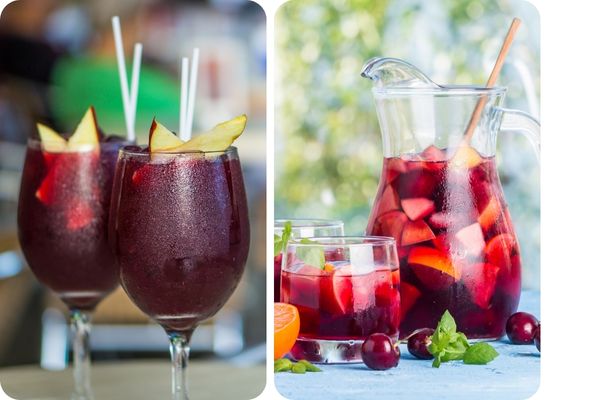 Red wine is the classic choice for Sangria, and since Sangrai hails from Spain and Portugal, it would make sense that wines from those regions would be the best wine for Sangria. However, any fruity red wine would be a good choice.
As Sangria is made by mixing wine with fruit, it's not necessary to break out anything special for this occasion.
Tempranillo (Spain) Campo Viejo, Reserva 2015
Tempranillo is the perfect Sangria wine. Spanish Tempranillos are known for being loaded with bright red and dark fruit flavors, while remaining simple.
Despite their popularity, Spanish Tempranillos still remain a good bargain, making them the perfect choice.
Best Wine For Sangria Recipe Using Tempranillo: Fresh pineapple, strawberries, orange juice, Grand Marnier
Garnacha (Spain) Borsao Bodegas, Tres Picos Garnacha
Second to Tempranillo, Garnacha is a great Sangria choice. Garnacha, or Grenache as it's known in France, is rich with red fruit while being low in acid.
Any Spanish blend between Tempranillo and Garnacha is sure to make for a vibrant, fruity red wine that's perfect for Sangria.
Best Wine For Sangria Recipe Using Garnacha: Orange, red apple, strawberry, soda water, Grand Marnier
Rioja Red Blend (Spain) Bodegas Olarra, Cerro Añon Crianza Rioja 2017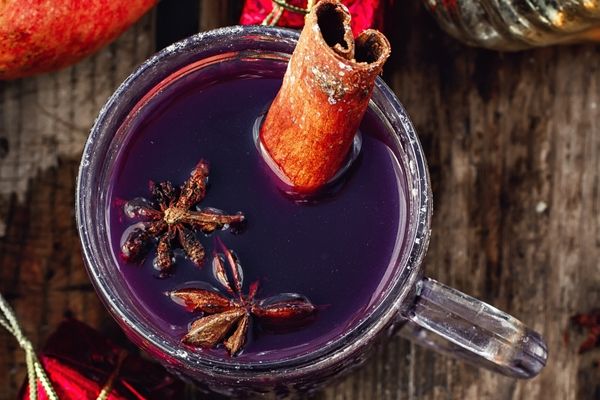 When in doubt, go with a red blend. They tend to be cheaper and have more well-rounded flavors. This Rioja red is a blend of mostly Tempranillo, along with a splash of Mazuelo and Garnacha.
Try experimenting with adding spices in your Sangria, it'll remind you of a sort of summer "mulled wine."
Best Wine For Sangria Recipe Using Rioja: Red apple, blood orange, cinnamon stick, cloves, apple brandy
Pinot Noir (California, USA) Decoy, Pinot Noir 2020
When I think of bright, fruity red wines, I think of Pinot. Low tannins only help us when it comes to building the perfect pitcher of Sangria.
This wine in particular is packed with fresh and stewed red fruits, making it a great choice for a berry-licious Sangria.
Best Wine For Sangria Recipe Using Pinot Noir: Blackberry, strawberry, peach, apple brandy
Best Wine For Sangria – Final Thoughts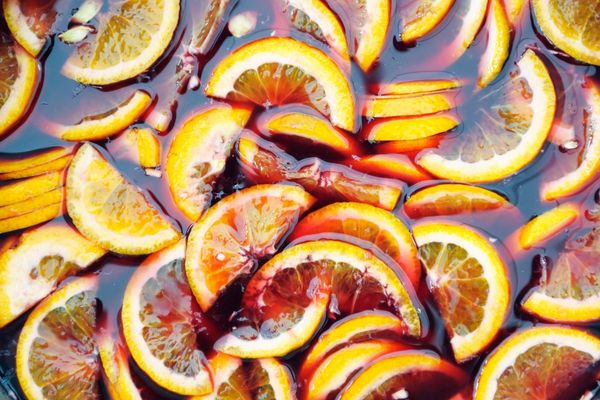 If there are 2 main takeaways that I leave you with, I hope they are don't overthink it and don't spend a lot of money on wines for Sangria – if anything, the wine you already have open will likely make for the best wine for Sangria.
The best part about Sangria is what an easygoing cocktail it is. I often find myself whipping a pitcher together with older opened bottles of wine, fruit from the fridge, and a splash of soda water or fruity liquor (most of the time it's Triple Sec).
While the official best wine for Sangria is up for debate, this writer is a sucker for red wine.
So long as you drink it with friends, it's sure to taste great!
Best Wine For Sangria FAQ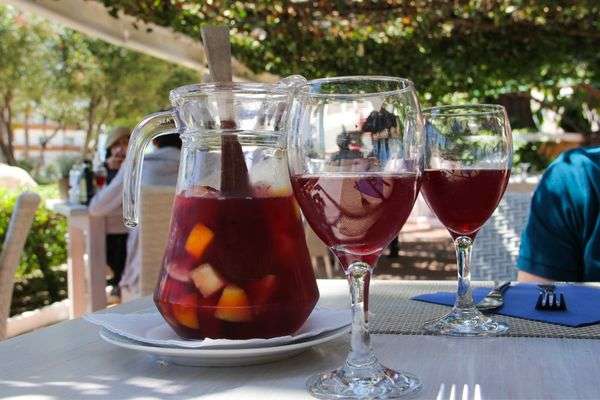 How do I choose wine for Sangria?
Red – When making red sangria, you want to look for something that's fruity with low tannins. 
White – White wines don't usually make you contend with tannins, so most of them are fair game when it comes to sangria. 
Rosé – opt for more fruit-forward pink wines from California or Spain, where rosé is known as rosado.
Sparkling – While Sparkling wine isn't typical in Sangria it can be a good match. Cava is one of the world's great bubbly wine values, but you can't beat Trader Joe's "secco" for $5.99.
What is good cheap wine for Sangria?
These are some of the best red wines for Sangria.
– Rioja
– Garnacha
– Any California Red Blend
– Gamay Noir
– Tempranillo
– Pinot Noir
Is Sangria better with white or red wine?
It's the classic red wine Sangria for me, and it's great for any occasion. Sangria pairs well with red wine, since they're purple and bring out a fruit flavor (add spices in the fall/winter for a mulled Sangria). 
Look for a light to medium-bodied red wine with fruity notes and low tannins to pair with them.
What is traditional Sangria made of?
Traditional Spanish Sangria is made with red wine, water, herbs, spices, and fruit. Today's Sangrias can have a lot of ingredients, and each recipe is different (NO RULES!). Soda and brandy are nice modern additions.