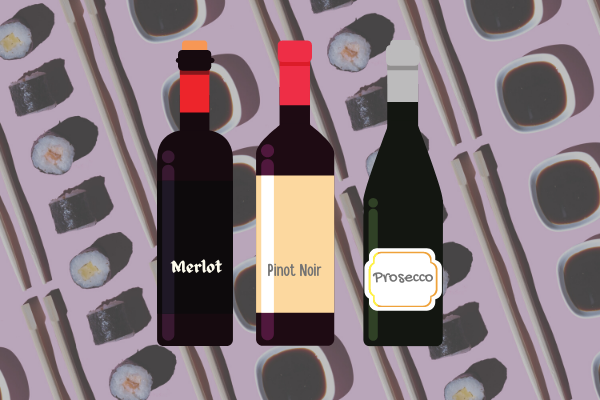 Wine That Goes With Sushi: A Pairing Guide
Before we start, I have a confession to make… when I was still a wee-wino, I used to work at a sushi restaurant. Actually, I've worked at two sushi restaurants. I'm telling you this to inspire confidence, I know my way around a spicy tuna roll.
While sake is the typical go to for sushi pairings, I believe there's plenty of room for wine at the table. So let's get down to business and try to discover the best wines to pair with sushi!
A Quick Tip On Wine And Sushi Pairings
Before selecting the wine you want to pair with your next sushi dinner, use the following as a guide to selecting the best wine:
Type of fish- raw or cooked
Raw seafood loves minerally, high acid wines. Cooked seafood can be complimented by more subtle wines.
Level of spice- mild or hot
Spicy food is best complimented with subtly sweet wines. Mild dishes can be accentuated with bright, fruit-forward wines.
Type of sauce- soy, mayo, sweet, etc.
Soy-based sauces can be complimented with subtly sweet wines. Whereas, sweet sauces or mayo-based sauces are best served with high acid and fruit-forward wines.
Now, if you're like me, there's not a sushi roll on the menu that you won't enjoy! Therefore, I'm going to start with the wines first, followed by what sushi I think they would best pair with.
Best Whites And Roses Wines With Sushi
White wine with fish is classic, but that doesn't mean you can't have a little fun with it. When looking for a white wine to pair with sushi, think bright, citrusy, and minerally.
Chablis (France), Wine: Jean-Marc Brocard, Domaine Sainte Claire Chablis 2020
A big, buttery Chardonnay is all well and good, but Chablis takes that versatile grape to a new dimension. Chablis comes from the Burgundy region of France and is known for having little to no oak flavor. Instead, it's bright, mineraly, citrusy, everything you want in a refreshing white.
Best Sushi Pairings: Nigiri and Sashimi

Find on Vivino
Prosecco (Italy), Wine: Ruffino, Prosecco N.V. 
You can never go wrong with Prosecco. It's bright, low alcohol, bubbly. It will cut through anything fried and add will offer a touch of sweetness to anything spicy.
Best Sushi Pairings: Tempura, Deep Fried California Roll

Find on Vivino
Albariño (Spain), Wine: Santiago Ruiz, Albariño, O Rosal 2020
Albariño is a go to and would work well for almost any sushi dish. It's high acid, bright and loaded with citrus and stonefruit notes. This one in particular is notable for how crisp and clean it is. This would make for a lovely pallet cleanser between rolls and will surely please every guest at the table.
Best Sushi Pairings: Eel Roll, California Roll, Rainbow Roll
Off Dry Riesling (Germany), Wine: Dr. Hermann, From The Slate Off Dry Riesling
Riesling is wonderfully versatile and goes well with so many types of cuisine. I selected an off dry version because that will best counterbalance spicy sushi. It will also bring sweet relief to the person at the table who always eats a whole ball of wasabi on a dare.
Best Sushi Pairings: Spicy Tuna Roll, Volcano Roll

Provence Rosé (France), Wine: Mirabeau, Classic Provence Rosé 2020
While any rosé would work just fine, I chose one from the Provence region in France because they are typically known for being dry, minerally, and fruity. This one in particular has plenty of bright red fruit and citrus notes that will compliment shellfish in particular.
Best Sushi Pairings: Scallop Roll

Find on Vivino
Best Red Wines To Pair With Sushi
While whites are a favorite, you'll always have someone at the table who is a die hard red wine drinker. Sometimes that person is me, so I can't judge.
When looking for the best red wine to pair with sushi, think low tannin, low alcohol, less big, bold, smoke bombs.
Pinot Noir (OR, USA), Wine: Lemelson Vineyards, Thea's Selection Pinot Noir 2018 (Vivino 24.99)
I love Pinot and it's various applications. It's light bodied, low in tannins, and offers bright red fruit notes with enough flavor to satisfy the red wine lovers without assaulting any pallettes.
Best Sushi Pairings: Smoked salmon roll, Fried Salmon Skin Handroll
Find on Vivino
Merlot (WA, USA), Wine: J. Bookwalter, Readers Merlot 2018 (Vivino 20.99)
Okay, not everyone will agree with this pairing, but then again, not everyone that goes to a sushi restaurant will eat sushi. If you're more of a land-eater, then you'll want a red that can stand up against hearty dishes. This Merlot is rich in dark fruit with an earthy backbone. If nothing else you can drink it while waiting for your sushi DoorDash delivery.
Best Sushi Pairings: Vegetable Tempura Roll, Beef Teriyaki
Find on Vivino
Wow, am I on a roll or what? Sorry, that had to be done.
Anyway, I hope by the time you've read through this article I have convinced you that there are plenty of options for nights when you're craving wine and sushi – you don't need to compromise!
The most important things to consider are how spicy your roll is, if the seafood is raw or cooked, and what type of sauce, if any, you will be using.
In the end, Prosecco or Albariño are excellent defaults, but, the most important thing is that you actually enjoy the wine you're drinking!
Taste Wine Like A True Armchair Sommelier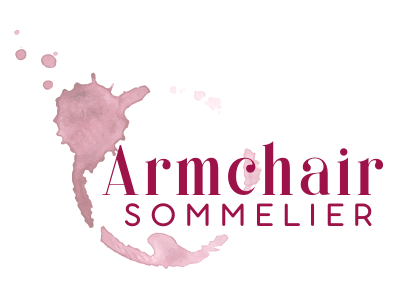 Spice up your next party with our FREE wine tasting guide! Learn what to look, smell, and taste for while appreciating your favorite bottle. We've also included a printable tasting notes template and a tasting wheel.