Our Favorite Wines To Pair With Scallops
There's something special about a perfectly cooked scallop. It's the embodiment of all that's good in the world – it's buttery, creamy, and salty. Scallops also just so happen to be best served alongside my favorite food groups: pasta, cream, cheese, and wine.
Wine and scallops go together like peanut butter and jelly. The buttery texture and brininess pairs beautifully with fruity, acid-centric wines.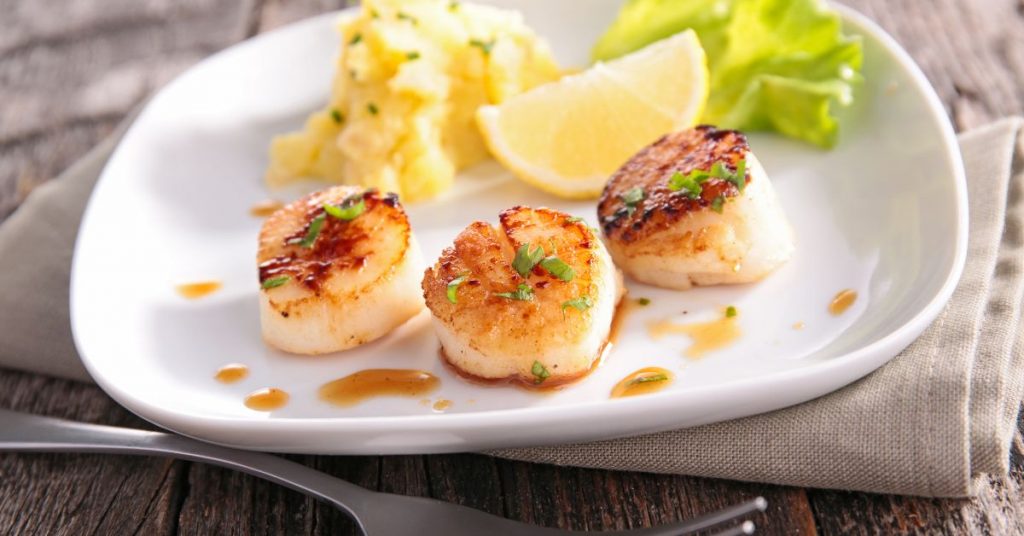 I did the hard work of drinking wine and eating scallops so I could give you guys a comprehensive deep dive into the perfect pairing. Now, I'm here to tell you that it's really quite simple.
A Quick Tip On Wine Pairings With Scallops
White wine is the "rule" when it comes to seafood – but I'm a bit of a rulebreaker. While I do agree that high acid whites are an excellent choice for cream sauces, there's definitely room for red at the table. 
When considering which wines to pair with your scallop dish, use the following as a helpful guideline:
High acid- If the dish is high in acid, it should be paired with a wine greater in acid. Good examples of high acid wines are Albariño, Vinho Verde, or New Zealand Sauvignon Blanc.
High fat- A heavy cream sauce should be paired with either a high acid wine (to cut through the sauce) or a similarly buttery/oily textured wine, such as an oaked Chardonnay.
Accentuating herbs and veggies- Savory herbs or added flavor from vegetables can make more varieties of wine fit the dish. For example, mushrooms or meat served with scallops would lend well to a light or medium-bodied red wine such as a Pinot Noir.
Best White Wine For Scallops With A Bonus Rosé
White wine is a safe bet when it comes to lean seafood. The high acid cuts through creamy sauces without overpowering the delicate flavor of scallops. If high acid isn't your thing, try pairing a creamy sauce with a like-minded wine with an oily mouthfeel.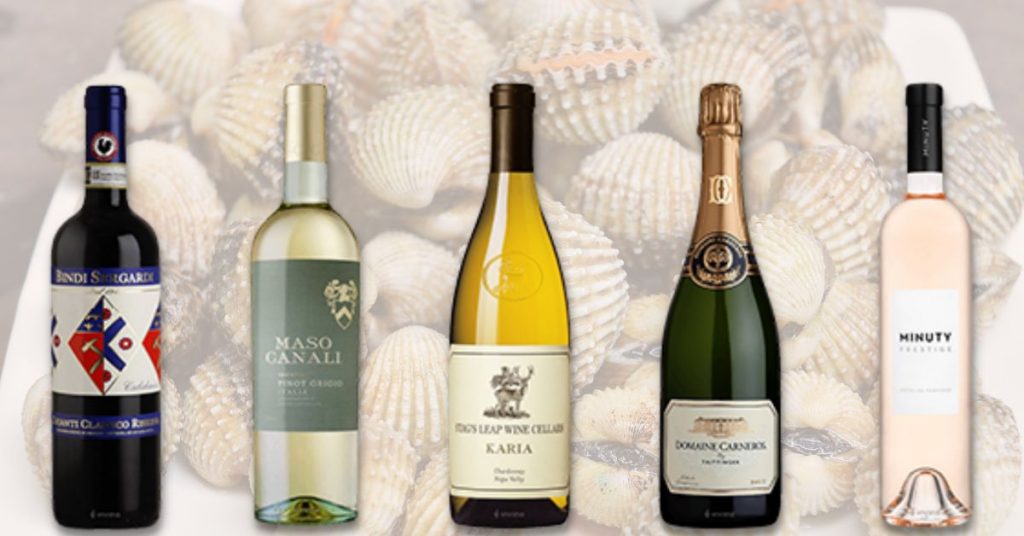 Sauvignon Blanc (New Zealand), Wine: Lake Chalice, The Nest Sauvignon Blanc 2021
A zesty, herbaceous Sauvignon Blanc is a scallop's best friend. Vibrant citrus is met with green vegetal notes. This wine comes from the Marlborough region of New Zealand, the region known for exceptional Sav. Blanc. 
Best Scallop Dish Pairing: Lemon Garlic Scallop Pasta
Pinot Grigio (Italy), Wine: Maso Canali, Trentino Pinot Grigio 2020
Pinot grigio is another go-to choice for creamy seafood dishes. Green apple and lemon pierce through high-fat sauces while not overpowering the dish.
Fun fact: While Pinot Grigio and Pinot Gris are the same grape, the regions where they are made have a lot to do with each wine's unique flavor profile. Pinot Grigio is typically dry with green apple and citrus notes, while Pinot Gris ranges from dry to medium sweet and has more tropical and honey flavors.
Best Scallop Dish Pairing: Scallop Ceviche
Chardonnay (California), Wine: Stag's Leap Wine Cellars, Karia Chardonnay 2019
This is an example of a pairing based on similarities. Creamy, buttery dishes can be paired nicely with full-bodied white wines, like an oaked Chardonnay. California is known for loving its oak, and this one is a perfect example. 
Best Scallop Dish Pairing: Brown Butter Seared Scallops
Sparkling Wine (California), Wine: Domaine Carneros, Brut 2017
You can never go wrong with sparkling – I'm pretty sure that's written somewhere on the bottle… Anyway, sparkling wine is sure to cut through even the heartiest of dishes. The accentuating flavors of toast, pear, and honey make this as good a choice before, during, and after your scallop course. 
Best Scallop Dish Pairing: Coquilles St. Jacques, scallops cooked in a creamy wine sauce with breadcrumbs and cheese
Rosé (France), Wine: Minuty, Prestige Rosé 2020
Rosé is a happy medium, making it a good choice for pairing with a salty scallop dish. The bright acid and subtle red fruit notes make it a good palate cleanser, not to mention a people pleaser. I mean, who doesn't love rosé?
I chose a rosé from the Provence region in France because of its fruity and mineral flavor.
Best Scallop Pairing: Fried Scallops
Best Red Wines With Scallops
Despite common knowledge, red wine can be paired with seafood. I recommend pairing lighter-bodied, fruit-forward red wines with seafood when there are secondary characteristics in the dish that you want to emphasize. Mushrooms, meat, or flavorful sauces can be elevated when paired with reds.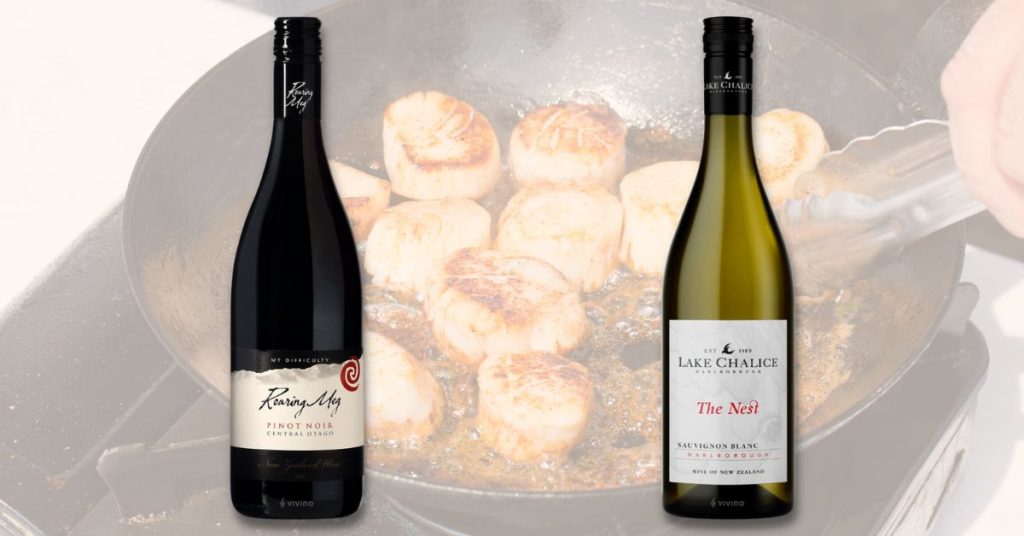 Sangiovese (Italy), Wine: Bindi Sergardi, Calidonia Chianti Classico Riserva 2016
Sangiovese is a high acid, high tannin Italian grape variety that works well with tomato-based, herbaceous dishes. Because of the strong fruit, herb, and earth profile of this wine, it would pair nicely with a dish packed with flavor.
Best Scallop Dish Pairing: Seared Scallops in Creamy Tomato Marinara Sauce
Pinot Noir (New Zealand), Wine: Mt. Difficulty, Roaring Meg Pinot Noir 2018
Pinot Noir is one of my first picks when it comes to red wine and seafood pairing. It's high acid with low tannins, meaning it breaks through creamy sauces while offering a pleasant red fruit flavor that I sometimes prefer to a white wine. 
I chose a Pinot Noir from Central Otago, New Zealand as they are known for making fuller-bodied Pinots. If you wanted a lighter-bodied Pinot, I would recommend one from Chile or Australia.
Best Scallop Dish Pairing: Surf and Turf
I sincerely hope you're craving scallops as much as I am right now – and that you feel more confident to select your next wine to pair alongside your scallop dinner.
One last tip, if you're using wine as an ingredient in your scallop dish, then it's probably a safe bet to serve that bottle alongside your finished dish. Beyond that, high acid and fruit-forward wines are always a safe choice. 
Regardless of which wine you select for your next scallop dish, just remember that the most important rule is that you enjoy it!
Scallop Wine Pairing FAQ's
Taste Wine Like A True Armchair Sommelier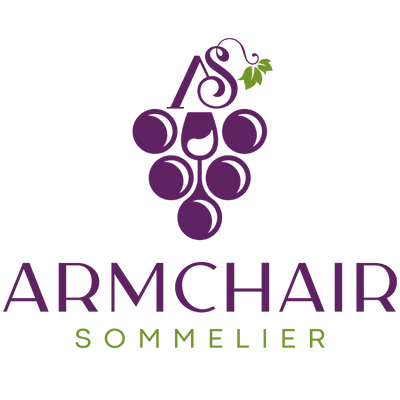 Spice up your next party with our FREE wine tasting guide! Learn what to look, smell, and taste for while appreciating your favorite bottle. We've also included a printable tasting notes template and a tasting wheel.