Green Wine: St. Patrick's Day Alternative To Green beer
Picture it. It's St. Patrick's Day. You hate beer. What's a wino to do? Check out our ultimate guide to green wine alternatives.
I have a love hate relationship with St. Patrick's Day. As a kid, I would always forget to wear green and inevitably someone would pinch me.
Apparently, the reason you're supposed to wear green on St. Patrick's Day is because the color green makes you invisible to leprechauns, who really like to pinch people.
Leprechauns are assholes.
The St. Patrick's Day tradition began as a feast day held in honor of St. Patrick on the anniversary of his death.
Christians were allowed to push the pause button on their Lenten fasting, so they pretty much ate and drank everything they could get their hands on — and, over the years, binging became permanently linked to St. Patrick's Day. It's the American way.
Beer sales increase by around 150% on St. Patrick's Day. Guinness has been brewing beer since 1759, and they have a near monopoly on St. Patrick's Day.
Guinness estimates that somewhere around 13 million pints are consumed on St. Patrick's Day, an increase of 819% over normal sales. Harp and Smithwick get some attention, too, but they are also owned by Guinness/Diageo.
But you don't have to drink beer. Here are a few "green" wine alternatives.
Quick sidebar. There's another, more sinister Irish drink associated with St. Patrick's Day. Some hardcore Irish may tempt you to try Poitín. It's a crazy strong moonshine-like drink. Drink at your own risk. You've been warned!
If you're here for the Green Champagne recipe, it's in the FAQ below.
"Green" Wine Alternatives For St. Patrick's Day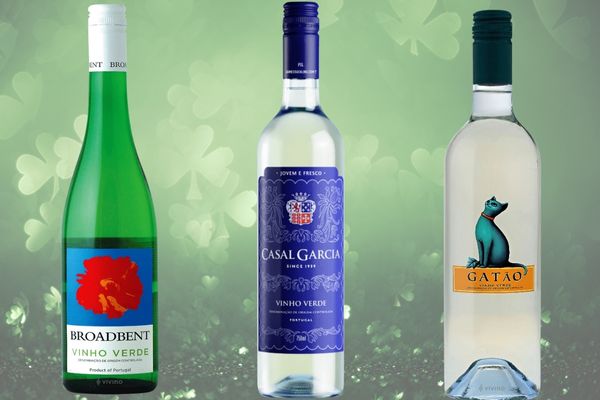 As far as countries go, Portugal is no giant — it's roughly the size of Indiana.  And yet, Portugal used to own half the world.  Today, Portugal is one of the ten largest wine producing countries in the world.  
It has more vineyards in acreage than the US, and some of the best QPR (quality to price ratio) wines I've ever tried.
Vinho Verde is a wine that comes from a small region in northern Portugal. Vinho Verde translates literally to Green Wine, and is the name of a wine region, not a grape variety.  
Vinho Verde is usually a blended wine, made from a group of pretty obscure grapes — Alvarinho, Arinto, Avesso, Azal, Batoca, Loureiro and Trajadura. Vinho Verde can be red, white, or rose, but the vast majority is white (less than 10% is red, and rarely seen outside of Portugal).
Most Vinho Verde wines are dry and slightly spritzy, with refreshing acidity and citrus notes. They are always meant to be consumed young, within three years.
Vinho Verde is a perfect match for any kind of seafood (like your St. Patrick's Day fish and chips), and most of it is pretty cheap. Like under $15 cheap.
Available To Buy Now On Wine.com And Vivino
Winemaker Notes
Bartholomew Broadbent's deep roots in Portugal inspired him to create his own range of table wines.
His vision was to produce the most reliable and traditional of all Vinho Verdes and to resolve the usual whine that Vinho Verde never tastes like it tastes in Portugal.
The solution was twofold: to partner with a winery that had consistent production, and to ship the wines in refrigerated containers. The latter enable the wine to taste as fresh and spritzy as it would ever taste in Portugal, and since its launch in 2005, Broadbent Vinho Verde has rapidly earned the reputation as one of the finest Vinho Verdes.
The most popular white wine from Portugal, is a deliciously refreshing, light wine. "Verde", meaning "Green" refers to the hints of lime color.
It is an ideal warm weather wine, excellent for lunch and picnics, or an evening apertif.
It makes a brilliant pairing with any fish, shellfish and poultry.
Blend: 50% Loureiro, 40% Trajadura, 10% Pedernã
Winemaker Notes
Like Pinot Grigio? You'll love Gazela. Light fresh and slightly bubbly wine from Portugal.
Gazela Vinho Verde is well-balanced with vibrant citrus, green apple and lemongrass flavors and a subtle effervescence.
A fresh, approachable and unstuffy Vinho Verde.
Blend: 40% Loureiro, 30% Pedernã, 15% Trajadura, 15% Azal
Casal Garcia Vinho Verde N.V.
Green Wine- Grüner Veltliner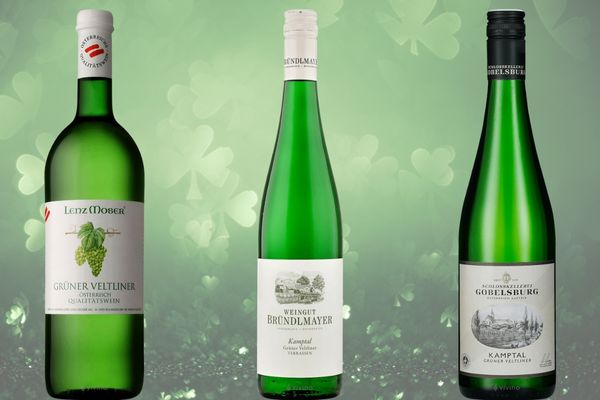 Grüner Veltliner is the signature grape of Austria, and the country's most planted grape variety. You'll see Grüner Veltliner pop up in minute quantities in Hungary and the Czech Republic, but the vast majority of it is found in Austria.
Grüner Veltliner translates literally to Green wine of Veltlin, and it's an excellent alternative to Sauvignon Blanc.
Grüner Veltliner's hallmark "tells" are is its high acidity and notes of white pepper. Some people even find notes of dill/gherkin.
There are two styles of GV — light, crisp, and citrusy with a slight spritz (from the region of Weinviertel), and a heavier, spicier, and more complex style (from the regions of Wachau, Kremstal and Kamptal).
Most Grüner Veltliner is unoaked — usually fermented in stainless steel, and aged either in tanks or very old, large casks.
The quality of Austrian Grüner Veltliner is outstanding. It's great with just about any Asian food, and also with weirdos like artichokes and asparagus. It also perfect for corned beef and cabbage and fish tacos.
Available To Buy Now On Vivino
Green Wine- Picpoul de Pinet
Picpoul (aka Piquepoul) is a seriously underrated wine. It's an ancient grape variety found in the Languedoc-Roussillon region of southern France. The name translates literally to "stings the lip", a nod to the wine's high acidity.
All Picpoul de Pinet is bottled in a tall, slender green bottle called a Neptune.
The bottle has three symbols on it — the waves of the sea around the neck of the bottle, the cross of Languedoc-Roussillon, and a column design along the base of the bottle as a nod to Roman Doric columns.
I'm not sure if it's still the case, but they used to serve this particular Picpoul at The Inn at Little Washington.
Picpoul has flavors of green apple, citrus, and distinctive green, herbal notes. It's my go-to cooking wine (because it's $8, and totally drinkable on its own).
It's a dream with oysters, and also perfect for fish and chips.
Available To Buy Now On Vivino
This green champagne is definitely a crowd pleaser for your St. Patrick's Day celebration.
How to make Green Sparkling Wine:
Pour 1 oz of Midori into a Champagne flute.
Fill the rest of the glass with on top to fill glass.
Garnish the glass with a honeydew melon ball and enjoy!
Green Wine For St Patrick's Day FAQ
Taste Wine Like A True Armchair Sommelier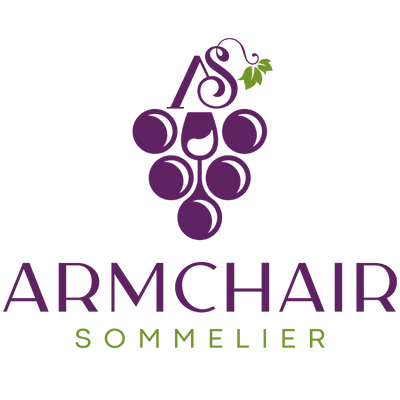 Spice up your next party with our FREE wine tasting guide! Learn what to look, smell, and taste for while appreciating your favorite bottle. We've also included a printable tasting notes template and a tasting wheel.