Davis Estates Winery In Napa Valley: 2023 Review
Davis Estates Winery and Vineyards offers a 90 minute private food and wine pairing. The place was so peaceful we didn't want to leave.
Pete Huls was our host and Sommelier for the tasting. This guy is so laid back and welcoming he made us feel like family.
In the land of the Charles Krugs and Chateau Montelenas there sits an unassuming, yet elegant property that is one of Calistoga's best kept secrets… for now. I felt like this property was full of IYKYK moments. You'll see what we mean.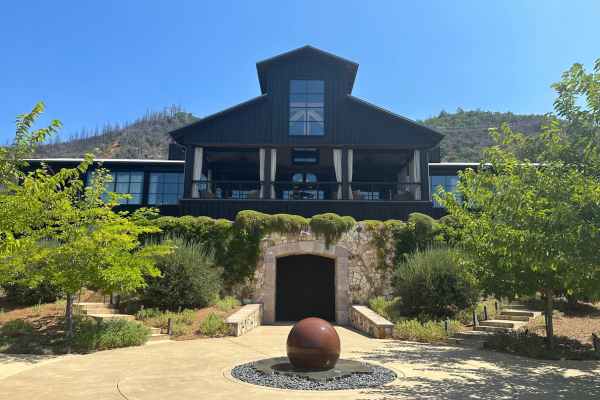 Table Of Contents
Who Owns Davis Estates In Napa Valley?
Davis Estates was established in 2016. Mike and Sandy Davis, owners of Davis Estates, started making wine in 2011. Their successes in the tech industry allowed them to follow their passions which were making wine, drinking wine and sharing wine. Ummm, yeah, we can relate. (sidenote: my parents' names are Mike and Sandy so I felt an instant connection. Also wondering what my life would be like as a wine heiress. Sigh)
So how cute is this, one of their favorite Napa memories early in their relationship was sharing a glass of wine at Sterling Vineyards, another amazing winery. Their view of the Vaca mountain range from the patio was eventually what was to become "Davis Estates."
The property at Davis Estates, along with about 1000 acres along the Silverado Trail and Larkmead Lane, was developed into vineyards in 1895 by the Coit family. Heard of them? Well, to be exact, her. Lillie Hitchcock Coit, known patron of the city's firefighters. San Francisco's Coit Tower, which is in the shape of a fire hose nozzle, was named in her honor in 1933.
If you're having a "wait a second…" moment, yes, the tower made an appearance in Alfred Hitcock's Vertigo. He wanted Coit Tower to represent a phallic symbol. Of course he did. Anyway…
From 1890 to 1900 Francois Saviez worked for the Coit family managing their vineyards. In 1900 the Saviez Family set its roots in Calistoga and purchased vineyards from the Coit family. Bold choice considering the phylloxera epidemic had just barely ended.
Francois gave the government and prohibition the middle finger and continued to make his wine. In 1923, Government Agents (G Men) came out and destroyed his wine. Naturally, he began to bootleg his wine. Prohibition ended on December 5th, 1933 and Francois Saviez was able to make wine again. Legally.
In 1944 Francois passed away and shortly after that the Saviez Family Winery was devastated by the Napa Valley fire of 1946. It wasn't until 1997 that the Saviez Family resumed making their award winning Napa Valley wines.
In 2011, the Saviez's property where the Davis Estates winery and barn stands today, was sold to Mike and Sandy Davis. The Saviez family continues to make exceptional wine in Napa Valley today.
Davis Estates Role Following The 2020 Fires
After the 2020 LNU Lightning Complex and Glass fires, Mike Davis made a fundraising wine for the 3 responding volunteer fire departments with their 2020 Chardonnay harvest from Carneros. Davis Estates generously donated $25,000 to each of the St. Helena, Rutherford and Calistoga fire departments.
When talking to Pete about the passionate people that live and work in the California wine industry, he said something that I felt before he even said it. He said he knew he belonged in this industry from a young age. Although he's been evacuated from his home three times, he's not going anywhere. He still has all the feels during his morning commute down the Silverado Trail. "…none of this is lost on me. The fact that I get to talk about wine and influence young people that want to get into the business is so much fun."
Davis Estates Wine Tasting Experience
Davis Estates is focused on food and wine pairing for their tasting experiences. And having enjoyed one of their pairings, I can see why this is their focus. There are currently five tasting experiences to choose from in addition to celebrated events they have every year. Their Lobster Feed event is held in September and sells out fast so if you think you want a spot (and, you do) reserve early. Maybe you can snag a spot in 2024. Their Lobster Feed is in the evening so you can catch the sunset behind Spring Mountain. The sunset views from the property are incredible to witness. Can you picture it?
Their tasting experiences include a Cave Tour & Tasting, Cabernet Sauvignon AVA Exploration (you'll taste Cab from Calistoga, Rutherford, Oakville and Howell Mountain. I'm coming back for this one), Collector's Tasting, VIP Experience and Estate Wine & Food Pairing.
The Davis Estates tasting experience we chose was the cave tour and tasting. When we arrived we were served a welcome glass of wine. Ours happened to be the 2022 Davis Estates Lily Fleur Rosé (…which we ended up buying a bottle of). We finished it before we even began our tour. It was 10:00 in the morning and already so hot. It hit the spot.
Fun fact: Lily Fleur is named after Mike and Sandy's first granddaughter Lily. The Classic Chase (which we tasted later) is named after their grandson, Chase. Wait till you see the label.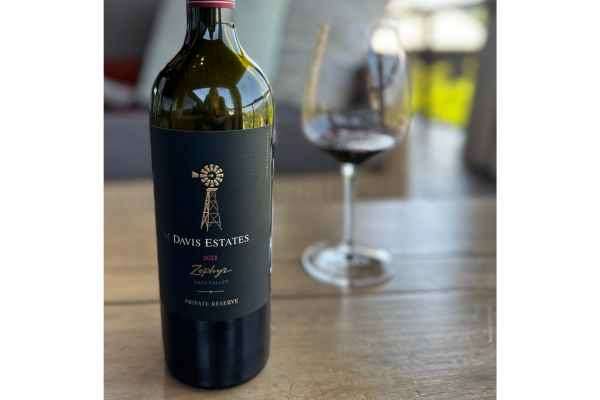 Each wine we tasted was paired with seasonal bites. When I say bites I mean it was nearly the size of an appetizer. I really appreciated the amount of food that was served. Especially because the tasting included 5 wines in total. Well… actually 6. Pete was talking up the Zephyr so we asked him for a sip, naturally. And it worked in his favor because we bought one of those too.
Pro tip: buy a wine suitcase so you can bring at least one bottle home from each winery you visit.
Before we even sat down our jaws dropped when we caught the view. The outdoor tasting room looks out onto Spring Mountain. The views are really incredible.
---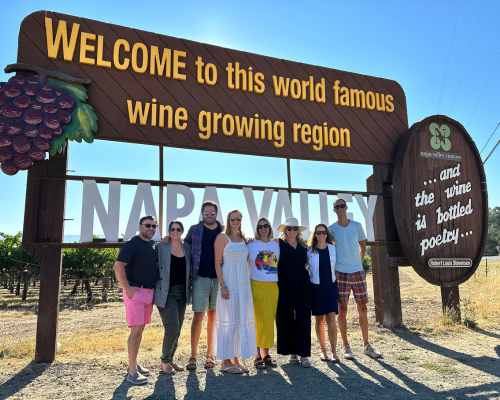 Planning a trip to Napa but don't know where to start, or worse yet, you're 10 hours deep and frustrated? You won't want to miss our Napa Trip Planner!
---
Davis Estates 2021 Chardonnay
I know what you're thinking. Oaky, buttery punch in the face. Nope. Aged in french oak for 9 months it does have some oakiness on the palate but not intense. When paired with the cream of corn soup with poached prawns, you get a Sauvignon Blanc style finish. See what I mean? Food and wine pairings are where it's at! This was my favorite pairing.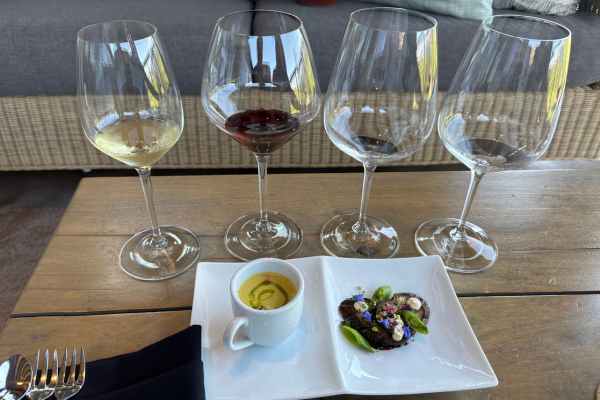 Davis Estates 2021 Pinot Noir
The Davis Estates 2021 Pinot Noir is grown in the Carneros vineyard where the morning fog and maritime breezes from the San Pablo Bay create a longer, cooler growing season that is ideal for their 4 acres of Chardonnay and 3 acres of Pinot Noir. We enjoyed the Pinot Noir with roasted eggplant and black garlic miso paste. The Pinot Noir was earthy and spicy on its own but then was even spicier when paired with the dish. Love!
Davis Estates 2019 Classic Chase
The Davis Estates 2019 Classic Chase label is so fun. It's a bear on a bicycle. You expect this to be a whimsical wine but it is quite intense. The Classic Chase is aged 29 Months in 60% New French oak. It's 50% Cabernet Franc, 50% Merlot. I did not expect to like this wine because I'm not a fan of Merlot. No, it's not because of Sideways. It's just not my jam.
But when the chef brought out its best friends, mushroom, mint and Thai basil with a lime tamari dressing, I became a fan. This was probably my favorite of all the dishes. The Thai basil really calmed the intensity of the wine and made it soft and creamy. Yum.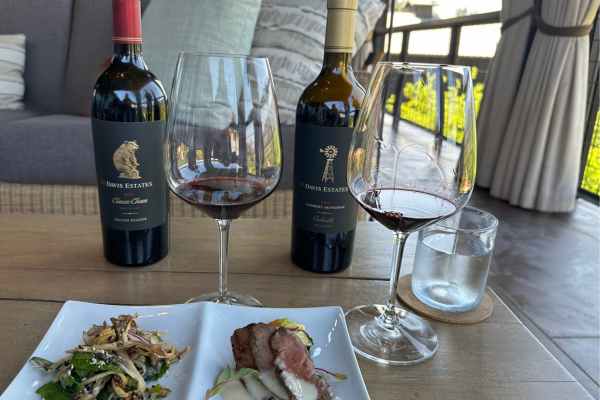 Davis Estates 2018 Oakville Cabernet Sauvignon
The Davis Estates 2018 Oakville Cabernet Sauvignon was what we'd been waiting for. Aged 22 months in 60% new French oak. Smooth but spicy with grrrippy tannins. Paired with Wagyu beef, squash and truffle sauce. Are you drooling yet?
We saved a few sips of the Classic Chase (Cabernet Franc and Merlot to refresh your memory) and the Cabernet Sauvignon to taste side by side. After initially not having been that excited about the Chase, I preferred it over the Cabernet Sauvignon.
I know! Crazy, right?
Before we went downstairs to poke around Pete gave us a taste of the 2018 Zephyr 52% Cabernet Sauvignon, 30% Merlot, 16% Cabernet Franc, 2% Petit Verdot. Aged for 28 months in 60% new French oak.
In case you're just here for the Sauvignon Blanc (yeah, right) it's not available in the tasting. Sauvignon Blanc is usually reserved for members. So if you needed a reason…
All recipes are available to download and …ahem…attempt at home. Good luck!
fun fact: beneath the tasting room sits a Kugel Fountain. It's 5000 lbs supported by aquaplaning on a thin film of water. On Davis Estates' Kugel Fountain, 18 psi of water flows between the sphere and socket. The giant granite ball doesn't float, because it's denser than water, but the hydraulics of the fountain can be controlled so that the axis of rotation of the sphere changes continually. Doesn't that blow your mind? I feel like Julia Roberts in Pretty Woman writing this. "Doesn't it blow your mind, this is only 4 cylinders!"
Davis Estates Barn Tasting Experience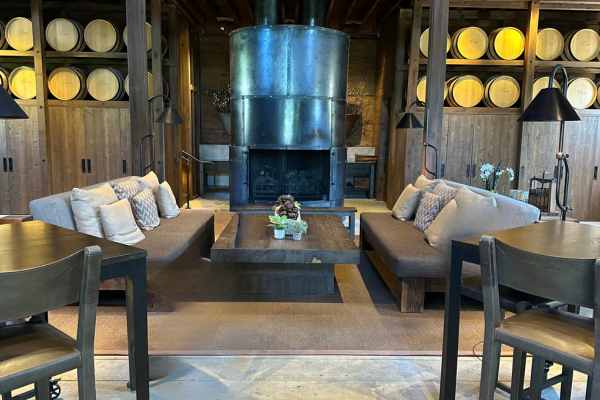 The barn that you pass as you make your way up to the tasting room dates back to 1916 and is original to the property. It's been restored to its former glory and it smells SO GOOD. I grew up in farm town, USA and our barns did not smell like this. Nor, did they look like this. Maybe because it was designed by Howard Backen who is known for designing Larkmead (Coit family), Solage, Meadowood.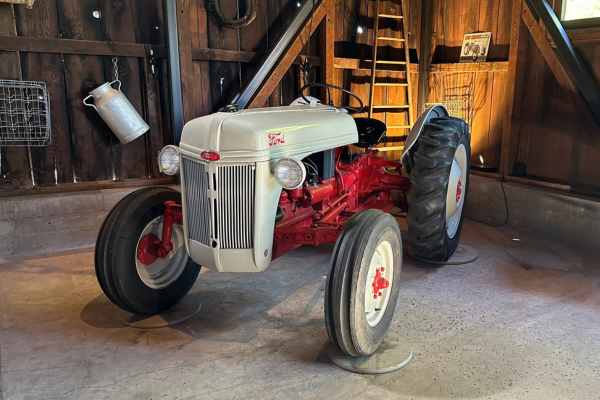 Davis Estates Cave Tour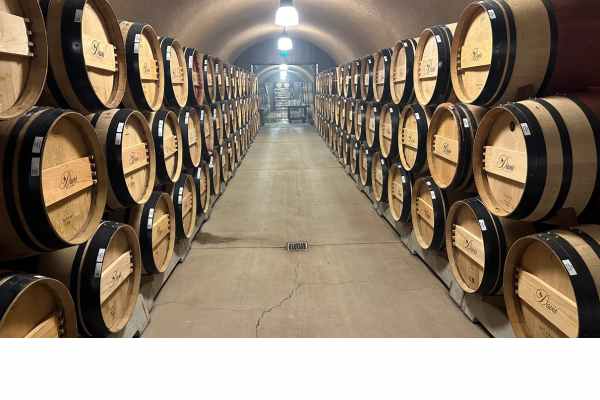 As we entered the cave we were met with… any guesses? Barrels! Not just any barrels. Puncheons (a barrel with 500 liters / 132 gallons). Anything that they want to age for longer than 2 years is aged in a puncheon. Twice the volume of juice but not twice the surface area of oak. Brilliant. They're experimenting with some puncheon ferments where they actually ferment the grapes from some of their favorite vineyard lots.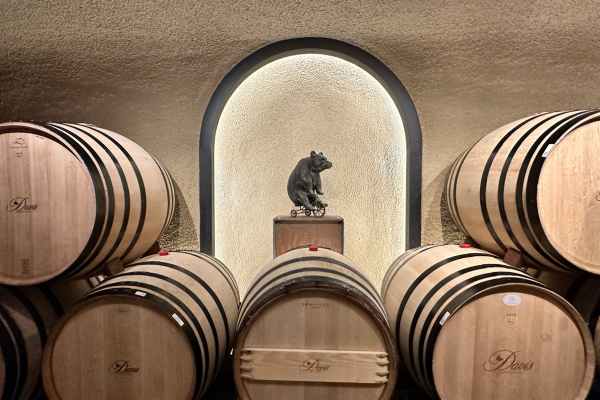 The cave is absolutely beautiful and artfully decorated with fun sculptures you read about in history that don't relate to wine at all, which we thought was fun. It gave us a sense that the family takes their wine seriously but not themselves. My kind of people.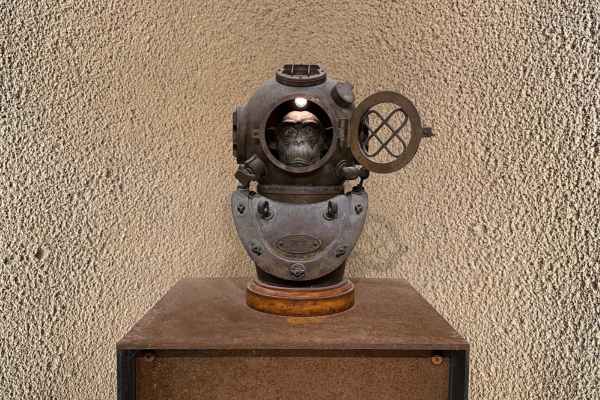 Want to feel like a member of the Ocean's Eleven gang? Mike Davis's vision was "…a tasting room that rivals all tasting rooms in the world." Biometric infrared vein scanner for the members. I feel like he nailed it. This is definitely a, had to be there, IYKYK instagram moment.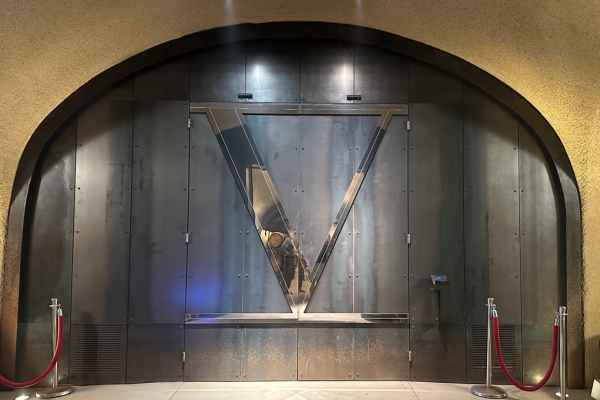 If you're a member of this exclusive club level, not only will you enjoy a private tasting in the Cellarium but also a 5 course food pairing by their in-house executive chef where you'll taste their best vintages (their last vintage was 98 points btw). Keep your eye on these guys and gals, they're going for the elusive 100 point vintage.
FOMO?… not to worry, there's still availability for new members.
How do you pour 18 Liters of wine? Carefully. You wear the bottle in a sling and walk it around the room like it's your 90 pound baby. No big deal.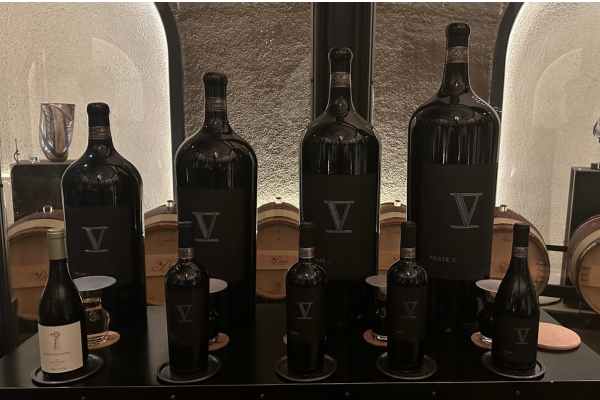 The Wine Club
The Davis Estates wine club membership is pretty standard, with the exception of one tier. You get wine and access to amazing parties (Lobster Feed) and complimentary tastings. There's no fee to join any of the club levels. You only need to build the first shipment when you sign up.
There are four tiers, all of which include:
First access to a variety of Davis Estates' wines
20% savings on wine and merchandise (excludes large format)
Add wines to your scheduled release and pay no additional ground shipping fees
Special pricing to exclusive Davis Estates' Events
Ability to gift your annual allocation of tastings to friends and family
Your tasting fee is waived if your guests become a member
20% off additional tastings beyond tiers' annual allocation
Our Estate is by appointment only, our concierge is available to assist with booking your tasting appointments and wine pickups
The 12 Bottle Custom Case
12 bottles per shipment, 3 times a year
Annual allocation of 8 Cave Tour and Tastings
4 Complimentary tickets to our annual "Bud Break" party
$20 flat rate ground shipping on any case purchase
Full customization from any of our available wines.
(A pre-selected shipment will arrive if you choose not to customize a shipment.)
The 6 Bottle
6 bottles per shipment, 3 times a year
Annual allocation of 6 Cave Tour and Tastings
2 Complimentary tickets to our annual "Bud Break" party
Limited on-line customization
The 4 Bottle
4 bottles per shipment, 3 times a year
Annual allocation of 4 Cave Tour and Tastings
Limited on-line customization
Davis Estates Founders Club
You want to know how you can make that private tasting in the Cellarium happen, don't you? Lucky for you, there's still some availability to become a member.
WINE PRIVILEGES
20% savings on Davis Estates wine and merchandise (excludes large format. Sorry Tom Sellek, no Magnums are included.)
Two automatic shipments per year (A minimum purchase of $2500 in Phase V wines per shipment)
First access to Phase V wines, the height of our farming and winemaking efforts
First access to a variety of Davis Estates' wines
$20 flat rate ground shipping on any case purchase (excludes AK, AR, DE, HI,KY, MS,RI, UT, WV)
Add wines to your scheduled release and pay no additional shipping fees
Customization per shipment
EXPERIENCES PRIVILEGES
Private infrared palm scan access to our Cellarium tasting salon hidden within our caves
4 Complimentary Cellarium tastings per year. Advanced reservation required
8 Complimentary Cave Tour and Tastings per year. Advanced reservation required
Ability to gift your annual allocation of tastings to friends and family
Your tasting fee is waived if your guests become a member
20% off additional tastings beyond annual allocation
Member only log-in access to our Founders Club page.
EVENT PRIVILEGES
Invitations to exclusive events with Mike and Sandy Davis, and Philippe Melka
Special pricing to exclusive Events
4 complimentary tickets to our Bud Break party
So the time came when Pete had to eloquently and politely ask us to wrap it up. What a beautiful spot. We wanted to stay there forever. Or at least until we'd had another course…
Want to bring your wine from Davis Estates home with you?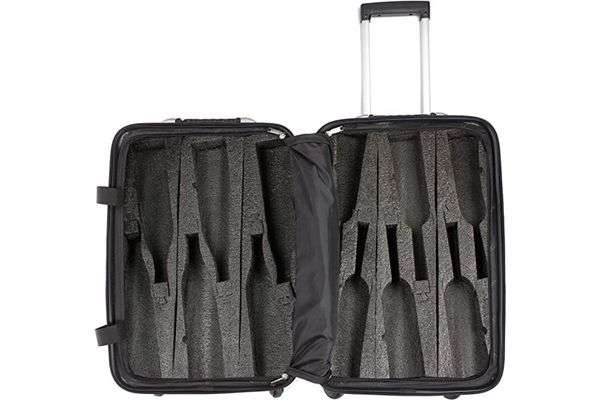 We recommend the VinGardeValise 12 bottle wine suitcase. There are a couple ways you can use this suitcase. One is, when you come home you only pack half the suitcase with wine and the other side clothes; or, what we do is bring a duffle bag to carry our clothes home. You can still check a duffle bag home btw, you don't have to schlep it around for all four connections.
Pro tip: you can also use the duffle bag to drop off your clothes to be laundered if you're doing an extended trip. Multiple uses for one duffle bag.