HALL Wines: A Guide
You've heard of HALL Wines. Their cabernets are exceptional. St. Helena is arguably the best sub appellation in the Napa Valley AVA. We're giving you a down a dirty guide to their tastings.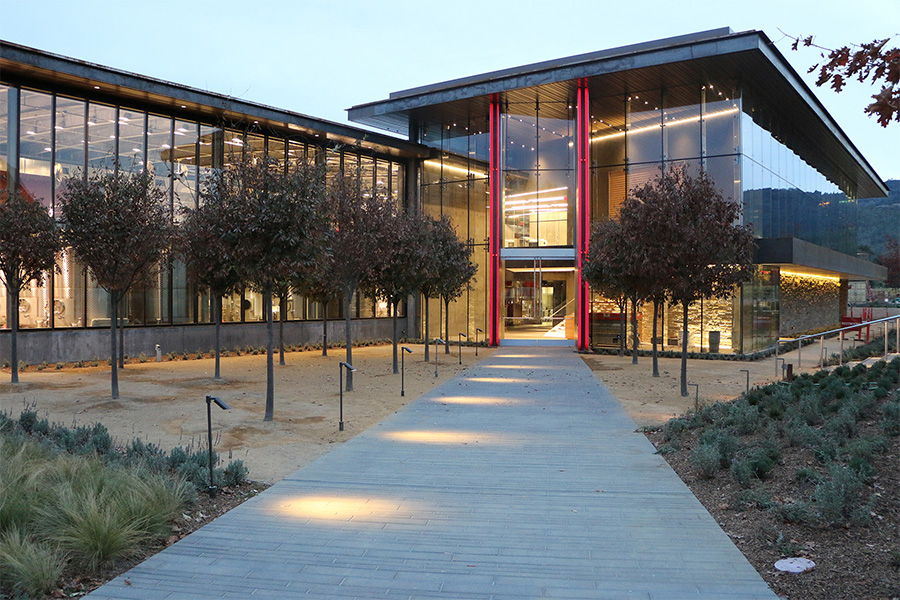 Visit Website

(707) 286-7151

401 St Helena Hwy South, St Helena, CA 94574

Hours
Monday: 10-5:30
Tuesday: 10-5:30
Wednesday: 10-5:30
Thursday: 10-5:30
Friday: 10-5:30
Saturday: 10-5:30
Sunday: 10-5:30
HALL Wines Vineyard Information
Kathryn Hall, HALL Wines owner, grew up working in her family's vineyards in Mendocino. Now, she and her husband Craig have created their own Napa Valley vineyard experience with HALL Wines.
In 2003, Craig and Kathryn Hall acquired the St. Helena Bergfeld Winery, reopening it as HALL St. Helena later that year.
The Halls would later restore the 1885 winery, completing it in 2013, making it California's first LEED® Gold Certified winery.
Not content to rest on their laurels with this already impressive feat, they added HALL Rutherford in the legendary Sacrashe Vineyard.
With both locations, HALL Wines' beautiful vineyards are deeply rooted in a commitment to the environment while engaging cutting-edge technology in the vineyards for the best quality in grapes, making each a wonderful place to explore extraordinary wines.
---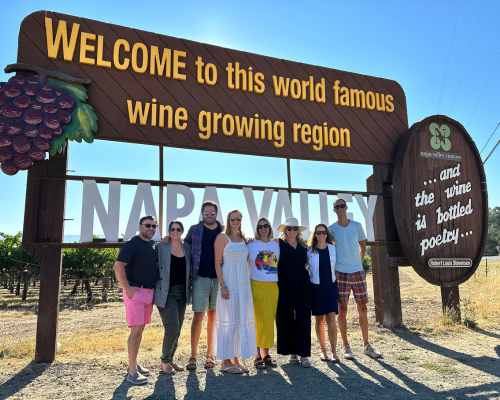 Planning a trip to Napa but don't know where to start, or worse yet, you're 10 hours deep and frustrated? You won't want to miss our Napa Trip Planner!
---
Where To Stay Near HALL Wines
The Harvest Inn would be the closest to HALL Wines in St. Helena.
HALL Wines Tasting Information
At HALL Wines, St. Helena there are two venues you can choose from to enjoy your next wine tasting adventure. Both of these venues offer expansive views of the Great Lawn, historic Bergfeld Vineyard, and Mayacamas Mountains.
HALL Wines St. Helena:
HALL Wines Members Lounge
The Members Lounge gives you exclusive access in a comfortable atmosphere. Six guests maximum are permitted and while it is complimentary for members (up to 4 people), each additional guest costs $60.
By appointment only. The duration of this experience is 45 to 60 minutes. You may reserve this experience by calling 707-967-2626, or emailing hospitality@hallwines.com.
HALL Wines Ultimate Cabernet Experience
Perfect for every Cabernet Sauvignon lover, the HALL Cabernet experience guides you through terroir and techniques for some of the most exquisite wines you'll ever taste.
This 90-minute experience runs daily at 11am, 1pm, and 3pm and costs $150 per person (members $100) with a 24-hour cancellation to avoid fee.
HALL Wines The Art of Cabernet
Enjoy a flight of 4 award-winning wines, hosted in the tasting bar with a gorgeous view of the vineyards and the Mayacamas Mountains. This experience runs daily at 10am, 10:45am, 11:30am, 12:30pm, 1:30pm, 2pm, 3pm, 3:45pm & 4:45pm and costs $60 per person for 60 minutes though is complimentary for members (up to 4 people) with $60 additional per guest.
HALL Wines HALLmark Tour
This signature experience takes you through the grounds with wine educators sharing their stories of the HALL vision, history, and the extensive art collection. At the end of the tour, you'll retire to one of the private salons for a seated tasting of 4 award-winning wines.
Join this tour daily on the hour from 10am to 4pm at $75 per person for this 90-minute experience. Sorry, no pets.
HALL Wines in Historic Bergfeld
These are HALL's most exclusive tasting and is hosted in the historic Bergfeld building.
HALL Wines Platinum Experience
Taste HALL's platinum wines in this most loved and most exclusive tasting. You will seriously feel like you've arrived. It's a private seating tasting of three Platinum wines also includes a selection of their most highly rated HALL Cabernets from their Artisan Collection. Swoon.
By Appointment Only
$200 per guest
Six guests maximum. Must be 21+. Sorry, no pets permitted.
HALL Rutherford:
Every tasting here is private and requires reservations. All guests must be 21+ and no pets are allowed. HALL Rutherford cannot guarantee that all experiences will be hosted in the cave. If you have a group larger than 6, call 707-286-7150 or email hturner@hallwines.com.
Platinum Tasting
This 90-minute experience starts with a quick tour of the property followed by a private seated tasting at $350 per person; $250 for members.
Appellation Experience
For this 90-minute tasting, you will discover limited-production Cabernet Sauvignons that highlight the way terroir, climate, and elevation come together. It costs $200 per person ($150 members).
Private Wine Experience Inquiry
For groups larger than 6 at either HALL location, contact:
St. Helena Experiences
Alli Lenning
+1 (707) 286-7151
alenning@hallwines.com
Rutherford
Hannah Turner
+1 (707) 286-7150
hturner@hallwines.com