The Ultimate Guide To Tamber Bey Vineyards
Visit Website

(707) 942-2100

251 Tubbs Lane, Calistoga CA 94515

Hours
Tasting Room available by reservation only:
10:00 – 5:00 pm Daily
Tamber Bey Vineyard Information
Tamber Bey Winery is located in Calistoga California at the Sundance Ranch. This location with a world-class equestrian facility gives visitors to Tamber Bey a one of a kind Napa Valley experience. 
---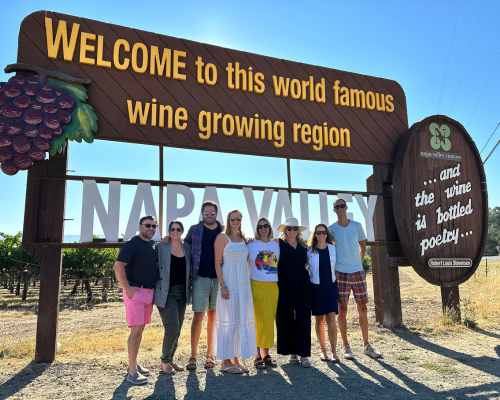 Planning a trip to Napa but don't know where to start, or worse yet, you're 10 hours deep and frustrated? You won't want to miss our Napa Trip Planner!
---
Tamber Bey Wine Tasting Experiences
Tamber Bey Courtyard Tasting
You'll taste five of Tamber Bey's current releases while overlooking the stables and with stunning views of Mount St. Helena.
The flight includes the LamBentz Sauvignon Blanc, Sans Chêne Chardonnay, Provence-style Rosé, and our Bordeaux-style blends and varietals. This wine flight changes seasonally.
The Courtyard Tasting is $70 per person and is suitable for 2-8 guests in a party.
Tasting is available by reservation only.
Tamber Bey Private Tasting Experiences
Reserved for two to twenty guests, the Ambassador Club where you'll have your private tasting. This tasting is an intimate exploration of Tamber Bey wines, active horse operations and wine production guided by a senior member of their team.
During the Retrospective Tasting sip aged wines and current releases.
$175 per person.
Savory Pairing Experience
The Savory Pairing Experience is served with the Vineyard Series and Signature Collection wines. The pairing includes a selection of cured meats, cheese, crackers, olives, and chocolate.
You'll also receive a tour of the winemaking operation with a splash of something special on the way.
$100 per person
Add On The Tamber Bey Picnic Lunch Experience
Enjoy a picnic lunch from Sam's General Store in Calistoga. Three wines are served family-style in carafes to complement your lunch. You can add on one of the Courtyard Tasting Experiences for an additional charge.
The Picnic Lunch Experience is $40 per person and is suitable for 2-8 guests in a party.
Tasting is available by reservation only.
Tamber Bey Vineyards Additional Information 
Tamber Bey has a wine club called the EQQWine Club. In addition to offering special pricing on all their wines members enjoy the following benefits.
Discounts on seasonal club packages
Exclusive access to members only wines
Discounts on stays at their Tuscan-style guest house located 2 miles north of downtown Yountville
Up to 4 complimentary tours and tastings per visit
Access to virtual tastings with Tamber Bey Vineyards owner, Barry Waitte
Invitations and discounts on members only events
Tamber Bey's Featured Wines
Red Wines
Cabernet Sauvignon
Merlot
Cabernet Franc
Petite Verdot
Pinot Noir
Red Wine Blends
Unique Reds
WHITE AND DESSERT WINES
Chardonnay
Sauvignon Blanc
Rosé