10 Crus of beaujolais: a quick style guide with tasting notes
Seems like everyone is talking about Beaujolais. What is Beaujolais and is it different from Cru Beaujolais? How many crus are there? How can I travel around the region?
We'll show you how to travel around the region and help you shop with confidence using our buyer's guide.
Cru Beaujolais Table Of Contents:
Bookmark this on your phone for your next trip to the wine shop. And please don't be afraid to ask your wine educator questions.
Tick-tock . . . at the time of this article, less than two weeks until the release of this year's Beaujolais Nouveau.
It's often shunned by serious wine drinkers, but I'll admit it — I buy a bottle every year.
Now, I don't just love Beaujolais Nouveau (it tastes like a banana Runt wrapped in bubble gum to me), but I'm a sucker for tradition. The Beaujolais Nouveau spectacle might be a marketing gimmick, but it's a clever one.
And one that brings attention to the entire Beaujolais region — there's so much more to Beaujolais than Nouveau.
Every year when I'm buying my bottle of banana bubble gum wine, I think to myself, I really need to drink more Cru Beaujolais. I know people that don't just because their Cru Beaujolais knowledge is pitiful. Who cares! You have to start somewhere.
The best way to fix your Cru Beaujolais knowledge problem is to have a Cru Beaujolais wine tasting. This month, Carpe Vinum will study and taste Cru Beaujolais.
But before we taste, I need to brush up on Beaujolais, so I can contribute something worthwhile to the conversation besides, "yeah, this is good!"(however, that's really never stopped me before).
Where Is Beaujolais?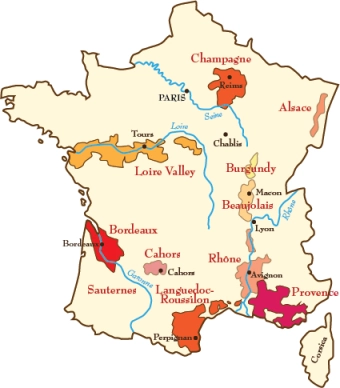 So, first things first. Where is Beaujolais? France. Good.
The Beaujolais region is one of the most famous French wine regions and is sandwiched between Burgundy to the north and Rhône to the south.
The Main Grape Of Beaujolais – Gamay
The main grape of Beaujolais is Gamay — a cross between Pinot Noir and a white grape called Gouais.
Gamay first appeared in the village of Gamay (in Burgundy) in the 1360s, following the Black Death.
It was a low-maintenance grape, and it ripened quickly — both plusses when you're recovering from a worldwide pandemic. (sorry, too soon?)
In 1395, the Duke of Burgundy, Philippe the Bold, banished Gamay from Burgundy because it was a "bad and disloyal grape" (you don't get to call yourself the Bold by keeping bad and disloyal grapes around).
Fortunately, Gamay found a new home in Beaujolais, where it thrived.
What Kind Of Wine Is Beaujolais?
Typically, Beaujolais is a light-bodied wine with lower tannins, characterized by bright berry flavors with some tropical punch notes, a product of carbonic maceration (when grapes go into the tanks whole and ferment with their skins on).
The wines are a vivid purple-ruby color, and they're usually ready to drink almost as soon as they are bottled.
That said, some (most?) Cru Beaujolais is capable of aging, some longer than 10 years.
Serving Beaujolais slightly chilled brings out the acidity in the wine, making it a superb partner for a whole gamut of foods. You want to see a neat trick?
Pick one of your "I only drink white wine" friends and offer them a glass of Beaujolais. You might just convert them to Team Red.
Three Basic Levels (Classifications) Of Beaujolais
1. Beaujolais
This is the basic (think ordinary) Beaujolais, and most of it is sold as Beaujolais Nouveau. Grapes can come from anywhere in Beaujolais, but most come from the flat-lands in the southern part of the region.
2. Beaujolais Villages
These wines come from one of the 38 designated villages in the northern section of Beaujolais. It's mostly a blend of wines from various villages, and usually the bottle simply says, "Beaujolais Villages". But they're more complex than "regular" Beaujolais.
Many of the Beaujolais villages are located on granite or schist soils, and so they have more "minerality".
3. Cru Beaujolais
These are the "best" Beaujolais wines, and come from any of the ten villages in the northern section of Beaujolais. Usually, only the name of the village appears on the wine label.
This is one of the infuriating things about French (and Euro) wine labels. Unless you happen to know Saint Amour is a Cru Beaujolais, you have no idea what's in the bottle you're holding. So you put it back and head straight into the arms of a California Merlot.
Where To Stay Around Cru Beaujolais Wine Region
If you are looking to stay in the middle of the Beaujolais wine region you can easily make your way around to the wineries. There's a charming B&B in Lancié (Gite le Pot de Vin) that books months in advance. Or, a larger Villa with a pool (Noemys Morgon)
Map Of Beaujolais Wine Region
How To Get Around The Beaujolais Wine Region
Getting around the Beaujolais wine region can be tricky. Unless you're booking a tour, you will want to rent a car to travel around the region. But it must be compact. Think… Fiat-two-door compact. Make sure you call ahead to your B&B to make sure they have parking available. Long walks on cobblestone street does not a fun end of day make.
10 Crus Of Beaujolais
Here are the 10 Cru Beaujolais villages and Cru Beaujolais tasting notes.
Beaujolais Cru- Juliénas
Named after a village planted by the Romans and named for Julius Caesar. Rich, spicy peppery wines, with aromas of peonies (my favorite!).
Beaujolais Cru- Saint Amour
Noted for being delicate, with spice and stone fruit flavors.
Beaujolais Cru- Chénas
The smallest Cru Beaujolais. Noted for its pronounced minerality and rosy nose.
Beaujolais Cru- Moulin-à-Vent
"The King of Beaujolais"
Maybe the most famous and full bodied of the Cru Beaujolais.
The name comes from an ancient windmill that's in the middle of the vineyards. Capable of aging 10+ years.
Beaujolais Cru- Fleurie
"The Queen of Beaujolais"
Fruity and "flowery" Beaujolais, with a smooth texture.
Beaujolais Cru- Chiroubles
Very light. Vineyards are at the highest altitudes in Beaujolais. Known for its light, violet aromas and strawberry cherry flavors.
Beaujolais Cru- Morgon
Earthy flavors with dark colors and a firmer structure. Capable of aging 10+ years.
Beaujolais Cru- Régnié
Pronounced "rehn-yay". The most recent Cru to get its designation. These wines tend to be a notch above Beaujolais-Villages with light fruit.
Beaujolais Cru- Côte de Brouilly
"Elegant Wine on the Hill"
Subdistrict of Brouilly. Grapes are grown on slops of an extinct volcano. More robust because the grapes get more sun. Less earthy than Brouilly. Brouilly and Cote de Brouilly are the only areas in Beaujolais where it is permitted to grow grapes other than Gamay.
Beaujolais Cru- Brouilly
The largest Cru. Grapes are grown at the bottom of a hill. Famous for blueberry, cherry, raspberry and currant aromas. Best young.
How are we supposed to remember all that?? I happened to mention to Wayward Wine that Carpe Vinum would be studying Cru Beaujolais this month, and he cleverly suggested I make up a mnemonic device to keep the villages straight, so here goes.
From North to South, the villages are JSCMFCMRCB, which is an acronym for nothing. Except maybe an owl sneeze, and I'd still need to buy a vowel.
So we'll have to go with this:
Just Saints Chase Mouse Fleas ~ Chirping Mortals Regret Cotton Brooms
It's no ROY G BIV, but it'll do.
Just for fun (and people disagree about the exact order), here's a chart of the 10 Cru Beaujolais from lightest to heaviest:
Want to bring your beaujolais wine home with you?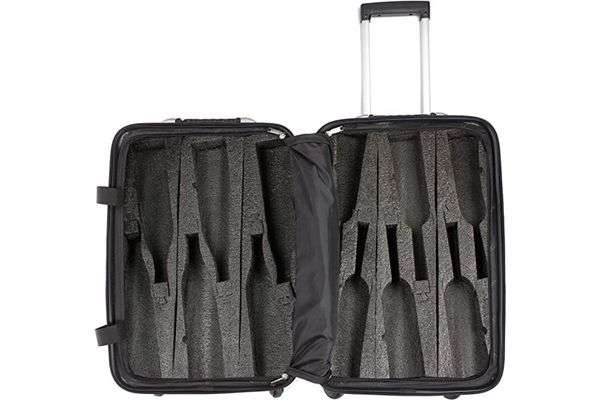 We recommend the VinGardeValise 12 bottle wine suitcase. There are a couple ways you can use this suitcase. One is, when you come home you only pack half the suitcase with wine and the other side clothes; or, what we do is bring a duffle bag to carry our clothes home. You can still check a duffle bag home btw, you don't have to schlep it around for all four connections.
Pro tip: you can also use the duffle bag to drop off your clothes to be laundered if you're doing an extended trip. Multiple uses for one duffle bag.
Cru Beaujolais Buyer's Guide
Look for the 10 Beaujolais Crus on the label. Expect to spend around $30-50. Of course some can be a bit higher.
Expect to spend around $15-25 a bottle for wines from Beaujolais Villages. Still fantastic wine!
Cru Beaujolais FAQ
How many Crus does Beaujolais have?
There are 10 Crus of Beaujolais
1. Julienas 
2. Saint Amour 
3. Chenas
4. Moulin-a-Vent 
5. Fleurie
6. Chiroubles
7. Morgon
8. Regnie
9. Cote de Brouilly 
10. Brouilly
What does Cru Beaujolais mean?
Cru Beaujolais, the highest category of classification in Beaujolais, accounts for the wine production inside of ten areas in the foothills of the Beaujolais mountains. But, unlike Burgundy and Alsace, the phrase cru in Beaujolais refers to an entire wine-producing area instead of an individual vineyard.
What is the best Beaujolais Cru?
Not into banana bubble gum wine? Moulin-à-Vent has the most tannic structure of the Crus, and is sometimes called the King of Beaujolais.
What are the three different quality levels of Beaujolais?
1. Beaujolais
2. Beaujolais-Villages 
3. Cru Beaujolais 
Is Pinot Noir the same as Beaujolais?
Both grapes also have high acidity and a red fruit sweetness. But, Pinot Noir has more of a floral essence. The Gamay grape of Beaujolais displays more minerality. Despite their individual nuances, both wines have the same body. Especially when comparing a 100% Pinot Noir to a Beaujolais.