Your 2023 Guide To The Best Wine Tours In Montepulciano
Rolling hills adorned with vineyards and centuries-old winemaking traditions create an unforgettable experience for wine tours in Montepulciano.
The ideal time to go to Montepulciano is a matter of personal preference. Summer is great if you like warm weather and busy activities. Spring and fall are great times to visit if you want milder weather and fewer people. Winter is a great season for travelers looking for a more laid-back and affordable vacation, but be ready for cooler temperatures.
Ultimately, visiting Montepulciano is an amazing experience at any time of the year, so don't hesitate to book wine tours in Montepulciano anytime of the year.
Wine Cellar Tour And Tasting In Montepulciano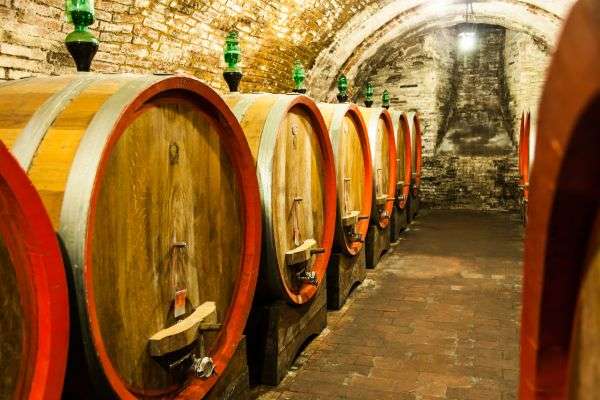 Where: Via Ricci, 13, 53045 Montepulciano SI, Italy
During this small group tour of a Montepulciano wine cellar, you'll discover the process of making wine. Thousands of Vino Nobile di Montepulciano hectoliters are stored in rows of massive, immaculately preserved Slavonian oak barrels, honoring the philosophy of great red wines and the regulations governing wood aging. Check out the fossils in these tunnel passages that indicate the place's very ancient origins.
You'll sample bruschetta, pecorino cheese, and Tuscan salami with three different local wines.
Cost: $30
Winery Tasting Tour In Montepulciano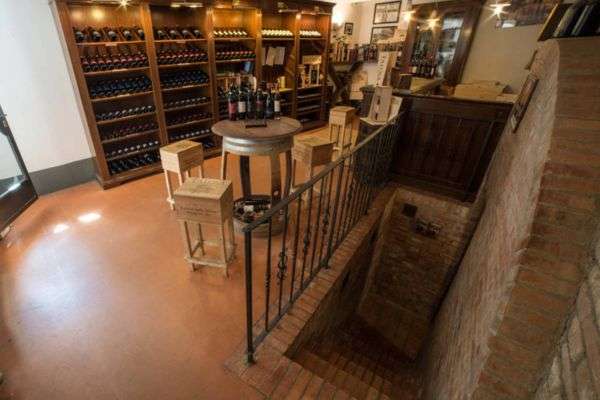 Where: Valdichiana Living – Piazza Grande, 7, 53045 Montepulciano SI, Italy
Taste Montepulciano's finest in this full day tour. You'll taste wine from three different wineries and lunch is included! Your tour guide will take you on a tour of the Montepulciano wine region, sharing its fascinating history and other regional tid bits that only the locals know.
As you travel through the Montepulciano region, you will come across three wineries that make Rosso di Montepulciano DOC and Vino Nobile di Montepulciano DOCG. Learn about the producers personally, explore their ideologies, and sample their wines in a laid-back setting. Lunch is served at one of the wineries as part of the tour.
Cost: $290
Wine Tasting And Lunch In A Montepulciano Winery
Where: Via Talosa, 8, 53045 Montepulciano SI, Italy
Savor a traditional lunch and a wine tasting in Montepulciano's sophisticated, historically significant wine cellar. Discover the 16th-century cellar's underground, home to tunnels and vaults thought to have been built by the Etruscan civilization. Learn the wine-making processes with a knowledgeable sommelier.
After that, indulge in a special wine-tasting experience with regional food. Local Tuscan goods will be offered with a tasting of four different wines. A traditional Tuscan lunch will be at the end. Various cold meats, cheeses, and a first course of pasta (main dish options vary depending on the season, including lasagna, cannelloni, ribollita, Pappa al Pomodoro, etc.) make up the lunch. Vegetarian alternatives are also available.
During this tour, you'll taste four Montepulciano wines, including the internationally renowned Rosso di Montepulciano DOCG and Nobile di Montepulciano DOCG.
Cost: $59
Discover Montepulciano (Includes Vineyard Tour And Wine Tasting)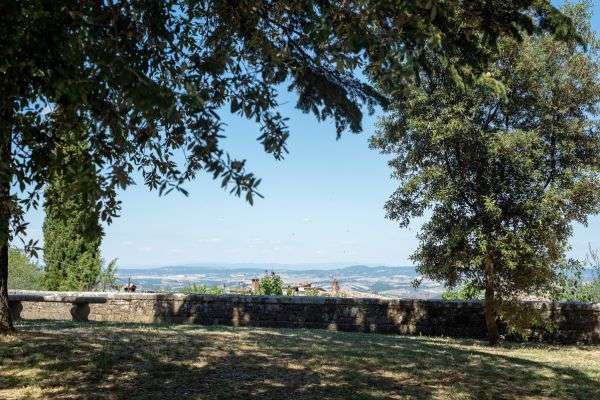 Where: Porta al Prato – Via di Gracciano nel Corso, 53045 Montepulciano SI, Italy
During this hour-long walking tour in Montepulciano, check out the main attractions of the medieval hill town, so you can make the most of the rest of your trip. Instead of relying solely on a guidebook, consider hiring a guide who can bring the history of the Tuscan town to life while you explore its charming streets and reach the top of the bell tower (at your own expense) for breathtaking views.
The Piazza Grande would be the tour's end point. To have a 360-degree perspective of the Val d'Orcia and the Val di Chiana, climb to the top of the Tower Hall. Includes a glass of wine at the end. Cheers!
Cost: $54
Horseback Riding Tour With Tuscan Picnic
Where: Valdichiana Living – Piazza Grande, 7, 53045 Montepulciano SI, Italy
With this picturesque horseback riding tour just outside of Montepulciano, you can slow down and take in the breathtaking Tuscan hills of the UNESCO-listed Val d'Orcia and Valdichian, away from the bustle and chaos of the city.
Meet your riding guide and ride your horse back across the hills of vineyards, pausing to take pictures and enjoy the scenery. Then, unwind with a typical Tuscan dish at an outdoor picnic. An easy guided ride, for all skill levels, is a great way to discover the Tuscan countryside..
Cost: $172
6. Al Fresco Lunch And Wine Tasting Under Olive Trees
Where: Agriturismo Sanguineto – Via di Sanguineto, 1, 53045 Montepulciano SI, Italy
Nothing symbolizes Tuscany more than vineyards and olive trees. Enjoy this al fresco lunch at a farm just outside Montepulciano, beneath the olive trees, while taking in the majesty of the Tuscan hills.
Take in the views of the Valdichiana and Val d'Orcia landscapes as you unwind over a four-course meal of Tuscan delicacies matched with house wines. Then, you can choose to unwind by the pool or in the spa (additional charge).
The classic Tuscan lunch involves a starter, homemade pasta, meat, and veggies from the kitchen garden prepared in the Tuscan style, and homemade dessert.
Cost: $97
Small Group Pasta and Tiramisu Class In Montepulciano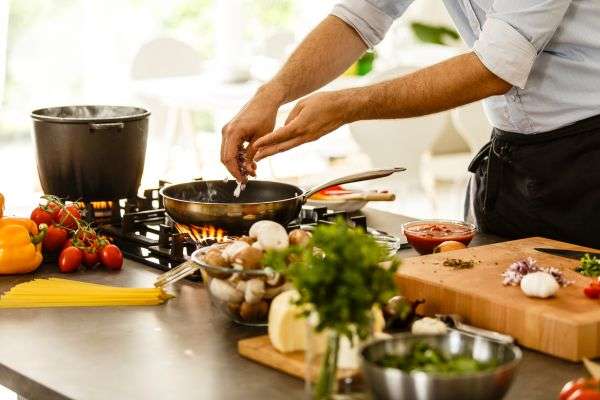 Where: 53045 Montepulciano, Province of Siena, Italy
Cooking classes are my favorite when I travel! They're the best way to experience the culture. Enjoy a delicious tiramisu dessert after learning to prepare two varieties of homemade Italian pasta in this small-group cooking class in Montepulciano. Join a small, maximum 12-person group for an intimate session at the home of a local Tuscan cook. You'll have a sample of your masterpieces, Prosecco, and other local wines.
This will be an in-person encounter in a local's house. Following your reservation, you'll be sent the complete address for privacy concerns. After your reservation, your class will be arranged. You'll feel like family when they share their family's cooking secrets with you.
Cost: $146
Italian Wine Tasting With Professional Sommelier In Montepulciano
Where: Osteria del Borgo – Via Ricci, 5, 53045 Montepulciano SI, Italy
This fun and educational tour is perfect for groups of friends or couples who want to sample wines from all across Italy. You'll experience a unique, professional, and enthusiastic comparative tasting of wines from the best winemaking regions in the country, all with the intention of creating unforgettable experiences.
Following an initial aperitif on Osteria del Borgo's well-known patio, a sommelier will lead you on a voyage of wine tasting. You will taste eight excellent Italian wines in a cellar room to learn about the key traits and variations of the best Italian wines, including Vino Nobile, Brunello di Montalcino, Supertuscan, Chianti Classico, Barolo, Amarone, and more!
Cost: $74
9. Tuscan Cooking Class – Traditional 5-Course Menù
Where: Traversa di Montepulciano, 12, 53045 Montepulciano SI, Italy
In Montepulciano, learn the secrets of Tuscan food by taking a small-group cooking class for a traditional five-course meal. The course is lively and offers a variety of experiences, such as practical cooking, cooking demonstrations, food and wine tastings, and fun with fellow students. Learn how to make two kinds of fresh pasta with sauces, an appetizer, and a famous dessert under the supervision of your host.
Have fun while picking up cooking skills in a welcoming, comfortable, and familiar setting. Sample premium wines that have been intricately paired and explained – a whole adventure via food and wine will accompany Giacomo, a chef and sommelier who will share his hobbies!
Giacomo will open the event by discussing his organic farm and his sustainable production methods. He will also highlight the authenticity of the ingredients, which are the cornerstones of his food philosophy.
Learning to select the best ingredients for your home cooking will be one of your objectives. Once the preparations are complete, you will taste Appetizer Pappardelle, Gnocchi, and the main course (meat and vegetables). You get to enjoy a glass of carefully chosen local wine for every meal. Lastly, you will sample the Tiramisù while unwinding on the patio and taking in the breathtaking scenery.
Cost: $262
Wine Tasting With Light Lunch In Montepulciano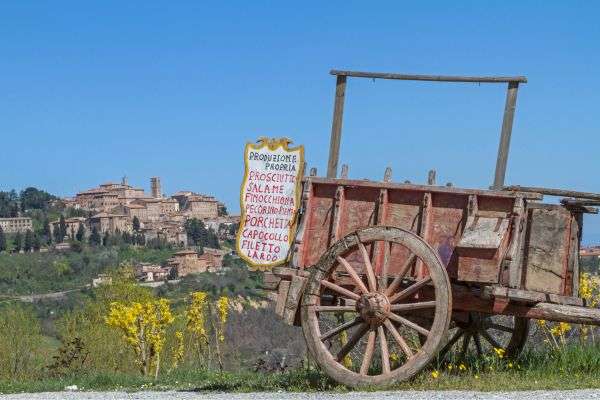 Where: Via di Collazzi, 74, 53045 Montepulciano SI, Italy
Enjoy a traditional Tuscan meal with wine pairings and go on a guided tour of a famous wine cellar. Take an hour or so to explore the complex before settling down for a memorable lunch.
An extensive underground gallery carved out of the tufa lies beneath the Santa Maria dei Servi church, formerly the Convento dei Padri Serviti, founded in 1200. This is the location where Vino Nobile di Montepulciano has matured for generations. A stroll through it reveals a hidden gem: an exquisitely maintained ancient Etruscan tomb. Assorted Bruschette and Cold-Cut Tagliatelle with Tomato Sauce Cantucci are included, with three Tuscan wines paired. You're droolong aren't you? We're not judging.
Wine production in Montepulciano differs from wine production elsewhere. Every aspect of the work is greatly influenced by this place's history, art, and culture, and each sip of wine is a reminder of the principles that have made this area renowned for generations.
Cost: $70
Where To Stay In Montepulciano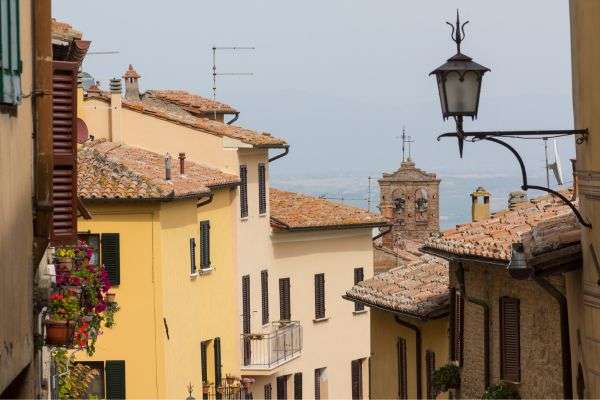 When planning a visit to the enchanting town of Montepulciano, one crucial question arises: where to stay in Montepulciano?
Nestled in the heart of Tuscany, this charming hilltop town offers many accommodation options, each promising a unique experience. We'll navigate the options and help you find the perfect place to call home during your Montepulciano adventure, ensuring your stay is as memorable as the town.
La Terrazza Di Montepulciano
In the center of Montepulciano's historic center, La Terrazza Di Montepulciano is a cozy hostel located on the main drag, just a short distance from the stunning Piazza Grande.
The hostel was recently restored using local materials. Throughout your stay, Roberto and his spouse will try to assist and offer helpful information.
Vicolo dell'Oste
Situated in the ancient center of Montepulciano, Vicolo dell'Oste is a charming antique building.
The Vicolo's rooms feature wood floors, wood-beamed ceilings, and LCD TVs. In addition, every apartment has a fully functional kitchenette and is soundproof and the free wifi is pretty decent.
This place is a fifteen-minute drive to the A1 highway exit and the Montepulciano Train Station.
La Casa Dei Nonni
La Casa Dei Nonni is situated near Mount Amiata, Terme di Montepulciano, Perugia San Francesco d'Assisi Airport, Bagni San Filippo, and Bagno Vignoni. This property provides free WiFi, free private parking, grilling amenities, and access to a balcony.
The apartment has two bedrooms, a living room, a flat-screen TV, an oven and dishwasher in the kitchen, two bathrooms, and views of the garden from the terrace.
Best Wine Tasting In Montepulciano
Wine tours are a true paradise for wine enthusiasts, as presented in some of the best wine tastings in Montepulciano. This captivating Tuscan town, with its rolling vineyards, historic cellars, and passionate winemakers, has an undeniable allure for anyone seeking to savor the essence of Italian wine culture.
Throughout this article, we've uncovered the richness of Montepulciano's wine heritage, from the world-famous Vino Nobile di Montepulciano to other exceptional varietals produced with dedication and expertise. We've ventured into picturesque wineries, each with its unique character and story, where the art of winemaking is celebrated with every pour.
related articles
Wine Tours In Montepulciano FAQs
What season is best for wine tours in Montepulciano?
The best season for wine tours in Montepulciano is typically spring and early autumn. These months offer mild temperatures, lush vineyards, and fewer crowds. The vines are in full bloom during spring, making it a picturesque time to explore the vineyards. Autumn brings the harvest season, offering a unique opportunity to witness grape picking and participate in wine-making activities.
What should I wear on a wine tour in Montepulciano?
Dress comfortably and casually for a wine tour in Montepulciano. It's a good idea to wear comfortable walking shoes as you may explore vineyards or cellars. Weather-appropriate attire is essential, so check the forecast before your visit. In the warmer months, light clothing and sun protection are advisable; in cooler months, bring layers to stay warm.
Is Montepulciano worth staying in?
Yes, Montepulciano is certainly worth staying in. The town offers a unique and immersive experience of Tuscan culture, history, and wine. Its charming streets, excellent restaurants, and wine tours make it a great base for exploring the surrounding countryside and other nearby Tuscan towns. Staying in Montepulciano allows you to fully appreciate the local wine culture and take in the breathtaking views.
Is Montepulciano walkable?
Yes, Montepulciano is a walkable town. Its historic center is relatively compact, with narrow, winding streets and charming piazzas. Exploring the town on foot is the best way to soak in its medieval atmosphere and discover its hidden gems. However, keep in mind that Montepulciano is built on a hill, so be prepared for some uphill walking and wear comfortable shoes.