Prosecco Region, Italy: Best wineries and tours, where to stay & how to get around
The Prosecco region of Italy is one of the most famous Italian wine regions.
It's located in the northeastern region of Italy and made using the Glera grape. Mmmmm, Glera.
We're traveling around the Prosecco region sipping, tasting and touring along the way. If you're thinking about traveling to this hilly sparkling Italian wine region or if you wonder how Prosecco is made and even what to pair with your Prosecco we've got you covered.
We're sharing the winemaking process, why it's called Prosecco and letting you in on all the traveling tips like where to stay, how to book a tasting and how to get around.
Let's go!
Table of contents
Pro tip: take it from someone who creates wine-travel itineraries for a living… if you're just starting your search, use this for inspiration now. Bookmark for convenience so you can return to it when you're ready to book your trip!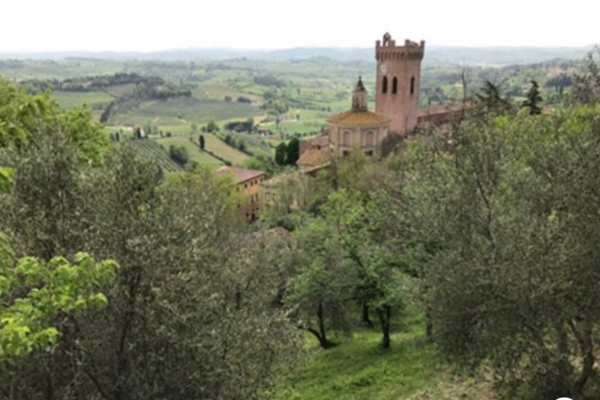 Where is Prosecco made?
Prosecco wine used to be considered sweet cheap fizzy wine only used for the most amazing cocktail ever conceived (I'm speaking of the Aperol spritz of course. And for the record I've loved those long before they were the IT cocktail of college aged cool kids. No shade though).
But Prosecco is really making a name for itself in the states. Thanks, La Marca.
In 2009 (not so long ago), Prosecco was made a protected DOC region. And the former DOC region, Prosecco di Conegliano e Valdobbiadene (pronounced: KO-nee-lee-aah-no VAL-do-bee-aah-den-aye), was promoted as a protected DOCG region.
This was done in response to other countries (Australia) planting the Prosecco/Glera grape. With the designation of the Prosecco region and the Glera grape, the name was designed to prevent varietal wines made outside northeast Italy being labeled as Prosecco in European Union markets.
How is Prosecco made?
Prosecco is made using the grape called Glera, formerly known as Prosecco. The grape name changed in 2009 with Prosecco di Conegliano e Valdobbiadene's promotion.
Wine base, sugar and yeast are added to ginormous tanks. When the yeast eats the sugar CO2 is made and it becomes pressurized. The pressure has no place to go and so carbonation is created.
The Prosecco then ferments twice in stainless steel tanks, a process called the Charmat Method.
There are three ways to make Prosecco. Still, spumante and frizzante. Not many people outside of Italy are aware of still Prosecco.
The distinction of spumante and frizzante wine styles is so small. It's the difference between 2.5 and 3 bars of pressure inside an unopened bottle.
Really, you can't tell the difference?
What does Prosecco wine taste like?
Because Prosecco is made in a tank it will have yeasty notes. Some say it will smell and taste similar to beer. And I agree I do pick up notes of yeast which might remind me of beer but it tastes nothing like beer.
Some producers extend the aging to make a less yeasty tasting wine.
It's fun to pay attention to this the next time you have a Prosecco wine tasting.
Maybe this can be the theme of your next wine club dinner. And if you don't have a wine club dinner, get on that pronto. It's so fun!
There are three styles of Prosecco
From driest to sweetest: Brut (including Extra Brut), Extra Dry, Dry
What grapes are used to make Prosecco Wine?
The dominant grape is Glera. But, Prosecco wine is allowed to have up to 15% of other grapes found in the Prosecco region in Italy. Those are commonly Bianchetta, Verdiso and Perera.
Many producers make 100 percent Glera versions.
Prosecco Region Of Italy
The difference between DOC and DOCG is one of quality. DOC and DOCG are designation of origin. But DOCG denotes "garantita," or guarantee, by the Italian government to be wines of especially high quality.
Prosecco DOC
Basic. But good!
Prosecco Trieste DOC & Prosecco Treviso DOC
The quality in these two regions is more controlled because they are small regions.
Conegliano Valdobbiadene Prosecco Superiore DOCG
This is an area within Treviso and it is much smaller and more hilly. It is one of the 73 DOCG of Italy. Within this region, you'll find some of the best Prosecco, along with two other sub-appellations.
Conegliano Valdobbiadene Prosecco Superiore Rive DOCG
The word Rive means "bank" and the name in the region is referring to 43 hilly locations that are within Conegliano Valdobbiadene. The region is small but produces excellent wine as its designation guarantees.
Valdobbiadene Superiore di Cartizze DOCG
The quality of Prosecco in this very small area is exceptional. The best. It's only 264 acres.
Asolo Prosecco DOCG
Asolo Prosecco DOCG is just below the Piave River. This wine style is "Extra Brut".
If you remember your history class, in World War I the Piave River was the main line of Italian defense after the Austrian breakthrough at Caporetto in 1917. The line held, and the Austrians were defeated.
How to get around the Prosecco region, Italy
Booking a tour is the best way to see the region while you relax. However, if you want to choose your own adventure, Discovercars.com makes it super easy to search for a car in whatever country you're going to be in.
If you do decide to rent a car, rent a compact car. Think… Fiat. Chao!
As you can see we really loved our fiat. We were carrying three backpacks and one of us is 6'1″.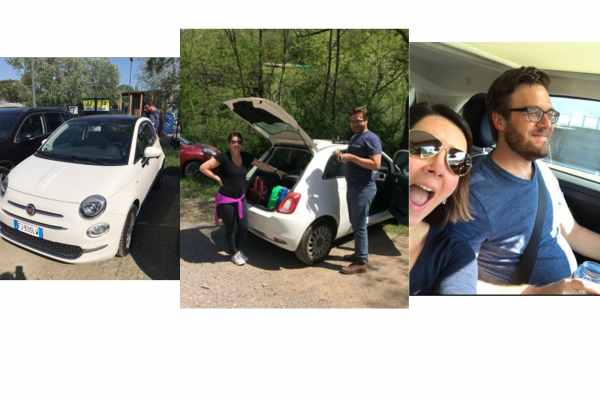 Prosecco Italy Map
Here's a map of the best wineries and hotels in the towns of Conegliano, Susegana and Valdobbiadene.
Best Places to stay in the Prosecco Region, Italy
Choosing where to stay and where to taste can be very overwhelming. So we've concentrated on the best areas that are guaranteed to-write-home-about locales.
If you're touring the Prosecco region in Italy and not staying in Venice (you can totally stay in Venice and visit amazing wineries btw, we'll cover that), you're probably staying in the actual Prosecco region.
If you stay in the Prosecco region you're doing this for two reasons; one, you want to slow wayyyy down and experience the countryside and two, you want to save a bit of cash. Tours are super convenient but can be expensive and sometimes you can feel a bit rushed.
Need a bonus reason to stay in the region? The owner of your property will give you all the juicy details about the town. They want you to have a good time. They want you to give them a good review.
For the best Prosecco we are staying in Conegliano and Valdobbiadene (Conegliano Valdobbiadene Prosecco Superiore Rive DOCG).
Here's a list of the best places to stay in the region.
Conegliano
Via Costa Alta 56, 31015 Conegliano, Italy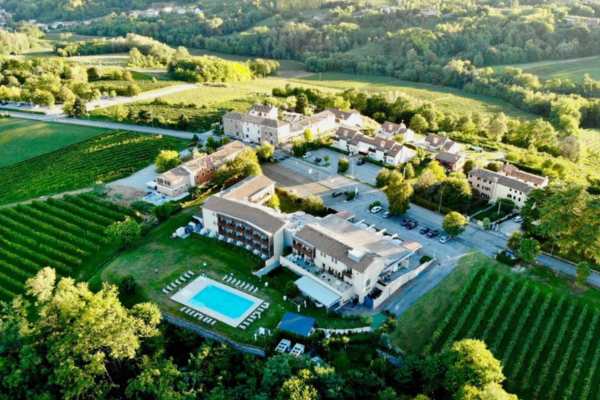 Reasons we love this property: The property has amazing views. The breakfast is very good, there's a pool and an incredible restaurant and decent wi-fi for the middle of Italy. Might be hard to work from here though.
Via A. Diaz 37, 31015 Conegliano, Italy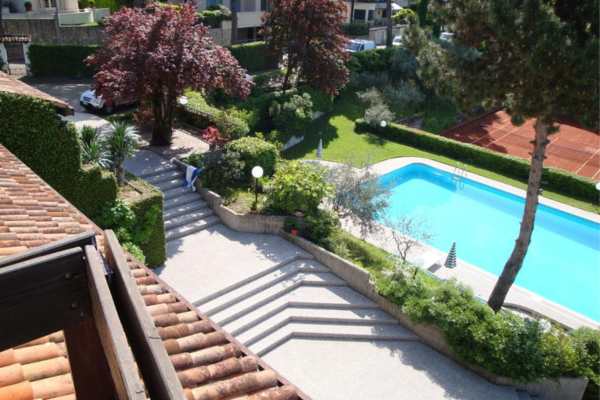 Reasons we love this property: Big and comfy hotel, beautiful neighborhood. 5-8 mins walk to the city center. The pool was nice and clean. Good breakfast. Friendly and helpful staff. The rooms are quiet and have a nice balcony with a view into the garden. Good water pressure. Decent wi-fi.
Via Vecchia Trevigiana, 48, 31015 Conegliano, Italy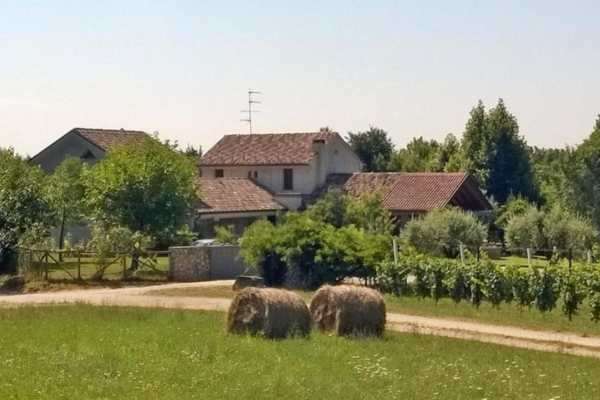 Reasons we love this property: Surrounded by countryside and wine. Fruit and olives growing all around. Clean. Good breakfast. The staff is extremely kind. Everything was made easy. Great value for the money. Better than average wi-fi.
Susegana
Via Ponte Vecchio 5/A, 31058 Susegana, Italy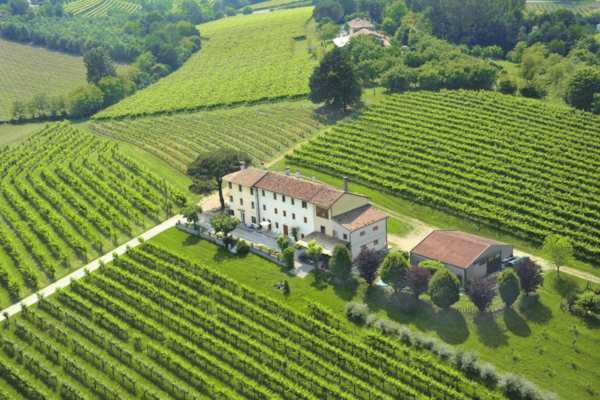 Reasons we love this property: Beautiful surroundings, great views, nicely and tastefully renovated accommodation. Great wi-fi. Working remotely is good here.
Via Vigna 29, 31058 Susegana, Italy
Reasons we love this property: Great location. The superior room which is spacious and clean. Could use some updates overall. Comfortable beds. Quiet. Located on a hill. Good views.
Restaurant onsite. Small dinner available. Good breakfast. Better than average wi-fi.
Via Sottocroda, 40, 31058 Susegana, Italy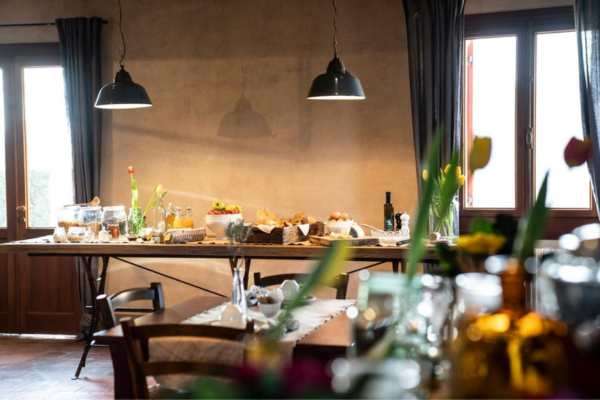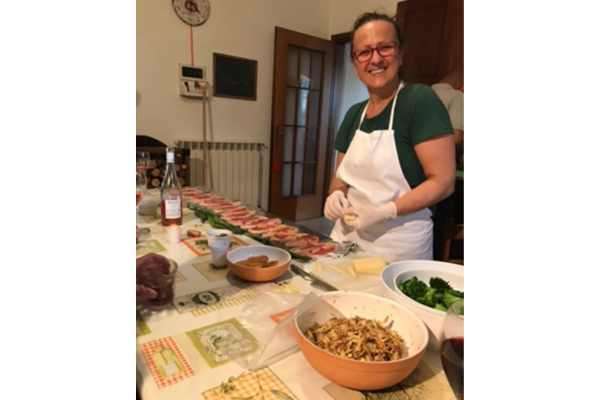 Reasons we love this property: Friendly staff. Continental breakfast from the farm. Cicchetti is sourced locally. Stunning location within vineyards. Average wi-fi.
Valdobbiadene
Via Menegazzi, 21, 31049 Valdobbiadene, Italy
Reasons we love this property: Breakfast is great. Staff is kind. The rooms are charming with really nice views. The property overall is stunning. No frills stay right in the heart of Cartizze. Many wineries are walkable. Wi-fi is excellent.
1 Via Tessere, 31049 Valdobbiadene, Italy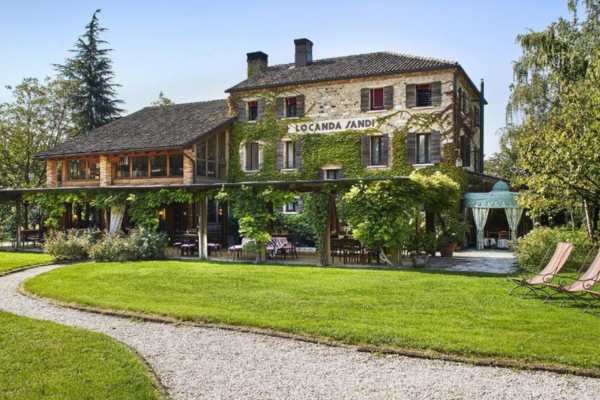 Reasons we love this property: Locanda Sandi is a lovely unique hotel located in the beautiful Valdobbiadene area. The hotel is next to the Villa Sandi vineyard and tasting room with a great selection. They have a 5 star breakfast that was beautifully presented and delicious. The staff was very helpful and friendly. Decent wi-fi.
Via Garibaldi 249, 31049 Valdobbiadene, Italy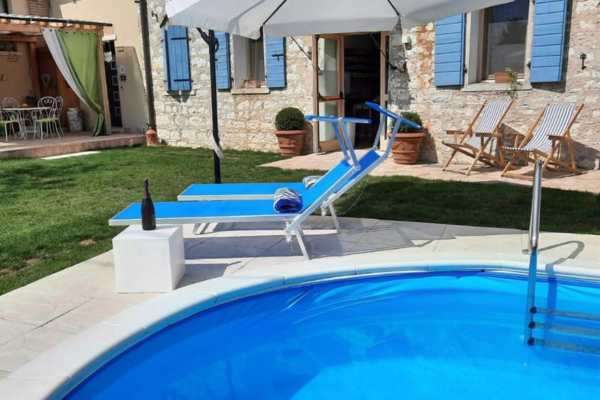 Reasons we love this property: Excellent location. Spacious apartments with a large terrace. Amazing views of the Valdo and valley. Comfortable interior. Great value for money. Nice owners. Well equipped kitchen. Suitable for a group of four. Bonus: free tasting in her wine cellar! Excellent wi-fi.
IL NIDO Appartamenti Turistici
178 Via Piva, 31049 Valdobbiadene, Italy
Reasons we love this property: Clean apartment. Great location near the town center. Nice shared garden with a pool where you can have breakfast and lunch. The owners and staff are kind and caring. You'll feel at home. Average wi-fi.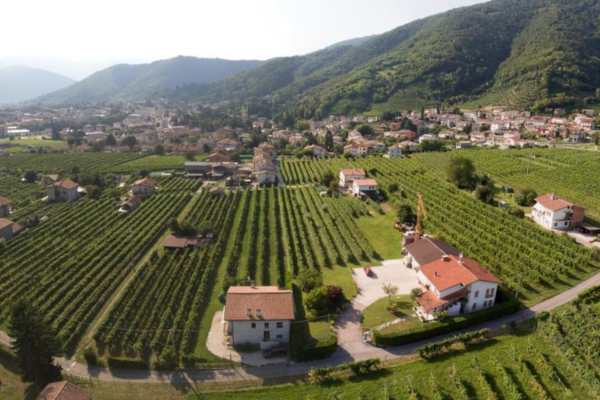 Best Prosecco Tours, Italy
So now that you've learned where to stay if you want to be on your own, now we'll talk tours.
Tours are great if you don't want to spend time planning your wine tasting travel logistics. Also, with tours, you have a knowledgeable guide that will speak your language and show you the top crowd-pleasing places. You can also ask them questions about the area.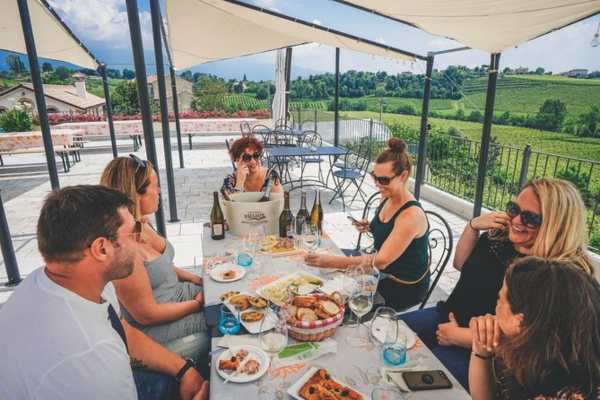 Learn about the production process of Prosecco at a local winery and enjoy guided tastings. Lunch is included! This small group tour leaves from Venice and is about 6 hours long. Book early, as this is a small group tour it is likely to sell out.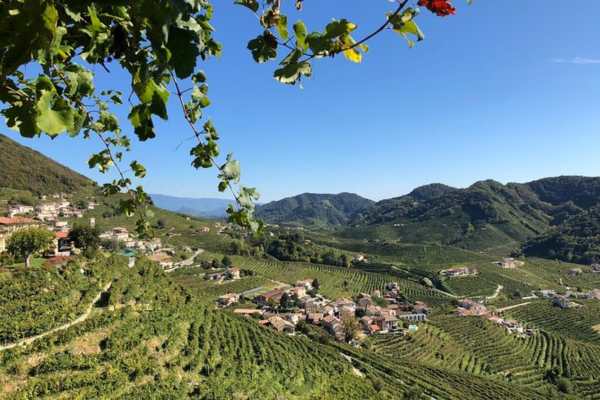 A sparkling day in the Prosecco hills. This is a full day tour from Venice. You'll sip while you learn all about Prosecco wine making. A four course with recipes to take home is included!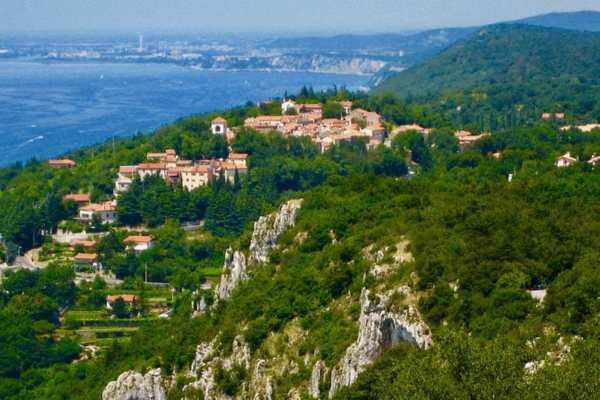 Food and wine pairing is included on this 3 hour tour of the old village of Contovello and the countryside of Carso Triestino. Step back in time when and where the vintners first made sparkling wine. Explore the streets of Contovello and vineyards of Prosecco.
This full day tour and tasting experience in the Prosecco region is the stuff Italian dreams are made of. Your driver will pick you up in Venice and transport you to three different wineries in the Prosecco region. Your "Cicchetti" (cheese, salame, bread) at the first tasting is included.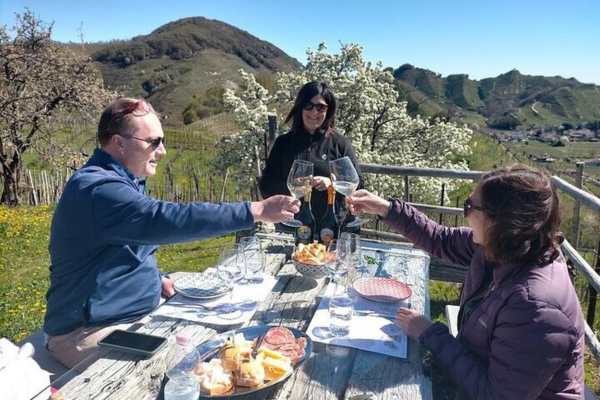 This 4 hour tour will take you along the scenic roads of Conegliano and Valdobbiadene. You're going to talk about the Prosecco winemaking process in the Prosecco region of Italy. You'll sip brut, extra dry, dry, and even rosé Prosecco at a boutique winery. All tastings and lunch are included! Doesn't get much better than this folks.
Where To taste Prosecco In Italy
Best Prosecco Wineries in Valdobbiadene
La Tordera
Via Alnè Bosco 23, 31020, Vidor, Treviso (TV)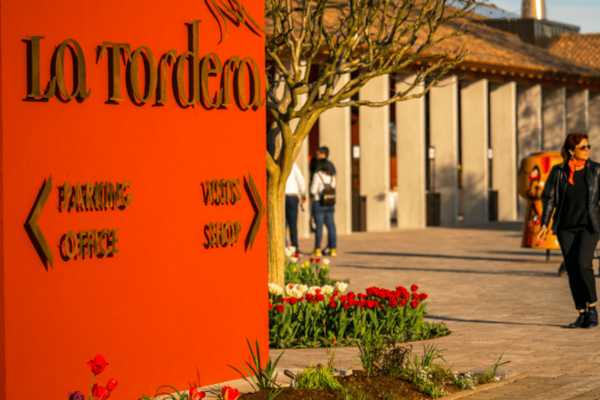 There are a few reasons we love La Tordera. For four generations La Tordera has been making Prosecco sustainably. Their winery is set up to give you an incredible experience.
They have an incredible selection of Prosecco wines. A selection of Valdobbiadene e Asolo DOCG, Prosecco DOC Treviso and Sparkling wines including a Rosé.
They offer tours of the winery where they share their winemaking process, tasting of 5 wines is included in the tour. 20€ per person.
If you want to skip the tour (take the tour!) a tasting is available for 15€.
Col Vetoraz
Col Vetoraz Spumanti Spa
Strada delle Treziese, 1 – 31049 S. Stefano di Valdobbiadene (TV)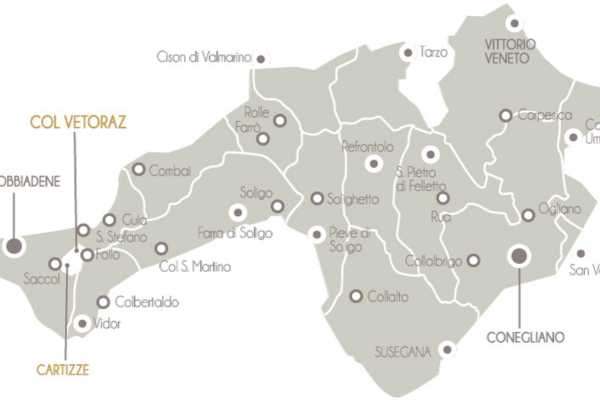 The wine at Col Vetoraz is from the hills in the Valdobbiadene Superiore di Cartizze DOCG. It is a very small, very ancient area that produces the most exceptional Processo.
And when we say old we mean dino era. The foothills of Treviso and in particular the hills that extend from Valdobbiadene towards Conegliano are hills that emerged in the Tertiary era (66 million years to 2.5 million years ago).
And to put that into perspective, the Napa Valley is about 2 million years old.
Anyhow…
If you visit Col Vetoraz you should bring their wine home with you.
At 16€-25€, you will not find a better quality Prosecco wine for this price in the US.
We recommend you buy a few bottle for your travels around the Prosecco region of Italy and have a little wine tasting party back at your hotel. Compare the Valdobbiadene Superiore di Cartizze DOCG with the Prosecco DOC and see if you can taste the difference.
And if you can't, who cares? You're still drinking amazing Prosecco from its birth place and that's really special.
PS- scrolling down their list of awards will give you Game Boy thumbs. Yeah… it's that long.
La Vigna di Sarah
Via del bersagliere 30/A, 31029 Vittorio Veneto (TV)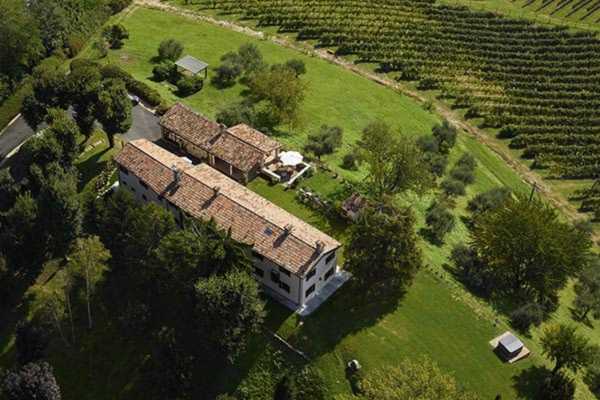 La Vigna di Sarah is a fun winery that's all about innovation. Except for the traditional organic farming ways.
La Vigna di Sarah is owned by Sarah. Sarah spent her formative years traveling and getting her education in England but returned to the hills of Conegliano Valdobbiadene where she was born and raised.
The wine gets the name from the hill of Carpesica; Borgo Luna refers to the village of Col di Luna, where the farmhouse is located. You can book a stay at Sarah's farmhouse and sleep in the vineyard (so to speak…)!
Grappoli di Luna (Moon bunches), is her most innovative wine. It's the only Prosecco harvested at night. The temperature is lower than during the day. Her main purpose is also the desire to study the effects of the moon on the finished wine. Since the moon has various influences on man, on tides, on pruning, and the harvest.
This is referred to as biodynamic farming.
Available experiences include a picnic on the grounds with wine, homemade bread and cake, and a hot or cold first course with vegetables from the biodynamic garden. Are you kidding me? This is how I picture my eternal life.
Want to tack on a visit to the Cistercian Monastery of SS. Gervasio and Protasio? Inside, you'll find a Prosecco DOCG Conegliano Valdobbiadene vineyard as well as a historic cellar dating back to the 1700s.
Sarah's Vineyard and the Monastery have begun a co-op and common projects to make this Monastery and place of prayer known. For the first time, a part of the Monastery is open for small tastings and visits related to reflection and spirituality.
Cantina Fasol Menin
Fasol Menin Winery, Via Fasol e Menin, 22, 31049 Valdobbiadene TV, Italy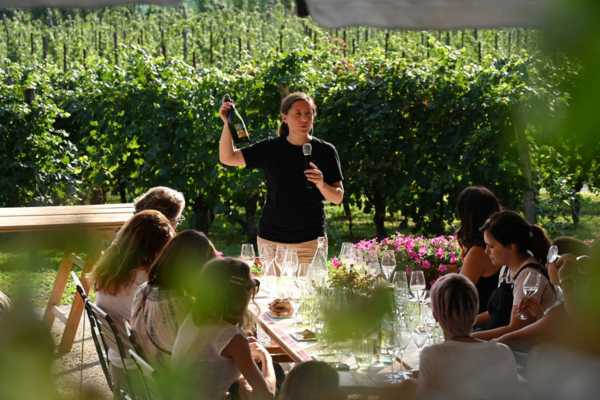 Cantina Fasol Menin offers you a chance to experience the vineyards and the bubbles.
There are two bike tours. There's one that is 1 hr in duration and the other is a bit longer. Both are around the vineyards, easy to moderate and of course, they both conclude with a tasting of Valdobbiadene Prosecco Superiore DOCG paired with local food.
Ebikes are available (YAY!)
Their Prosecco wines are exquisite. The Perlo Extra Brut Valdobbiadene D.O.C.G – Prosecco Superiore was the Bronze winner of Decanter's World Wine Award in 2022. So yeah, Cantina Fasol Menin is making some good wine.
Adami Valdobbiadene Prosecco Superiore DOCG
Via Rovede, 27, 31020, Colbertaldo di Vidor, Treviso (Italia)
Adami offers several experiences from 2 different guided tastings beginning at 12€ per person, a tour of the cellar to guided tours of the vineyards. Learn about the land and how they make their Prosecco Superiore di Cartizze.
Best Prosecco Wineries In Conegliano
Toni Doro – Il Prosecco
Via dei Soldera, 24 31029 Vittorio Veneto (TV)
If you're traveling through Conegliano, a stop to Toni Doro should 100% be on your list.
In 2019 their vineyards were recognized as an UNESCO World Heritage Site.
One year later, in 2020 Toni Doro obtained the SQNPI certification for their sustainability practices.
They've won numerous awards for their service and hospitality and are in the heart of the Conegliano Valdobbiadene Prosecco Superiore DOCG which means, their Prosecco is literally guaranteed to be superior.
Unless you speak Italian, you won't understand the video below but they are speaking passionately about their vineyards and their wine.
For tastings, you can reserve online or just stop in.
Cantina Zinto – Società Agricola Da Lozzo Romeo Ed Enrico s.s
Via Guizza, 93/A 31015 Collalbrigo di Conegliano (TV), Italy
One of the best Prosecco wineries in the Conegliano Valdobbiadene DOCG, The Zinto vineyards are located on the Collalbrigo hills. Their Prosecco wine has won award, after award, after award…
Even though their wines are all from the same vineyard, the estate extends over four slopes with different sun exposure and so each wine is different. It's so fun to taste the differences.
They open for tastings and tours. You'll be certain to receive a history lesson here. Reservations are welcome via email.
Terre Boscaratto
Via Ponte Vecchio 5/A, 31058 Susegana, Italy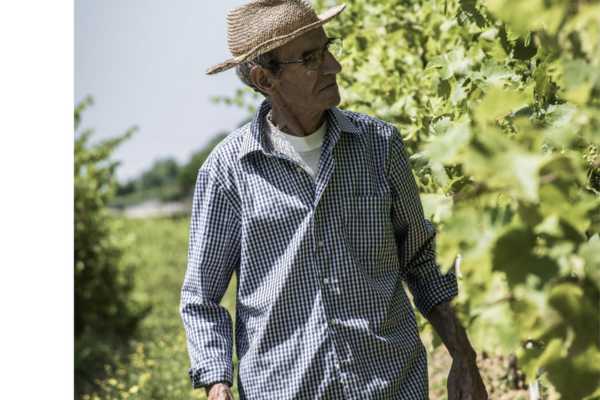 If you are staying at Terre Boscaratto hotel, you can easily taste their wine. If not, you can still easily taste their wine.
Terre Boscaratto's Prosecco has aromas of citrus, fruit and floral and the flavor is fresh and lively.
Their "Tranquio", meaning quiet, is a still wine that showcases the terroir by having minimal intervention. Glera grapes are harvested by hand in small crates, which are taken to the pressing in the shortest possible time. Notes of ripe fruit, golden apple, pineapple, peach.
DO NOT miss the opportunity to taste this wine! You will want to bring this home with you.
They are open daily but it's always best to reserve your seat as a courtesy.
Il Colle 1978 Azienda Vitivinicola
Via Colle, 15, 31020 San Pietro Di Feletto, Treviso
The folks at Il Colle really know a thing or two about hospitality. They are as warm and friendly as they are innovative winemakers.
Their tastings are 20€ per person but you'll receive decent pours of 3 wines and local artisan cheeses. I'll take it!
They do prefer tastings be booked online but will probably accept you as a walk-in.
Azienda Agricola Conte Collalto
Via XXIV Maggio, 1, 31058 Susegana TV
The term azienda means business and is used to denote a company or firm in Italian. An azienda agricola is a farming business.
The Collalto family has been in the winemaking business for over a century.
A tour of the historic cellar, wine tasting of 3 wines including 1 Prosecco Superiore DOCG, plus baked goodies for 15€ per person.
Choose the tour and tasting with a cicchetti plate and another wine for a total of 25€ per person.
Their Prosecco wines include two different Prosecco Superiore DOCG wines harvested from the best selection of their properties.
They also have a selection of the different types of Prosecco Superiore DOCG ranging from the driest Extra-Brut to the sweetest Dry.
They also produce Olive Oil in the vineyards from centuries old olive trees. Their EVOO is described as "…fresh oil with herbaceous scents and soft to the taste embellishes the dishes of the best Italian cuisine every day."
I want to go to there.
Cantina Bernardi
Via Colvendrame, 25, 31020 Refrontolo (TV)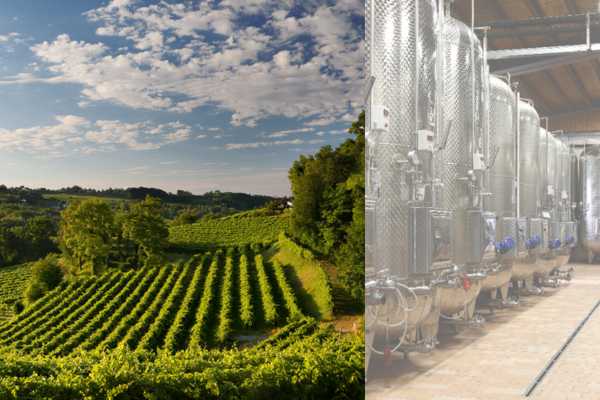 State. Of. The. Art. Cantina Bernardi wines are hand harvested in the area of ​​Conegliano Valdobbiadene Prosecco Superiore DOCG .
Cantina Bernardi is producing high quality wines from fruit grown in the UNESCO heritage vineyards. Their wines are produced with high tech equipment but respectful of the traditions.
Not only are they producing incredible Prosecco wine but they also offer various white and red wines typical of the Marca Trevigiana, and the characteristic Colli di Conegliano Refrontolo Passito DOCG.
Guided tastings are available through walk-in or by appointment.
Top 10 Best Italian Prosecco Wine To Buy
If you're looking for the best Prosecco wine to buy in the states, we've got a Best Of list for you.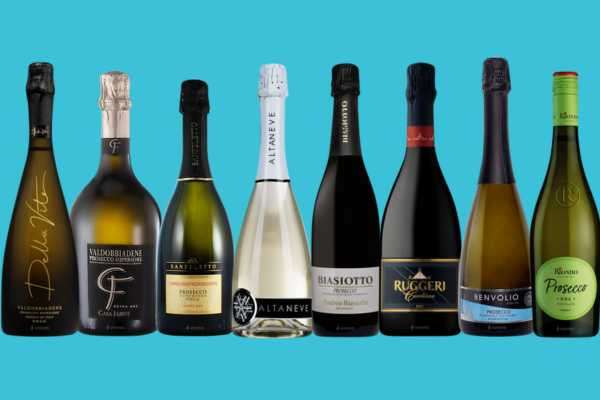 Best Prosecco Food Pairing
Prosecco pairs well with lots of things. Warm weather, BBQs with friends, brunch.
Finding a food pairing is super easy. If you ever get stuck, pair it with the food of the region like cicchetti (charcuterie).
You could even pair Prosecco with seafood. Venice is just a short distance away from the Prosecco wine region.
Our favorite Prosecco food pairing is salame and prosciutto. So… cicchetti.
Want to bring your prosecco wine home with you?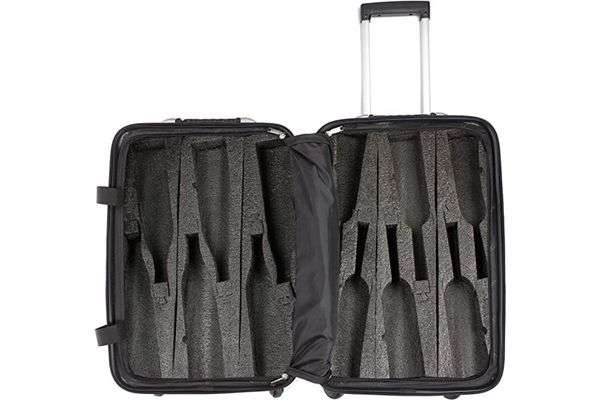 We recommend the VinGardeValise 12 bottle wine suitcase. There are a couple ways you can use this suitcase. One is, when you come home you only pack half the suitcase with wine and the other side clothes; or, what we do is bring a duffle bag to carry our clothes home. You can still check a duffle bag home btw, you don't have to schlep it around for all four connections.
Pro tip: you can also use the duffle bag to drop off your clothes to be laundered if you're doing an extended trip. Multiple uses for one duffle bag.
Prosecco Region, Italy FAQ
Where is the Prosecco region in Italy?
The Prosecco region of Italy is one of the most famous Italian wine regions. It's located in the northeastern region of Italy and made using the Glera grape. Mmmmm, Glera.
What is the Prosecco Doc region?
The difference between DOC and DOCG is one of quality. DOC and DOCG are designation of origin. But DOCG denotes "garantita," or guarantee, by the Italian government to be wines of especially high quality.
Is Prosecco a town?
In 2009 (not so long ago), Prosecco was made a protected DOC region. And the former DOC region, Prosecco di Conegliano e Valdobbiadene (pronounced: KO-nee-lee-aah-no VAL-do-bee-aah-den-aye), was promoted as a protected DOCG region.
What is the Prosecco capital of the world?
The towns of Valdobbiadene in the province of Treviso, and Conegliano are the Prosecco capitals. These very small DOCGs produce the best Prosecco wine in the world. That's literally a fact.
Is Prosecco from Tuscany?
Although it can be extremely difficult to distinguish the Prosecco region from Tuscany, Prosecco is in the northeastern part of the country. North of Venice.
Is Prosecco from Trieste?
The Prosecco grapevine comes from the Trieste territory, probably taking its name from a village name. The "castellum nobile vinum Pucinum" (the Castle of Prosecco) led to the name Prosecco wine. Prosecco DOC is the largest ever. Prosecco from the province of Trieste is called Prosecco Trieste DOC.
What is the difference between Prosecco and Prosecco DOC?
Prosecco is Italy's most famous sparkling wine. Like Champagne, not just any Italian sparkling can call itself Prosecco DOC. The wine has a protected geographic designation label of DOC, short for Denominazione di Origine Controllata, or "controlled designation of origin".
What is the difference between  DOC and DOCG?
The difference between the two classifications is the 'garantitia' or guarantee of quality in DOCG. Both DOC and DOCG labeled bottles are made to the specification of the appellation (85% Glera grape).
How much is a glass of Prosecco in Venice?
A glass of Prosecco wine cost no more than €2.50 in any bar. That was reason enough for me to head to Prosecco.