Your Guide To Booking A Wine Tasting In Montepulciano
If you're wanting to book an unforgettable wine tasting in Montepulciano, you've come to the right place. Montepulciano, nestled in the heart of Tuscany, is a haven for wine connoisseurs and enthusiasts alike. 
Our guide takes you through booking a wine tasting in Montepulciano, ensuring that your journey through this charming Italian town is nothing short of a vinicultural delight.
From selecting the perfect wineries to understanding the nuances of the local wine scene, best time to book, and where to stay, get ready to uncork the secrets of Montepulciano's renowned wine culture.
Where Is Montepulciano?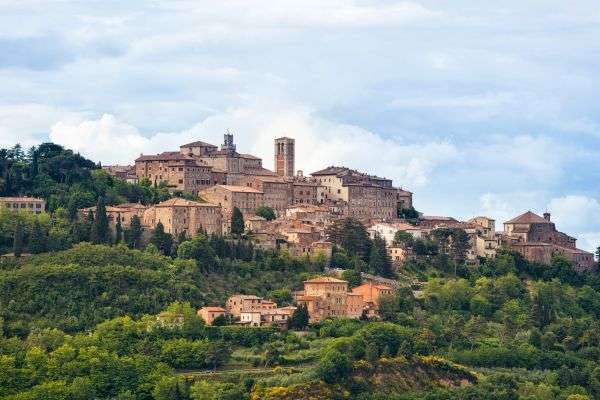 Montepulciano is a town located in the province of Siena in the Tuscany region of central Italy. It is known for its stunning hilltop location, historic architecture, and, most notably, its production of high-quality wines, including the famous Vino Nobile di Montepulciano.
This picturesque, medieval hilltop town is situated approximately 70 kilometers (about 43 miles) southeast of the city of Siena and is surrounded by the beautiful Tuscan countryside, making it a popular destination for wine enthusiasts and tourists seeking a taste of Italian culture and wines.
When Is The Best Time To Visit Montepulciano?
The best time to visit Montepulciano largely depends on your preferences for weather, activities, and crowd levels. Here's a breakdown of the different seasons and what you can expect:
Spring (March to May): Spring is a fantastic time to visit Montepulciano. The weather begins to warm up, and the countryside comes alive with blooming flowers and lush greenery. The temperatures are pleasant, ranging from around 10°C (50°F) in March to 24°C (75°F) in May. This is an excellent time for outdoor activities like vineyard tours and exploring the town without the scorching summer heat. However, keep in mind that April and May can still see some rainfall.
Summer (June to August): Summer is the peak tourist season in Montepulciano. The weather is warm and dry, with temperatures averaging between 25°C (77°F) and 30°C (86°F). This is the ideal time for outdoor dining, enjoying festivals, and savoring the local wines. However, it can get quite hot, and crowds can be substantial, so booking accommodations and wine tastings in advance is essential.
Fall (September to November): Many consider the fall months the best time to visit Montepulciano. The weather remains pleasant, with temperatures ranging from 20°C (68°F) in September to 14°C (57°F) in November. The grape harvest season typically occurs in September, making it an exciting time to witness the winemaking process. The landscapes turn vibrant shades of red and gold, offering breathtaking scenery for travelers.
Winter (December to February): Montepulciano is less crowded in winter, making it a peaceful destination for those seeking a quieter experience. However, the weather can be chilly, with temperatures ranging from 3°C (37°F) to 10°C (50°F). Some wineries and businesses may have reduced hours or be closed during this season, but you can still enjoy the cozy atmosphere of local trattorias and wine cellars.
The best time to visit Montepulciano depends on your preferences. If you enjoy warm weather and bustling activities, summer is ideal. For milder weather and fewer crowds, spring and fall are excellent choices. Winter suits those who want a more relaxed and budget-friendly experience, although you should be prepared for cooler temperatures.
Ultimately, Montepulciano offers something special year-round so that you can plan your visit based on your desired experiences and climate preferences.
How To Get To Montepulciano
Getting to Montepulciano, Italy, involves a combination of air travel and ground transportation. Here's a step-by-step guide on how to reach this charming town:
1. Choose Your Nearest Airport:
The nearest major international airports to Montepulciano are Florence Airport (Aeroporto di Firenze-Peretola, FLR) and Perugia San Francesco d'Assisi – Umbria International Airport (Aeroporto Internazionale dell'Umbria – Perugia, PEG). These airports are approximately 120-130 kilometers (75-80 miles) away from Montepulciano.
2. Arriving at Florence Airport (FLR):
From Florence Airport, you can take a taxi or shuttle to the Florence Santa Maria Novella Train Station (Firenze SMN). This is the main train station in Florence.
You can catch a train from Florence Santa Maria Novella Train Station to Chiusi-Chianciano Terme Train Station, the closest train station to Montepulciano. The train journey takes approximately 1.5 to 2 hours.
Once you arrive at Chiusi-Chianciano Terme Train Station, you can take a taxi or a local bus to Montepulciano, about 20-30 minutes away.
3. Arriving at Perugia San Francesco d'Assisi – Umbria International Airport (PEG):
You can take a taxi or a shuttle from Perugia Airport to Perugia Train Station (Stazione di Perugia). This is the primary train station in Perugia.
You can catch a train from Perugia Train Station to Chiusi-Chianciano Terme Train Station, the closest train station to Montepulciano. The train journey takes around 1 to 1.5 hours.
After reaching Chiusi-Chianciano Terme Train Station, you can proceed to Montepulciano by taxi or local bus, as mentioned earlier.
4. Traveling by Car:
If you prefer flexibility and plan to explore the surrounding area, you can also rent a car at the airport. Montepulciano is accessible by road, and the drive offers beautiful views of the Tuscan countryside.
Major highways in the vicinity include the A1 Autostrada and the SR2 Superstrada. Be sure to have a GPS or a detailed map to navigate the local roads and reach Montepulciano.
5. Additional Transportation Options:
If you're already in Italy, consider taking a train or bus to nearby towns like Siena or Arezzo and then continue to Montepulciano by train or bus.
Please note that it's a good idea to check train schedules and availability in advance, especially during peak travel seasons, and to confirm local bus routes and timetables for the final leg of your journey to Montepulciano. With the right planning, you can easily reach this enchanting Tuscan town and begin your wine-tasting adventure.
Should You Rent A Car In Italy?
Renting a car in Italy is a good idea depending on your itinerary, comfort level with driving abroad, and the type of experience you want to have. If you're American, you'll need an international drivers license. You can get one at AAA (free for members). Italy offers a well-connected public transportation system, including trains and buses, which can be efficient and cost-effective for traveling between major cities and popular tourist destinations.
However, if you plan to explore rural areas, small towns, or regions with limited public transport options, renting a car can offer greater flexibility and convenience. It allows you to access off-the-beaten-path locations and explore the countryside at your own pace.
Additionally, you can't bring your rental car into the old town of Florence (we picked ours up just outside of Florence and drove through Tuscany), and having a car in Rome isn't a great idea because many major attractions are only accessible by foot anyhow.
So, you can omit the rental car if you're exploring big cities and only have a little luggage. If you have children with you, take the public transportation instead.
What Kind Of Wine Is In Montepulciano?
Montepulciano is both a grape variety and the name of a village. Montepulciano d'Abruzzo is the wine produced from the Montepulciano grape when grown in the Abruzzo region. Montepulciano is renowned for producing a specific type of wine called "Vino Nobile di Montepulciano." This wine, crafted primarily from the Sangiovese grape variety known locally as Prugnolo Gentile (minimum 70%), embodies the essence of Tuscany's winemaking tradition. It's blended with Canaiolo Nero (10%–20%) and small amounts of other local varieties such as Mammolo.
What Does Montepulciano Taste Like?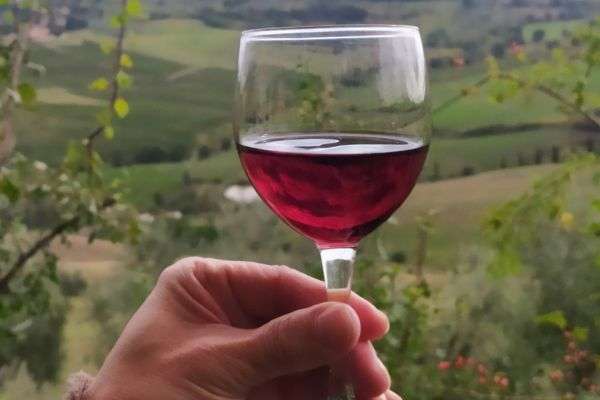 Vino Nobile di Montepulciano is known for its elegance and complexity. It typically offers flavors of dark cherry, plum, red berries, and sometimes notes of spice, tobacco, and leather. The wine has good acidity and aging potential, making it a versatile choice for food pairing.
Is Food Served With Wine In Montepulciano, Italy?
It is common for food to be served with wine in Montepulciano, Italy, especially when you visit wineries for tastings or dine in local restaurants. Wine and food are deeply intertwined in Italian culture, and Montepulciano is no exception.
Wine tasting in Montepulciano vineyards usually involves small bites of regional cheeses, cured meats, bread, olive oil, and perhaps even classic Tuscan dinners when you visit them for wine tastings. This enhances the tasting experience by allowing you to explore how the wine interacts with various flavors.
Do You Tip In Italy?
Although it is not customary in Italy to tip as it may be in North America and certain other European nations, it is nonetheless appreciated. In Italy, leaving a tip is seen as a reward for very good service. Additionally, tip jars are not typically found at registers.
Note: Always tip your tour guide, whether for a paid or free trip.
Where To Stay In Montepulciano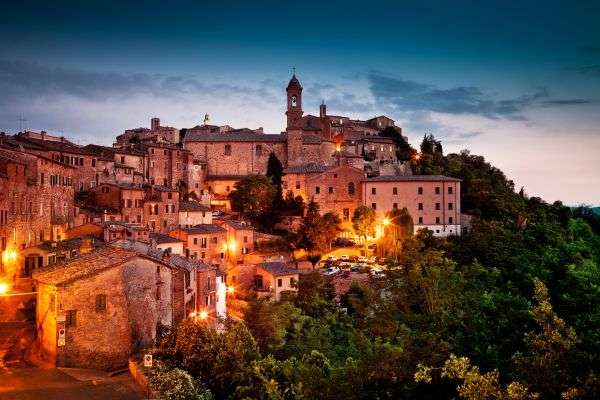 Montepulciano, known for its medieval charm, rolling vineyards, and world-class wines, offers a range of lodging choices that cater to various tastes and preferences. Let's explore some accommodation options in Montepulciano, ensuring that your visit is memorable and perfectly tailored to your desires.
La Pievina
Located 3 kilometers outside Montepulciano in the Tuscan countryside, La Pievina is a family-run farmhouse with a pool. It is on 25 acres of private farmland and offers expansive views of the hills and vineyards.
We love this property because you can unwind in the garden with tables, seats, a gazebo, and a BBQ. Every morning, breakfast is served and includes handmade specialties.
The rooms are rustic-styled flats that have timber furnishings and wrought iron beds. Each room has a balcony and private bathroom. Apartments also come with a kitchen and a living room with a fireplace.
In addition to growing its fruit, vegetables, and olive oil, La Pievina also raises cattle. The farmhouse is easily accessible from the A1 highway, and parking is free. Around Val d'Orcia, there are a lot of interesting towns, churches, and natural areas.
Appartamento Centro Storico La Pulcianella
Appartamento Centro Storico La Pulcianella is 5.2 kilometers from the Terme di Montepulciano, near Bagno Vignoni and Bagni San Filippo. Decent WiFi but may not be great if you're a digital nomad and need to upload videos. The place is 47 kilometers from Mount Amiata.
The air-conditioned apartment has a living room, a kitchenette with a dishwasher and a coffee maker, and a shower and slippers in the bathroom. The flat includes linens and towels.
Perugia San Francesco d'Assisi Airport is the closest airport from the apartment.
La Casina Di Iole
La Casina di Iole is just near Terme di Montepulciano, Bagni San Filippo, Bagno Vignoni, and Mount Amiata. Perugia San Francesco d'Assisi Airport is the closest airport from the apartment. We love this place because the location is incredible! Right inside the city.
The apartment's one bedroom, kitchenette, and bathroom are all air-conditioned. A flat-screen TV is also available. Wifi, not so great.
Start Your Wine Tasting Journey In Montepulciano
Montepulciano offers an unparalleled wine-tasting experience that transcends expectations. This charming Tuscan town, steeped in history and surrounded by rolling vineyards, is a haven for wine enthusiasts and curious travelers alike.
From the world-renowned Vino Nobile di Montepulciano to the warm hospitality of local winemakers, every aspect of the wine journey here is a sensory delight. Montepulciano reveals its vinous treasures with grace and authenticity as you explore the historic cellars, savor the rich flavors, and soak in the breathtaking vistas.
Related articles
want to bring montepulciano wine home with you?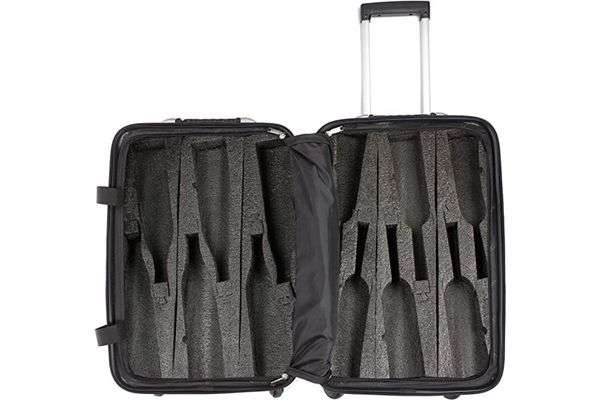 We recommend the VinGardeValise 12 bottle wine suitcase. There are a couple ways you can use this suitcase. One is, when you come home you only pack half the suitcase with wine and the other side clothes; or, what we do is bring a duffle bag to carry our clothes home. You can still check a duffle bag home btw, you don't have to schlep it around for all four connections.
Pro tip: you can also use the duffle bag to drop off your clothes to be laundered if you're doing an extended trip. Multiple uses for one duffle bag.
Wine Tasting In Montepulciano FAQs
Is Montepulciano, Italy, worth visiting?
Montepulciano is undoubtedly worth visiting for its picturesque charm, rich history, and, of course, its exceptional wines. The town's medieval architecture, rolling vineyards, and captivating vistas make it a delightful destination for travelers seeking an authentic Tuscan experience. Montepulciano is known for its welcoming atmosphere, cultural festivals, and the famous Vino Nobile wine.
What is Montepulciano known for?
Montepulciano is primarily known for producing "Vino Nobile di Montepulciano," a renowned Italian red wine made primarily from the Sangiovese grape variety, locally known as Prugnolo Gentile. This wine is celebrated for its elegance, complexity, and rich flavors. Montepulciano is known for its well-preserved medieval architecture, including the beautiful Piazza Grande, historic churches, and picturesque streets.
When should I drink Montepulciano wine?
Montepulciano wine, especially Vino Nobile di Montepulciano, is versatile and can be enjoyed at various stages. Generally, you can start enjoying Vino Nobile di Montepulciano as soon as it's released, but aging it for 5-10 years or more can reveal its full potential.
Is Montepulciano a wine region?
Yes, Montepulciano is both a town and a wine region. Montepulciano is in the Tuscan region of Italy, renowned for its wine production. The vineyards surrounding the town contribute to this wine's unique character. Montepulciano is not to be confused with the grape variety called "Montepulciano," used to produce wines like Montepulciano d'Abruzzo, found in a different Italian wine region.