Barboursville vineyards-Review and Tasting notes
We tasted 16 wines at Barboursville Vineyards and Winery. Find out what we thought.
Spoiler alert: Barboursville Winery is definitely a don't-miss Virignia winery . . . the drive is gorgeous, you're surrounded by history, the people are friendly, and the wines are delicious!
I've been on a Barboursville wine binge lately. It all started with the Virginia Governor's Cup.
Barboursville Vineyards had not one but three wines in this year's Virginia Governor's Case (they've recently won), so my friend and I decided we were way overdue for a return visit to Barboursville.
Next, in the vein of the Virginia Governor's Cup, we decided to taste six of the Governor's Case wines (two Barboursville wines) at our wine club this month.
Do you have a wine club? It's easy to start one. Find a few friends that like to drink wine and eat food. Done and done.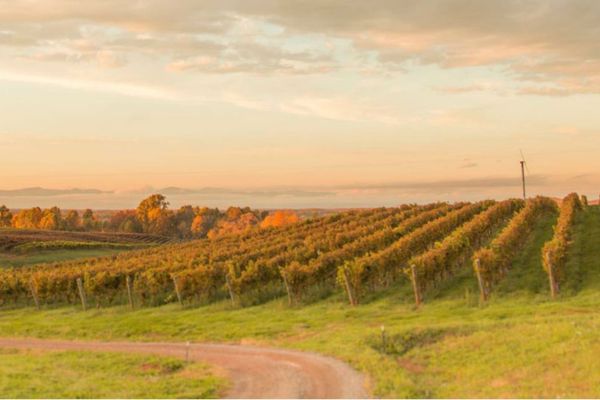 History Of Barboursville Vineyards
Barboursville Vineyards is brimming with history.
Founded by Gianni Zonin (a winemaker from Veneto, Italy) in 1976, Barboursville Vineyards and Winery has been making wine for over 30 years.
The current winemaker, Luca Paschina (passkey-na), arrived in 1990. As far as winemakers go, Luca is approachable and gracious.
His Italian accent is like a magic spell — Luca could read a washing machine repair manual and I'd be on the edge of my seat. Err, anyhow.
Barboursville is only a stone's throw from Thomas Jefferson's Monticello.
If you're a student of Virginia wine history, you remember Thomas Jefferson attempted to grow Vitis vinifera (European varietals) for years at Monticello — unsuccessfully.
Barboursville Vineyards and Winery was one of the first wineries in Virginia, and the first since TJ, to attempt to grow Vitas vinifera and actually pull it off.
Barboursville now has 160+ acres of vines, on the property of former Virginia Governor, James Barbour (a good friend of Jefferson's).
Barboursville Vineyards and Winery Tasting Room
So let's go inside, shall we? We walked into the tasting room and ran straight into a sign that read "no outside food in the tasting room".
Barboursville Vineyards has a restaurant onsite called Palladio. I do enjoy a good picnic at a winery though. C'est la vie.
I don't want to belabor this point, but if I could sit down with my own picnic, I'd buy a bottle of wine to go with it.
The reason for their "no outside food in the tasting room" policy is to keep people from setting up camp for hours on end. And I totally get that.
However, you can take your picnic and enjoy it on the grounds of the estate. I'd head over to the ruins — maybe you'll run into a ghost or two.
The tasting fee at Barboursville is $15. And that's for 6 wines. They used to pour a taste from 16 wines.
You start at one end of the room with a white wine station, move down the bar to a red wine station, and finally to a dessert wine station.
I've heard a lot of folks complain about this, but I actually like it. It definitely keeps people moving.
And Barboursville Winery is absolutely CRUSHED on the weekends.
Barboursville Vineyards White Wines
Barboursville Pinot Grigio 2013 /86 points
There's tons of flavor packed into this Pinot — not your typical lemon-water plonk. Crisp and well balanced, great pear finish.
Barboursville Chardonnay 2012 /86 points
Fermented in stainless steel — love the purity of the grape that shows here. Clean and refreshing. Nice apple notes.
Barboursville Sauvignon Blanc Reserve 2013 /84 points
This had only been in the bottle 3 days when we were tasting. How's that for newborn wine? Dry with citrus and bell pepper notes. A bit of a chemical finish. I'll bet it blows off with some time.
If you're at Barboursville tasting wine, stop by the ruins on your way out — you'll be glad you did.
Barboursville Viognier Reserve 2012 /88 points
Like smelling a bowl full of rose petals!  Mmmm.  Barboursville Viognier has a lovely texture, tropical notes, perfume finish. 
Barboursville Chardonnay Reserve 2012 /88 points
You can definitely smell and taste the oak aging in this wine! Like a second chapter to the stainless Chardonnay — one that ends with vanilla and buttered toast.
Barboursville Vintage Rose 2012 /85 points
A blend of 38% Cabernet Franc, 27% Sangiovese, 22% Barbera and 13% Merlot. Decently dry, with flavors of watermelon, plum and nectarine. Refreshing and perfect for the patio. $15.
Barboursville Riesling 2013 /83 points
Definitely off-dry, versus dry. Nice balance, but no "wow" moment for me.
Barboursville Vineyards Red Wines
Barboursville Barbera Reserve 2012 /83 points
Consistently earthy and fairly well balanced, but absolutely crying out for some kind food.
Food pairing: Bolognese
Barboursville Sangiovese Reserve 2012 /83 points
Smooth and smoky, with flavors of cherry and plum.
Food pairing: Lasagne
Barboursville Merlot 2012 /82 points
Mint and chocolate on the finish, but no softness. And I prefer softness in my Merlot.
Barboursville Cabernet Sauvignon 2012 /83 points
Nicely structured, favoring black pepper ahead of fruit, though. Maybe some currant?
Barboursville Cabernet Franc Reserve 2011 /88 points
Typical Cab Franc veggie notes are present. Decent fruit flavors to balance the veggie scale. Surprisingly smooth and complex.
Barboursville Nebbiolo Reserve 2011 /89 points
Whoa! A definite turn toward dark, brooding fruits and a tobacco finish. Lovely focus and finish.
Barboursville Vineyards Blush and Dessert Wines
Barboursville Cabernet Blanc /81 points
Screams "Book Club wine". Semi-sweet at 2% residual sugar. Easy-peasy. Not really my cup of tea, but I'll bet Barboursville sells a ton of it.
Barboursville Rosato /81 points
4% residual sugar. We're tip-toeing into White Zin territory here. Still not my cup of tea.
Barboursville Phileo /85 points
8% residual sugar. Loaded with apricot and honey flavors. Great acidity and balance.
Barboursville Malvaxia Reserve 2008 /91 points
This is a home run. A blend of Moscato Ottonel and Vidal Blanc, made in the traditional Passito process — the grapes are air-dried for 4 months in a special drying house before they are pressed and fermented for 6 months.
Rich and complex flavors — apricots, honey and almonds. Beautifully balanced, it reminds me of a Sherry. 12% residual sugar — sweet without being a cloying mess. Delightful.
After we finished our wine tasting, we made a quick stop at the Barboursville Ruins.  
This was a home designed by Thomas Jefferson for his friend, James Barbour, who was, at various times, Virginia's Governor, a US Senator and Secretary of War.
The home was destroyed by fire on Christmas Day in 1884, and all that remain are the brick foundations and columns.
If you're at Barboursville tasting wine, stop by the ruins on your way out — you'll be glad you did.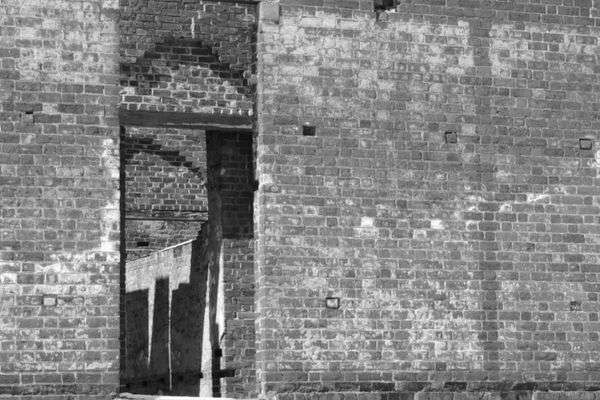 Barboursville Vineyards FAQ
Who is the owner of Barboursville Vineyards?
The founding owner, oenologist Gianni Zonin of the Veneto, also produces wines in every primary growing region of Italy, in Piemonte, Friuli, Veneto, Lombardy, Puglia, Sicily, and at three estates in Tuscany.
Can you bring food to Barboursville winery?
There's No outside food allowed inside the tasting room. A seasonal selection of charcuterie and cheeses is available for purchase. 
Is Barboursville winery dog friendly?
Pet Policy: Leashed dogs are allowed in the main tasting room.
Is Barboursville winery kid friendly?
Kids are welcome at the winery.