two hands wine: the gnarly dude, an angel and a sexy beast
In this week's virtual wine tasting, we're reviewing Two Hands Wines from Barossa Valley, Australia. Find out what we thought.
When I first started semi-seriously getting into wine (several moons ago), I couldn't get enough Australian Shiraz and Shiraz blends (I remember in particular thinking Rosemount's GSM was liquid joy).
I loved the fresh, intense, Jamberry character of the wines.
And then Burgundy and Rioja happened to me. I fell in love with funk and restraint, and took a temporary hiatus from Australia.
It wasn't an intentional slight, just a shift in palate preference.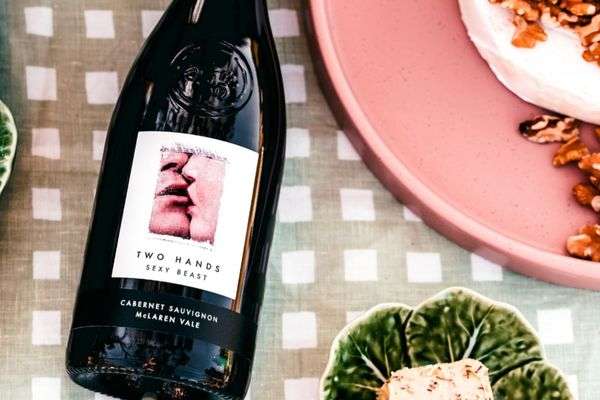 I participate in a weekly virtual wine tasting. This week, we chatted with Michael Twelftree from Two Hands Winery in Barossa Valley, Australia.
According to Twelftree, "Australia has been one colour for too long in the eyes of the consumer." I get that.
I've certainly been guilty of thinking about Australian wine (and Shiraz, in particular) as a one-dimensional Jamberry. I'm wrong, of course, but I've thought it. And in turn, not bought it.
Australian wine makes up 0.3% of my cellar (thanks for the metrics, CellarTracker). I have exactly as many bottles of Australian wine in my cellar as I do Bulgarian wine. One.
Is it time to go shopping?
Two Hands Wine Tasting
Here are the wines we tasted. Twelftree says his wines are best with a little air, so he double-decants everything. And while I didn't decant these guys before I tasted them, I can tell you without hesitation that the longer these three wines sat in my glass, the more elegant and complex they became.
Two Hands Gnarly Dudes Shiraz 2014 /90 points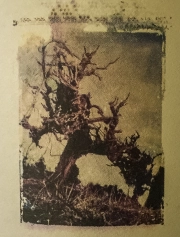 Gnarly Dudes takes its name both from the old Shiraz vines from which the fruit is sourced, and from The Dude from The Big Lebowski, one of the weirdest and most wonderful movies ever.
I asked Twelftree about the Dude, and he responded, "I love that movie. I watch it all the time. It teaches you to relax, have a laugh, and enjoy this crazy ride."
The Dude Abides.
100% Shiraz from Barossa Valley. Matured for 12 months in French oak (15% new and the remainder in one to six year old oak).
Deep purple in color. Intense, relentless aromas and flavors of blackberry, bramble, vanilla, cedar, violets, mocha, black pepper and even butterscotch. The Gnarly Dude broods!
Dry, with engaging acids and attractive tannins. 13.5% ABV. A powerful glass of wine right now, but I'd love to see what The Dude is up to after another decade of chilling out in my cellar.
Two Hands Angel's Share Shiraz 2014 /91 points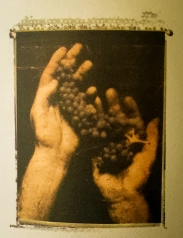 The Angel's Share is the tiny amount of wine that evaporates from oak barrels during the maturation process.
According to medieval winemakers, the angels would take that share as a payment of sorts for watching over the wines. The angels aren't playing around with this wine.
100% Shiraz from McLaren Vale. Aged for 12 months in new French puncheons (a barrel that holds 500 liters — by comparison, the standard Bordeaux barrique holds 225 liters) and hogsheads (a slightly fatter barrel that holds up to 300 liters), and the remainder in one to six year old French and American oak.
Deep purple in color.
Intense nose of blackberry, blueberry, black plum, cinnamon, nutmeg, game, tobacco, mint, cocoa.
I found the Angels Share Shiraz to be spicier and more savory than The Gnarly Dude Shiraz, and the unexpected tobacco note was glorious.
Noticeably higher alcohol at 14.5% ABV.
I was quite taken by the differences between these two expressions of Shiraz.
Barossa and McLaren Vale are only 100 miles apart, yet, according to Twelftree, they have "completely different soils, levels of rainfall, trellising systems, water availability, clones, aspect, fertility, culture, and history."
Two Hands Gnarly Dude is complex and powerful, but not out of control.
Two Hands Angel's Share is a cascade of complexities. A ramble of blackberry bramble, for sure but so much more.
My big Shiraz takeaway: The devil is in the dirt. Geography makes a difference. A big one.
Twelftree makes his wines to age, promoting "slow development with an ability to develop in the cellar, not Coca-cola dressed as wine".
Coca-Cola is just about the last thing I would use to describe these Two Hands wines.
I'm going to track down another bottle of The Gnarly Dude and Angel's Share, put them in my cellar, and try to forget about them for a few years.
Sexy Beast Cabernet Sauvignon 2015 /90
Is it hot in here?
Sexy Beast is named after the 2000 British gangster film, starring Oscar nominee Ben Kingsley.
I've never seen Sexy Beast, so my mind kept wandering to Austin Powers, Sexy Beast. Twelftree informed, "Cabernet Sauvignon works extremely well in McLaren Vale. Cabernet Sauvignon loves the sea, and it ripens very slowly and evenly, so there's never a need to rush."
100% Cabernet Sauvignon from McLaren Vale.
Aged in 15% new French hogsheads, and the remainder in one to five year old French Hogsheads.
Medium ruby in color. Expressive nose of graphite, minerals, black currant, wet stone, cedar.
The palate leaned more toward red fruit, red currant in particular. Ripe and balanced with groovy tannins.
I'll admit I prefer Cabernet Sauvignon over Shiraz (in general), but wow, I loved this wine. 13.8% ABV.
Twelftree concluded, "we used to make wines that yell; now we make wines that charm."
Consider me charmed, Two Hands.
Two Hands Wine Buyer's Guide
Want To Tour The Wide World Of Wine?
Ready to take your relationship with wine to the next level? Book a wine tasting trip! Viator (a Tripadvisor company) is the world's largest online marketplace for tours, activities, and attractions.
Viator has been a partner of Armchair Sommelier since our inception. We love partnering with them because our readers and Viator's trip operators have told us Viator is a great booking company to work with.
Still not convinced, let the reviews speak for themselves. We know you're a review junkie. So are we! We don't want to recommend a product that is going to offer you a bad experience. That said, there are no 100% guarantees in life.
Let me talk to you about my own experience with Viator. I have traveled all around the world. I've booked trips for myself, for my family, friends and even corporate travel (I will never do that one again so please don't ask me). I have used Viator every.single.time. And that's why I'm so excited to be a partner of theirs.
Two Hands FAQ
Ten of the best Australian red wines from the IWSC 2022
Top 10 best Australian red wines from the IWSC (International Wine & Spirit Competition) 2022
– Wakefield Taylors Wines, Jaraman Cabernet Sauvignon 2019
– Calabria Family Wines, Elisabetta Shiraz 2020
– Santolin, Gladysdale Pinot Noir 2019
– Bec Hardy Wines, Village Green Cabernet Sauvignon 2020
– Casella Family Brands, 1919 Cabernet Sauvignon 2018
What is Barossa Valley?
The Barossa Valley Region in Australia is located north-east of the city of Adelaide. This region has warm growing areas on the valley floor and cooler meso-climates at higher altitudes in the surrounding hills.
What wine is South Australia known for?
The wine that South Australia is mostly known for is Penfolds, Grange Shiraz, Adelaide. From its first vintage in 1951 to its current release, the multi-region Penfolds' Grange is Australia's most prestigious wine.
Why is Australian wine so good?
Wine from Australia wine is produced in a slightly warmer climate and makes more full-bodied wines with a high degree of acidity and alcohol. Wines made in the cooler southeastern part of Australia (Yarra Valley and Adelaide Hills) have more earthy tones and fruity flavors.