What's All The Buzz About Cinzano? What is it and where can i buy it?
If you've heard people reference Cinzano as "the best" and wondered what they were talking about, you're not alone.
The best what, exactly?
The highly recognizable Italian brand, Cinzano, has been making vermouth for over 250 years — longer than the United States has been a country.  
In 1757, brothers Giovanni and Carlo Cinzano opened a small distillery shop in Turin, Italy (I'm using Italy symbolically, as a unified Italy didn't exist until 1871).  
During the 1750s, Turin was part of the Kingdom of Sardinia, which was ruled by the House of Savoy (Italy's royal family until 1946).
I'll circle back to Savoy shortly, stay with me.
The History Of Cinzano Vermouth
Vermouth is a fortified wine flavored with various botanicals (Cinzano's vermouth recipe is a long-held and well-kept secret).  
There are two main styles of vermouth — dry and sweet, and they are used in two of the world's most famous cocktails, the martini and the manhattan, respectively.  
Hat tip to whoever first decided to wave some dry vermouth in the general direction of gin.
However, Cinzano was also an early pioneer in Italian sparkling wines.  The Savoy monarchs asked the Brothers Cinzano to make a sparkling wine that could emulate French Champagne (in the 19th century, most Champagne was made in a much sweeter style than it is today).  
Cinzano made their first bottle of bubbles in 1840.  Today, Cinzano has a full range of sparkling wines, from dry to sweet.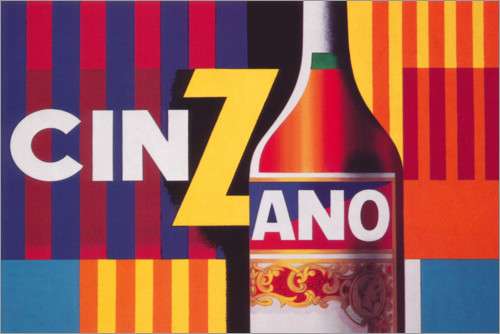 Nearly as famous as Cinzano's vermouth are Cinzano's fabulous advertising posters.  
Posters were one of the earliest forms of print advertising, and Cinzano produced its first full-color poster in 1889.  
It was created by Adolf Hohenstein, one of the founders of Italian print advertising.  His poster (below, right) was called, The Young God Pan Playing the Pipes.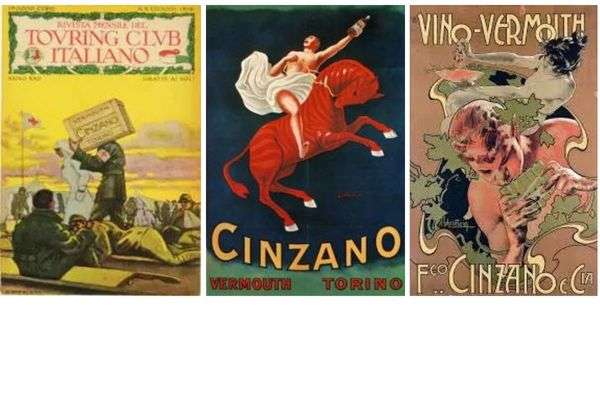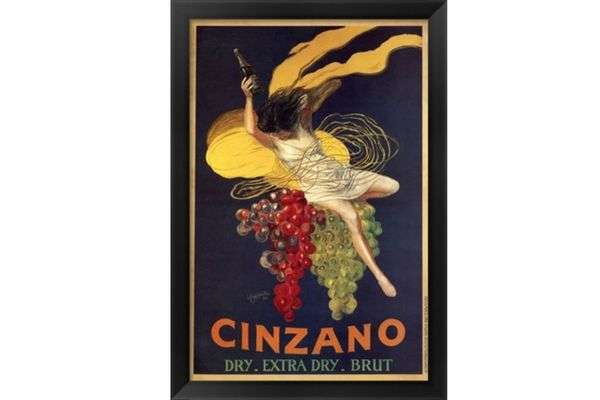 Another Italian poster-master, Leonetto Cappiello, created the bold red zebra poster in 1910, as well as possibly the most famous Cinzano advertising poster, Woman Leaning on a Bunch of Grapes, in 1920.  (That has to be either the best, or the worst name ever for a poster, I can't decide).
During World War I, Marcello Dudovich published a series of covers related to the war effort for Touring Club Magazine.  
The 1916 poster above (far left) featured a Red Cross nurse and a soldier walking through a camp, carrying a case of Cinzano — for medicinal and curative purposes, I'm sure.
I received samples of Cinzano Prosecco and Asti, and tasted both solo, and then used them to make four of Cinzano's suggested cocktails.  Cinzano Bellini, Cinzano Aperol Spritz, Cinzano Asti & Strawberries, Cinzano Asti Mimosa. All in the name of research. You're welcome.
100% Glera, from Veneto (Prosecco DOC).  Made using the Charmat method (secondary fermentation in sealed tanks).  
Clear and crisp, much drier than I anticipated for a Prosecco.  
Fresh flavors of green apple, grapefruit, pear, and wet stone.  Straightforward, and nicely balanced.  Very enjoyable.  And an outrageous steal at $15.  11% ABV.
Peach puree (which I made with canned peaches, because fresh peaches in February do not exist) and Cinzano Prosecco.  
Honestly, I'm not much for peach flavored drinks.  There may have been a regrettable incident with peach schnapps in college.  
And that's all I'm going to say about that.  But if you like peach drinks you'll love this.
First created in 1919, Aperol is made with bitter orange, rhubarb, and assorted flowers (the proportions are a secret, naturalmente).  
There's a slight bitterness to the Aperol that my palate wasn't expecting.  The Spritz cocktail is Aperol and Cinzano Prosecco, topped with a splash of sparkling water.  It's light and refreshing, just delicious. 
I tried the Aperol Spritz with the sweeter Asti, as well, and enjoyed it even more.  The extra sweetness took the edge off that bitter note.
When it's 110 degrees outside this summer, this will be my go-to!
100% Moscato, from Piedmonte (Asti DOCG).  Made using the Asti Method (only one fermentation, in pressurized tanks).  
Clear and medium-dry, with flavors of candied peaches (think Jolly Rancher), nectarine, red apple, pear, and honeysuckle.  
Lingering finish.  I wish the acidity was a little higher.  7% ABV.
Orange juice and bubbles . . . classic, simple, and brilliant.  One of my all-time favorite drinks!
Cinzano Asti With Strawberries
Asti poured over sliced strawberries.  This is delightful, especially if you let the strawberries marinate in the Asti for a while.  Then, you have dessert!
This also pairs nicely with chocolate covered strawberries.
All of these cocktails are super easy to make, and even easier to drink.  
But, if you're a purist, the Cinzano Prosecco and Asti are lovely solo, as well.  And they're easy on the wallet.
Taste Wine Like A True Armchair Sommelier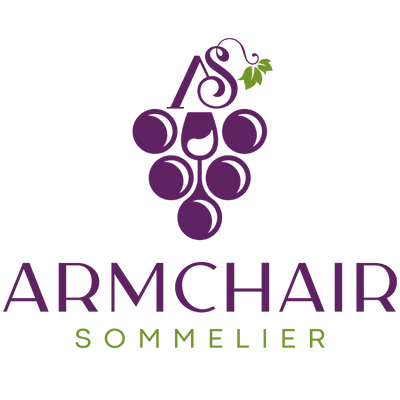 Spice up your next party with our FREE wine tasting guide! Learn what to look, smell, and taste for while appreciating your favorite bottle. We've also included a printable tasting notes template and a tasting wheel.