4 Amazing Chocolate Covered Strawberries Wine Pairing You Should Try Tonight (plus a bonus pairing)
These 4 luscious chocolate covered strawberries and wine pairings will win you major points. (wink, wink)
pssst… #4 is our fave pick
Whoever first decided to dip a strawberry into melted chocolate should be knighted. Genius.
I don't go for the whole celebrate-your-love-today-only thing.  But I will shamelessly use St. Valentine as an excuse to open four bottles of wine on February 14th.  
Yep, tonight we're opening four bottles, and pairing them with Valentine's favorite . . . Chocolate Covered Strawberries.
Chocolate Covered Strawberries are super easy to prepare.  Just three ingredients to Nirvana:  strawberries, chocolate chips, and a little shortening.  Ta-Dah!
If you prefer to have them delivered, that's also an option.
But what to pair with that kind of genius?
Chocolate Covered Strawberries And Wine Pairing
Here's our tasting lineup: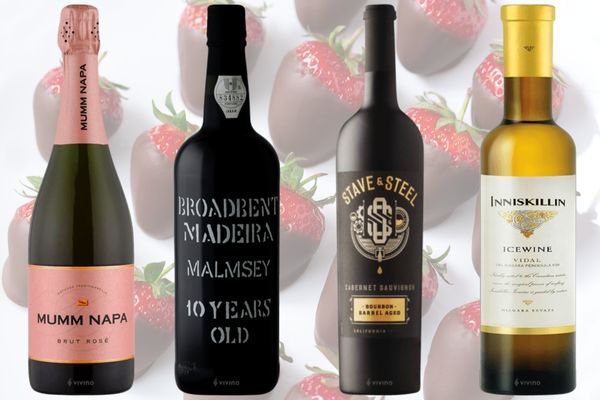 Chocolate Covered Strawberries and Wine Pairing #1 - Mumm Napa Brut Rose Napa Valley
Pink bubbles!  This is a Valentine in a glass!  I don't even need to taste it, and it's making me happy.  The Mumm Brut Rose is a blend of Pinot Noir and Chardonnay.  Zippy, clean and fun by itself.  
The Chocolate Covered Strawberries and wine paring, as pretty and iconic as this pairing is, aren't doing the wine any favors.  It's decent . . . but it's not as good as it looks in the brochure.
Drink any wine, any time, without ever pulling the cork. Whether you want a sip, a glass, or more, your last glass will taste just as amazing as your first.
Chocolate Covered Strawberries and Wine Pairing #2 - Broadbent Malmsey Madeira
America's original oenophile, Thomas Jefferson, was a big fan of Madeira.  And I'm a big fan of Thomas Jefferson.  Ergo . . . I love Madeira. The Malmsey is 100% Malavasia.  This is beautiful stuff. A big glass of tobacco, coffee and figs.  
When paired with the chocolate covered strawberries, though, it morphs into spicy and acidic on my palate.  With chocolate alone, it's superb. Madeira wouldn't be mu choice with strawberry alone.  
Chocolate Covered Strawberries and Wine Pairing #3 - Stave & Steel Bourbon Barrel Aged Cabernet Sauvignon
This California Cabernet Sauvignon was aged for months in American oak barrels, then finished off in bourbon barrels for another four months. The resulting juice has robust fruit flavors and just enough tannins to balance out dark chocolate's slight bitterness.
If your chocolate covered strawberry has a caramel drizzle and sprinkle of salt, the wine's caramel smokiness on the palate and nose naturally meshes with the savory caramel in the chocolate and its salty notes on top.
Chocolate Covered Strawberries and Wine Pairing #4 - Inniskillin Riesling Icewine
This is a traditional Icewine from the Niagara Peninsula in Canada, made with the Riesling grape.    Solo, this tastes like a roll of Tropical Fruits Lifesavers and it has some zing to it.  
But because it's sweeter than the chocolate covered strawberries, it ends up being the most beautiful partner.  I think this would pair well with Ostakaka (Swedish cheesecake).
Winner!
Bonus - Chocolate Covered Strawberries and Wine Pairing
Going into this experiment, I would have put money on Madeira as the hands-down winner . . . and it comes in 2nd.
My bonus would be Lambrusco. 
Lambrusco would have made a great pair as well. 
Chocolate Covered Strawberries and Wine Pairing FAQ
Taste Wine Like A True Armchair Sommelier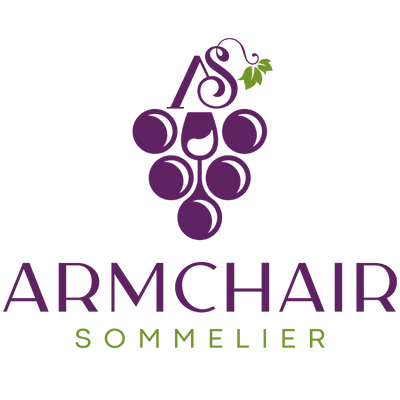 Spice up your next party with our FREE wine tasting guide! Learn what to look, smell, and taste for while appreciating your favorite bottle. We've also included a printable tasting notes template and a tasting wheel.