Ooo Là Là Wine Liste! Everything To Know About Emily In Paris: Wine, Cast, Feuds, Men
Are you wondering what's on Emily in Paris's wine list? If so, we've got you covered. Find out Emily's wine of choice and where you can buy a bottle.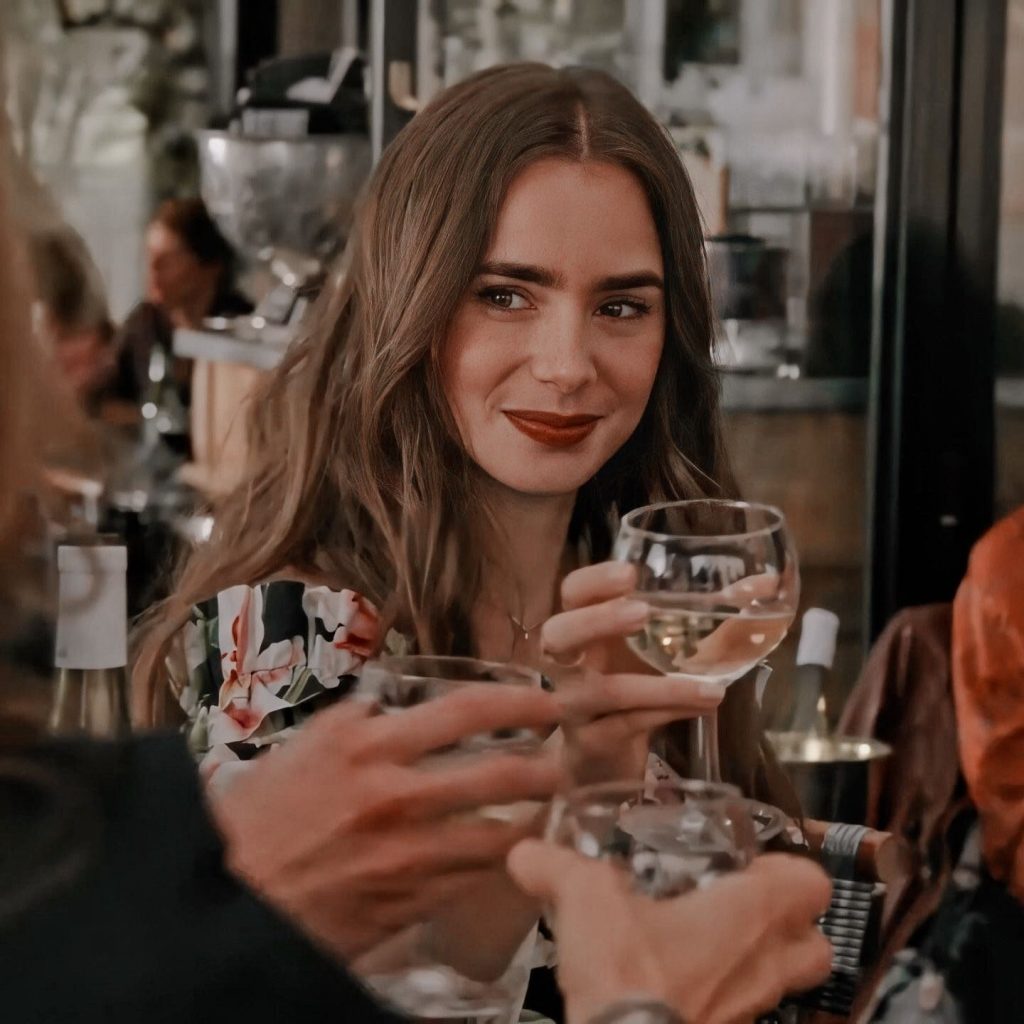 If you've been spotted in public wearing a beret and toting a baguette while cycling you may be a Francophile. Or, at the very least, you're obsessed with Emily in Paris. Both?
The question I'm asking in every deliciously glamorous episode is, "What's in Emily's wine glass?".
If all the sips are giving you serious FOMO, you're not alone. The allure of lunching with a glass of Château Malartic-Lagravière in front of the Louvre is nearly too much to bear.
Not only do we want to be clickety-clacking our twinkle toes on the cobbles of Paris, but we want to sip lavishly too.
I'm not into drama. I'm into escapism. Put me in front of a rom com (Bottle Shock) where the good guys always win and I'm golden.
The color of Sancerre-golden. While friends are binging White Lotus I'm scanning the background in every episode of Emily in Paris to see if I've luncheoned at any of the street cafés.
Of course, I think I've been to each one, twice. Because they all look the same.
This cast works! Emily is great and all but I can't imagine the show without Mindy's sarcasm, Sylvie's french cynicism and zest for life, Camille's naive love for her friends, and the little gossip queens Luc and Julian.
I had hoped we would get to know all of them more in season 3. That's what the third seasons are for? Character deep dives.
Emily In Paris Recap
If you're in need of a recap, lemme break it down for you.
Season 1 begins as Emily, just a small town girl, living in a… great big world, has her dream job at a prestigious global marketing firm based in Chicago. Unfortunately, she is in a relationship with a total ghoul. This D-bag is totally unsupportive of her temporary move to Paris for work.
She shows up in Paris, doesn't speak french and her co-workers and new boss hate her. But she is incredibly charming (ahem, Phil Collins's daughter, hello) and wins them all over.
Speaking of charming, Prince Charming Gabriel lives downstairs from her and is an amazing chef. Swoon.
Her bestie, Mindy, is an incredible singer whose dad is loaded and comfortably ignoring her from Shanghai.
Enter lovable Camille, Gabriel's girlfriend, and heiress to a Champagne estate. (But, because she's female she'll never inherit the estate. That's not in the show. It's a French thing.)
Emily causes all kinds of problems at work, sleeps with her client, makes out with Gabriel, tells Gabriel she misses him while in front of her client boyfriend but they can't be together because of Camille, then she has monumental lapse in judgment and sleeps with Gabriel. All the while, imbibing on all the nectar of the gods she can squeeze into her size 00 tum-tum.
During a birthday dinner party Camille finds out Emily has slept with Gabriel, smashes her glass and runs off.
After Cami and Emily kiss and make up they make a pact that neither of them will sleep with Gabriel. How do you think that's going to turn out?
Emily navigates the second season with bumble after bumble… shoplifting with her Russian partner from French class, cutting off Champére's thumb, messing up her chances with Alfie for the first time and making a major marketing faux pas during the French Revolution. (IYKYK)
Season 2 ends with a will she, or won't she moment. And in Season 3 you find out… it's complicated.
Season 3 upped its game in terms of designer sponsorship and product placement. In Sex And The City the bag carrying was casual and effortless. Emily, Mindy and Madeline all seem to be carrying the Louis Vuiton's at an arm's distance and pointing them directly at the camera. I feel like Andrew Flemming was constantly telling the little beauties to "not look at the camera". It was almost distracting.
Oh yeah… back to the story… Camille drops two bombs on us in Season 3, Peirre Cadault dies, or doesn't die but does he die?, and then there's a final twist at the end.
Are you #teamalfie or #teamgabriel?
Emily In Paris – The Wine
Is Emily in Paris on vacation or is she working? If the latter, I'm moving, straight away! But it seems that, at the very least, the French blur the lines quite well.
There's a glass of wine in every episode and nearly every scene. I'm shocked we haven't seen the act of drinking wine at Savoir. Although the office isn't completely devoid of wine. Savoir is after all, repping Camille's family's Champagne Estate and is marketing the heck out of Champére.
Does anyone take issue with the "spray it, don't say it!" campaign? I die a little inside every time I see the spraying of a bottle of Champagne. Although, it's super catchy.
Emily's Wine Of Choice
In the first episode we all sympathize with Emily as she's snubbed by her workmates. How very French. They are most certainly sipping on Sancerre or some version of french Sauvignon blanc.
Sidenote: Sancerre is just Sauvignon Blanc from, you guessed it, Sancerre. You can enjoy a bottle of Sauvi B from Loire valley and spend half as much as a bottle of Sancerre. It's kind of like the California sparkling wine that is made using the Champagne method – in exactly the same way. But you most certainly cannot call it Champagne. Eyeroll.
From then on we see our beloved Emily in Paris with a glass of wine at a café on the seine with Luc, having Champagne at the perfume party, dinner with Mindy at Gabriel's restaurant where her steak is "undercooked" so forth, and so on.
And when the team goes to lunch to say goodbye to Paul (the forgettable owner of Savoir) they're ordering several bottles of Les Champs de Cri Pouilly-Fumé.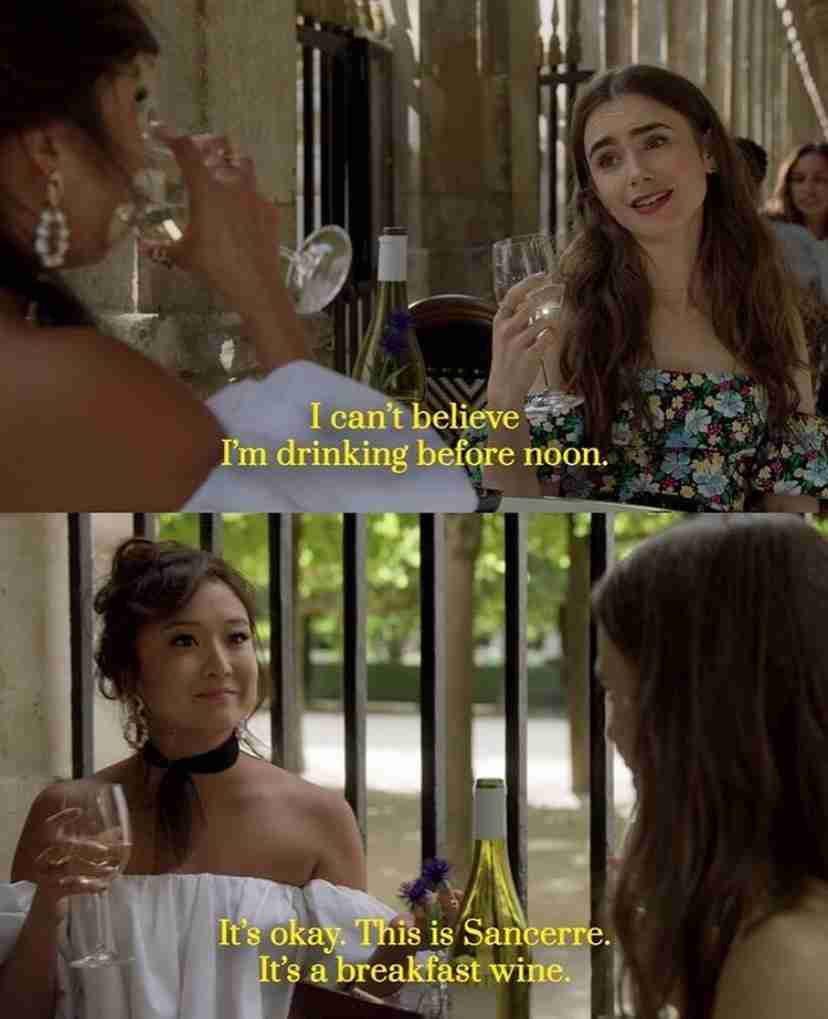 It's the Sancerre before noon on a work day though, that ultimately does it for me. Right after that ridiculous commercial shoot "sexy or sexist" with Maison Lavaux Emily and her bestie Mindy share a bottle of Sancerre before noon.
At that very moment, Mindy won our hearts when she explained "It's okay, this is Sancerre. It's a breakfast wine".
It's no wonder we're always seeing Sylvie perpetually on a half wobble. No shade. I want to be her.
Emily continues her adventures and her love of all things French, including Château Malartic Lagravière. Emily and Sylvie enjoy a bottle of Château Malartic-Lagravière in front of the Louvre.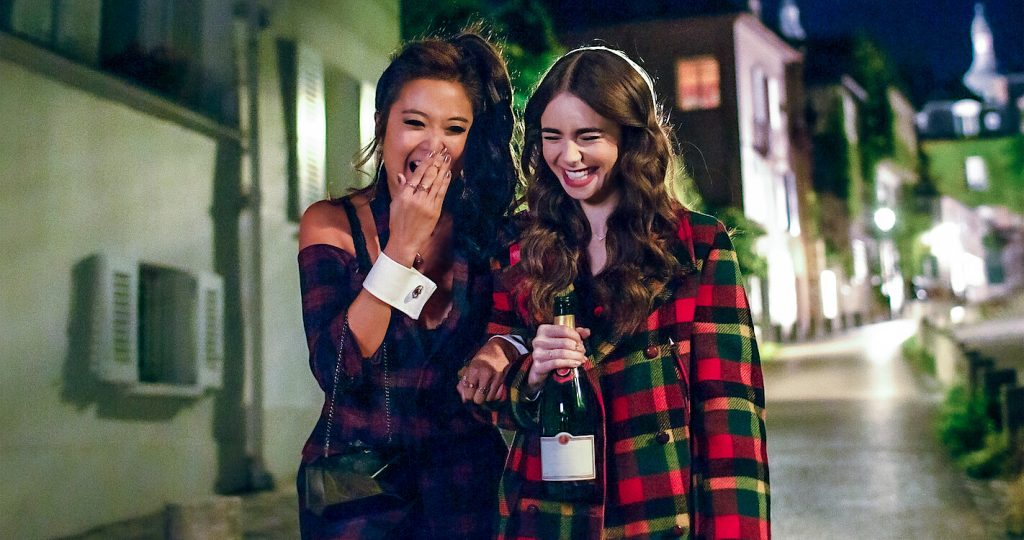 In Episode 5 we see the Taittinger label for the first time on the prettiest street in paris. "The road that leads to the end". Emily is carrying her opened bottle trotting down the street with Mindy drinking Taittinger Brut La Francaise.
Taittinger pops up again at the Fourtier launch party and then cases are dropped off in front of the hotel in St. Tropez.
After Sylvie gives Madeline the middle finger she begins to assemble her A-Team and invites Emily to lunch with her, Luc and Julien. Perrier-Jouët Belle Époque Brut is poured.
Perrier-Jouët Belle Époque is a true French icon and I wouldn't expect to see anything else in this scene.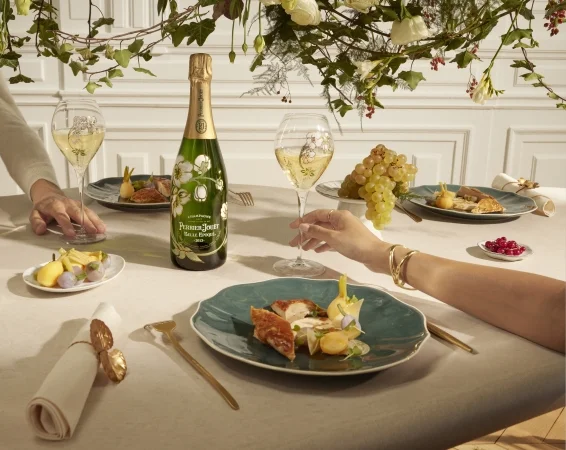 In season 3, after Madeline and Emily kick the old Savoir team out in the… oppressive heat… Sylvie's plan is hatched to smoke the monsters out. She and Luc meet the building super, Henri, for dinner and Sylvie splurges for Saint-Émilion Grand Cru that retails between $35 and $650. Poor Henri didn't know what hit him.
In Jardin du Palais Royal Luc and Julien invite Emily to lunch where everyone is sipping Kir Royale, which becomes the new Chamére cocktail for Camille's family's champagne estate.
A Kir Royale is a French cocktail with crème de cassis topped with Champagne. As if we needed another reason to love Paris. "It's the perfect drink to sip and do nothing while the ferris wheel goes round."
Laurent G makes another appearance to help Sylvie "sort her paperwork" isn't that what the kids are calling it these days? The only thing true in France is death, taxes and wine. And here we see Laurent G and Sylvie drinking Château Haut-Brion.
Château Haut-Brion is rated a Premier Grand Cru Classé, produced in Pessac just outside the city of Bordeaux.
As Emily attempts to sell the edgy Kir Royale to her Le Domaine de Lalisse Champagne account she explains that canned wine cocktails are all the rage with people aged 18-35. We knew it.
In the How To Lose A Designer In 10 Days episode all are prematurely toasting to Pierre Cadault's success (or demise) as they sip Piper-Heidsieck Cuvee Brut over lunch.
In Ex-en-Provence the L'Esprit de Luberon restaurant where Emily and Gabriel discuss a Michelin star, was filmed at Clover Gordes. Overlooking the lavender fields and olive trees of the Luberon valley, the Provence restaurant is part of the Airelles Gordes hotel. Gabriel so elegantly orders the Châteaneuf-du-Pape.
If you are planning a trip to the Airelles Gordes hotel or the Clover Gordes restaurant, maybe you're looking for another activity? If so, there's a small group tour (our favorite kind of tour) of the Châteauneuf-du-Pape wine region where you'll hit two wineries. Yum.
The Emily In Paris Wine Collection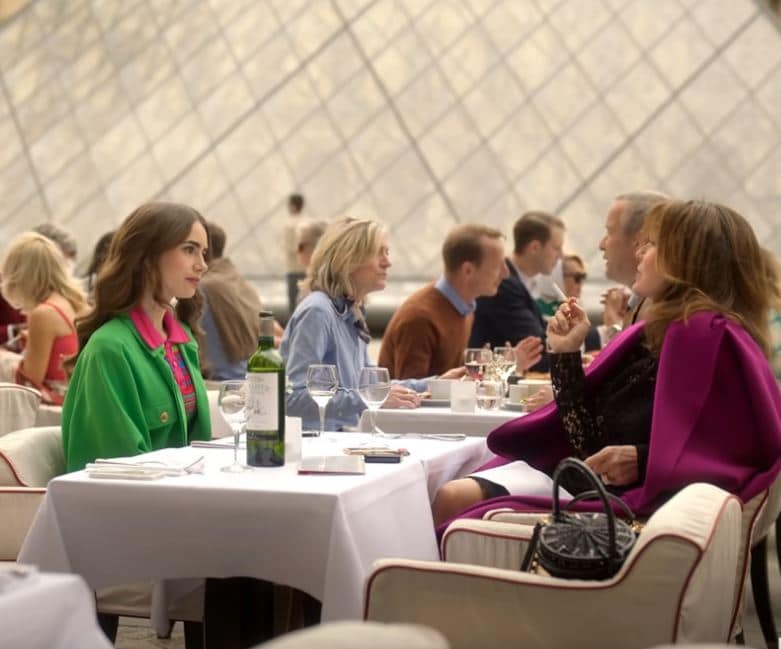 If you're like me you went straight to the Googles to buy Emily In Paris's wine collection. If we can't be there, we can at least host the most fabulous watch party and match her sip for sip.
Did we just come up with a new drinking game?
If you're here because you want to brush up on your Emily In Paris facts before your jaunt to Paris, you may be interested in an Emily In Paris walking tour. This tour is super affordable and a very manageable one hour forty minutes.
We've listed the 10 must-have bottles and where to buy them now.
Kir Royale
Emily In Paris's Wine List FAQ
What wine do they drink in Emily in Paris?
Where is the vineyard in Emily in Paris?
Camille's family's Champagne estate, Le Domaine de Lalisse, is a château with a vineyard located in Épernay, Champagne, France. The real chateau is in Chinon. Le Château de Sonnay in Chinon is open to visitors.
What is the name of the champagne in Emily in Paris?
You may be referring to the Champagne that Savoir is repping and if so, it is called Champère Champagne, from Le Domaine de Lalisse.
Why Is Emily in Paris being criticized?
French critics are not so happy with the show's  exaggeration of Parisian culture. Some Americans have also taken Emily's ignorance and naiveté play into negative stereotypes about Americans. Yes, and yes those statements are tru. But it's still entertaining.