6 Affordable Wines That Absolutely Don't Suck
Time to read: 3 minutes
The holy grail of wine drinking for many people is finding the ultimate cheap wine that's great to drink. Some think it's a myth, while others continue the quest… Only to end up spending lots of money on various wines that they just can't drink.
The good news is, decent cheap wine is not a myth, and you can find it without searching everywhere.
The main thing to remember is that a high price tag does not automatically equal a good wine. Another important point is that you need to know what you like, and what tastes good to you. A wine that one person thinks is great might taste terrible to you, and vice versa. That's why it's critical to know what kind of wine you like. Whether it's in a box or bottle, or white, red, dry, sweet, wooded, unwooded, or any other varietal, we all have different tastes. Fortunately, there are so many options!
If you're looking for great wine at a good price, give any of these six a try.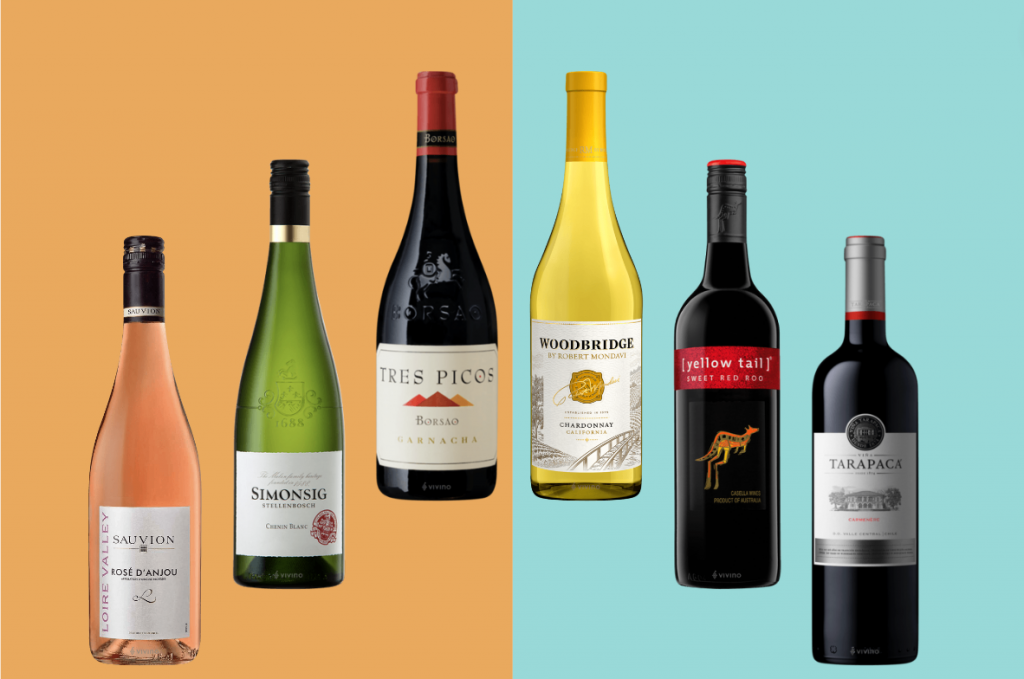 1. Simonsig Chenin Blanc
This grape varietal may have originated in France. But now, over half the world's Chenin comes from South Africa—and they know what to do with these grapes. The Simonsig chenin blanc is full of tropical flavor with a hint of lemon. The acidity cuts through the bolder notes to create a full-bodied wine that really announces itself when you drink it.
In terms of price, you can usually pick up a bottle for around $10.
2. Tres Picos Garnacha
Spanish red wines are some of the most loved around the world. This is because they are generally full-bodied and have a punchy flavor profile. This Garnacha (or Grenache as the French call it) is a typical expression of the varietal, with spicy notes that warm the body and rich floral notes that tickle the nose.
This wine is also usually around the $10 mark.
3. Loire Valley Rosé d'Anjou
The color may be Barbie pink, but the flavor profile is actually very sophisticated. This wine is made from quite a rare grape—the Grolleau Noir—and gets mixed with other varietals, too. These include Cabernet Sauvignon, Cabernet Franc, Gamay, Pineau d'Aunis and Côt. 
In taste, you get a dry wine with a number of berry notes. It's a delightful summery wine with a refreshing and crisp finish.
The price for this wine varies between $10 and $14.
4. Woodbridge Chardonnay
With this wine, we're going local. It's made by Robert Mondavi in California, and is an absolutely classic example of a crisp, wooded chardonnay. The balance between acidity and sweetness perches on a knife's edge and yet, the wine remains fresh and light.
You can also choose between the standard offering and the private selection if you want to splurge a little more.
The standard chardonnay is usually just under $10, and the private reserve comes in at around $15. Neither of which leave too much of a dent in your pocket.
5. Yellow Tail Sweet Red Roo
Of course, we had to include something from Australia on this list. Their affordable wines are some of the best in the world. The exact blend of grapes isn't on the label, but this is an easy-drinking wine for those who prefer something sweet in their glass. It is definitely best served chilled, and you could even use it to make a bit of a wine cocktail with some seltzer and fruit slices.
The price is also very good, coming in at well under $10—making it very popular in the USA.
6. Tarapacá Carménère
We head down to Chile for our final selection of affordable wines that don't suck.
The Carménère grape originally came from Bordeaux in France before being brought over to South America many years ago. For decades, it was simply a grape that was blended into other wines, notably the Bordeaux. In the 1990s, it was reportedly mistaken as a merlot grape in Chile and used to make wine on its own. The result was the Carménère—a spicy, peppery red that is full of naughty hints of plum and other heady fruits.
It's the priciest on our list, hitting the $15-$20 mark, but is well worth splashing out for.
Tips On How To Make Cheap Wine Taste Better
For some people, the fact that the wine is cheap automatically makes it taste better or worse. However, you need to make sure that you're giving that wine the best possible chance to really shine. If you do this, the chances are it will taste a lot like a premium wine, only at a fraction of the price.  
Here's how to make the most of every bottle:
Host a wine tasting at home– Price Wars theme idea! Line up your cheap bottles and throw in one with a higher price tag. See if your guests can tell the difference.
Red wines all need to breathe—It's essential that you give a cheaper red wine a chance to breathe and get properly aerated before it's drunk. Consider buying an aerator pourer that does the job right from the bottle, or getting a decanter for your wine.
Serve at the proper temperature—There's nothing worse than wine that's too warm or too cold for the flavor profile. To get the most out of every bottle, make sure you know exactly what temperature to store and pour at. Remember, room temperature means the general European room temperature for the region where the grapes originally came from.
Drink at the right time—Not all wine needs to sit in a cellar for years. Some wines are ideal for drinking right away, while others are good for about five years after bottling. Do your research into when it should be drunk and make sure you pop the cork (or twist open the screw cap) at the right time.
Get Creative with your wine—You don't have to drink your cheap wine as it comes from the bottle. You could have some fun with cocktails or create some lovely mulled wine in the colder weather. It's all about finding the right drink with your preferred flavor profile. 
Treat your tastebuds with any of these affordable wines. You'll find that the price tag doesn't always matter.