Madeira wine: The OG Patriotic Wine
Did you know that there was a glass of a Madeira wine in the hand of several of America's MVPs during some of our country's most formative moments? We're giving you a history lesson on the origin of Madeira, best Madeira and where to buy it, food pairings plus best places to taste wine in Madeira.
This unique and delicious Portuguese wine is probably the most interesting wine ever.
It was sipped while Betsy Ross was sewing the American Flag. They used it to toast the Declaration of Independence in 1776. A few days before the Constitution was signed, fifty-five people – including our Founding Fathers – drank fifty-four bottles of the stuff (among many, many other things) at the City Tavern in Philadelphia.
Still haven't convinced you? Then how about this: George Washington drank three to five glasses of this drink to soothe his chronic tooth pain each night.
Thomas Jefferson drank 3,500 bottles of it during his first year of his Presidency alone.
Francis Scott Key was drinking it while he wrote the National Anthem. Yeah, it's that serious.
But how did this wine end up in the hands of our Founding Mothers and Fathers? How is it made? Is it more of a dry wine or does it have a sweet side?
We're answering all your burning questions.
What Is Madeira Wine?
Madeira is made on the Portuguese Madeira Islands off the coast of Africa (yep) and is a fortified, maderized (or, intentionally heated), and oxidized wine. It's one of the most age-worthy wines on the planet, and it's virtually indestructible.
Did you know wines could be indestructible? I didn't!
Early commerce to the Americas relied on the trade winds – the prevailing easterly winds that circle the Earth near the equator. The trade winds pass the island create a natural stopping point for ships heading west.
Madeira was already incredibly popular by the 16th century and America wanted in. But there was a snag.
Americans were completely dependent on British wine imports during the American Revolution, otherwise, you'd be paying a rather hefty tax. Luckily, a royal marriage in 1661 to Portuguese royalty brought Madeira into the fine British import family of products.
How Is Madeira Wine Made?
Grapes are grown on the tops of the mountains, at altitudes of 600 to 1,300 feet. In this case, they are grown on the volcanic mountains.
This area experiences the leste, a unique heatwave that blows in from the Sahara Desert, raising temperatures to more than 100 degrees.
Usually, this would be a death sentence for wine, causing grapes and the wines to spoil. But because of the unique Tinta Negra Mole grape that's used, early sommeliers discovered that they tasted BETTER for having spent months at sea through hot, tropical climates.
So instead of going back to the drawing board, the producers leaned into using the heat off the African coast instead of trying to shield the grapes from it.
Now, instead of sending grapes back and forth on ships to simulate the trade routes, the wine is maderized, or heated up, in two different ways.
Ninety-seven percent of Madeira wines are maderized using a device with heated tubes, known as the "Estufagem process."
The remaining wines are made by putting the barrels of fermenting grapes up in the rafters of lodges, where they sit for decades or even centuries!
Styles Of Madeira Wine
Sercial (Extra Dry to Dry)
Tangy, with salty flavors of almond, hazelnut, honey, almonds, and hay, Sercial Madeiras are served as an aperitif and with seafood dishes.
Verdelho (Medium Dry style — Semi-Dry)
Verdelhos are amber in color with bitter orange, apricot, mango, cashew, and caramel flavors. They're served as an aperitif, with cream dishes, or pates.
Bual (Semi-Sweet)
Deep amber in color with a concentrated, rich, full-body, Boals boast orange, apricot, golden raisin, fig, date, walnuts, pecan, toffee, coffee, and burnt sugar flavors. Perfect for lighter desserts, hard cheeses.
Malvasia/Malmsey (the richest, sweetest style)
Deep brown in color with a full, creamy body and very rich flavors, perfect for rich desserts. Notes of orange, golden raisin, fig, prune, date, roasted nuts, coffee, burnt sugar, caramel, molasses.
Best Madeira Wines and where to find them
When Madeira first rose in popularity during the American Revolution, there were two dozen producers making it.
Today, there are only eight. If you're looking for something unique and authentic to drink this Independence Day, or just want to try something new with a rich history and rich taste, try a Madeira wine!
Broadbent Madeira 10 Years Old Sercial N.V.
Michael Broadbent is considered the world's most experienced taster of Madeira. He went to the island to select the best wines for the Broadbent.
This resulted in a collaboration with Justino Henriques, the most important producer of the classic variety. Produced only from the finest grapes grown on the island, Broadbent's are made in strict accordance with the traditional methods.
Winemaker Notes
Vinification is made in strict accordance with traditional methods. Aged in old oak cask in the traditional "Canteiro "system. After maturing, the wine underwent racking, fining and filtering before the blend was assembled and bottled.
Critical Acclaim
WW91 Wilfred Wong of Wine.comThe Broadbent 10 Years Old Sercial Madeira is a fascinating fortified wine that surprises the palate with its crisp finish. A delicious wine, with 19% alcohol and high acidity, this is one of the driest styles of fortified wine. It serves up a bounty of warm and enticing aromas—dried earth, tangy mineral, roasted nuts—and fills the palate with an attractive lushness.
Offering up high-toned aromas of dried dates, beeswax furniture polish, cane sugar and dried fruits, the latest release of Broadbent's NV Sercial Ten Year Old is medium to full-bodied, racy and enveloping, with tangy acids, a sweet and fleshy core and a long, penetrating finish. This is a very creditable and keenly priced offering.
Pair with Marcona almonds, hard cheeses, and olives.

Buy Now On Vivino


Buy Now On Wine.com

Blandy's Rainwater Madeira
John Blandy first set foot on the island in 1807. In 1989, the Symington family became partners with the Blandy family and is helping to reinvigorate the trade.
The Blandy family is unique in being the only family of all the original founders of the Madeira wine trade to still own and manage their own original wine company. Members of the family continues to live on the island.
Winemaker Notes
A medium-dry Madeira which combines soft fruit and dry nutty quality. Serve lightly chilled as an aperitif.
Critical Acclaim
WW93 Wilfred Wong of Wine.comCOMMENTARY: The Blandy's Rainwater Madeira is fresh, bright, and tangy on the palate.TASTING NOTES: This wine shines with aromas and flavors of nuttiness and a slightly salty tang.
Pairs well with lemon-accented, raw oysters.

Buy Now On Vivino


Buy Now On Wine.com

Blandy's 5 Year Old Malmsey Madeira
Winemaker Notes
Clear, amber color with tinges of gold; a bouquet of dried fruit, vanilla, wood, and toffee with a smooth, sweet finish and an excellent balance between the fruit and acidity.
Blandy's 5-year-old Malmsey is fined and does not require decanting.
Pairs well with dessert dishes, especially fruit, cakes, rich chocolate puddings, and cheeses. It has been bottled when ready for drinking and will keep for several months after opening.
Critical Acclaim
WW92 Wilfred Wong of Wine.comCOMMENTARY: The Blandy's 5-Year-old Malmsey has excellent versatility. Its sweetness and acidity are well balanced and provides excellent energy on the palate.TASTING NOTES: This wine exhibits attractive aromas and flavors of toffee, dried fruit, and roasted nuts.

Buy Now On Vivino


Buy Now On Wine.com

Top wine tastings and Tours in madeira
Oh boy we are so excited to give you our top places to sip in this beautiful place. You may not want to come home. In no particular order:
Want to bring your madeira wine home with you?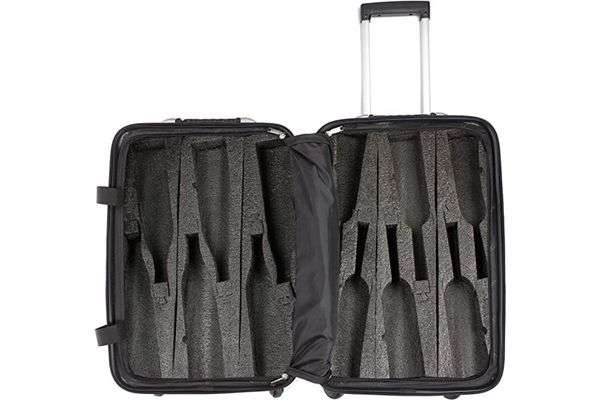 We recommend the VinGardeValise 12 bottle wine suitcase. There are a couple ways you can use this suitcase. One is, when you come home you only pack half the suitcase with wine and the other side clothes; or, what we do is bring a duffle bag to carry our clothes home. You can still check a duffle bag home btw, you don't have to schlep it around for all four connections.
Pro tip: you can also use the duffle bag to drop off your clothes to be laundered if you're doing an extended trip. Multiple uses for one duffle bag.
Madeira Wine FAQ
What kind of wine is Madeira?
Madeira is a fortified wine that originates from the island of Madeira in Portugal, about 300 miles off the coast of Morocco. Ranging from dry to sweet and is made with a handful of grape varieties, including Tinta Negra Mole, Sercial, Verdelho, Bual and Malvasia (aka Malmsey). Pairs well with dessert and snacks.
What is Madeira wine similar to?
If you're cooking, Marsala is another type of fortified wine and makes an excellent Madeira substitute in a pinch. If you're drinking, you can substitute port wine (very sweet) or even a Lambrusco (drier but fizzy).
Is Madeira wine expensive?
Madeira wine can be expensive but it can also be very affordable. We have both on our list. But, good news. You'll often find a bottle can stay open for several months after opening.
Is Madeira wine for drinking?
You bet your butt Madeira is for drinking! Drink dry styles (such as Sercial and Verdelho) chilled with starter courses, and sweeter styles as after-dinner-sippers like a port.