Portuguese Red Wines - See What All The Fuss Is About
Whether you know a lot or a little about wine, you have probably heard of at least one type of Portuguese red wine – Port. 
Port has rightfully been dubbed not only one of the best wines in Portugal but also one of the greatest wines of the world, but there are a couple other varieties I believe are worth talking about: Madeira and Portuguese red table wines.
Portugal's wine region is steeped in tradition, meaning this historic region is able to grow some of the most unique, obscure red wines in the world. 
So, let's get into it!
3 Terms For Portuguese Red Wine Labeling
Every wine region has their own rules on labeling wines. In Europe, labeling is focused on the quality of the wine versus the types of grapes used.
3 Terms For Portuguese Red Wine Labeling
Defined boundaries with very strict rules on making wine. Rules can include aging requirements, vine yield requirements, blending percentages, etc.
Vinho Regional, less strict rules and wider boundaries. 
Vinho "Wine" is Portuguese table wine.
Famous Portugal Wine Regions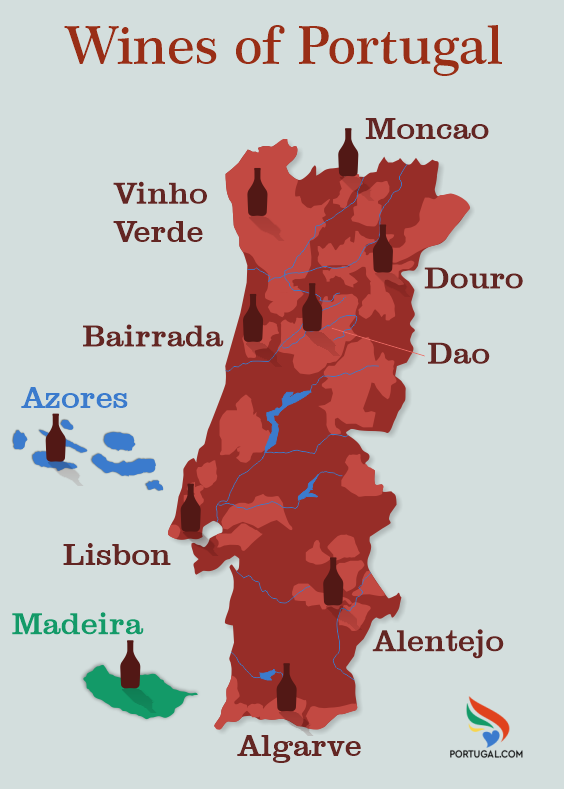 The most famous wine region in Portugal, known primarily for Port wine. This region is classified as a world heritage site by UNESCO, and stretches for 70 miles along the Douro River. 
While Port wine is the most well-known wine being made here, this Portugal wine region is beginning to be known for its table wines. Portuguese table wines made in the Douro Valley are structured, rich, complex, think about the flavor of Port wine minus the sweetness.
The Portugal wine region of Bairrada is known for the baga grape, which must constitute at least 50% of any wine made here.
Today, the Bairrada wine region is changing and developing a reputation for light and aromatic red wines and sparkling rosé. 
The Portugal wine region of Alentejo is Portugal's biggest wine region and actually produces more than half of the world's cork supply! As far as Portuguese red wine goes, the Alentejo region is known for reds with plum, spice, and pepper flavors.
Wines here used to be made in huge earthenware amphora. Some producers still use these clay pots. 
These Portuguese red table wines are lighter in style than in the Duoro Valley, but they have great aging potential given the Portuguese features of high tannin and acidity.
Red table wines in the Dao wine region range from medium to full bodied, red raspberry to black cherry, with notes of spice or chocolate. 
Here's a quick breakdown on the different styles of Port wine:
Aged Tawny Port
Blends of several years aged for long periods in a barrel. These will be lighter in color and rich in buttery, nutty, creme brulee flavors. You'll see Tawny Ports labeled based off of how long they were aged for, such as 10, 20, 30, or 40 years.
Reserve Port
Good quality with some aging over a period of years. Affordable and good for every day drinking.
Late Bottle Vintage (LBV)
Moderately priced ports made every year, thus from a single "vintage." You'll typically find these listed on a good restaurant's wine list.
Vintage Port
Only 3 percent of Ports are made in this style. When producers deem a single year as having perfect growing conditions, they will "declare" a vintage. These wines are made from the Duoro Valley wine region's top producers.
Port Wine Drinking Tips
The only Ports that need to be decanted are those that have acquired sediment in the bottle. These include Vintage Port and LBV Port. 

Tawny Port will last 1-6 months after being opened. LBV will last 1 week- 1 month. Vintage Port will last 1 day-2 weeks.

Port with chocolate is wonderful – but Port with blue cheese is even better!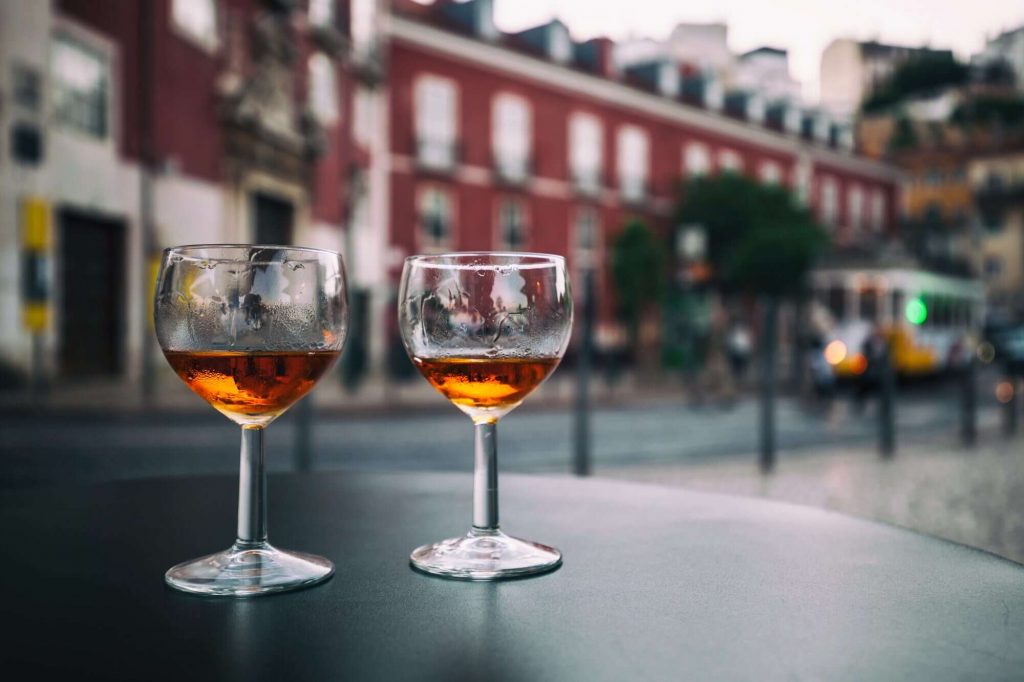 Madeira wine is a fortified, maderized, and oxidized wine made within a collection of volcanic islands off the coast of Portugal. Ironically enough, as popular as this Portuguese red wine has been for hundreds of years, its very popularity is what shaped it into the wine it is today. 
Due to the demand for this caramel, buttery wine, it had to be transported across the world by ship. The immense heat in the ship would cause the wine to spoil.
To fix this, producers would add brandy to the wine. This not only protected the wine from spoiling, but it enhanced the flavor. 
Today, Portuguese red wine called Madeira is fortified, like Port wine, and slowly warmed up (maderized) to replicate the flavor of ship transport. Madeira is then aged and oxidized. 
Madeira is primarily made with red grapes, although at least one type of white grape will be used in production.
Sercial
The driest variety. Tangy, elegant, sometimes savory.
Verdelho
Medium-dry and somewhat more full-bodied than sercial.
Terrantes & Bual
Both are rare due to the challenge for these types of grapes to grow.
Malmsey 
Sweetest and richest style. Grown in the warmest vineyards.
Madeira Wine Drinking Tips:
The drier the style, the cooler temperature it can be served at.

An open bottle of any style of Madeira will last nearly forever. 
Portuguese Red Table Wines
Portugal has more than 250 grape varieties, with table blends composed of many in a single bottle. Often, wineries will grow these grapes together, thereby "making the blend in the vineyard."
Portuguese Red Table Wines Varietals 
Alfrocheiro Preto, Bastardo, Jaén
Found in the Dao wine region. These grapes add spice and acidity.
Aragonez
Another name for Tempranillo, a star grape in the Portuguese wine region of Alentejo.
Baga 
Essential to the Bairrada wine region. Baga means "berry." These Portuguese red table wines are tannic and acidic with lots of aging potential.
Tinta Barroca, Touriga Franca, Tinta Roriz, Tinto Cão & Touriga Nacional 
Well established grapes blended together in Port and table wines.
Top Portuguese Red Wine Producers
Located right on the steep hillside of the Duoro Valley River, the scenic Quinta de la Rosa winery produces spectacular Port and table wines. All grapes are harvested by hand, meaning the growers can take special care to only pick the ripest grapes.
This winery is located within the Alentejo's wine region's montado system (cork oak forests) and practices organic methods of growing.
The Herdade do Esporão winery also makes wine in the Duoro Valley wine region and in the Vihno Verde wine region, a region known for making exceptional easy drinking white wines.
The Chryseia winery is the combined efforts of Quinta de Roriz and Quinta da Perdiz, both located in the Duoro Valley wine region. This winery takes advantage of the two different microclimates in each vineyard, and produces exceptional Ports and table wines.
Information about Portugal's many wine regions was obtained from Karen MacNeil's Wine Bible. The list of top producers was partly obtained from Wine Tourism in Portugal, and information about each winery was obtained from the winery's website.
Taste Wine Like A True Armchair Sommelier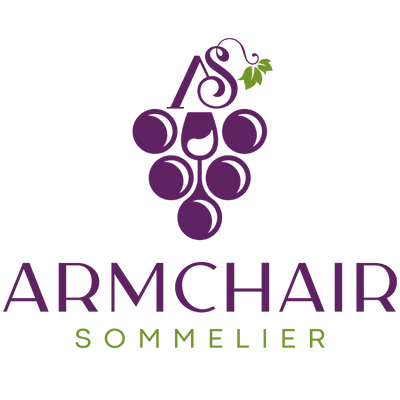 Spice up your next party with our FREE wine tasting guide! Learn what to look, smell, and taste for while appreciating your favorite bottle. We've also included a printable tasting notes template and a tasting wheel.