Your Ultimate Guide to Portuguese Red Wine
Curious about Portuguese red wine? We've got you covered!
In this fast guide we're diving into the region, talking food pairings and we'll let you know about the top selling Portuguese wines to buy now.
Whether you know a lot or a little about wine, you have probably heard of at least one type of Portuguese red wine – Port.
Port has rightfully been dubbed not only one of the best wines in Portugal but also one of the greatest wines of the world, but there are a couple other varieties I believe are worth talking about: Madeira and Portuguese red table wines.
Portugal's wine region is steeped in tradition, meaning this historic region is able to grow some of the most unique, obscure red wines in the world.
So, let's get into it!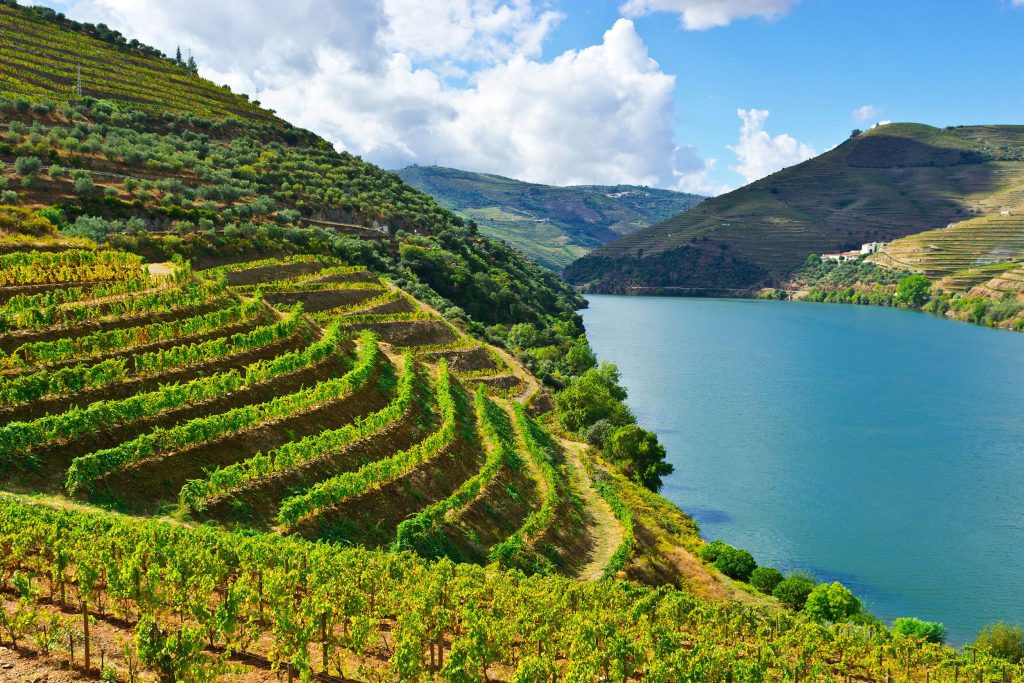 3 Terms For Portuguese Red Wine Labeling
Every wine region has their own rules on labeling wines. In Europe, labeling is focused on the quality of the wine versus the types of grapes used.
3 Terms For Portuguese Red Wine Labeling
DOC (DOP)
Defined boundaries with very strict rules on making wine. Rules can include aging requirements, vine yield requirements, blending percentages, etc.
IGP
Vinho Regional, less strict rules and wider boundaries.
Vinho
Vinho "Wine" is Portuguese table wine.
Famous Portugal Wine Regions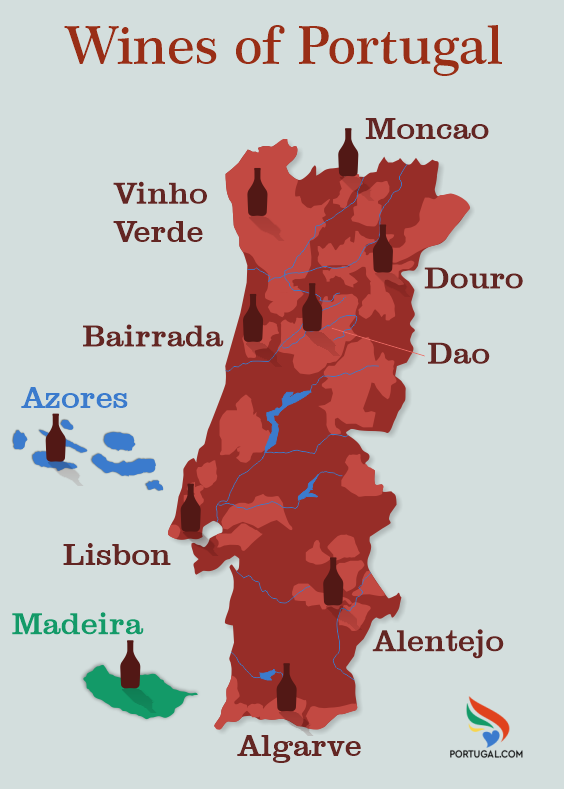 Douro Valley Wine Region
The most famous wine region in Portugal, known primarily for Port wine. This region is classified as a world heritage site by UNESCO, and stretches for 70 miles along the Douro River.
While Port wine is the most well-known wine being made here, this Portugal wine region is beginning to be known for its table wines.
Portuguese table wines made in the Douro Valley are structured, rich, complex, think about the flavor of Port wine minus the sweetness.
Bairrada Wine Region
The Portugal wine region of Bairrada is known for the baga grape, which must constitute at least 50% of any wine made here.
Today, the Bairrada wine region is changing and developing a reputation for light and aromatic red wines and sparkling rosé.
Alentejo Wine Region
The Portugal wine region of Alentejo is Portugal's biggest wine region and actually produces more than half of the world's cork supply!
As far as Portuguese red wine goes, the Alentejo region is known for reds with plum, spice, and pepper flavors.
Wines here used to be made in huge earthenware amphora. Some producers still use these clay pots.
Dao Wine Region
These Portuguese red table wines are lighter in style than in the Duoro Valley, but they have great aging potential given the Portuguese features of high tannin and acidity.
Red table wines in the Dao wine region range from medium to full bodied, red raspberry to black cherry, with notes of spice or chocolate.
Port Wine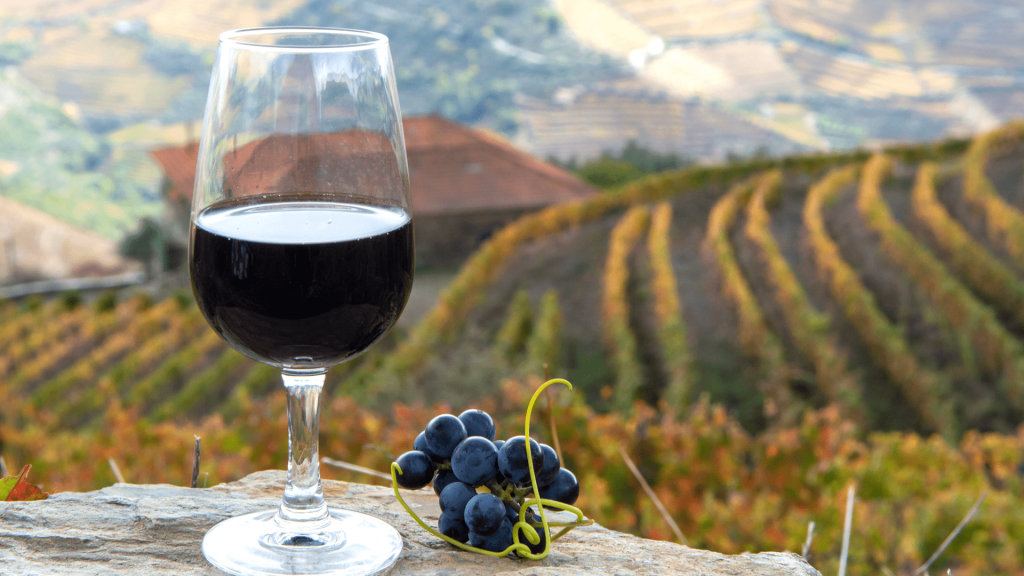 Here's a quick breakdown on the different styles of Port wine:
Aged Tawny Port
Blends of several years aged for long periods in a barrel. These will be lighter in color and rich in buttery, nutty, creme brulee flavors. You'll see Tawny Ports labeled based off of how long they were aged for, such as 10, 20, 30, or 40 years.
Reserve Port
Good quality with some aging over a period of years. Affordable and good for every day drinking.
Late Bottle Vintage (LBV)
Moderately priced ports made every year, thus from a single "vintage." You'll typically find these listed on a good restaurant's wine list.
Vintage Port
Only 3 percent of Ports are made in this style. When producers deem a single year as having perfect growing conditions, they will "declare" a vintage. These wines are made from the Duoro Valley wine region's top producers.
Port Wine Drinking Tips
The only Ports that need to be decanted are those that have acquired sediment in the bottle. These include Vintage Port and LBV Port.
Tawny Port will last 1-6 months after being opened. LBV will last 1 week- 1 month. Vintage Port will last 1 day-2 weeks.
Port with chocolate is wonderful – but Port with blue cheese is even better!
Madeira Red Wine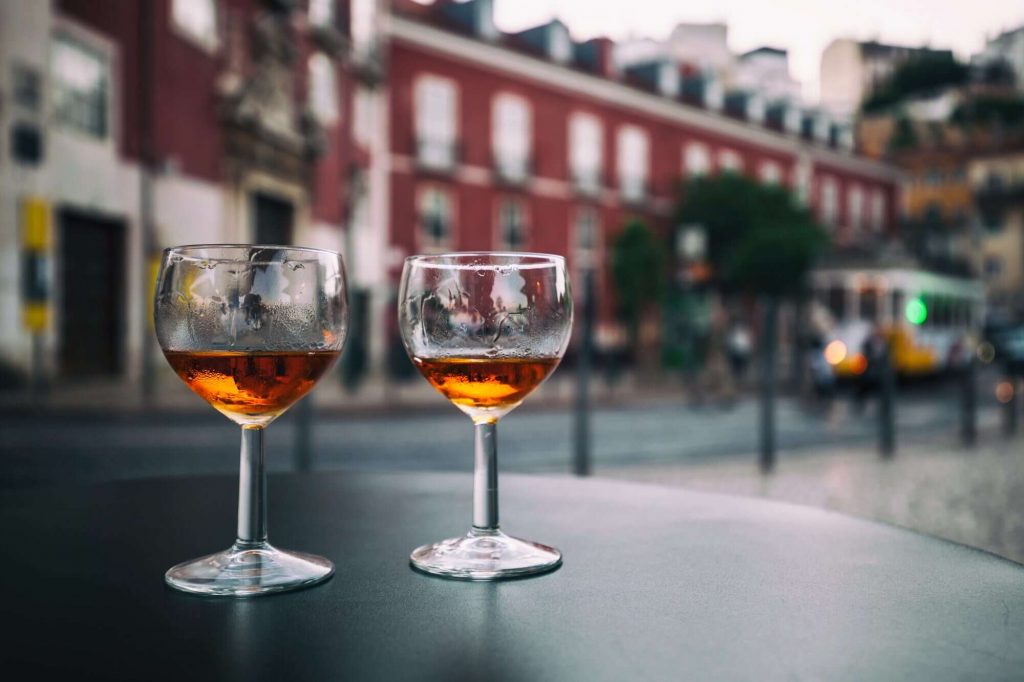 Madeira wine is a fortified, maderized, and oxidized wine made within a collection of volcanic islands off the coast of Portugal.
Ironically enough, as popular as this Portuguese red wine has been for hundreds of years, its very popularity is what shaped it into the wine it is today.
Due to the demand for this caramel, buttery wine, it had to be transported across the world by ship. The immense heat in the ship would cause the wine to spoil.
To fix this, producers would add brandy to the wine. This not only protected the wine from spoiling, but it enhanced the flavor.
Today, Portuguese red wine called Madeira is fortified, like Port wine, and slowly warmed up (maderized) to replicate the flavor of ship transport. Madeira is then aged and oxidized.
Madeira is primarily made with red grapes, although at least one type of white grape will be used in production.
Styles Of Madeira Wine
Sercial
The driest variety. Tangy, elegant, sometimes savory.
Verdelho
Medium-dry and somewhat more full-bodied than sercial.
Terrantes & Bual
Both are rare due to the challenge for these types of grapes to grow.
Malmsey
Sweetest and richest style. Grown in the warmest vineyards.
Madeira Wine Drinking Tips:
The drier the style, the cooler temperature it can be served at.
An open bottle of any style of Madeira will last nearly forever.
Portuguese Red Table Wines
Portugal has more than 250 grape varieties, with table blends composed of many in a single bottle. Often, wineries will grow these grapes together, thereby "making the blend in the vineyard."
Alfrocheiro Preto, Bastardo, Jaén
Found in the Dao wine region. These grapes add spice and acidity.
Aragonez
Another name for Tempranillo, a star grape in the Portuguese wine region of Alentejo.
Baga
Essential to the Bairrada wine region. Baga means "berry." These Portuguese red table wines are tannic and acidic with lots of aging potential.
Tinta Barroca, Touriga Franca, Tinta Roriz, Tinto Cão & Touriga Nacional
Well established grapes blended together in Port and table wines.
Top Portuguese Red Wine Producers
Quinta de la Rosa
Located right on the steep hillside of the Duoro Valley River, the scenic Quinta de la Rosa winery produces spectacular Port and table wines. All grapes are harvested by hand, meaning the growers can take special care to only pick the ripest grapes.
Herdade do Esporão
This winery is located within the Alentejo's wine region's montado system (cork oak forests) and practices organic methods of growing.
The Herdade do Esporão winery also makes wine in the Duoro Valley wine region and in the Vihno Verde wine region, a region known for making exceptional easy drinking white wines.
Chryseia
The Chryseia winery is the combined efforts of Quinta de Roriz and Quinta da Perdiz, both located in the Duoro Valley wine region. This winery takes advantage of the two different microclimates in each vineyard, and produces exceptional Ports and table wines.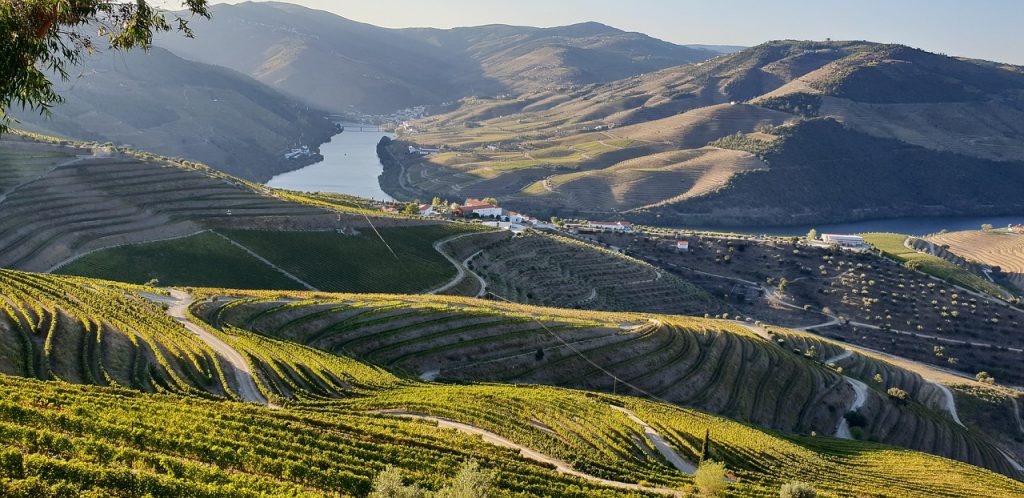 Pairing Portuguese Red Wine
Callabriga Dao Red 2009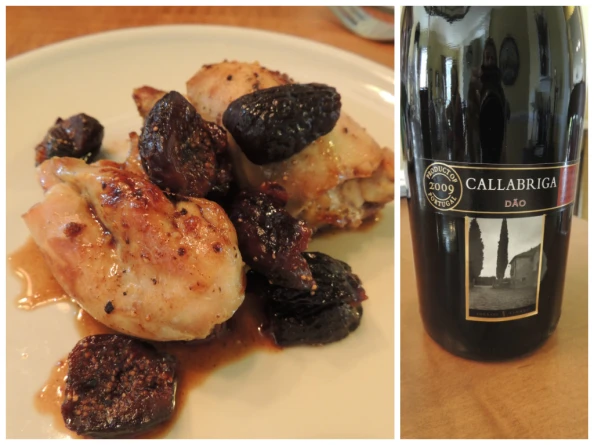 This dish reminds me an awful lot of Chicken Marbella, which I make in continuous rotation through the fall and winter months.
But instead of using prunes, you use figs. Some folks have texture issues with figs (my girlfriend says they're like chewing sand), but that flavor — YUM!
Tasting Notes: Someone on Cellar Tracker described this wine as "cheap and cheerful" — that pretty much sums it up. Gorgeous ruby red color. A blend of Tinta Roriz, Touriga Nacional and Alfrochiero Preto. Velvet mouth-feel.
Dense, with flavors of plum, chocolate, and tobacco. I'd buy it again, for sure.
This is a tasty recipe, my only complaint is it doesn't make nearly enough sauce.
Pairing Notes: Chicken with Port . . . Port is from Portugal. Seems only natural to pair this with a Portuguese wine. The softness of the wine was a great textural match to the chicken and figs — not too overwhelming. The chocolate notes played nicely with the figs.
Fonseca 20-Year Old Tawny Port and Taylor Fladgate 10-Year Old Tawny Port
Not that anyone was still hungry, but we had a little dessert tray . . . chocolate covered figs, Manchego cheese, and chocolate covered salted caramel (from Trader Joe's).
If you buy the salted caramel from TJ's, be prepared to sit down and finish the bag. They're that good.
Fonseca 20-Year Old Tawny Port: I love the balance between fruit and nuts in this Port. A little butterscotch in the mix, too. Yum!
Taylor Fladgate 10-Year Old Tawny Port: I had long forgotten about this bottle in my cellar. For some reason, I wrote the date I bought it on the back of the label: 1998.
So technically, this was 25 year old Tawny Port. And it was fabulous!! Loaded with raisin, fig and caramel flavors. The longer it sat out, the better it got. Even days later, it was lovely.
Portuguese Red Wine Buyer's Guide
Portuguese Red Wines FAQ
Which is the best Portuguese red wine?
– Stones & Bones 2019. Casa Santos Lima – Lisboa, Portugal
– Cova do Frade Reserva 2017. Ferreira Malaquias – Dão, Portugal
– Vinha Maria Premium 2017. Global Wines – Dão, Portuga
– Baga Reserva 2015. Marquês De Marialva – Bairrada, Portugal
– The Best 2017. Morrisons – Douro, Portugal
– Herdade Do Peso Reserva 2017. Sogrape Vinhos – Alentejo, Portugal
– Herdade Do Peso Trinca Bolotas 2018. Sogrape Vinhos – Alentejo, Portugal
– Vinhas do Sabor Tinto 2017. Vale D. Maria – Douro, Portugal
What is Portuguese red wine called?
Between the mountains and the coast, on fertile clay soils, is Bairrada. This is one of the only wine regions in Portugal to be dominated by a single grape variety, baga.
These days many blend baga with non-indigenous grapes to make a friendlier style, but the greatest Bairradas are pure baga.
What is a good wine in Portugal?
Port Wine, without question, is the most popular wine in Portugal.
What is a good wine in Portugal?
– Herdade Tinto e Branco, Quinta Do Paral Colheita Selecionada 2017; Alentejano. 94/100
– Cooperativa Agrícola de Santo Isidro de Pegões, Vinhas de Pegões Touriga Nacional 2020; Peninsula De Setubal. 92/100
– Adega Cooperativa de Palmela, Premium Reserva 2017; Palmela. 92/100
– Sivipa Soc Vinicola de Palmela, Paço do Bispo 2019; Palmela. 92/100
– Mainova, Milmat Alicante Bouschet-Touriga Nacional-Baba 2018; Alentejano. 92/100
– Casa de Vila Verde Sociedade Agrícola, Palaios Superior Alicante Bouschet 2019; Alentejano. 92/100
– Monte São Sebastião, Reserva 2019; Douro. 91/100
– Quinta Do Gradil, Gradil Reserva 2018; Lisboa. 91/100
– Grande Porto Vinhos e Bebidas, Messala Alvarinho 2020; Vinho Verde. 91/100
– Sociedade dos Vinhos Borges, Quinta da Soalheira 2019; Douro. 91/100
– Falua Sociedade de Vinhos, Conde Vimioso Reserve 2018; Tejo. 91/100
– Casa de Vila Verde Sociedade Agrícola, Pluma Reserva Alvarinho 2017; Minho. 90/100
What is Douro red wine?
Douro red wines range in style from light and fruity to lush and smooth to dark and dense with flavors of fruit and herbal. The wines are often dark purple due to the thickening of the skins from the summer heat of the region.
Where is the best wine in Portugal?
Arguably, the best red wine from Portugal is the Douro Valley. This rich river gorge is famous for its port wines. The wines produced here have become legendary—in fact, UNESCO recently designated the valley a World Heritage site.
Information about Portugal's many wine regions was obtained from Karen MacNeil's Wine Bible. The list of top producers was partly obtained from Wine Tourism in Portugal, and information about each winery was obtained from the winery's website.