I've visited a ton of Virginia wineries over the years.  I'm gradually revisiting favorites, not so favorites, and new wineries so I can share the experience.   According to Virginiawine.org, there are over 300 wineries in Virginia.  Visiting all of them is starting to sound like Mission Impossible.  But I'll do my best. 
Way back in May (yep, I'm that far behind in getting this review written), I visited Narmada Winery in Amissville, Virginia, with a couple of my grape-loving girlfriends. We always do winery visits on weekdays, so we can avoid the wave of humanity that swallows Virginia wineries on the weekends (I'm trying to remember the last time I went to a winery on the weekend . . . it's been years).
Narmada's owners, Pandit and Sudha Patil, emigrated to the United States from Mumbai, India over 40 years ago.  Narmada opened its doors in 2009, and it's named after Pandit's mother. (Someday when one of my kids opens a winery, I'm sure they will name it after me.)   Sudha is the winemaker — she studied under one of Virginia's rock-stars-of-wine, Jim Law, of Linden Vineyards. Sudha has an undergraduate degree in chemistry (über-helpful with the chemistry end of winemaking), and (get this) she's a practicing endodontist (so now I think I'll call her, Dr. Patil).  Dr. Patil is semi-retired, but retains her practice to do pro-bono dental work for underprivileged children.  How awesome is she?  (And btw, she's got perfect teeth.)
The Patil's planted their first vines at Narmada in 2004, and today there are 20 acres under vine.  75% of the grapes used in Narmada wines are estate grown (the Chardonnay and Tannat are outsourced).  Narmada grows more Chambourcin than anything else (which is very interesting because Virginia as a whole grows more Chardonnay than anything else).
Narmada is drenched in the Indian influence of the Patil's family history.  From the tasting room decor, to the wine names and labels, to the Indian food pairings Narmada offers on the weekends.  Unfortunately for us, the Indian food pairings are only available on Saturday and Sunday.  However, Dr. Patil was kind enough to offer us some Samosas to pair with our Dream Festival (see tasting notes).
The unofficial mascot of Narmada is the peacock, which is also the National Bird of India.  The peacock pops up on all of the Narmada wine labels, in the tasting room, and throughout the winery grounds.
Narmada offers three different tasting flights.  Since there were three of us, we all got a different flight and shared sips (sharing wine does not give you cooties, btw).  One of the many benefits of visiting a winery tasting room during the week is that more often than not, you find the winemaker with time to chat.  And we got to spend a good half an hour chatting with Dr. Patil.  She's a charming ambassador for Narmada, India, and wine in general.
One minor complaint . . . I didn't love the tasting notes.  Incomplete tasting notes are a pet peeve of mine, and these notes have no vintage dates or technical data.  I realize not everyone loves technical data, but I'd rather have too much information than not enough.
Flight 1 — Tasting Room All-Stars
Dream Festival  ⭐⭐⭐/85
100% Traminette.  Traminette is a hybrid cross between Gewürztraminer and Joannes Seyve 23.416 (seriously, that's the name of the grape).  Clear and light.  Dry, with just a whiff of sugar (.8% residual sugar).  Flavors definitely take after Gewürztraminer, with floral and spice notes, but absent the perfume notes you'd expect in a Gewürztraminer.  Surprisingly long finish.  An excellent partner for Indian food.  12.8% ABV. 
MOM ⭐⭐/83
This is Narmada's signature wine.  80% Chardonel (a hybrid cross between Chardonnay and Seyval Blanc) and 20% Vidal Blanc, fermented in stainless steel.  Uncomplicated and not terribly complex, but light on the palate and easy to drink.  1.8% residual sugar.  A bit sweet for my taste, but I can see where this would be excellent with spicy foods.  
Gulabi ⭐⭐⭐/85
Gulabi is a Hindu word meaning color of a rose.  A blend of Chambourcin, Petit Verdot and Chardonel.  Dark, kind of brooding, and just plain different.  Fermented with the skins, and then blended.  Tart, with flavors of cranberry and strawberry.  0.3% residual sugar.  12.9% ABV.  
Midnight ⭐⭐/82
100% Chambourcin.  1.8% residual sugar.  Yep, that's right.  This is probably the sweetest Chambourcin I've ever tasted.  Can't say it was my thing, but fans of sweet wines will love it.  13.1% ABV. 
Lotus ⭐⭐/84
This is a late harvest Vidal Blanc.  Grapes are picked at first frost, then harvested.  Soft, almost creamy mouth feel.  Peaches and cream comes to mind.  Very nicely balanced.  7% residual sugar.  
Primita ⭐⭐/81
This is billed as Chambourcin infused with raspberry.  Very rich, and very sweet.  And VERY raspberry.  Again, so not my thing, but I'll bet folks line up to buy this one.  12.8% residual sugar, 14.3% ABV.  
Flight 2 — Fruity, Fresh & Fun!  
Chardonnay  DNT
100% Chardonnay.  This was the only wine I didn't taste.  I must have been distracted by peacock feathers or something. 😉  
Dream Reserve ⭐⭐/83
80% Traminette, 20% Viognier.  The Gewürztraminer notes are extra present again in this wine.  This time, with the perfume presence.  0.9% residual sugar.  
Reflection ⭐⭐/83
81% Chambourcin, 13% Merlot, and 6% Tannat.  Highlighted by smoky tobacco notes.  Not terribly complex, but an easy wine for patio conversation. 
Melange ⭐⭐⭐/84
This is Narmada's Bordeaux-style blend.  58% Cabernet Sauvignon and 42% Merlot.  Tasted slightly green to me.  Cherries and plums with decent, but not terribly aggressive tannins.  Won a Gold Medal at the 2015 Virginia Governor's Cup.  
Cabernet Franc ⭐⭐/83
A blend of 76% Cabernet Franc, 12% Tannat, and 12% Merlot.  Loads of black & blue berries (maybe I'll start calling that combo the bruise-berries).  Some green veggies and cedar in the mix, too.
Flight 3 — Proprietors' Reserves and Classics 
Viognier ⭐⭐/84
80% Viognier and 20% Traminette.  (So, the opposite of their Dream Reserve wine).  Medium body, leaning toward a more bold style, although this is aged in stainless, and not oak, so the flavors aren't clobbering anyone over the head.  Huge pineapple burst up front, followed by a zing of lime. 
Cabernet Franc Reserve  ⭐⭐⭐/85
A blend of 75% Cabernet Franc and 25% Merlot.  Very true to variety here.  Slightly green, but with good balance.  
Yash-Vir ⭐⭐/86
Yash-Vir means strength and bravery in Hindu.  A Merlot dominant Bordeaux-style blend consisting of 3% Merlot, 29% Petit Verdot, 14% Cabernet Franc, and 14% Malbec.  This wine was included in the 2015 Virginia Governor's Case — that's a big deal.  Brilliant garnet color.  Lots of black fruit and spices, and definitely clove.  And rosemary.  
Tannat ⭐⭐/82
A blend of 80% Tannat and 20% Cabernet Sauvignon.  Slightly gamey for me.  
Allure ⭐⭐/84
A fortified Port-style wine.  80% Chambourcin, 10% Tannat, 10% Cabernet Sauvignon, fortified with brandy.  
Honestly, my palate was a little fried at this point.  You're probably only supposed to do one flight (and we shared all 3 — tiny sips and lots of dumping, mind you), but 16 wines is a lot of wines to taste and focus on.  And I'm always a tiny bit concerned when wineries make so many wines — it spreads the focus.  For my palate, all of the wines at Narmada are good to very good wines.  No stinkers in the bunch, but nothing that blew my socks clear across the room, either.
After our tasting, we bought a bottle of the Dream Festival and headed outside with our picnic (we called ahead to be sure we could bring outside food) and the Samosas Dr. Patil offered us (which were super yummy, btw).  Narmada has a lovely wraparound deck for gnoshing, but if I could offer one suggestion?  Umbrellas for the sun-phobics (like me).  The sun is merciless out there.
After I visit a winery, I usually check the reviews on Yelp to see how my experience compared to the experience of others.  The overhwelming majority of the Narmada reviews on Yelp are positive.  Most of the negative reviews are complaints about the Indian food.  If you could see me right now, you'd see my eye-roll.  Seriously folks?!?  You're at a winery, not an Indian restaurant.  Enjoy the novelty.

Narmada Bottomline:  Narmada is a unique winery that provides a fun departure from the norm of Virginia wine tasting.  The Indian influence and Indian food pairings are a real treat. And kudos to Narmada for planting and nurturing some of the "little guy" grapes of Virginia (Chambourcin, Tannat, and Traminette).
What did I take home with me?  A Dream Festival and a Gulabi (rosé).  I tried to take the horseshoe peacock home with me, but I couldn't talk them out of that.
Salud!
Taste Wine Like A True Armchair Sommelier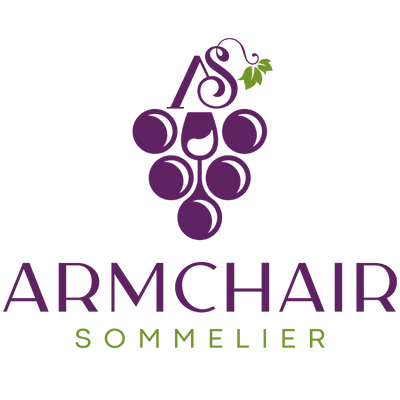 Spice up your next party with our FREE wine tasting guide! Learn what to look, smell, and taste for while appreciating your favorite bottle. We've also included a printable tasting notes template and a tasting wheel.