5 Top Wine Pairing Thai Food Dishes (pssst… the rosé pairing is my favorite)
Time to read: 4-6 minutes
When I think of Thai food, I think of snacking on fried rolls, sipping aromatic coconut broths, or perhaps wrangling chopsticks around a bowl of spicy pad Thai.
All of these signature Thai dishes have one thing in common – they are packed with flavor.
Wine pairing Thai food flavors can be a challenge, especially when you consider that high alcohol/high tannin wines will make spicy food seem way spicier.
That being said, just because it's a challenge doesn't mean we shouldn't give it a go. I am confident we can come up with a solid list of excellent wines to pair with even the spiciest of curries!
Wine Pairing Thai Food – Bring On The Heat
Wine pairing Thai food is often made to look easier than it actually is. In reality, it can be hard to tweeze out which specific flavors will complement a wine.
Here are some solid rules of thumb to take with you to your local wine shop:
If this dish is hot (ex. spicy seasonings or hot peppers) then pick a wine that's slightly sweet and low alcohol- This tiny bit of sugar is exactly what you need to cool the palette.
Think of a Semi-Dry Riesling or a Moscato.
If choosing a wine pairing with Thai food that is fatty (ex. fried or has coconut milk) then pick a wine that's high acid- You'll need that acid to cut through rich or fatty dishes.
Think of a Pinot Gris or a Verdicchio.
If choosing a wine pairing for Thai food that is aromatic (fresh basil, lemongrass, cilantro, etc.) pick a wine that's equally aromatic- Match flavor for flavor, or else the wine will be lost.
Think Gewürztraminer or Viognier.
Best White And Rosé Wine Pairing With Thai Food
It's safe to say you'll be better off sticking in this category for your Thai food wine pairing needs. 
White wines are generally better at providing those delicate aromatics and cutting acidity that we'll need to rescue us from a highly flavored dish.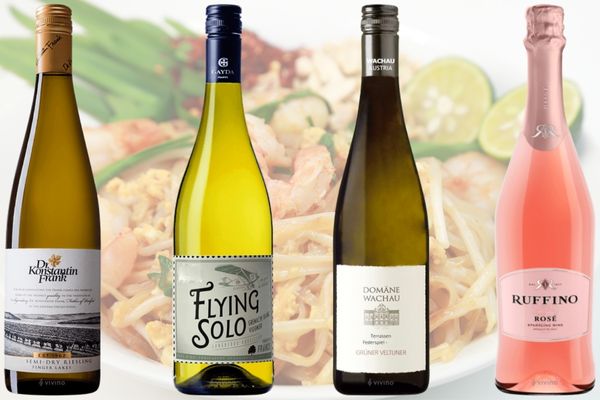 Riesling (NY, USA) Dr. Konstantin Frank, Riesling Semi Dry 2020
Semi dry Riesling from Finger Lakes, NY is a favorite when it comes to unorthodox food pairings. The subtle sweetness will balance out the heat and the acidity and will compliment the acidity in the dish.
This Riesling wine pairing, with Thai food in particular, is sure to bring out the citrus notes from the food while rounding out any harsh flavors.
Best Wine Pairing Thai Food: Tofu Pad Thai, Spicy Tom Yum Soup
Grenache Blanc (France) Gayda, Flying Solo Grenache Blanc- Viognier
Grenache blanc is a great choice for diehard Chardonnay lovers who are looking to branch out and try something new.
Expect a full-bodied white wine with rich flavors of green and citrus fruit, plus delicate minerality and floral/mineral notes from the Viognier.
Best Wine Pairing Thai Food: Green Papaya Salad
Grüner Veltliner (Austria) Domäne Wachau, Grüner Veltliner Federspiel Terrassen
Packed with bright citrus flavors, high acid, and light spiciness, Grüner Veltliner is a perfect wine pairing for Thai food that is strongly flavored and spiced. Pair this bright wine with many types of seafood, lean meat, curry spices, and especially ginger!
Best Wine Pairing Thai Food: Thai Ginger Chicken, Massaman Curry
Sparkling Rosé (France) Ruffino, Sparkling Rosé N.V.
As is true in most circumstances – you can never go wrong with sparkling wine. Sparkling wine brings food, and its drinkers, to life.
The refreshing acidity and tartness pierces through bold flavors while the tiniest bit of sweetness rounds out heat and spice.
Best Wine Pairing Thai Food: Fried Egg Rolls, Peanut Sauce Stir Fry
Best Red Wine Pairing With Thai Food
While white wines are a safe bet, there's certainly nothing wrong with breaking out the red to pair with your Thai food.
I'll be sticking with lighter bodied red wines for this post, as they are the wines best suited for complimenting Thai flavors, as opposed to competing with them.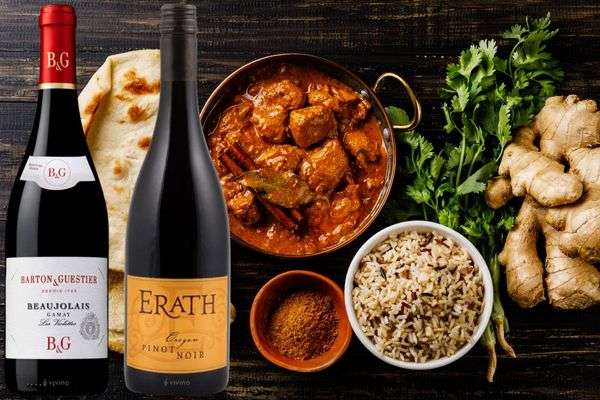 Gamay (France) Barton & Guestier, Beaujolais Les Violettes Gamay
Gamay noir is the lightest red wine you'll find, which makes it a perfect choice for your wine pairing Thai food for hot dishes.
In many ways I would actually prefer a Gamay over a white because its barely-present tannic backbone is more well matched against less-delicate proteins such as lamb, beef, or pork.
Best Wine Pairing Thai Food: Laarb Salad, Red Curry with Chicken
Pinot Noir (OR, USA) Erath, Pinot Noir (Vivino 19.99)
I know, I know… Pinot noir is always on my list. I promise it's not because I love Pinot (although, I do) it's because it's a great red wine pairing with Thai food and so many other types of cuisines.
I chose an Oregon Pinot this time around as it is sure to provide bright red fruit flavors, plus a touch of earth and smoke.
Best Wine Pairing Thai Food: Pad Thai (yes, a repeat!), Holy Basil Chicken Stir Fry
Wine Pairing Thai Food – Final Thoughts
Now, I see no reason why Thai food and wine can't go together. After all, when they are done right, both are deeply flavorful with layers of complex and intriguing flavor combinations. 
If you ask me, wine and Thai food seems like the perfect match. Whether you're recreating your favorite Bangkok street food meal, or serving up a lush Thai curry use these guidelines to find the perfect wine pairing.
While you can never go wrong with a bottle of semi-dry Riesling or sparkling wine – we all know by now that the most important thing is that you like the wine you're drinking!
Wine Pairing Thai Food FAQ
What type of wine goes well with Thai food?
Light, crisp white wines with some sweetness (like a sweeter Riesling) are a great pairing with Thai food. However, if you are in the mood for red wine, go for light-bodied, light tannin, and high acidity wines like Gamay or Pinot Noir.
What drink goes well with Thai food?
The sweetness of Pinot Gris works well with most Thai dishes, while a sweet Riesling goes with spicier Thai food. You can also pair that with seafood, stir-fries, and salads.
What wine goes best with Pad Thai?
The best wines to pair with Pad Thai are Riesling, Sauvignon Blanc, Sylvaner, Beaujolais and Prosecco or sparkling rosé.
Pad Thai is a slightly sweet and mildly spicy dish that most often includes shrimp, chicken, tofu, chopped almonds, tamarind, fish sauce, and chili peppers. I prefer tofu with my Pad Thai.
What wine goes well with Thai green curry?
The best red wine for Thai green curry is Primitivo, Gamay or a light bodied Pinot noir that is low in tannins, but has an extremely robust flavor structure with bold aromatics and fruit flavors.

Author: Olivia Abramson
Olivia has been immersed in all things food and libations for nearly a decade. When she's not cooking or sipping on a glass of vino, she's running a small tasting room for a boutique winery located on the beautiful Hood Canal in Washington State. She spends her free time bikepacking around the Pacific Northwest with her fiance and checking out all the local breweries. She also enjoys writing for her own personal food and wine blog, Liv Eats Local. Follow her IG: @olivia_abramson for pictures of her cute dog, Tater, and their van-lifing adventures – and check out her blog liveatslocal.com for recipes and stories of tipsy travels.