mind blowing fig, prosciutto & burrata salad with wine pairing
I'm not exaggerating. This might be the best thing I've ever done for myself.
I made a salad for our wine club with fig, prosciutto and burrata with wine pairing (of course). It was a huge hit!
And one to be enjoyed all summer long with friends.
Comment Below With Your Favorite Wine Pairing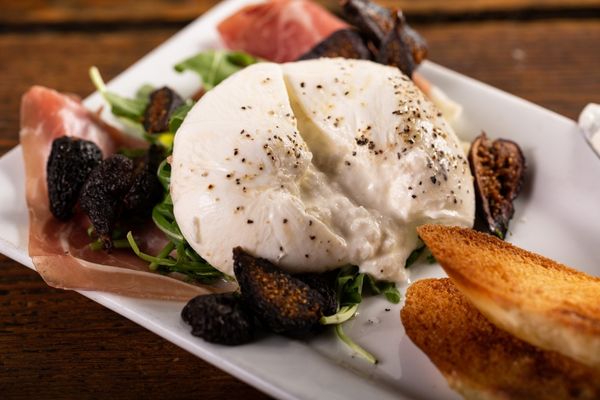 I'm having a summer salad wine pairing moment. A big one.
A few days ago, I had a craving for figs and burrata cheese, and all of a sudden, somehow, this salad landed in my feed.
Fig, Prosciutto and Burrata Cheese Salad. Something that looks that good has to taste that good, right??
Burrata Wine Pairing Is A Guilty Pleasure
First of all, why is pleasure guilt inducing? If you find pleasure in something, you should indulge. Life is short.
If you've never had the pleasure of burrata cheese, you need to fix that immediately.
Burrata cheese is fresh mozzarella wrapped around a pocket of even more fresh mozzarella mixed with fresh cream.
Burrata means "buttered" in Italian. Mmmm, buttered cheese. The play on textures is genius.
And figs! I love fresh figs. Summer is the perfect time to harvest fresh figs. All you need is find yourself a fig tree.
Simple, right? It is in the south.
Fresh figs are glorious. Combining them with burrata cheese and prosciutto is approaching otherworldly!
How To Pair Wine With Fig, Prosciutto and Burrata
This summer salad is so good, it could be both, a summer wedding salad and at your next backyard BBQ.
But what wine to pair with it? There's a whole lot of different tastes and textures on my plate:
Peppery arugula
Silky, creamy burrata cheese
Salty prosciutto
Sweet fresh figs (my grocery store only had green figs, which muted the color palate a little, but definitely not the taste!)
Acidic balsamic vinegar
Very sweet fig compote (if you're not a fan of overly sweet stuff, cut back on the compote)
I looked at this plate, and my first (and really only) pairing thought was Bubbles!
Bubbles with a touch of sweetness (maybe a Moscato d'Asti or even a Prosecco) would be a great choice.
I was right! Prosecco was a hit!
What Wine Pairs Well With Salads?
A low acid white, like a Chardonnay, with a vinaigrette, will not allow you to taste the wine at all.
But, pour a tart white like a Sauvignon Blanc or Albariño, and the vinegar in the dressing will showcase the fruitiness of the wine.
What Red Wine Goes With Salads?
Don't discount red wine for summer salad pairings. High acid reds with herbal and floral notes, like those made from Barbera, Sangiovese, Gamay and cooler climate Pinot Noir, go well with balsamic vinaigrette as well as salads with meat, cheese, nuts and dried fruit. If you want a fizzy red, Lambrusco is your best bet.
What's A Good Caesar Salad Wine Pairing?
The creamy dressing of a Caesar along with the salty anchovies a can stand up to either a full bodied white wine or light bodied red (chardonnay, pinot noir, Sauvignon Blanc, Gamay, Pinot Grigio, Champagne or Prosecco).
What Wine Goes With A Wedge Salad?
A fruity white has what it takes. Sauvignon Blanc, with its own complex, garden like bouquet and flavors, does much better than most. You can also pair an acidic red wine with balsamic vinaigrettes, salads, meat, cheese, nuts, and dried fruit. Which wine(s) will you pair with salad your next salad?
Burrata Wine Pairing FAQ
What alcohol pairs with burrata?
Burrata is so creamy and when you add oil and balsamic it really has a tasty flavor. This light and tasty appetizer pairs really well with Prosecco, Moscato d'Asti or California sparkling wine.
What do Italians eat burrata with?
Italians eat burrata with a slice of good bread, ripe or semi-dried tomatoes, olives and prosciutto. Their wine pairing go to is Prosecco or Lambrusco.
What wine goes with mozzarella cheese?
Mozzarella pairs beautifully with dry sparkling wines like Champagne and prosecco and unoaked, low-tannin reds like fizzy Lambrusco.