Albariño Tasting Notes: The Ultimate Style Guide
We just planned an Albariño wine tasting for our friends and they loved it! Check out our Albariño tasting notes and wine style guide, and you might just fall in love.
We're smitten with Albariño. It's so versatile. It's a beautiful alternative to rosé, makes a great warm weather wine and let's not forget that Albariño food pairings are the best.
(pssst… the best Albariño in Napa Valley is right here)
Whether Albariño is your favorite Spanish wine or at least a white wine style that you want to learn more about, these Albariño wine tasting notes are for you.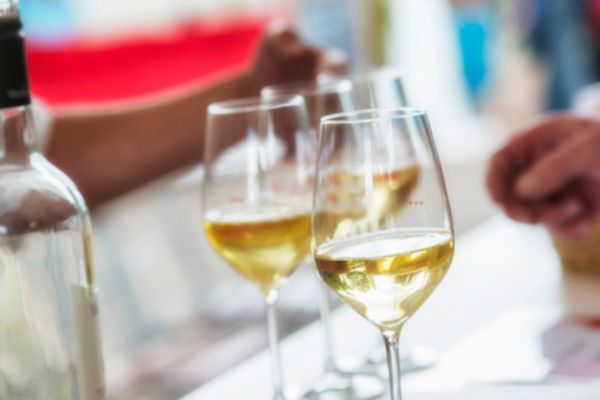 Are you planning a wine tasting party? Then you'll want to take note.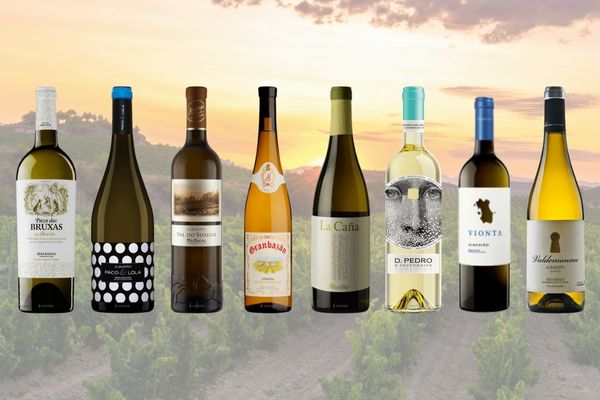 Familia Torres Pazo das Bruxas 2021 /87 points
100% Albariño.  Pale greenish-yellow.  Nose is sea spray and lime, minerals, dust and vanilla (the vanilla was a surprise to me, too).  Tastes like lemon meringue.  Medium body with balanced acidity.  Long pear finish.  
Paco & Lola Albarino 2021 /86 points
A blend of Albariño, Loureio, and Caiño.  Pale yellow.  Nose is mostly grapefruit, along with orange and banana.  A noticeable uptick in acidity, but a slightly lighter body.  The finish is awash in floral notes.  
As Laxas Val do Sosego 2020 /89 points
100% Albariño.  Pale, brilliant yellow.  Aged in stainless steel.  Closed nose at first, and then RIESLING!!  The nose is citrus and stone fruit, laced with minerals.  Tastes like green apples and lime.  Very long finish beguiles its pale hue.  Crisp and well-balanced.  But that finish.  
Granbazán Etiqueta Ámbar 2020  /90 points
100% Albariño.  Pale, clean yellow.  Nose is standoffish at first — minerals and dust.  Opens up to some lovely grapefruit and floral notes.  Tastes like a bowl of lemons and peaches.  Elegant and crisp, beautiful acidity and balance.  
Pale yellow.  Nose is weak, but probably because I had the wine a bit too cold.  As it warmed up, little notes of peach and citrus showed themselves.  A lighter-styled wine, but somehow seemed much more ripe than the others.  Really beautiful as it opens up in the glass.  Lime and floral notes with a twinge of vanilla (there it is again).  
Adegas Galegas, D. Pedro Soutomaior 2015 /86 points
100% Albariño.  Pale yellow.  Nose is minerals and grapefruit.  The taste is bright and zippy, with an abundance of acidity.  Flavors of lemon zest and white peaches.  Impressive finish brings up the rear. 
Morgadío  2015  /88 points
100% Albariño.  Pale to straw yellow.  Nose is minerals, salt and sea spray.  Taste is white pepper and grapefruit, maybe a peek of melon.  Razor-sharp acidity.  Very well-balanced.  
Bodegas Vionta 2021 /87 points
100% Albariño.  Light straw color.  Nose is very clean — grapefruit and salt.  Tastes a bit herbal (Sauvignon Blanc-like) with flavors of grapefruit, lime and green apple.  A salty, slightly bitter note on the finish.  Nicely balanced. 
Adegas Arousa Valdemonxes 2021 /88 points
100% Albariño.  Pale straw color.  Nose is green apples and flowers (I couldn't pinpoint which flower until my lovely wine-friend, Sahmmelier, hit the nail on the head — daffodils!!).  Tangy with a biting acidity.  Tastes like a bowl of citrus (all the citrus) and salty seashells.
Albariño Tasting Notes- Your takeaways
Albariño isn't just for seafood.  It's a charming wine, with an almost universal food matching appeal.  That said, I wouldn't get crazy and try to pair it with venison chili or prime rib.  But it's brilliant with bbq'd oysters,  sushi, chicken, white sauces, cheeses and veggies and always a great wine choice for a hot summer afternoon. Even artichokes and fish tacos love Albariño.
Albariño is characterized by high acidity, intense aromatics, minerality, and low alcohol. Often, there's a slight saline quality to the wines (this is where you recall Rías Baixas is located along the northwestern coast of Spain).
You can really taste the seashells.  Seriously.  Many of the vineyards in Rías Baixas are enriched with local seashells, so picking up on that flavor in the wine (think wet rocks) isn't just something I made up.
Compared to other lighter-bodied white wines . . . Albariño is Sauvignon Blanc without the lawn clippings.  Riesling without the petrol.  And Pinot Grigio that isn't a diluted mess.
I kind of felt like I was writing the same Albariño tasting notes over and over again.  That doesn't mean all Albariño wine tastes the same, just that they are wildly consistent (and after 13 bottles of Albariño, I know exactly what an Albariño should taste like).  An Albariño is supposed to have abundant acid, and taste of minerals, citrus, flowers and salt.
If we had to distill all of this down to one sentence?  Albariño is the ocean in a glass (with a citrus wedge on the side).
Albariño Tasting Notes FAQ