where to find the Best canadian wine: Tasting Notes & Buyers guide
Ever wonder who makes the best Canadian wine? We'll let you in on who's making it and how to navigate a wine tasting in Canada.
We spent our Spring Break in Niagara Falls, Canada basking in the gaudiness of nature. And generally freezing our collective took us off.  It's a good thing I packed my touque!  
Even half-frozen, the falls were as majestic and beautiful as the brochure promised. And surrounded by all that icy nature, one thing stood out: Canadians really do say Eh. A lot. It's kind of fantastic.
Truth be told, I had an ulterior motive for our trip to the Great White North — a pilgrimage to Icewine Mecca. Visiting Niagara Falls would be the perfect rouse to explore some Icewine wineries. Mission accomplished!
How Are Canadian Wine Tastings Different From US Wine Tasting?
We visited two wineries while we were in Niagara — Inniskillin Winery and Reif Estate Winery.
The biggest difference I noticed between Canadian wineries and US wineries is in how they price their tastings.  In the US, you pay a flat fee (anywhere from free to highway robbery) to taste a set number of wines.  And the tasting fees are refunded with purchase . . . sometimes.  
In both the Canadian wineries we visited, they charged $1 per taste. The fee is higher for Icewine tastings ($5-7 per taste). You can taste as many wines as you want, but go easy, Eh?
Canadians are generous pourers. In the US, you might get a two ounce taste. In Canada, we were tasting 4 ounces.
In both wineries, our tasting fees were refunded, but only after we'd spent $100. You have to pay to play.
Canadian Wine Tasting- Inniskillin Winery And Reif Estate Winery
Canadian Wine Tasting- Inniskillin Winery Tasting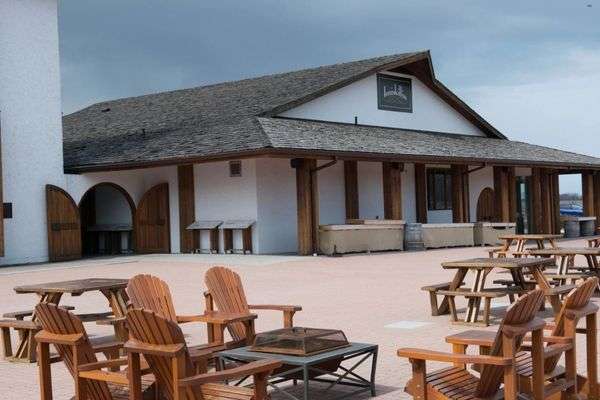 The perk to visiting Canadadian wineries in March — no competition for outdoor seating.
Inniskillin Winery History: Inniskillin was the first winery licensed in Ontario.
Named after an Irish military regiment of the British Army (the Royal Inniskilling Fusiliers), Inniskillin sits on land once owned by a member of that regiment.
Inniskillin's first grapes were planted in 1974, and their first Icewine (a Vidal) was produced in 1984. Our tasting room hostess told us Inniskillin has 30 acres of grapes on the property, but sources grapes from over 300 acres in surrounding areas.
The Inniskillin Winery tasting room is in the Brae Burn Barn (Brae Burn is Gaelic for 'hill stream'). Nevermind that the nearest "hill" is in Pennsylvania.
Rumor has it Frank Lloyd Wright designed the barn. Meh. Frank Lloyd Wright designed every third building in the Northern Hemisphere.
Let's talk about the wine.
Inniskillin Winery Three Vineyard Chardonnay 2011, VQA Niagara Peninsula
Aged in both French and American oak, and then transferred to stainless steel. Medium body. I'm really starting to like cool-climate Chardonnay. Loads of pear on the nose. And wait — is that popcorn I smell? Fun! Flavors are green apple, followed by a finish of butter, vanilla, and toast.
Inniskillin Winery Winemaker's Series Two Vineyards Riesling 2011
Tell-tale petrol notes on the nose, but you really have to stick your nose into the glass to find them. The flavors are difficult to pull out, as well — peach and wet stone? But only because I feel obligated to taste peach and wet stone. It's a very light-weight, almost weak wine.
We passed on tasting any of the Reds because what we're really here for is the Icewines!
Canadian Wine- Inniskillin Icewine Flight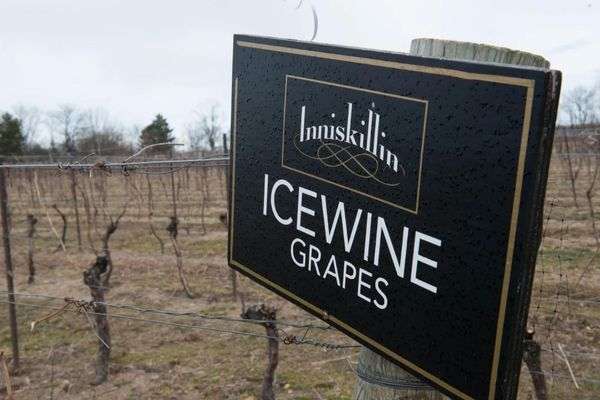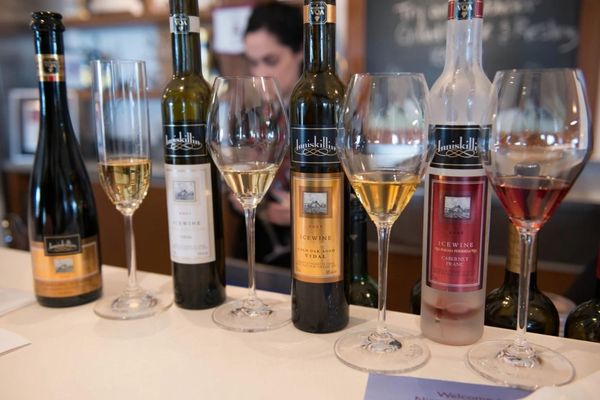 The Icewine tasting flight was $25 for your choice of 4 Icewines.
Your tasting is serious when they break out the Riedel glasses.
Inniskillin Sparkling Vidal Icewine 2010
Made using the Charmat, or Italian method (where secondary fermentation takes place in stainless steel tanks, rather than in individual bottles). Dripping with flavors of apricot and honey. Shazam! This is yummy. The bubbles cut the sweetness of the wine, lending to a clean, lingering finish. $80 for the 375ml bottle.
Psst . . . you can get it for $60 on the Interweb.
Inniskillin Vidal Icewine 2008
This was my favorite of the flight. Best Canadian icewine for sure.
Extremely well-balanced . . . I don't get that "too sweet" headache between my eyeballs when I drink this. If you had the patience to harvest a gazillion honeysuckle flowers (give or take a flower) for their nectar, this is what you'd end up with. Yum!
pro tip: Pair this with chocolate covered strawberries.
Inniskillin Oakaged Vidal Icewine 2008
Ooof! This is sweet. Approaching too sweet. Compared to the regular Vidal Icewine, the oak aging is apparent — layers of vanilla and coconut. This Icewine reminds me of baklava. I love baklava. But only one piece. Any more than that is just . . . ooof! $95 for the 375ml bottle.
Save $10 on Wine.com.
Inniskillin Cabernet Franc Icewine 2008
The ruby hue comes from pressing only — there's no skin contact during fermentation. And it's so pretty in the glass — kinda reminds me of hummingbird nectar. A hint of rose petals on the nose. Flavors are strawberry and vanilla. $110 for the 375ml bottle.
Tip of the Day: Always ask the winery tasting room staff for restaurant recommendations. Wine people are almost always food people . . . they know the best local places to eat. Thanks, Jessica, for sending us to The Old Winery Restaurant in Niagara-on-the-Lake. Authentic Italian pizzas from a wood-burning oven.
Behold . . . pizza with prosciutto and arugula!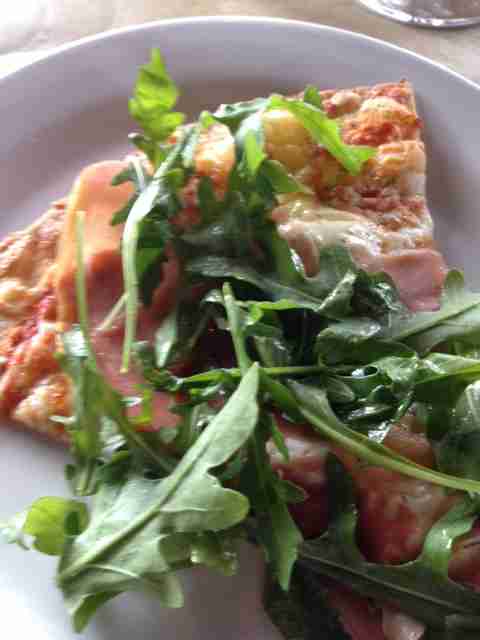 Canadian Wine Tasting- Reif Estate Winery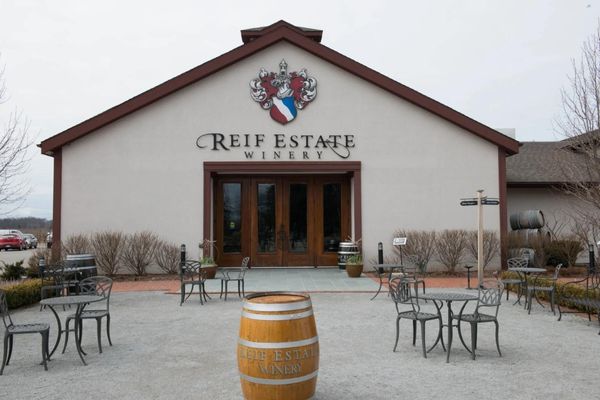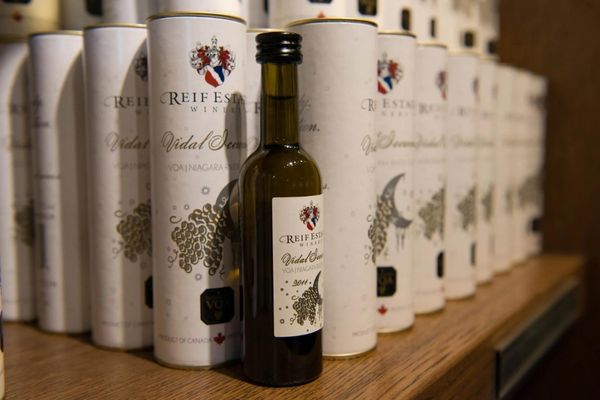 Stopping at Reif was an impulse. We drove by and noticed a German flag flying next to the Canadian flag in the courtyard.
Our people are German, so we stopped. Glad we did . . . now we know the Reif Family has winemaking roots that date back to the 17th century in the Rhine River town of Neustadt, Germany.
Reif has an enormous list of wines to taste — 33 in total. You couldn't taste them all in a day. Well, you could, but you'd probably get to meet the Canadian Mounties and/or take a tour of a Canadian Emergency Room.
Check out Reif's gorgeous tasting bar. The tulips make you feel like it's spring . . . even though you're wearing mukluks and a touque.
Reif Estate Winery Riesling 2011
A barely-there straw color in the glass. Super lightweight. Delicate, with faint aromas of peach and petrol. Citrus flavors with a gripping acidity. For $12, it's coming across the border with me. Not available online. Sorry.
Reif Estate Winery Gewürztraminer-Riesling 2011
Not sure I've ever had a Gewürztraminer-Riesling blend before. Typical perfume notes on the nose. Light body with a touch of sweetness. Peach, lychee and honey flavors blend nicely in the glass.
I'm anxious to try this with Thai food back at the ranch.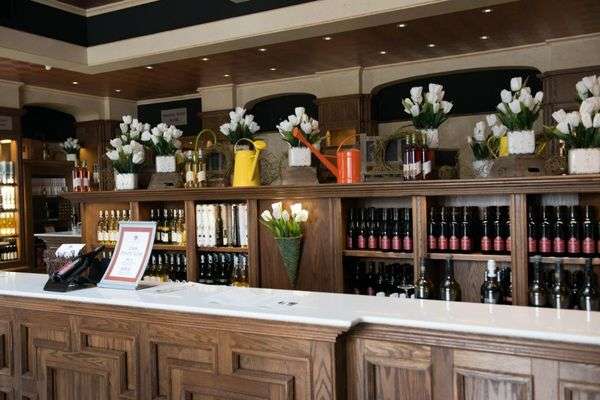 Reif Estate Winery Pinot-Shiraz "The Magician" 2010
A Pinot Noir-Shiraz blend? Huh? I mean, Eh? I was curious. And I should have stayed curious. Because once you taste this wine you can't untaste it. Seriously. It's not good. The tasting bar host was so excited about this wine — and I hate it when I don't share the love. I had to dump it.
Reif Estate Winery Vidal Icewine
Beautifully balanced with gripping acidity. The nose is raw honey. Flavors are apple pie, apricots and maybe a smidge of nutmeg. The finish goes on and on. Gorgeous wine. $47 for the 375ml bottle, or $25 for the 200ml bottle.
Take a memo, America: Canadian wineries serve kids sparkling white grape juice in fancy stemmed glasses. This buys parents an extra 30 minutes of whine-free winery time.
If you have the opportunity to drink Canadian wine in Canada, visit some of the Niagara wineries!
You might consider waiting until it's actually spring before you go, though. Everywhere we went, we heard the same Canadian refrain, "You should come back in the spring, eh?" Twist my arm . . . but only if I don't have to drive through Pennsylvania to get there!
Canadian Wine: A Buyer's Guide
Canadian Wine FAQ
What is Canada's famous wine?
While the best known Canadian wine is icewine, Canada still and sparkling wines are well worth seeking out. Check out our list including all the heavy hitters.
What wines are from Canada?
Icewine (if you're in Canada) or Eiswein (if you're in Germany) is a sweet wine made with grapes that have frozen while they are still on the vine. Canada also makes beautiful Gewürztraminer and Riesling.
Where is the best wine in Canada?
Wineries in Ontario are arguably the best wineries. If you're in the US, you can visit these two wineries in Niagara very easily. Spoiler, they're amazing!
– Reif Estate Winery
– Inniskillin Winery
Is there a wine country in Canada?
Ontario and British Columbia are the main Canadian wine regions. Ontario wine region is actually the most productive, thanks to the Niagara Peninsula province.