The Ultimate mac and cheese wine pairing
If your younger self could see you now, with your ooey gooey mac and cheese wine pairing, they'd think you were the coolest adult around. Zang!
Confessions of a Velveeta cheese connoisseur…
We're coming up on National Drink Wine Day. So naturally we've got some celebrating to do.
President's Day also falls in the same month, so I'm making one of Thomas Jefferson's favorites for dinner Macaroni and Cheese. And since Thomas Jefferson was America's original oenophile, we're going to drink wine on Drink Wine Day. It would be wrong not to.
My Macaroni and Cheese wine pairing will be a Chardonnay from one of my favorite Virginia wineries, King Family Vineyards. I'm also going to give you some killer pairing suggestions that you can buy tonight.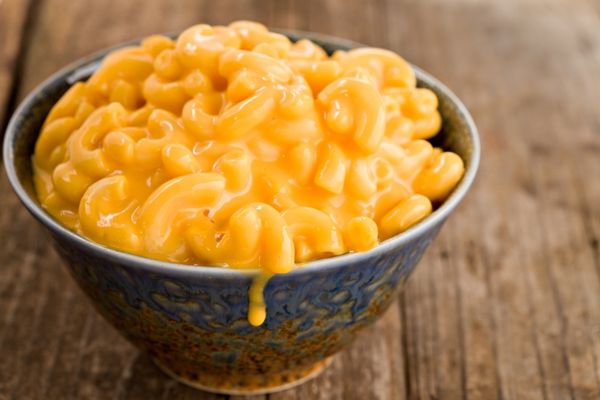 Sure, I could use a fancy recipe for macaroni and cheese (made with a pile of expensive artisnal cheeses and a gallon of heavy cream), but sometimes you need a big bowl of comfort.
So I'm making a Macaroni and Cheese recipe from my childhood. And the secret ingredient is . . . Velveeta.
I know what you're thinking (I can see your side-eye). Velveeta? Velveeta is uncouth. Velveeta isn't even cheese — it's a cheese travesty. It's a cheese-flavored chemical loaf. All true.
And while Velveeta is never going to win a role on an artisnal cheese platter, it (like Two-Buck Chuck) has a purpose in life . . . Macaroni and Cheese.
Mac And Cheese Family Recipe
This mac and cheese recipe originally came from my Aunt Barbara. I have no idea where she got it — probably from the Nebraska Farmwives Collection.
Whenever I'm asked for this mac and cheese recipe, I always cringe. "Oh, crap, now I have to tell you about the Velveeta".
But, if you've spent any part of your childhood in the Midwest, Velveeta has imprinted itself onto you.
This isn't a fancy recipe. It doesn't have a pedigree. It's just good food, from good people.
Mac And Cheese Ingredients
2 cups dry elbow-macaroni noodles (you'll ruin it if you use fancier noodles)
1/4 cup butter
1/4 cup flour
2 cups milk
1-1/2 cups Velveeta cheese, cubed
Salt and pepper to taste
Mac And Cheese Instructions
Cook macaroni until al dente. While macaroni is cooking, melt butter in a saucepan over medium-low heat. Whisk in flour until a smooth paste forms. Whisk in milk a little at a time. Once the mixture is hot and starts to thicken, stir in Velveeta cheese until melted. Pour over cooked macaroni, stir and enjoy!
The original recipe calls for the mac and cheese to bake in the oven for 15-20 minutes at 375 degrees. But I can't remember the last time I went to that much trouble. It's perfect right off the stovetop. Sometimes I don't even bother with a plate.
Mac And Cheese Wine Pairing
King Family Vineyards Chardonnay
Mac And Cheese Wine Pairing Tasting Notes:
This is one of my favorite Virginia Chardonnays.
Caramel apples and butter on the nose.
Medium body and acidity.
Flavors are apple and pear and maybe a little hay (not that I have experience eating hay). Little bits of mineral in there, too.
Just the right amount of oak.
Pairing Notes: The creamy mac and cheese wine pairing definitely cranks up the perception of acidity in the wine, but that's not a bad thing for me.
And now the flavors of vanilla and pear just explode.
Mac And Cheese Wine Pairings To Try Tonight
Or, get them shipped to your door in time for the weekend.
Mac And Cheese Wine Pairing- Dry White Wine
If you're looking for the perfect wine pairing for mac and cheese will cut through the richness of the cheese, try a dry white wine like Albarińo or white Rioja. Dry whites make for an easy-to-drink pairing that will go down smoothly on even your most indulgent night.
Mac And Cheese Wine Pairing- Dry Red Wine
If red wines are your favorite, think of pairing mac and cheese as you would your Thanksgiving meal. Opt for a dry red wine with low tannins like a Pinot Noir or Gamay.
Mac And Cheese Wine Pairing FAQ
Which wine goes well with mac and cheese?
A lower tannin, fruity red wine, like Pinot Noir, is an excellent pairing for mac and cheese. Load up your mac and cheese with braised beef or pork.
Does red or white wine go with macaroni cheese?
Unoaked (or lightly oaked) fresh, textured, dry white wines make a great mac and cheese pairing. Otherwise, ripe, juicy reds, with refreshing acidity will work beautifully.
What white wine goes with mac and cheese?
The best white wine that pairs with mac and cheese is the white wine you enjoy to drink the most. Bubbles pair beautifully with mac and cheese. A light unoaked chardonnay for a simple creamy macaroni cheese or a posh white burgundy or white rioja if you're eating a more fancy pants dish with lobster or crab. Smooth dry Chenin Blanc or Albariño works on a similar basis. Opposite but very good – like pairing a tart apple with your cheese.
Does Chardonnay go with mac and cheese?
The perfect wine pairing for macaroni and cheese is an unoaked Chardonnay. Why? The rich flavor mirrors the rich, cheesiness of the dish and the mouthwatering acidity in Chardonnay cuts through the creamy texture. Yum.