The Perfect Thanksgiving Wine Pairing (plus 8 pairing suggestions)
Thanksgiving is, in my opinion, the most important holiday of the year. Knowing how to curate the perfect wine pairing can seriously elevate you and your guests' dining experience. 
Now, I can save you some time and tell you that light-bodied reds are a tried-and-true best wine with turkey option if you're doing the traditional turkey and stuffing dinner.
However, I encourage you to keep reading if you want additional suggestions to push you, and your guests, out of your comfort zone.
And don't worry, I didn't forget about dessert!
Tips For The Best Wine For Thanksgiving
Every Thanksgiving table looks different, especially when it comes to what's served for dinner. Regardless of this, there are some honest-to-goodness truths that are applicable to every holiday gathering. 
Here are a couple of tips that will help guide you through your local wine shop, regardless of whether you're serving up fried turkey, tempeh-turkey, or even a butter board.
Start light (preferably bubbly) – Greeting guests with a glass of sparkling wine takes even a basic game night and elevates it into a memorable experience. Sparkling wine also happens to be low in alcohol, which is a good initiation into your Thanksgiving holiday meal.
When in doubt, pick a light-bodied red wine for Thanksgiving– The first 10/10 recommendations you'll get when you google "Thanksgiving wine pairing" will start with either Pinot Noir or Gamay. These are often touted as the best wines to serve with turkey. That's because they make turkey seem exciting and don't steal the show from the more rich and flavorful dishes. 
Have choices available – Regardless of what you're serving, people will have their preferences. Keep a safe bet white wine for your Thanksgiving meal (like a Chardonnay) in the fridge, as well as beer and liquor (if you dare).
Best Thanksgiving Wine Pairing For Starters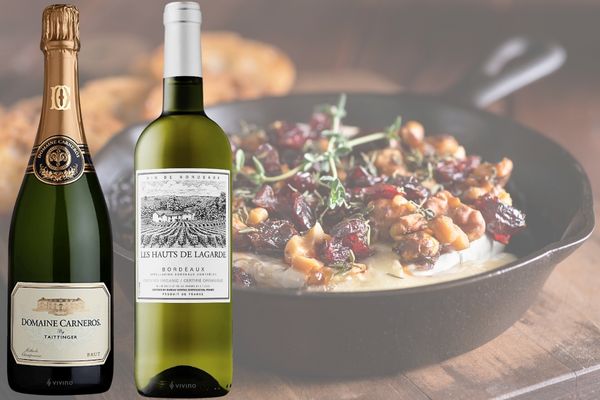 If your guests are arriving early enough for appetizers, it's a good idea to start off with something light-bodied and low alcohol that can be enjoyed with or without food.
Sparkling Wine (Napa, USA) Domaine Carneros Brut 2018
Sparkling wine is celebratory, it's light and zippy, it's low alcohol, and it pairs with all sorts of Thanksgiving small bites. Regardless of whether you have a veggie display or pigs-in-a-blanket, sparkling wine makes for the perfect Thanksgiving wine pairing. 
Suggested Thanksgiving Pairing: Charcuterie, Brie Wrapped in Phyllo
Sauvignon Blanc & Semillon Blend (Bordeaux) Vignobles Raymond Les Hauts de Lagarde Blanc 2020
This white Bordeaux blend combines a crisp acidity and herbaceous Sauvignon Blanc with a floral and velvety Semillon to make a trusted blend sure to pair with a variety of flavors. This is an example of an easygoing white wine that doesn't need food to shine.
Suggested Thanksgiving Pairing: Bacon Wrapped Brussel Sprouts, Spinach Artichoke Dip
Best Wines For Thanksgiving- The Main Course
Now, for the main event. I've included a combination of trusted recommendations, along with a few you might not expect. Don't be afraid to mix it up.
Gamay Noir (Beaujolais) Joseph Drouhin Beaujolais Nouveau 2019
The bright red fruit notes and high acid you get from a bottle of slightly chilled Gamay Noir is not only a great wine with turkey, but any side dish you would serve it with. 
This Gamay comes from Beaujolais nouveau, where it is the very first wine released for the harvest year. On average, a bottle of nouveau goes from harvest to bottle in just eight weeks!
Suggested Thanksgiving Pairing: Traditional Roasted Turkey, Cranberry Stuffing
Zinfandel (Napa, USA) Ghost Block Pelissa Vineyard Zinfandel 2020
If you read our post on Zinfandel Pairings, then you know it's not unusual to pour a berry-centric, slightly herbaceous Zinfandel on Turkey Day. 
While this choice stands in contrast to the lighter options mentioned above, the vibrant fruit notes and relatively easy going tannins will support and liven up your Thanksgiving feast.
Suggested Thanksgiving Pairing: Fried Turkey, Roast Beef, Garlic Mashed Potatoes
Grenache Blanc (Paso Robles, USA) Ridge Vineyards Grenache Blanc 2019
Grenache blanc is a full-bodied white wine with characteristics of oak, minerality, and tropical or green apple notes (depending on ripeness) which makes it an awesome choice.
The Chardonnay-lovers of the group will consider this the best white wine to pair with turkey. A full-bodied white wine is sure to stand up to anything your host put in front of you. 
Suggested Thanksgiving Pairing: Citrus-and-Herb Turkey, Sweet Potato, Roasted Veggies
Gewürztraminer (Alsace) Trimbach Gewürztraminer
Gewürztraminer is a light, aromatic wine with bright acidity and that makes a great turkey wine pairing. Whether your turkey is roasted, smoked, or fried, Gewürztraminer is guaranteed to provide a stunning reprieve. A touch of sweetness never hurts either! 
Suggested Thanksgiving Pairing: Smoked Turkey, Stuffed Squash, Cranberry Sauce, Green Bean Casserole
Best Thanksgiving Wine Pairing For Dessert
Dessert is as essential to Thanksgiving as the turkey is, which is why having a dessert wine to pour for the adults is an absolute must.
Trust me, if you've never given yourself the luxury of a good bottle of Port after a long day spent with family, you are missing out!
Port (Porto, Portugal) Ferreira Late Bottled Vintage Port 2015
In Portuguese Red Wines, we share that Port is easily the most popular dessert wine. This is especially true over the holidays, where this red elixir puts everyone at ease and makes conversation flow like… well… a bottle of Port. 
Suggested Thanksgiving Pairing: Goat Cheesecake, Chocolate Torte
Pedro Ximénez Sherry (Spain) Gonzalez-Byass Nectar Pedro Ximénez Sherry (Dulce) N.V.
Also known as the sweetest wine in the world, this sherry comes from grapes of the same name. These grapes are picked overly ripe, then sun dried to concentrate the sugars even more and produce a thick, almost-black and intensely sweet dessert wine. 
Serve slightly chilled with your Thanksgiving desserts that aren't too sweet, or better yet, a wedge of blue cheese.
Suggested Thanksgiving Pairing: Aged Cheeses, Tiramisu
Thanksgiving Wine Pairing - Final Thoughts
Thanksgiving is the one true holiday where the food and wine is what shines. That being said, don't allow yourself to be too consumed with selecting the perfect bottle. 
Start light, have options, and when in doubt, please ask your local wine shop staff for their recommendations.  They truly want you to be the host with the most that you were born to be.
Remember, the most important thing of all is that you love what's in your glass!
Thanksgiving Wine Pairing - FAQ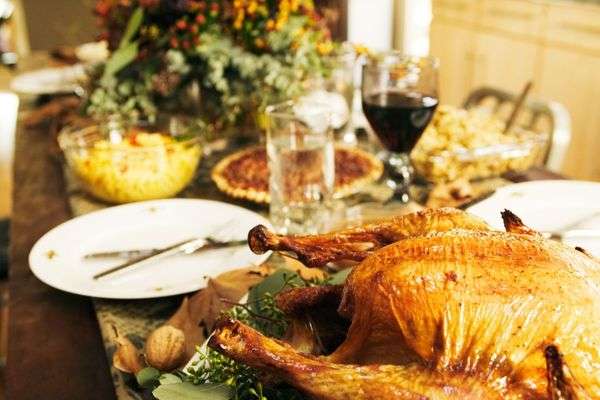 Taste Wine Like A True Armchair Sommelier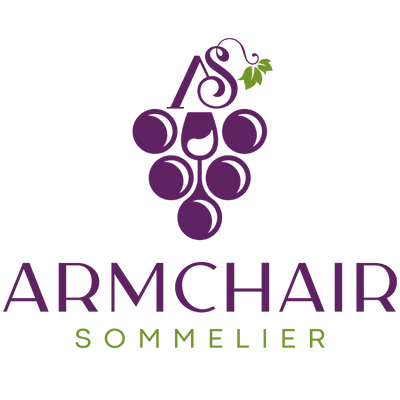 Spice up your next party with our FREE wine tasting guide! Learn what to look, smell, and taste for while appreciating your favorite bottle. We've also included a printable tasting notes template and a tasting wheel.