Find The Best Low Tannin Red Wine (what the heck is a tannin anyway?)
Tannins are a pretty touchy subject, second only to sulfites, when it comes to a wine lover's strong preferences. 
Some of us are adamantly opposed to drinking anything other than low tannin red wine, so much so that we'd prefer to skip the red wine all together.
Now, that thought makes me sad. I'd like to think that there are enough delicious low tannin red wines to keep even the most stubborn tannin-haters happy, at least to get them through a Thanksgiving meal!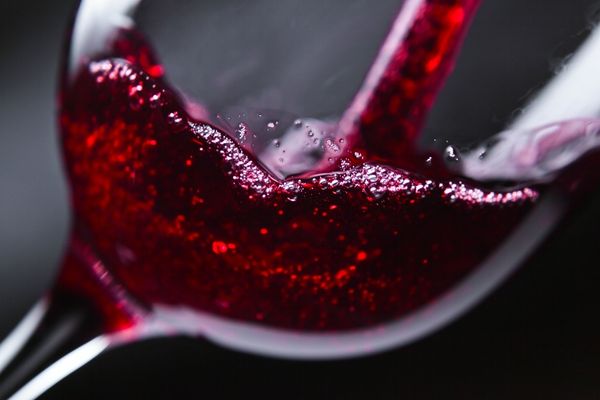 What Are Tannins?
Before I get into the best low tannin red wine, I'd like to explain a bit more about what exactly tannins are, and why maybe (just maybe) you don't hate them as much as you think you do.
Tannins come from a group of compounds called "phenols," and are found in the wine skins, stems, and seeds. Tannins are really only present in red wines, since they are fermented with their skins.
There are two things that tannins are most useful for in wine:
Structure: It's the complexity in a wine that's hard to explain when the tannins are fully developed, but it's much more noticeable when they are not.
Think of the structure as the wine's "backbone" or the underlying architecture to the wine.
When the structure is sound, meaning the tannins have fully matured before harvest and following extended barrel aging, the wine will taste full, smooth, and rich.
When the tannins are underdeveloped due to premature harvesting or not enough time spent in the barrel, the wine will taste grippy and desperately dry.
Ageability: Tannins act as a preservative. The more tannins a wine has, the longer aging potential it will have.
This is why Bordeaux wines or Nebbiolo can be aged for decades, with their flavors slowly unraveling over time.
Why I Love Low Tannin Red Wine
As much as I want to convince you that high tannin red wines are your friend, I too have a love for low tannin, light bodied red wines. Here are the main reasons why I often prefer low tannin red wines.
They pair easily with food: I love Pinot with salmon. Especially, Barbera. This low tannin Italian red wine will fit seamlessly at your next Italian dinner out, even if everyone orders something different. 
They work every time of the year: A glass of red in the evening on these cold Pacific Northwest nights is often all that gets me through – but never fear – that same glass of low tannin red wine will taste remarkably refreshing even on the hottest summer day.
There's enough options to keep you busy: I'm only going to mention a few of my favorites, but there's a never ending list of lovely low acid low tannin red wine to leave you anything but bored!
The Best Low Tannin Red Wine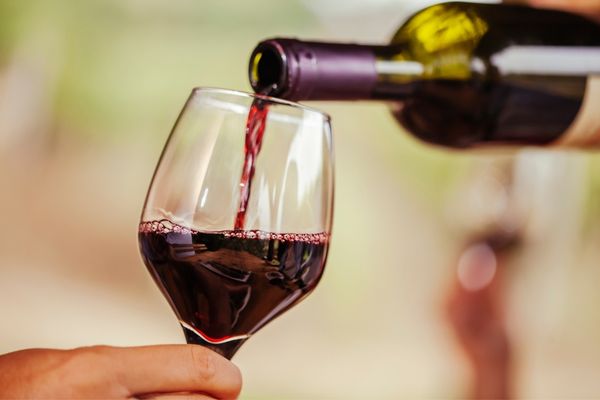 Pinot Noir (Burgundy, France) Jean-Claude Boisset, Marsannay Rouge 2017
Pinot noir is the most well-known fruity low tannin red wine out there, and for good reason. This remarkably popular wine has been around for hundreds of years.
Most notable Pinots are coming from France's Burgundy region, with New Zealand, Chile, and the U.S. swiftly trailing behind. 
Pinot noir will taste anywhere from fresh to cooked red fruit, with flavors of mushroom and earth developing after some maturity.
Best Dinner Pairing: Grilled Salmon
Gamay (Beaujolais, France) Mommessin, Beaujolais-Villages 2020
Gamay is one of the lowest tannin red wines around, and hails traditionally from the Beaujolais region of France.
The "Beaujolais nouveau" has gained a famous reputation for being the first wine of the vintage to be released, after fermenting for only a couple of weeks and being released in late November.
Expect a Gamay to be another fruity low tannin red wine option, with flavors of tart cherry and cranberry. Most Gamay is made through a process called "carbonic maceration" whereby carbon dioxide is forced into a sealed vessel with whole grape clusters.
This essentially starts the fermentation from the inside out and leaves the finished wine very fruity, with high acid and soft tannins.
Best Dinner Pairing: Thanksgiving Dinner
Châteauneuf-du-Pape (Rhone Valley, France) Mas Saint Louis, Châteauneuf-du-Pape Rouge Tradition 2017
Châteauneuf-du-Pape refers to a region in the Rhone Valley of France that is known for making Grenache-focused blends.
Anywhere from 1 to 20 grapes may be used to make a Châteauneuf-du-Pape. Most notably, Grenache-Syrah-Mouvedre or GSM blends hail from here. 
Each Châteauneuf-du-Pape will taste quite different depending on the number of varietals used. Expect this blend to have flavors of earth, dried herbs, and bright red fruit.
Best Dinner Pairing: Roasted Duck
Sangiovese (Italy) Famiglia Nunzi Conti, Chianti Classico Riserva 2016
Sangiovese is another low tannin Italian red wine. The primary grape used in the making of Chianti, and flavors range from fresh to cooked red fruit, with herbs and peppery notes.
For being a light bodied red wine, Sangiovese packs a punch.
Stick with Chianti Classico or Chianti Classico Riserva when making your selection, as these will be higher quality than other types of Chianti. 
Best Dinner Pairing: Spaghetti Bolognese
Barbera (Italy) Elio Perrone Tasmorcan Barbera d'Asti 2020
Barbera is Italy's everyday drinking wine, with low tannins and flavors of bright red fruit, herbs, and white pepper. While this wine may not have the same reputation as a richly tannic Barolo, it does pair wonderfully with food and makes for a great bargain.
In addition to Italy, expect to find good examples of Barbera in Australia, the US, and Argentina.
Best Dinner Pairing: Tuscan Wild Boar Ragu
Low Tannin Red Wine FAQ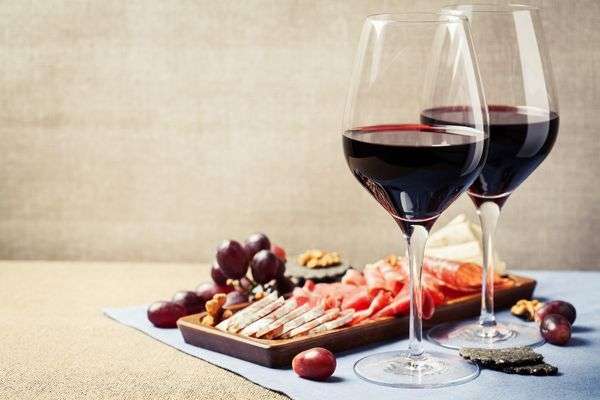 Which red wine has lowest tannins?
Pinot Noir – Pinot Noir grapes are known for their thin-skin, therefore creating a wine that is very low in tannins, as well as light in body, will be a Pinot Noir.
Is Cabernet Sauvignon low in tannins?
The tannins of grapes grown in warmer climates tend to be smoother and larger. Some varieties are more tannic than others. 
Cabernet Sauvignon, for example, is high in tannins. And Pinot Noir is much lower.
Can you get red wine without tannins?
The way to avoid tannins in wine is to drink more rosé and white wine as tannin is extracted from the skins, seeds, and stems of the grapes. These only come in contact in red wine fermentations.
Which grape has lowest tannins?
Here are 10 low tannin red wines:
– Gamay
– Pinot Noir
– Barbera
– Grenache
– Dolcetto
– Frappato
– Schiava
– Etna Rosso