chianti fiasco: why is it wrapped in straw and how can I buy a bottle?
I love the Chianti fiasco. Those glorious, wax-covered Chianti bottles covered in straw are actually called "fiasco", which is a little ironic because the story of Chianti has been a bit of a fiasco.
When I was young, I remember my parents taking us to an Italian restaurant called Luigis. Luigis is located in Anywheretown, USA.
Our restaurant opened in the 1940s and closed its doors for good not that long ago sadly.
It was super cliche inside — decor consisted of red and white checkered tablecloths, and basket-covered bottles of Chianti repurposed as candleholders.
The bottle itself probably dates to the 14th or 15th centuries, when the basket wrapping added extra protection during shipping.
You can still buy Chianti in a fiasco bottle today, just know the wine inside isn't worth drinking. You're paying for the bottle — which you can repurpose as a candleholder.
It just won't be completely awesome until it has at least a decade's worth of melted wax drooling down its sides.
The topic on WineStudio this month is Chianti. (WineStudio is a wine tasting and education series that takes place each Tuesday evening from 9-10pm EST on Twitter). 
There's been quite a bit of discussion about Chianti's 2014 Gran Selezione classification and whether or not it confuses consumers.
Basically, Gran Selezione is Chianti's attempt to create their own Grand Cru classification. They chopped off the top of the Chianti quality pyramid and set Gran Selezione on top of it.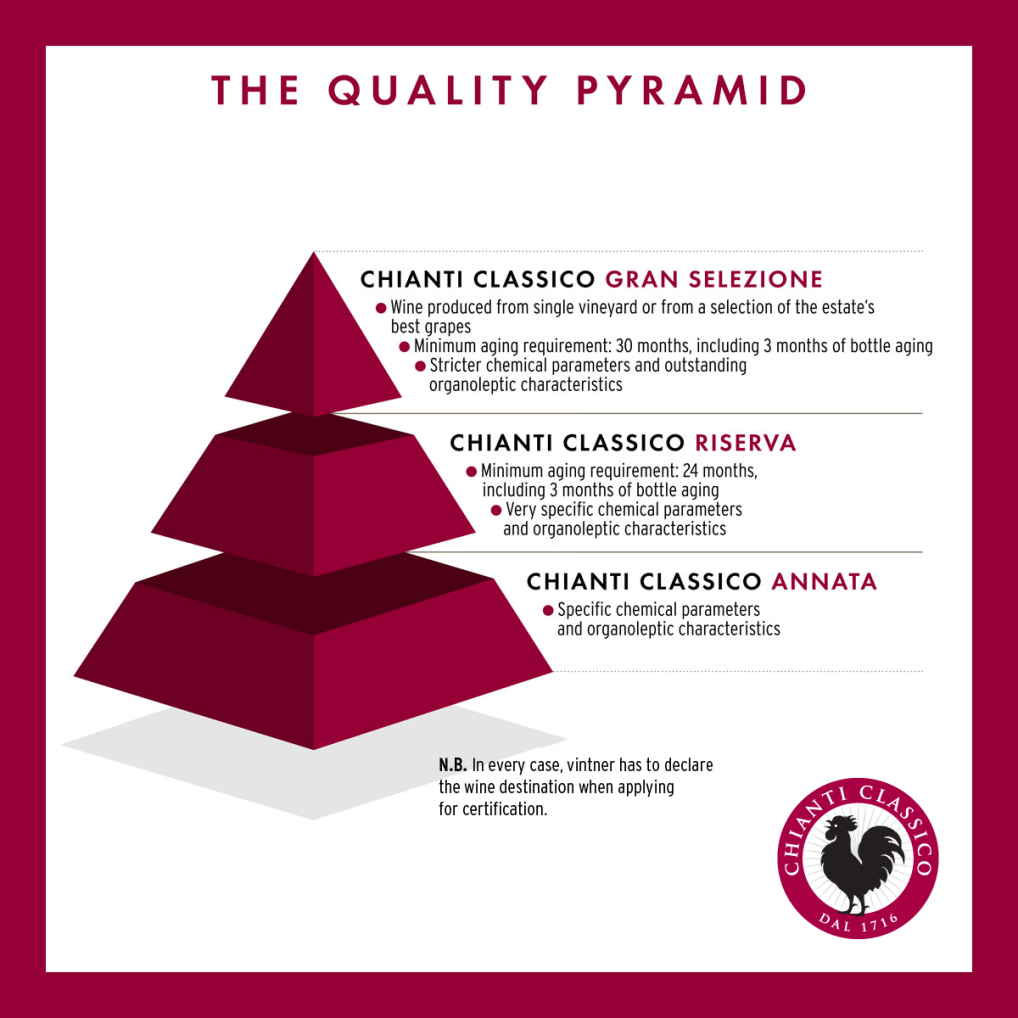 Chianti's 2014 Gran Selezione
But will the classification ultimately help the "brand" Chianti, or just further confuse consumers?
Depends on the consumer.
Some folks are dead set on a $6 bottle of Chianti, and no amount of talking to will push them in a different direction. They want their giant bottle of Bolla, and you better not stand in their way.
Other consumers are curious, but confused (and intimidated). And rightly so. After all, Chianti has more options than a Swiss Army knife. There's Chianti, Chianti Rufina (I won't even mention the other Chianti sub zones here), Chianti Classico, Chianti Riserva, Chianti Superiore, and Chianti Classico Gran Selezione.
It's dizzying.
No one has ever asked me specifically for a Gran Selezione. The question I do get is, "Can you help me pick out a good Chianti?"
Absolutely.
Depending on who you ask, the first official "recipe" for Chianti dates back to 1872, and Baron Bettino Ricasoli (a family that's been around Chianti since the 1140s).
The recipe was mostly Sangiovese, with a little Canaiolo (a local grape) added to soften some of Sangiovese's harder edges. A small portion of white grapes were also permitted.
The problem (or one of them) with Chianti is that the Consorzio (the Italian wine authorities) keeps changing the rules.
In 1932, the Consorzio expanded the geographic boundaries of Chianti, and allowed 20% white grapes to be blended into the wines.
After World War II, the world was thirsty for inexpensive wine, and the effect of the geographic expansion and grape rules in Chianti was an emphasis on quantity over quality — rendering most of Chianti into very boring, generic, plonk.
Here's a map, for reference.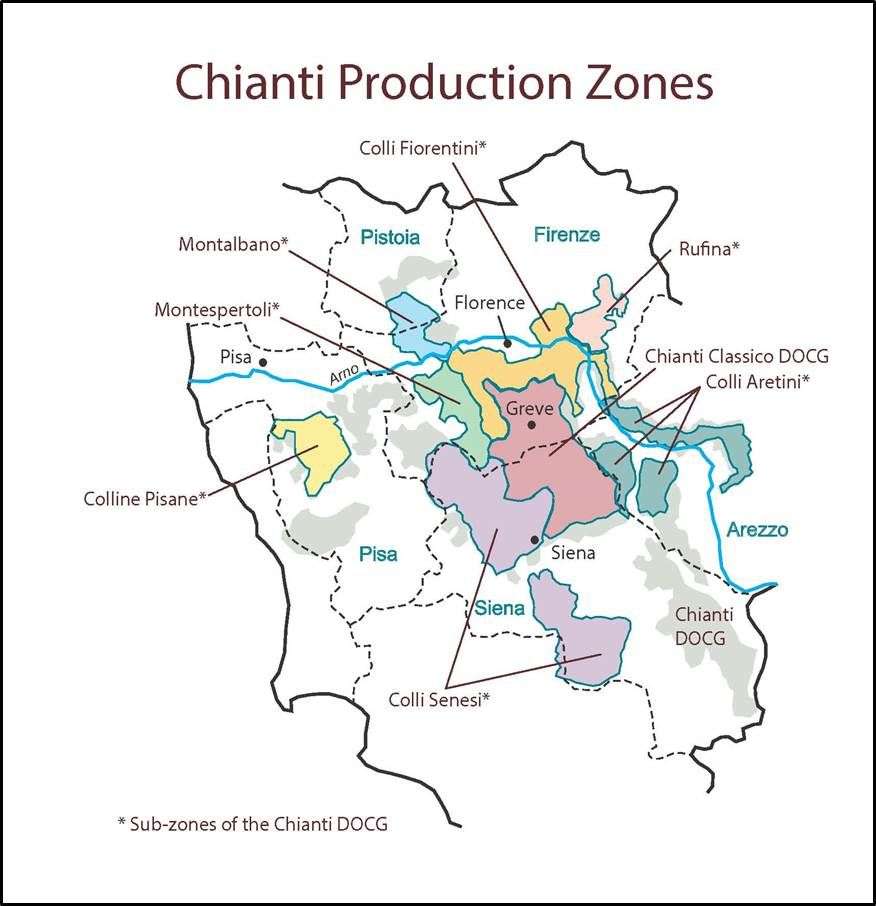 If Chianti And Sangiovese Had A Baby
By the 1960s, Baron Ricasoli's recipe became the rule. Chianti had to be a blended wine, and up to 30% could be white grapes. But if you wanted to make a wine that was 100% Sangiovese or add international grape varieties to the blend, you couldn't call it Chianti.
Winemakers in Tuscany didn't especially love being told they couldn't do something, so they started to blend Sangiovese with international varieties anyway.
As such, their wines couldn't be labeled Chianti, and they didn't care. Behold, the Super Tuscans. The quality and popularity of these wines soared (and so did the prices). The Super Tuscans appealed to the New World palates of Americans much more than traditional Chianti, which made Chianti producers a little nervous.
In 1984, the Chianti region was promoted from DOC to DOCG (Italy's highest classification). And in 1996, Chianti Classico (the historic heartland of the region) DOCG was created, which gave autonomy to that region.
These moves helped nudge the lower-quality guys off the stage, and brought the spotlight back to Sangiovese.
Also in 1996, the laws changed again (shocker). At that time, Italian wines were often criticized (not by me!) for being too rustic and too acidic. So, the solution was to allow more international varieties, and new French oak (rather than the old, neutral oak that was traditional).
Under the new rules for Chianti Classico, Sangiovese had to be at least 80% of the blend, and white grapes were banished. The 20% of the blend that didn't have to be Sangiovese could include traditional local grapes, as well as international varieties.
Sound familiar?
And then, in 2014, instead of moving in the direction of other world wine regions (like Côte du Rhône Villages, for example), and allowing individual communes/vineyards to be named on labels, the Italian Consorzio came up with the Gran Selezione classification.
Who can keep up?
This is one of the best charts I've seen for sorting out the overall Chianti classification situation (via Wine and Other Stories):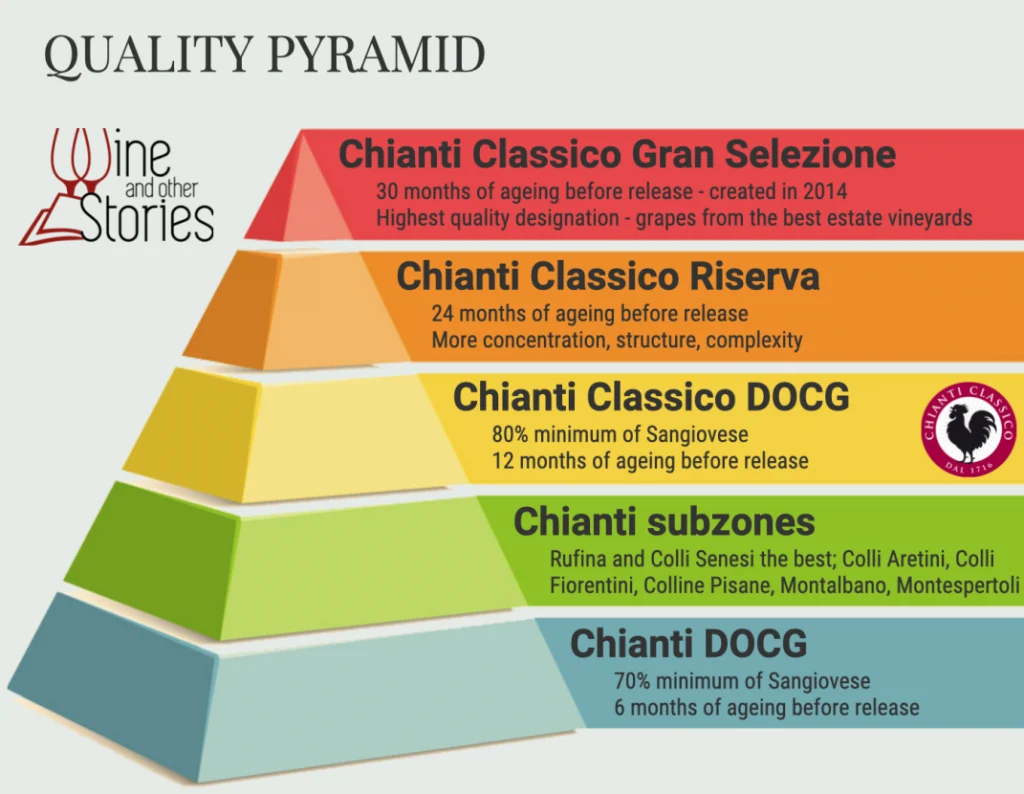 Chianti Classico Gran Selezione – Must be made entirely of estate grapes (but not necessarily single vineyard), and approved by a special tasting panel. Outstanding quality. Most of these wines will be in the $50+ category.
Chianti Classico Riserva – Same grape restrictions as Chianti Classico. Outstanding quality. Prices will vary, but count on $25+ for the best quality.
Chianti Classico – Must be at least 80% Sangiovese. A max of 20% other varieties are allowed. These can include local varieties, but also international varieties. White grapes are NOT allowed. Excellent quality. Lots of bargains here — usually in the $15-40 range.
Chianti Subzones — Seven subzones can legally label their wines Chianti: Chianti Colli Fiorentini, Chianti Rufina (probably the most consistent quality), Chianti Montalbano, Chianti Colli Senesi, Chianti Colline Pisane, Chianti Colli Aretini, and Chianti Montespertoli.
Chianti – Local and international varieties are permitted in small percentages. White grapes Trebbiano and Malvasia are also allowed. Lots of stuff under $10 here, but quality at this level tends to be irregular at best.
Wines labeled Chianti Superiore require an additional .5% of alcohol and lowered vineyard yields.
The Fiasco Of Making A Chianti Decision
What do I buy? Gran Selezione is nifty, but not necessary for me. Especially not for everyday drinking. I do spend the extra $ on Chianti Classico, and often the riserva, because I like the flavors the extra year in barrel gives to the wine.
Plus, so many quality Chianti Classico DOCG producers already make wines using estate (and single vineyard) fruit without submitting for the Gran Selezione classification.
Today, Chianti Classico has shifted focus away from international varieties and smaller/newer barrel aging, and back toward Sangiovese and local varieties, aged in traditional, large oak casks as a method to express individual terroir.
What will be interesting to watch is whether the Consorzio will allow Chianti Classico to include individual commune/vineyard names (based on climate and soils) on labels in the future.
And the next question: Would that be enough to entice the Super Tuscans back into the Chianti fold?
Castellani Chianti Classico Riserva 2017
Winemaker Notes
This Chianti Riserva is produced from specially selected Sangiovese grapes grown following the traditional methods in the vineyards of the Chianti production area. The wine is aged in Slavonian oak casks owned by the Castellani Family historic cellars where it performs malolactic fermentation and ages for a minimum period of 24 months. It completes its refinement in bottle.
Critical Acclaim
A bright and fresh red with orange-peel and blackberry character. Medium-to full-bodied, driven and fruity. Tangy.
Barone Ricasoli CeniPrimo Chianti Classico Gran Selezione 2019
Winemaker Notes
Ruby red color. The nose is ethereal, with hints of cherry, light balsamic notes and sweet almond. In the mouth, it is voluminous, with well-structured and typical tannins of the ancient river terrace of Brolio.
Critical Acclaim
This has an intensely perfumed nose of lavender, sandalwood, dried cherries, blueberries, creme de cassis, bay leaves, walnuts and stones. Full-bodied with polished, well-integrated tannins and a layered, silky and concentrated core of spiced and herbed fruit. Long. Intense. Fantastic already, but better in 2026.
Super spicy from the aromas through the finish, this red is sleek and taut. Features strawberry, currant, cherry and earth flavors, peppery spices and a kick of vanilla on the firm finish. Though delicate, there is no lack of intensity. Best from 2025.
If you're looking for a bottle for the experience, you can grab a fiasco bottle of olive oil off Amazon.
Taste Wine Like A True Armchair Sommelier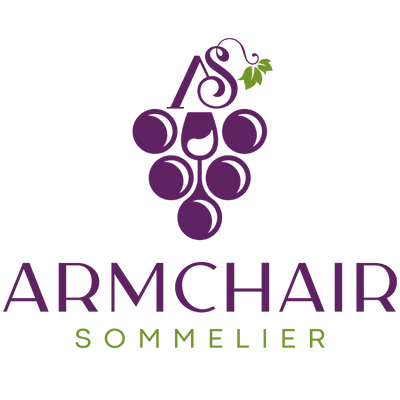 Spice up your next party with our FREE wine tasting guide! Learn what to look, smell, and taste for while appreciating your favorite bottle. We've also included a printable tasting notes template and a tasting wheel.