20 Best Champagne Cocktail Recipes For Elegant Toasts
The perfect Champagne cocktail recipes don't just present creativity where the wine mingles with a symphony of flavors, but they can also introduce you to elegance and sophistication.
This best-of list presents the 20 Champagne cocktails you can make for elegant gatherings. Whether you're planning a grand soirée, a romantic dinner for two, or simply looking to elevate your next toast, these crafted Champagne cocktails will transport your taste buds to a realm of delight.
1. Champagne Cocktail
This Classic Champagne Cocktail is what you want for New Year's Eve if you're seeking a sweet and bubbly champagne.
This cocktail, which is dry like champagne but has a hint of sour sweetness from the sugar and bitters, will elevate your favorite sparkling drink. The people who already enjoy dry (not sweet) champagne and want to spice things up with a fresh take on an old favorite will enjoy this drink the most.
The best thing is that it tastes and looks amazing. Just look at the flute glass with bubbles all over it!
Champagne Cocktail
The mouth watering Champagne cocktail consists of Champagne, Angostura bitters, and sugar. This drink can then be topped off with a squeeze of lemon, a maraschino cherry, or a dash of brandy.
Ingredients
5

ounces

Champagne

chilled

3

dashes

Angostura bitters

1

sugar cube

1

lemon twist

for garnish
Instructions
Add a few dashes of Angostura bitters to a small dish (or to taste). Add the sugar cube to the dish. It will soak up the bitters. Muddle for faster absorption. Add it to your Champagne flute.

Champagne should be poured slowly into the flute once the sugar cube is soaked.

Peel a thin peel strip from the lemon. Twist. Garnish by hanging the lemon over the edge of the glass or drop it right in.

Enjoy immediately and repeat!
2. Aperol Spritz
You're not alone if you've never tried this vibrant orange cocktail. Aperol is an Italian liquor or aperitif with a deep flavor that is also fruity, bitter, and sweet. But it tastes good. Think of it as a somewhat less alcoholic and less bitter version of Campari, another Italian liqueur!
Aperol Spritz is popular across Italy, and it has recently begun to spread to the United States, where it's now a popular summertime rooftop drink. You'll adore this easy-to-make cocktail, typically made with Prosecco or Champagne, soda water, and Aperol.
3. Cranberry Champagne Mimosa
The ideal Christmas cocktail for breakfast (and beyond) is a Cranberry Mimosa with its ruby red hue, vibrant tart fruitiness, and sparkling finish.
The Cranberry Mimosa contains more than simply a swig of champagne and a dash of cranberry juice. The base of this simple cocktail is a mixture of juices: 100% cranberry juice, pineapple orange juice, sparkling wine, garnishes of a mint sprig, frozen cranberries, and a lovely orange twist. It will be the cheeriest start to any holiday brunch when added to your holiday mimosa bar.
4. Apple Cider Champagne Mimosa
Apple Cider Mimosas are simple, delicious, and ideal for any event! Thanksgiving, breakfast, brunch, or any other time in the late summer or fall is a fantastic time to enjoy this seasonal beverage.
It couldn't be any simpler since only two ingredients are needed! For these mimosas, apple cider makes an incredibly crisp, sweet, and juicy foundation. On the other hand, Champagne makes this drink exciting and fizzy. Use red and green apple slices or a combination of both as a garnish.
5. Grapefruit Gin-Mosas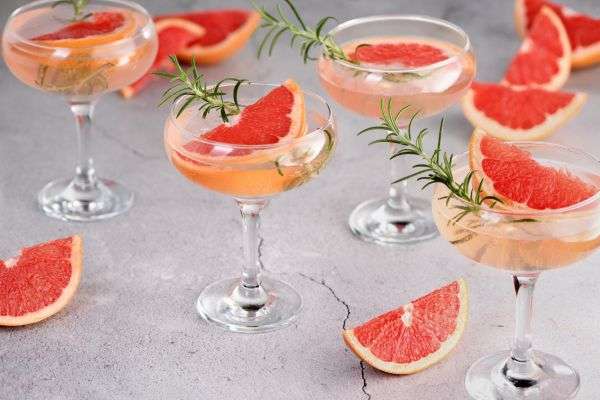 A bubbly beverage is a must-have for any brunch feast, and these Grapefruit Gin-Mosas are the mimosa's classier, more sophisticated sibling.
Grapefruits are incredibly healthy citrus fruits, so experimenting with them in different cocktails is a lot of fun. Even the most basic brunchers will enjoy the combination of fresh grapefruit juice, grapefruit soda, gin, and their preferred champagne.
6. Champagne Punch
Need a festive drink to serve guests? Try this Champagne Punch for some sparkle! 
This cocktail is ideal for a holiday meal or a small family gathering because it has a lovely color and lots of decadent toppings! This gorgeous bowl of mixed drinks, which combines ginger ale, orange liqueur, champagne, and delicious pineapple juice, is bursting with flavor. It's incredibly refreshing with every drink!
7. Peach Bellini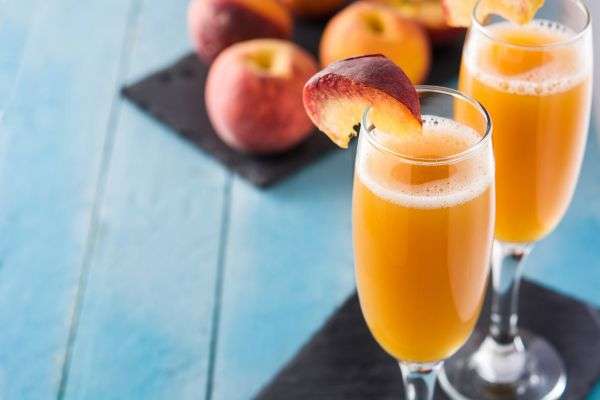 When the weather becomes hot, this light and sparkly cocktail is the most refreshing way to have a boozy brunch! Peach Bellinis are a fun replacement for classic mimosas.
This light and fruity Italian cocktail takes at most 5 minutes to prepare and only calls for two ingredients. They are ideal for brunch, happy hour, and special occasions.
A Bellini has champagne and juice, specifically peach juice, similar to a mimosa. If you want to sweeten the cocktail slightly, you can add a small amount of simple syrup, though it's unnecessary.
8. Black Velvet Cocktail
Black Velvet Cocktail is an intriguing beverage that blends dark beer and Champagne in one glass. This might seem like an odd pairing, yet it works rather well. It's been around forever and might even be the first beer-mixed beverage!
The most popular beer used in this cocktail and a great option for the stout is Guinness Extra Stout. If you pour it carefully, you can get the two elements to make the lovely layers of pale sparkling wine with a thick black base and foamy head.
9. Creamsicle Punch
Schlammbowle, a German punch, is the true name of this delicious and incredibly simple Creamsicle Punch cocktail recipe. It blends vodka, champagne, vanilla ice cream, and bite-sized fruit chunks and juices. Sprinkles can be added as a finishing touch to add a little fun.
Creamsicle Punch can be made and consumed at any gathering, especially in the summer. This could still work well as a dessert for the fall, winter, and spring. Feel free to experiment with the flavors to suit the season!
10. Poinsettia Cocktail
The Poinsettia is a classy Champagne cocktail with cranberry flavor ideal for holiday gatherings. There are several recipes with this name, but this is among the simplest you'll come across. The Poinsettia's simplicity contributes to its beauty, and everyone enjoys the flavor.
Only three simple ingredients are needed to make this Poinsettia Cocktail, and it comes together quickly. A bottle of Champagne, cranberry juice, and a premium orange liqueur are required.
11. Champagne Martini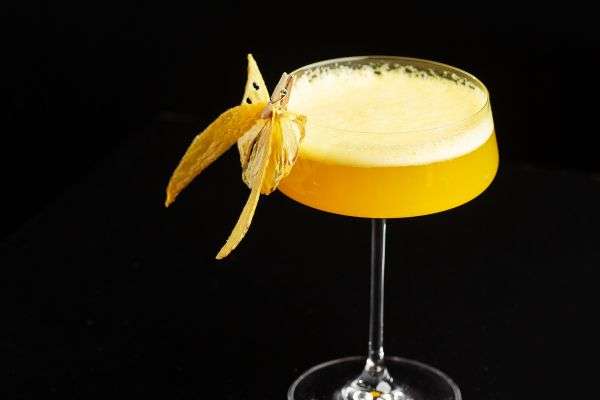 Planning a small romantic meal? With a pleasant and delectable Champagne Martini, you can intensify the elegance of your evening.
The world's two most popular alcoholic beverage categories, vodka and champagne, are combined in this sparkling combination. Some people don't believe vodka and champagne should ever be combined, but sometimes opposites attract, as they did in this cocktail recipe. In addition to these two components, fresh strawberry is used as a garnish in this Champagne Martini recipe.
12. Pineapple Dole Whip Mimosa
Pineapple Dole Whip Mimosa is an elegant and simple cocktail made with pineapple juice, coconut milk, and sparkling wine, bringing a touch of the tropics into your home.
This drink has sparkling wine or champagne mixed with refreshing, sweet pineapple juice and a creamy dash of coconut milk. You can use whipped topping of your choice, including whipped cream and coconut cream.
13. Pomegranate Sparklers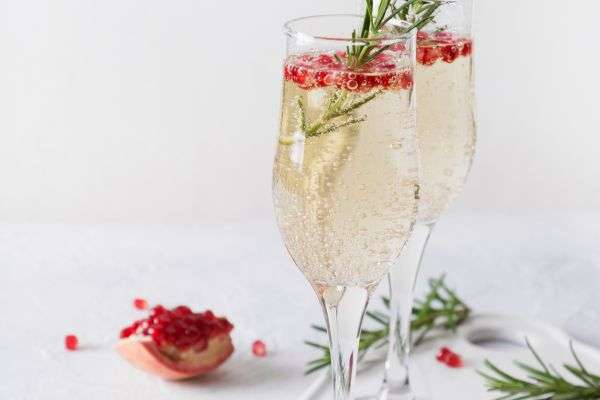 This Pomegranate Champagne Cocktail is wonderful in every way. Fruit that floats on top and lowers to the bottom of the glass elegantly frames the pink color produced by the cranberry and pomegranate.
In comparison to normal sweet-filled cocktails, these Pomegranate Sparklers are also substantially cleaner and contain less sugar. Additionally, you'll consume some of your recommended daily intake of fruit.
These are terrific options for hosting a family party because you can make a kid-friendly version without alcohol by substituting sparkling water for champagne. This tasty cocktail is simple to create and ideal for many holiday occasions.
14. Watermelon Sangria
Summer isn't complete without a cool, refreshing watermelon treat. With undertones of sour lime and smooth mint, this Watermelon Sangria highlights it well. Additionally, it produces a big pitcher that can elevate any gathering.
Fresh watermelon juice, rosé, and rosé Champagne combine to give the sangria its stunning pink hue. The fresh, herbaceous notes of lime and mint are complemented by the flowery sweetness of St. Germain elderflower liquor, which is added to the sangria.
With a blend of still and sparkling rosé wines, this Watermelon Sangria is given a blush-colored boost. It's the perfect beverage to enjoy by the beach, porch, or pool. Highball glasses or, for an added touch of the South, mason jars might be used to serve it.
Use paper straws with pink patterns to complement the celebratory hue of the beverage. Serve this sangria alongside a platter of freshly cut salted watermelon.
15. Tiffany Mimosa
Delicious and fancy, a Tiffany Mimosa is the epitome of elegance. They are the ideal way to start the new year because they only require basic ingredients to prepare.
A Blue Mimosa, also known as a Tiffany Mimosa, is a riff on the original cocktail that substitutes Blue Curaçao for the traditional orange juice. Blue Curaçao has an orange flavor and a vibrant blue hue. It makes a perfect substitute for Triple Sec in mixed drinks.
Blue Curaçao and dry Prosecco are the only things needed to produce a blue mimosa. Any other sparkling wine, such as champagne, can be used instead of the Prosecco; just make sure it's dry. Make sure to refrigerate your champagne and Blue Curacao so they are already chilled when you're ready to craft a Tiffany Mimosa.
16. Champagne Moscow Mule
Cocktails like the Champagne Moscow Mule are elegant and delectable for special occasions. Cocktail parties, baby and wedding showers, and New Year's Eve are ideal occasions. Champagne is added to a traditional Moscow mule to add fizz and a touch of sophistication.
Use a glass container or a pitcher. Combine lime juice with mint in the pitcher by mixing them with a muddler or a wooden spoon. This will enhance the mint's flavor. Pour champagne, vodka, and ginger beer into the pitcher.
Use copper mule mugs or individual glasses for serving. Lime and fresh mint can be used as garnish.
17. Pear Elderflower Champagne Cocktail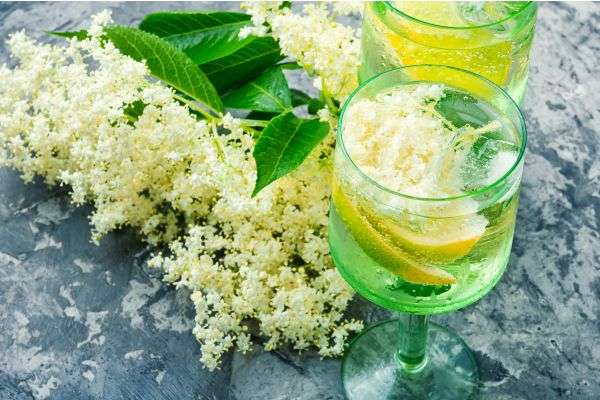 So, this incredibly simple cocktail is also incredibly tasty. Pears pair beautifully with elderflower liqueur in drinks. Now that many restaurant menus feature some variation of the pear-elderflower combination, it's best to try it yourself.
This Pear Elderflower Champagne Cocktail is much easier to make at home. Dry champagne pairs amazingly well with pear nectar and St. Germaine elderflower liqueur. It's sweet, very fruity, and light and energizing.
18. Caramel Apple Mimosa
The most sinfully delicious mimosas are made with apple cider, caramel vodka, and champagne. The cinnamon sugar-coated caramel rim makes these Caramel Apple Mimosas even better!
Brown sugar, apple, cinnamon, and caramel all have a warm, autumnal and wintery feel. This drink isn't sickeningly sweet like some beverages made with caramel syrup. The flavors are perfectly balanced in it. Additionally, you may easily customize the sweetness level to suit your preferences.
These are unquestionably a special treat and an adult dessert in a glass. They are quite simple to make and will be a big hit at your upcoming fall brunch.
19. Strawberry Champagne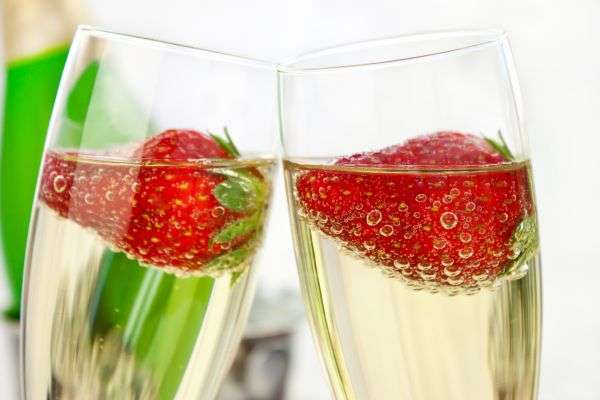 The classic, elegant pairing of strawberries and champagne is transformed into a light and fizzy drink in this lightning-fast recipe that can't help but put you in a celebratory mood. Even if you party tonight in your sweatpants, you'll feel your best while sipping it!
In the finest way possible, a Strawberry Champagne feels fancy. The components include strawberry puree, a little lemon juice for brightness, and the dry sparkling wine of your choice. A gentle and charming ombre effect will be created by the strawberry puree floating around in the glass a little.
This sparkling beverage is lovely to serve as an aperitif in the evening. It's a great option for a special brunch because it's essentially a Strawberry Bellini. This is the ideal cocktail for bridal showers and Mother's Day.
20. Tequila Sunrise Mimosa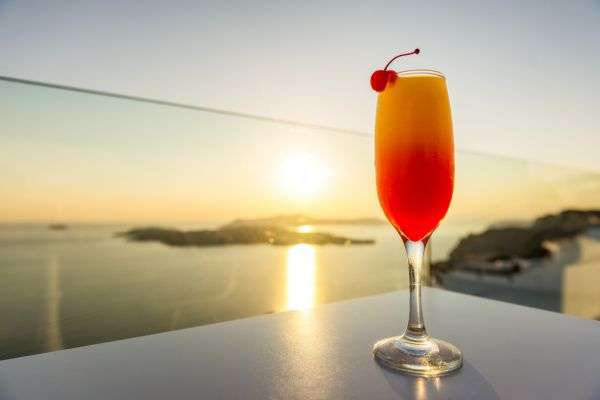 Every brunch should have a fantastic mimosa, and this one does not let you down. Tequila gives it a distinctive flavor, and the rising sun effect creates an exceptionally stunning display.
Tequila, your preferred champagne, orange juice, and grenadine are your basic ingredients for the Tequila Sunrise Mimosa. Orange slices as a garnish are entirely optional but add a particular touch.
Pour orange juice, champagne, and tequila into a pitcher to prepare. Pour into champagne flutes and add grenadine on top. This should only be placed in the refrigerator covered for 10 minutes before serving.
Craft The Best Champagne Drink At Home
Crafting the best champagne drink at home is not just about mixing ingredients but elevating your celebrations to new heights. Throughout this journey, we've explored the art of mixing, the importance of quality ingredients, and the versatility of champagne as a base for a myriad of delightful concoctions.
Whether you're indulging in a classic Champagne cocktail, a contemporary twist, or a uniquely crafted creation, the possibilities are as limitless as your imagination. From intimate gatherings to grand festivities, the joy of sipping a thoughtfully prepared Champagne cocktail is unparalleled.
Remember that the perfect champagne drink is just a shake, stir, or pour away. Take these recipes as a starting point, but be bold and experiment and create your own signature Champagne cocktail.
Related Articles
Champagne Cocktail FAQs
What is a champagne cocktail made of?
A champagne cocktail is typically made with champagne as the base ingredient. It often includes a sugar cube soaked in bitters at the bottom of the glass, which is then topped up with champagne. Some variations may also include a twist of lemon or a cherry garnish. The classic Champagne cocktail consists of sugar, Angostura bitters, and champagne.
What can you mix with Champagne?
Champagne is a versatile base for cocktails and can be mixed with various ingredients to create delightful concoctions. Some common mixers for champagne include fruit juices (e.g., orange juice for a Mimosa), liqueurs (e.g., Grand Marnier for a Grand Mimosa), and other spirits (e.g., gin for a French 75).
What type of drink is Champagne?
Champagne is a sparkling wine that originates from the Champagne region in France. It is known for its effervescence, elegance, and complex flavors. Champagne is often associated with celebrations and special occasions and can be enjoyed on its own or used as a key ingredient in cocktails.
Is Champagne good with Coke?
Mixing Champagne with cola (often referred to as "Champagne and Coke" or "Kalimotxo") is not a traditional or widely recognized combination. It can be an acquired taste and may not be to everyone's liking. Champagne is typically enjoyed for its unique flavor and effervescence, so many people prefer to savor it on its own or in more classic champagne cocktails.
What alcohol goes with champagne?
Champagne can be paired with a variety of spirits to create different cocktails. Some common choices include gin (for cocktails like the French 75), vodka (for a Champagne Martini), and liqueurs like orange liqueur (for a Grand Mimosa) or cassis (for a Kir Royale). The choice of alcohol will depend on the specific cocktail recipe you're interested in.
How do you drink champagne cocktails?
To enjoy champagne cocktails, follow these general steps:
– Chill the champagne and any other ingredients as needed.
– Prepare the cocktail by adding the desired mixers or spirits to a glass.
– Add a sugar cube soaked in bitters if the recipe calls for it.
– Carefully pour the chilled champagne over the other ingredients.
– Gently stir to mix the ingredients.
– Garnish as specified in the recipe, often with citrus or a cherry twist.