Your Ultimate Guide To Making An Instagram Worthy Lillet Cocktail- Complete with 20 recipes
We'll show you how to make an instagram worthy Lillet cocktail for your next weekend bash. It's the ultimate spring and summer cocktail.
Lillet . . . it's pronounced Lee-LAY.  The T is silent.  Why?  I'd tell you it's because Lillet is French but Moët is pronounced with a hard T, isn't it?
Cocktail culture is surging in popularity lately.  You're wondering, has it ever gone away? Well, no but it does ebb and flow with the trends.
And, I want to do my part, so I'm making a slew of Lillet cocktails in the name of research.
I've spent the past couple of days reading and learning about the drink Lillet.  And while you can learn a lot about wine by reading, you can learn a lot more by tasting. So here we go.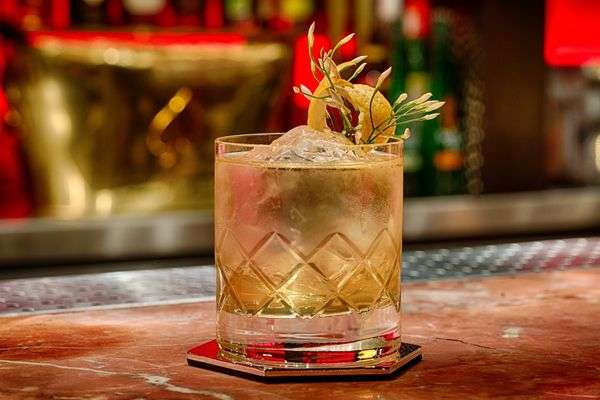 Lillet is an aperitif (a fancy French word that means, "drinking before dinner isn't excessive, it's elegant") wine, from the Bordeaux region of France.  
Lillet comes in two varieties — Blanc and Rouge.  It's a blend of several Bordeaux wines — Sauvignon Blanc, Semillon and Muscadelle for Lillet Blanc; Merlot and Cabernet Sauvignon for Lillet Rouge.  
But here's where it gets interesting:  it also includes macerated liquors from different citrus fruits (sweet and bitter oranges) and quinine, a substance from the bark of the Peruvian cinchona or kina-kina tree.  
Sidebar:  Quinine was used to treat malaria until the 1940s.  It's also a pain-killer, a fever-reducer, and a muscle relaxant.  Hmm . . . I'm starting to think Lillet might be one of those "medicinally purposed" drinks.
How Do You Like Your Lillet Cocktail?
Hannibal Lecter likes his Lillet cocktail chilled, over ice, with a slice of orange. Straight up. (And you thought Dr. Lecter was strictly a Chianti man).
The Vesper Martini Lillet Cocktail
James Bond prefers his Lillet shaken, not stirred, into a Vesper Martini, first ordered in the 1953 novel, Casino Royale.
Pour the gin, vodka and Lillet blanc into a cocktail shaker half-filled with cracked ice. Shake well, and strain into a chilled cocktail glass. Garnish with a twist of lemon, and serve.
The Moneypenny's fresh grapefruit juice is best paired with a bright citrus forward London Dry gin with fresh herbal aromatics. Sunset Hill's Small Batch gin with its notes of cucumber and rose, paired with a light body make it an excellent choice for the Moneypenny cocktail.
Lemon wedge, Demerara sugar
1 oz Gin
1 oz Fresh grapefruit juice
1/2 oz Lillet Blanc
1/2 oz Fresh lemon juice
1 Dash Grapefruit bitters
Grapefruit twist

Rim chilled cocktail glass with lemon and sugar. Shake remaining ingredients with ice and strain into glass. Add grapefruit twist. Serve in a Cocktail Glass. Created by Mr. Boston.
Martha Stewart enjoys her Lillet cocktail with fresh basil – Lillet-Basil Cocktail.  Don't forget the decorative garnish, or Martha will be disappointed.
1 cup ice, plus more for serving
1/2 cup Lillet Blanc
1 ounce (2 tablespoons) gin
2 tablespoons fresh orange juice
1/4 cup loosely packed fresh basil leaves, plus sprigs for garnish
Splash of tonic water
1 cucumber spear, for garnish
1 cinnamon stick, for garnish
Put ice, Lillet, gin, orange juice, and basil in a cocktail shaker; shake well.
Fill a glass with ice; strain mixture into glass. Add tonic water.
Garnish with cucumber spear, cinnamon stick, and basil sprigs.
Great Gatsby Lillet Cocktail
Jay Gatsby inspired the Great Gatsby Lillet cocktail from Highlands Bar & Grill in Alabama.  
1 oz Vodka
1 oz Lillet Blanc
2.5 oz Grapefruit Juice 
Combine the 3 ingredients into your cocktail shaker
Shake with ice
Strain over fresh ice
Garnish with a slice of orange
2 oz  Lillet Blanc (chilled)
2 oz gin
1 oz fresh lemon juice
½ oz simple syrup or maple syrup
2 oz soda water
For the garnish: Sprig of lavender or thyme
Stir the Lillet Blanc, gin, lemon juice and simple syrup together in a glass.
Fill the glass with ice and top with soda water.
Garnish with lavender or thyme.
A simple pairing of tonic and Lillet with a slice of fresh cucumber. This might be the simplest Lillet cocktail ever dreamed up.
1 oz Lillet Blanc
3 oz Tonic
Pour the Lillet and tonic into a glass. Fill with ice. Stir. Garnish with a cumumber slice. This is summer in a glass folks.
Lillet Spiced Sangria Cocktail
Sangria is near and dear to our hearts. Most often we're using Tempranillo but this Lillet Rouge cocktail is very special.
1 bottle Lillet Rouge
½ part Grand Marnier
1 part cold-pressed apple juice
3 parts fresh lemon juice
2 cinnamon sticks
1 apple sliced
1 pear sliced
Mix all ingredients in a pitcher. Stir. Add large iced cubes as to not water down your delicious cocktail.
1.5 oz Lillet Blanc
1 oz dry vermouth
1 oz Liquore Strega
½ tsp raspberry brandy
Combine ingredients in a mixing glass. Add ice and stir. Strain into a glass. Garnish with a lemon twice. 
1 oz Lillet Blanc
1 oz Monkey 47 Gin
1 oz ITALICUS Rosolio di Bergamotto
In a mixing glass with ice, stir until well chilled and pour over a large cube of ice in rocks glass. Garnish with lemon peel.
1 oz Lillet Rouge
1 oz Dry Gin
1 oz Campari
Shake ingredients together with ice. Pour over ice into rocks glass. Garnish with orange peel.
1 ½ oz Lillet Blanc
1 ½ oz Monkey 47 Gin
Fresh Lemon Twist
Combine all ingredients in a shaker with ice. Shake and pour a coupe and garnish with an orange twist.
3/4 oz Monkey 47 Gin
3/4 oz Lillet Blanc
3/4 oz Italcus Rosolio di Bergamotto
3/4 part fresh lemon juice
dash Pernod Absinthe
Combine all ingredients in a shaker with ice. Shake vigorously. Strain into a coupe and garnish with an orange twist.
1 Orange Slice
2 oz Lillet Blanc
3 oz Sparkling Water
½ oz Suze
Combine all ingredients with ice in a shaker. Strain into a glass and top with sparkling rosé. Garnish with an expressed lemon twist. Created by Drink Lightly.
Don't we all wish Spring would never end?
1 oz Lillet Rosé
¾ oz fresh lemon juice syrup
½ oz simple syrup
¾ oz Amaro Ramozzotti
½ strawberry + ½ strawberry
La Croix water to top
Lightly muddle the ½ strawberry at the bottom of a shaker. Add the additional ingredients to the shaker, add ice and shake. Strain into a highball glass with cubed ice. Top with La Croix. Stir. Garnish with the remaining strawberry half and serve with a straw. Created by Drink Lightly.
Le Bergamot Lillet Spritz
Combine Lillet Rosé and ITALICUS Rosolio di Bergamotto in a wine glass over ice. Top with G.H. Mumm. Created by Jack Schramm.
3 oz Lillet Rosé
3 oz fresh squeezed lemonade
Fresh lemon wheel
Add all ingredients into a blender with ice and blend to desired consistency. Garnish with a fresh lemon wheel.
2 oz gin
1 oz Lillet blanc
1/2 oz elderflower liqueur
1/2 oz fresh lime juice
1 tsp agave syrup (or honey)
1 dash orange bitters
orange (optional)
fresh mint leaves (for garnish, optional)
Fill cocktail shaker with ice. Add gin, Lillet, elderflower liqueur, lime juice and agave syrup. Shake and strain into a lowball glass filled with crushed ice. Garnish with a wheel of orange and lime and a sprig of mint. Created by Yummly.