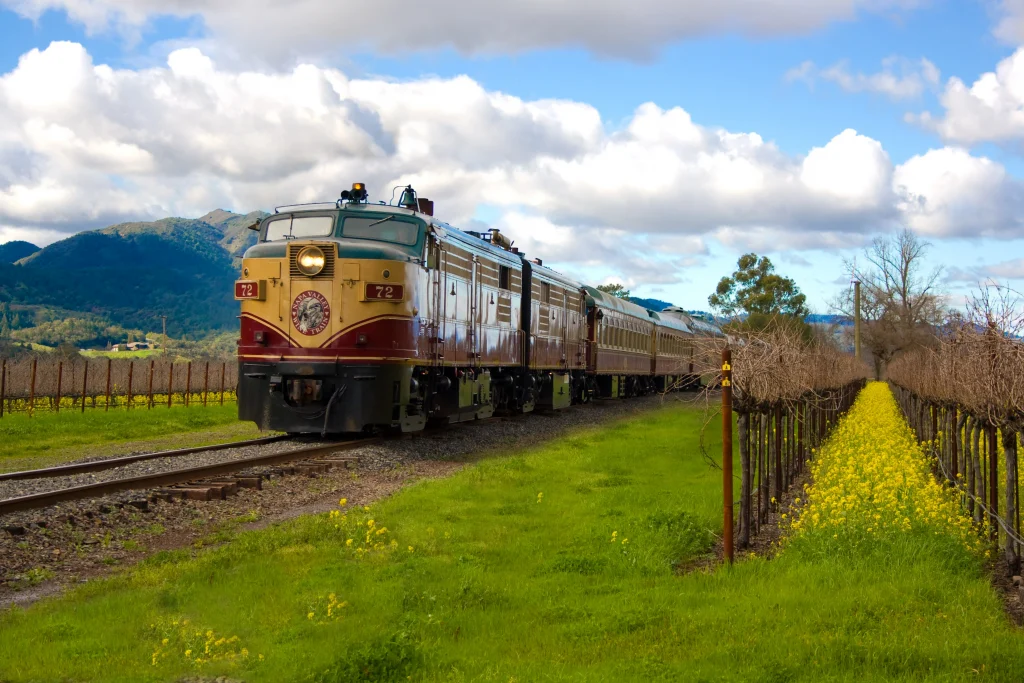 All Aboard The Napa Valley Wine Train!
Next Stop: Your Wildest Wine Dreams
The Napa Valley Wine train is more than just the obvious wine tasting on a locomotive, it is a multi-sensory experience blending good wine with gourmet cuisine, stunning landscapes and even live theater.
What Is The Napa Valley Wine Train?
How Long Is The Trip On The Napa Valley Wine Train?
The journey lasts three hours and is 36 miles round trip from Napa to St. Helena. 
Do They Serve Food On The Napa Valley Wine Train?
Yes. On the Napa Valley Wine Train passengers can take advantage of lunch and dinner prix fixe menus featuring gourmet California cuisine, wine, cocktails and even afternoon tea. There are four (yes, four!) onboard kitchens where chefs are always busy preparing delectable dishes with fresh ingredients including yellowfin tuna and roasted beef tenderloin. 
So I Can Drink Wine On The Napa Valley Wine Train, Right? 
Of course! You are invited to bring your own bottle (there is a $20 corkage fee) or choose from over 500 wines available in their onboard wine and gift shop. You can also choose from their wine list menu with over 40 wines available by the glass including wine flights. 
What Stops Are On The Napa Valley Wine Train? 
Traveling on the Napa Valley Wine Train is a memorable experience in itself. Currently there are no stops on the journey unless you sign up for one of the exclusive experiences where passengers can visit one of the partnering wineries as part of the overall train ride. 
Napa Valley Wine Train Experiences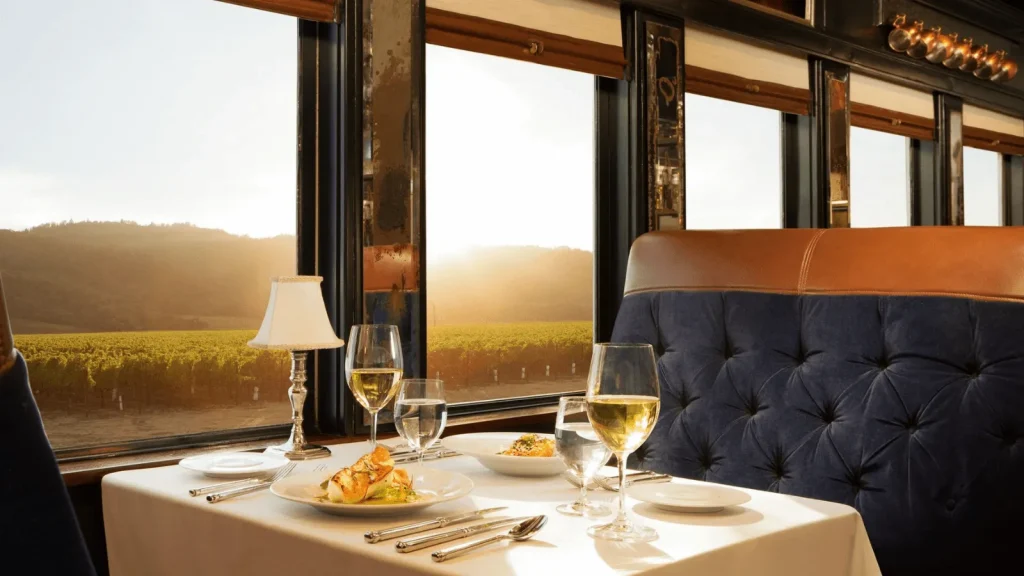 Elevate your experience on The Napa Valley Wine Train by reserving one of their exclusive experiences where you can enjoy not only tasting wine on the train, but also visiting some of the well-known wineries in the region. 
The Legacy Tour – includes complimentary welcome sparkling wine, four-course wine country inspired meal, 1-hour vineyard tasting & photo ops at the famous Napa Valley sign, 1-hour tasting + tour at Charles Krug and V. Sattui. 
Gourmet Express – includes a multi-course gourmet lunch or dinner via a 2-hour or 3-hour train ride. 
Grgich Hills Estate Tasting — includes a multi-course lunch and a seated wine tasting experience as the award-winning Grgich Hills Estate. 
Vista Dome – a welcome glass of sparkling wine, multi-course lunch or dinner included in the breathtaking observational-style domed train car. 
Murder Mystery – an onboard dinner theater with a multi-course meal included. 
Afternoon Tea – all the elegant fixings of an afternoon tea including finger sandwiches, a selection of fine steeped teas, mini desserts, and sparking wine, toasts, and cheese. 
Romance on the Rails – welcome glass of sparkling wine, two glasses of private label wine, and a multi-course dinner. 
Dressed To The Nines On The Lines – everything included in the Afternoon tea experience. 
Ooh! Murder Mystery? Can I Dress Up?
Yes! The Murder Mystery Experience is one of the most popular aboard the Napa Valley Wine Train and features murder mysteries inspired by popular decades. Passengers are encouraged to dress up in theme. 
Death of a Gangster – 20s attire 
Best Laid Plans – Hollywood glamour attire 
Til Death Do Us Part- wedding dress, suit/tux, wedding party attire 
I Love The 80s To Death – 80s era clothing 
A Dance With Death – 50s era clothing 
Midnight Masquerade – masquerade ball attire 
I Solemnly Swear I'm Up To No Good – witch hats and wizard robes
Can I Sleep On The Napa Valley Wine Train?
The Napa Valley Train journey is no more than three hours during lunch and dinner periods. There are no beds or sleeping suites on the train and no overnight packages. However, the train has partnered with many local hotels in Napa Valley to offer expanded hotel packages to compliment the wine train experience. 
What Types of Travel Packages Are Available On The Napa Valley Wine Train?
Travelers looking for package deals that include tickets aboard The Napa Valley Wine Train and hotel accommodations might find these curated experiences to their liking (and savings!). 
River, Rails & Wine Trails – two nights at the River Terrace Inn, full day of wine tasting and tours, gourmet lunch aboard the wine train. 
Wine, Dine & Dream – one night at Hilton Garden Inn, gourmet lunch aboard wine train, a welcome taste of wine. 
Candlelight Junction – one or two nights at Candlelight Inn, full day of wine tours, gourmet lunch aboard wine train.
Best Of Wine Country in a Day – includes transportation to and from San Francisco and Napa, visit to two Sonoma wineries and one Napa winery, vist to downtown Napa's Oxbow Market, gourmet dinner and journey on wine train.
Can I Get Married On The Napa Valley Wine Train?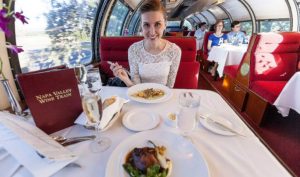 Yes. The Napa Valley Wine Train is a unique wedding venue that will make for a memorable place to host your special day. You can have your wedding ceremony and reception on the train as well as your bridal shower and other large group events like corporate functions and family reunions.
What Is The Cost Of A Trip On The Napa Valley Wine Train?
Since this is such a unique experience aboard an iconic piece of history, The Napa Valley Wine Train is not like buying a ticket for the Amtrak or paying for a simple tasting at a winery. The wine train experience costs a little more, but if you have the budget it's well worth putting on your Napa itinerary. 
Prices vary during high season and desirable days of the week (like the weekend) where costs are a little more. Journeys aboard The Napa Valley Wine Train for a single passenger vary between $300-$600. 
How Do I Book A Trip On The Napa Valley Wine Train?
It's so easy! Visit their website and choose what type of experience you would like to have and book directly through their website. 
The Napa Valley Wine Train is the quintessential wine country experience. While it's not an event you would include on every Napa vacation, it is a strong contender for a top spot on your Napa Valley bucket list.
Author: Tiffany Carter
Tiffany is a contributing writer to Armchair Sommelier. When she isn't writing about wine, the California native is touring local wineries (Hello Napa and Paso!) and filling her glass across the globe (Ciao, Tuscany!). She loves a full-bodied cab, but she plays favorites when it comes to a spicy Zinfandel or juicy Malbec. Her fridge is stocked with a bottle of sparkling rosé for emergencies. Hint: there's always an emergency. You can follow Tiffany @winetastetravel.
Taste Wine Like A True Armchair Sommelier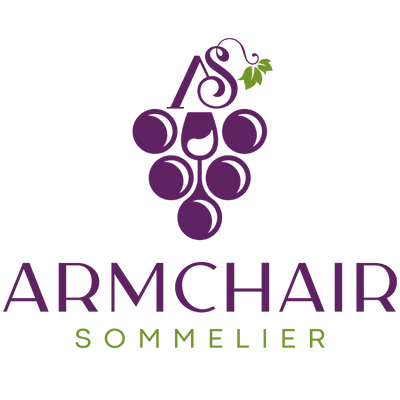 Spice up your next party with our FREE wine tasting guide! Learn what to look, smell, and taste for while appreciating your favorite bottle. We've also included a printable tasting notes template and a tasting wheel.