Getting Around Napa Valley: Transportation Tips & Tricks For Wine Country
Have you ever wondered how to book Napa Valley transportation? We got you covered with the best ways to get around wine country.
You've got the wine tasting covered, now let's get you there. Our California residents will show us the way. 
There's nothing more exhilarating than planning a trip to Napa Valley.
I mean, let's be real, planning a trip where all you do all day is drink the finest wine and eat the most delicious food is probably most comparable to a ten-year old planning their day at Disneyland, except substituting a taste of Merlot for a taste of a churro.
But the devil is in the details and sometimes that devil is so excited about throwing back that bold Cab that it forgets to plan how to actually get to the winery in the first place.
It's one of the most asked questions when organizing a trip to wine country (usually after the fact), so let's throw out all the options so you can finish planning that perfect trip to Napa Valley.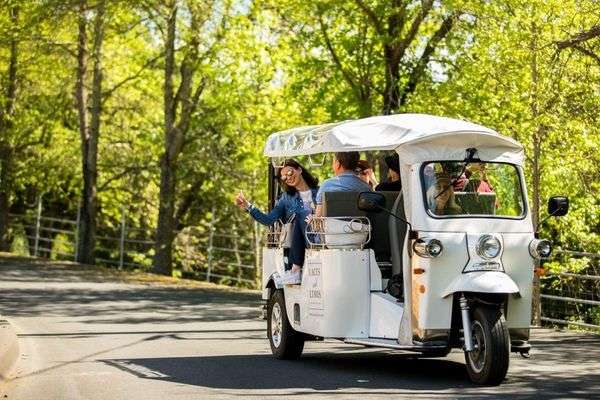 Napa Valley Transportation: Things To Keep In Mind
Before booking any sort of transportation around wine country, take into consideration how many of you are traveling.
Is it just you, a solo traveler? Another person with you? A group of three of more friends? A large party?
What type of transportation will you need to accommodate you and additional travelers?
If you've booked your hotel or vacation rental prior, where is it located? Close proximity to downtown, wineries, restaurants and shops?
Napa Valley is very spread out, so know that you will need transportation for most outings. What is your daily budget?
Hiring drivers and multiple ride shares can add up. How much ground do you want to cover on your stay in Napa?
Are you planning on venturing into Sonoma on your stay?
Should You Rent A Car For Your Napa Valley Transportation?
To put it bluntly…yes.
Renting a car is the easiest and most reliable way to get around Napa Valley. While rental car reservations can be a nightmare, it's best to book way in advance to pick up your car at the airport (this can be more costly, but is the most convenient).
Venturing outside the San Francisco and Oakland airports for rental cars can be more of a headache than it is worth.
Pros: Having access to a car at all times, parking at wineries is free, ability to explore Napa Valley on your own, daily rental rate as opposed to hourly and mileage rate with hired drivers and ride shares. 
Cons: Appointing someone in your group as a designated driver (draw straws!), confirming there is parking (and at a good rate) at hotels, driving in traffic to and from the airport, getting lost and ending up on a dead-end dirt road, high gas prices.
Should You Hire A Personal Driver For Your Napa Valley Transportation?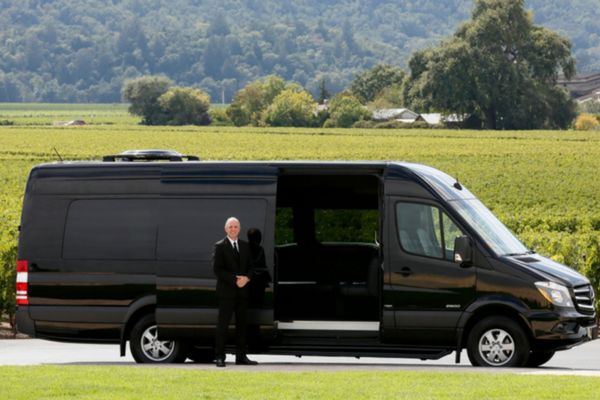 If you have decided not to rent a car for your trip to Napa Valley, then I suggest hiring a personal driver, especially if this is your first trip to Napa.
Hiring a driver is like having a personal tour guide who is also your designated driver.
Most tour guides are Napa Valley insiders who know all the best wineries and places to eat as well as have insights on how to get a table at buzz-worthy restaurants and even take you to wineries on the fly where you don't need a reservation.
It also makes for great additional conversation to speak with a local who can talk more to the area and its people than just about the wine and food.
This is also a good option if you have a larger group and need to hire a van or SUV to accommodate your group.
I love to check out Facebook groups like Napa Travel Planning for recommendations on drivers or even Yelp for the Top 10 Drivers for Hire in Napa like Napa Sonoma Wine Driver, My Napa Valley Driver, and 4M Elite Car Service are highly rated.
Pros: Endless drinking without driving, access to local intel and perks like rolling up to a winery without a reservation, great for multiple couples and friends traveling together, never getting lost and easy drop-off and pickup. 
Cons: can be quite expensive, not having access to a car at all times, stuck with a driver you may not gel with.
Should You Use A Rideshare (Uber, Lyft) For My Napa Valley Transportation?
If you're not into renting a car or hiring a driver than winging it with a ride share service like Uber or Lyft may be more your speed.
If this is your mode of transportation then it would be best to schedule your winery reservations accordingly as this can be a pricey way to get around.
Many ride share companies will hike up their prices due to demand or the quantity of drivers on the road.
Believe it or not, Napa and many other wine country locations in California are notoriously difficult for finding drivers via a ride share app, especially in off-season.
Unless you schedule a ride, you could be waiting a long time for a driver to show up which could throw your reservations off.
A hot tip – ask your first driver of the day if you could contact them for future rides, get their contact info, and you'll hopefully eliminate any driver delays or no-shows during your day of wine tasting.
Pros: no worries about drinking and driving. 
Cons: strategic planning to save costs and time, longer wait times to find a driver, not always accommodating for larger parties.
Napa Valley Tours And Transportation: Should You Book A Tour Company?
Taking a tour of Napa Valley can be a fun and rewarding experience. Many tour companies will take you on a day tour of multiple wineries with plenty of stories and random picturesque stops along the way to make your wine country vacation more unique and memorable.
This is also a very Instagrammable way to travel as there are plenty of unique tour companies that will have you touring Napa via a vintage cable car trolley or Volkswagen van. 
Pros: the ease of having someone plan your day for you, informative and fun, no worries about drinking and driving, meeting new fellow wine lovers, easy drop-off and pickup. 
Cons: potential cramped seating, having a set itinerary that might be undesirable to you, no A-list wineries on the tour, can be pricey for amount of places visited, the Russian roulette of being seated next to annoying passengers.
Should You Take The Napa Valley Wine Train For Your Transportation?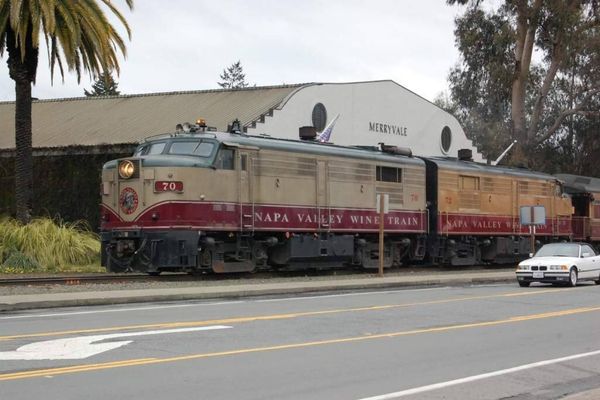 Choo! Choo! All Aboard!
If you ever get an opportunity to take the Napa Valley Wine Train – do!
It's one of those once-in-a-lifetime experiences that makes for a fun way to drink wine and see Napa Valley through the windows of a vintage train car while relishing in those wine drunk-Harry Potter vibes. 
Pros: drinking while riding is a fun experience, limited but worthy stops, themed wine and dining options, meet other travelers, great memories.
Cons: Not budget friendly, limited to small amount of wineries.
Should You Take Napa Valley's Public Transit? Bus, Shuttle or Trolley
Napa Valley's public transit system is cleverly known as The Vine and offers a fixed-route bus schedule to get you around Napa Valley, however it does not stop at any wineries, so it is of better use if you're traveling in the downtown areas. Their website makes it easy to plan your route.
There is also a shuttle in Calistoga and St. Helena and trolley in Yountville.
The Yountville Bee Line is an on-demand service which you can book via an app and within 15-30 minutes your ride will show up.
It's free of charge thanks to the generosity of the town of Yountville and will take you anywhere you want to go within the town's borders.
The Calistoga and St. Helena shuttles also operate as an on-demand, door-to-door service for fares as low as $1 per ride, but only travel within specific areas. 
Pros: Low cost. The bus is a great way to get to and from the BART station if you do not want to rent a car at the airport. The BART train option as your transportation from San Francisco Airport to Napa Valley is a four-hour trip.
Cons: Does not stop at wineries and not good transportation when planning a day of wine tasting, however the shuttle is useful for traveling through the downtown areas of Calistoga, Yountville and St. Helena.
Is Renting A Bicycle As Napa Valley Transportation A Good Option?
Yes, there are plenty of bike rental companies in Napa Valley that offer both traditional bicycles and the popular E-bikes. While drinking and cycling is cause for a DUI in Napa, there are also bike tours that offer a guided wine tasting throughout the valley where you are drinking at stops along the way, but obviously not in excess. 
Pros: Get exercise, best way to take in the natural landscape if weather permits, budget friendly. 
Cons: Beware of excessive drinking as DUI's are a thing with cyclists in Napa, have to plan tasting at wineries in close proximity to each other, could have underarm sweat in your photos.
Is Walking To Wineries In Napa Valley A Good Idea?  
For those of you coming from big cities where you can walk everywhere (we see you Manhattan!), don't even think about walking in Napa Valley.
It's just too spread out and too exhausting. It's literally a rural area where people live and harvest wine with only small patches of concentrated city life.
If you insist on walking, plan a day at wineries/tasting rooms in the downtown areas of Yountville, Napa, St. Helena and Calistoga which all have quaint neighborhoods with bustling main streets where you can easily walk to all the shops, restaurants, and tasting rooms and still get your steps in. 
Pros: Low cost (just the price of some good walking shoes), no worries about drinking and driving, great exercise. 
Cons: Only limited to downtown neighborhoods, in good weather, and for those who enjoy long drunk walks.
Napa Valley Transportation Wrap-Up
In conclusion, it's great to travel to a place where there are multiple options for getting around.
While California is not known for their public transportation, Napa Valley does a pretty great job of accommodating travelers who want to get the most out of their wine county vacation.
Napa Valley Transportation FAQ
Author: Tiffany Carter
Tiffany is a contributing writer to Armchair Sommelier. When she isn't writing about wine, the California native is touring local wineries (Hello Napa and Paso!) and filling her glass across the globe (Ciao, Tuscany!). She loves a full-bodied cab, but she plays favorites when it comes to a spicy Zinfandel or juicy Malbec. Her fridge is stocked with a bottle of sparkling rosé for emergencies. Hint: there's always an emergency. You can follow Tiffany @winetastetravel.
Taste Wine Like A True Armchair Sommelier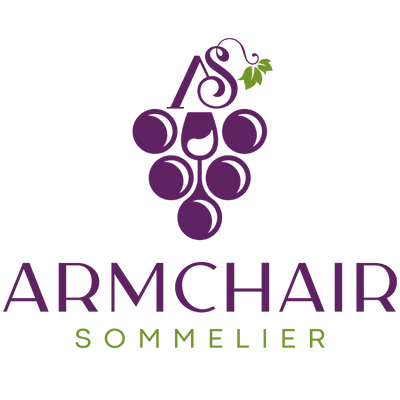 Spice up your next party with our FREE wine tasting guide! Learn what to look, smell, and taste for while appreciating your favorite bottle. We've also included a printable tasting notes template and a tasting wheel.