Now's The Time For Extra: Luxury Wine Tours In Napa Valley
Be a little extra on your next trip to wine country with these luxury wine tours in Napa Valley
Sometimes you want to travel and drink wine like you're a disheveled background actor in Oliver! — "please sir, can I have some more?"
But sometimes, you just want to make like Fergie and live that "First Class" life. These luxury wine tours in Napa will have you singing G.L.A.M.O.R.O.U.S. all the live long day.
For those that are looking for a more elevated wine tasting experience in Napa Valley, this is the list that separates the ballers from the penny pinchers and while every trip to Napa is a palate-tantalizing experience, taking one of these outrageous luxury wine tours in Napa will give your social media followers a little #sipenvy.

private wine tours in napa valley
This a luxury wine tour in Napa by Beau Tours is one for the wine connoisseur. You'll taste high-end, limited production wines and underground cult wines that you can only find by referral or introduction.
You'll receive a private wine tour of Napa via a luxury car (think Mercedes, Escalade), explore at least three wineries be treated to a catered lunch. $1,275 per couple (does not include tasting fees).
---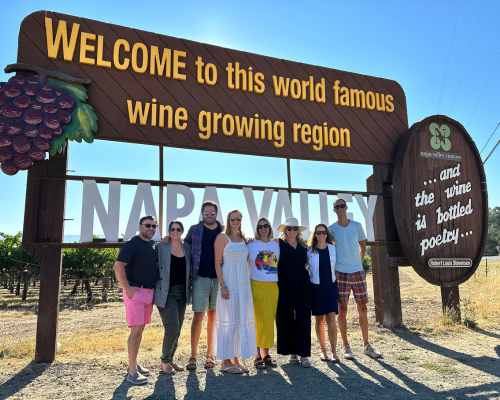 Planning a trip to Napa but don't know where to start, or worse yet, you're 10 hours deep and frustrated? You won't want to miss our Napa Trip Planner!
---

Nothing says "I'm on top of the world" like you're Leo who just got a ticket to the greatest experience in the world (minus the iceberg!) than a private curated wine tasting and lunch experience at Chimney Rock Winery.
This Napa luxury tour experience is named after Ganymede, the fabled cup-bearer to the gods. You and a guest (or your party) will be given a guided tour of the estate with one of their wine educators. You are then escorted to a seated tasting with a gourmet lunch prepared by their private chef. $250/per person.
Luxury dinner series

You'll already feel like a royal when you step on the grounds of Darioush winery, but if you want to keep the majestic red carpet rolling, attend one of their Estate Dinner Series (time and dates vary).
Enjoy a night under the stars, with a sensory evaluation expert to experience a wine tasting like no other, paired with a multi-course dinner made by their creative culinary team. $395/per person.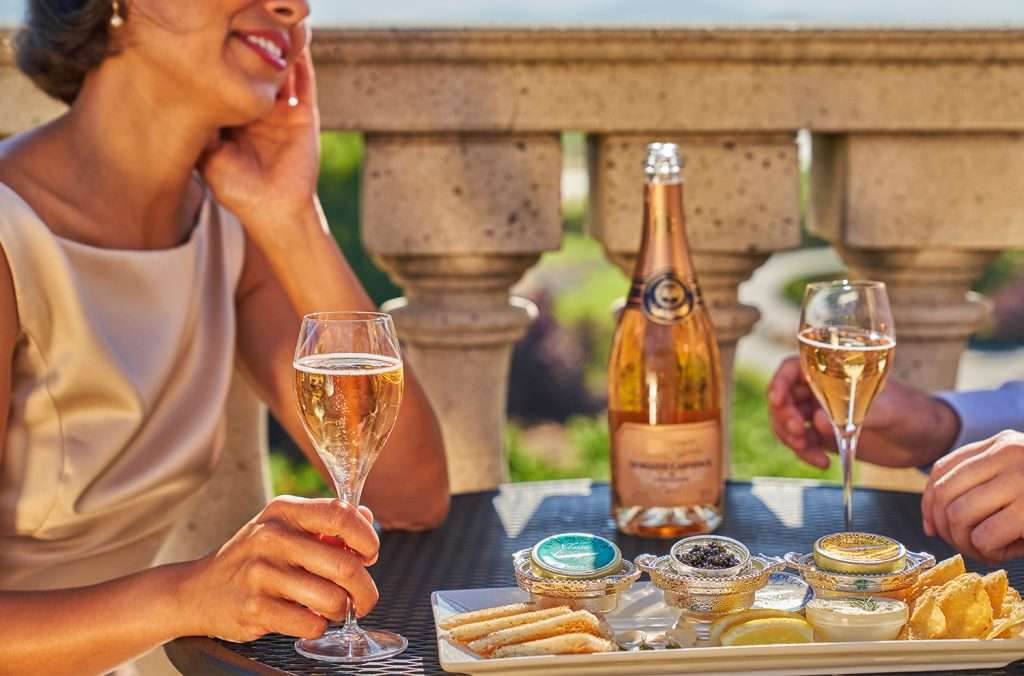 This luxury winery that sparkles with more than just bubbles, delivers two separate luxury tasting tours — one is The Ultimate Chips & Dip which pairs a flight of their sparkling wines with potato chips and decadent Tsar Nicoulai Caviar. $175/per person.
The Art of Sabrage puts you in the entertainer's seat. Get an unforgettable lesson in how to saber off the head of a bottle of champs (that's casual for champagne). Your host will share the history and techniques on this legendary practice while you taste a selection of artisanal cheeses, wines, and caviar. $150/per person.
Luxury wine experiences

Don't just taste the wine at Heitz Cellars, immerse yourself in the complete experience. This private wine tour in Napa Valley is the best of the best. You and up to four guests will explore two of the winery's vineyards that have produced over 130 vintages while learning about the unique micro-climates of Napa Valley. Then you'll return to the tasting salon where you will taste both current and library wines. $1,000/per person.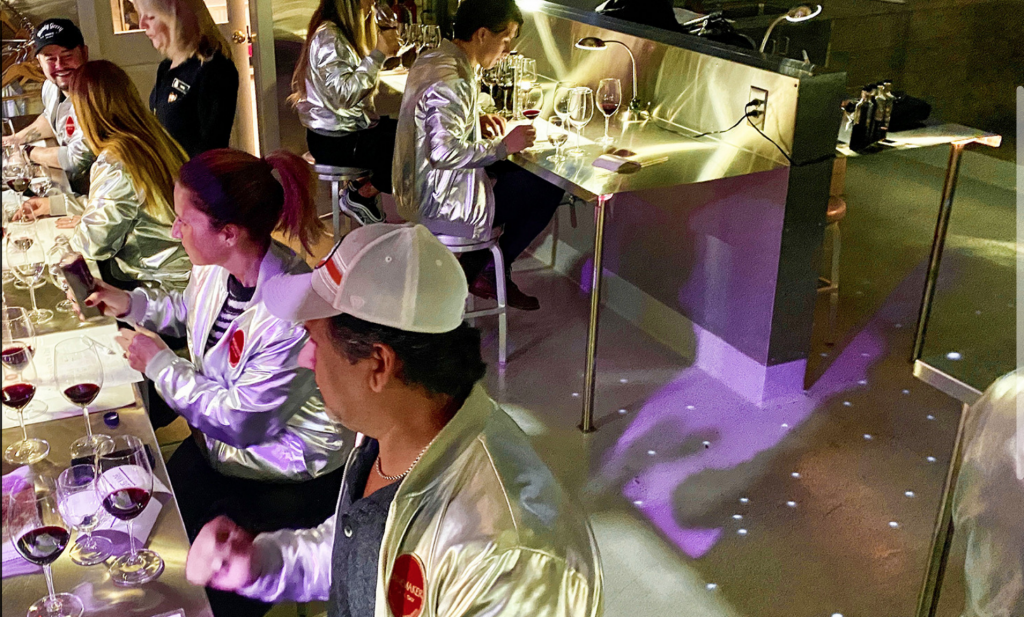 If a straight-up tasting isn't unique enough for you, this Raymond Vineyards luxury wine tour takes you behind the scenes of what it's like to be a Napa Valley winemaker for the day.
You'll spend time in the secret Blending Room where you can learn the art of winemaking, blending your own Bordeaux-style red blend.
Not only will you get to craft your wine, but you'll be able to fill your bottle, cork it and capsule it and dress it up with your own custom label. Afterwards you'll get the option to have Raymond Vineyards produce cases of your personal blend that you can share with friends and family. $150/per person.
---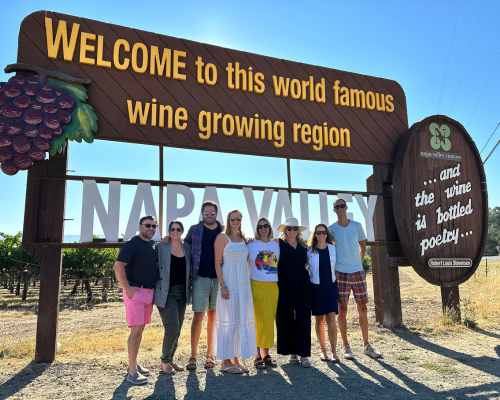 Planning a trip to Napa but don't know where to start, or worse yet, you're 10 hours deep and frustrated? You won't want to miss our Napa Trip Planner!
---
More Of The Best Luxury Winery Tours In Napa Valley To Check Out
want to bring wine country home with you?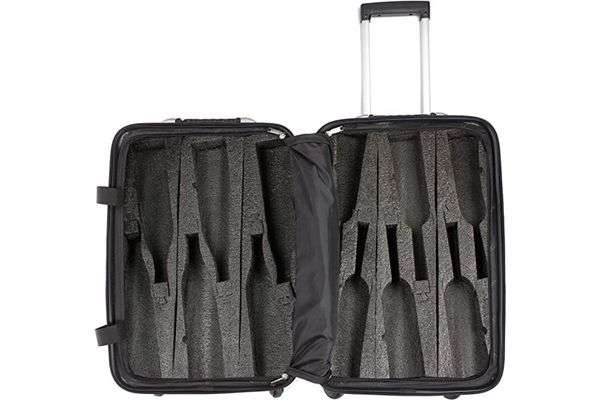 We recommend the VinGardeValise 12 bottle wine suitcase. There are a couple ways you can use this suitcase. One is, when you come home you only pack half the suitcase with wine and the other side clothes; or, what we do is bring a duffle bag to carry our clothes home. You can still check a duffle bag home btw, you don't have to schlep it around for all four connections.
Pro tip: you can also use the duffle bag to drop off your clothes to be laundered if you're doing an extended trip. Multiple uses for one duffle bag.

Author: Tiffany Carter
Tiffany is a contributing writer to Armchair Sommelier. When she isn't writing about wine, the California native is touring local wineries (Hello Napa and Paso!) and filling her glass across the globe (Ciao, Tuscany!). She loves a full-bodied cab, but she plays favorites when it comes to a spicy Zinfandel or juicy Malbec. Her fridge is stocked with a bottle of sparkling rosé for emergencies. Hint: there's always an emergency. You can follow Tiffany @winetastetravel.