Napa vs Sonoma: Which Is Better?
Which California wine region will satisfy your palate? 
Napa Valley and Sonoma County are two of the most renowned wine regions in the world. The award-winning wines, restaurants and hotels here make them one of the top destinations in America and the second in California (right behind Disneyland).
Although less than an hour apart, Sonoma's massive landscapes can have visitors driving from one end of wine earth to the other, sometimes for up to three hours. So where would you go for your next wine country vacation if you could only choose one?
Here's your definitive guide to Napa vs. Sonoma — how each of these regions differs from the other and which one to choose that is best suited for your palate.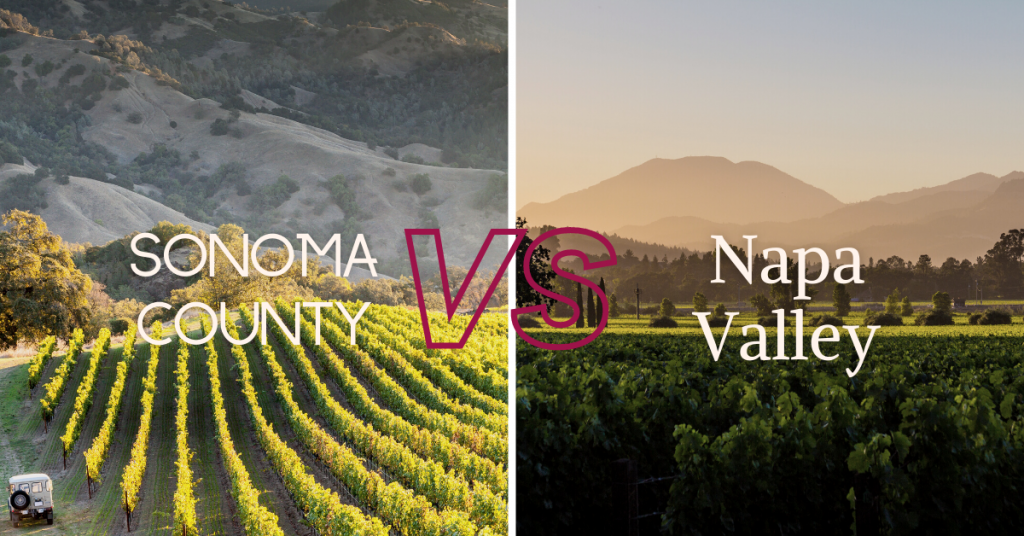 First Class vs. Laid Back
Napa Valley and Sonoma may be next door neighborhoods, but the vibe is quite different in both of these regions. Let's not compare them to captain of the cheerleading squad vs. president of the chess club, but Napa Valley is the Beverly Hills of wine country with world famous restaurants, wineries, and posh five star hotels and resorts. Sonoma is it's laid back sibling, casual and carefree with boutique hotels, restaurants and wineries on a much smaller scale than Napa. Both of these areas have quaint downtown areas with plenty of tasting rooms to enjoy in tandem with the low-key nightlife when tasting hours are over at the wineries.
Napa Landscape Compaired To Sonoma County
While both regions have beautiful scenery, in Napa your breath will be taken away by those postcard images of dramatic rolling hills with rows and rows of vineyards. In Sonoma, the landscape is more rugged with lots of valleys and plains and towering trees that surround the wineries. 
Napa and Sonoma are quite different in size. Sonoma is more than twice the size of Napa Valley (1,738 square miles vs 789 square miles).
Napa Valley has five different towns within the region — Napa, Calistoga, St. Helena, American Canyon, and Yountville. These towns are smaller and fairly close together in distance.
In Sonoma, there are more towns, larger ones that spread inland and to the coast including Santa Rosa, Healdsburg, Kenwood, and Bodega Bay. 
There are 16 distinct AVAs (American Viticultural Area) within Napa Valley including Stag's Leap and Atlas Peak.
Sonoma has 18 distinct wine regions including Russian River Valley and Alexander Valley. The climate also reflects the diverse topography of the two areas where Sonoma tends to have cooler temperatures in Napa due to its closer vicinity to the Pacific Ocean. 
Getting Around Napa Valley & Sonoma
As far as the distance between wine tastings, driving around Napa is a breeze as most wineries are so close together. You don't have to go far to get your wine glass filled, your belly full, or a good night's rest. Napa also has the convenience of having everything centralized off Highway 29. The drawback of having everything so close is you'll find the traffic can get quite congested and you have to pay extra close attention while driving so you don't miss the sometimes poorly signed entrances into the wineries. 
In Sonoma, wineries can be hours apart with a lot more driving involved including on dirt roads. The plus is that there is less traffic and you have more time in between vineyards that will give you a heads up with multiple signs leading into the wineries. Another heads up? Bicycles are big in Sonoma, so watch out for winos on two wheels. 
Varietals Found in Sonoma & Napa
Napa Valley is well known for their bold, robust Cabernet Sauvignons, but they also specialize in buttery Chardonnays (remember they beat France in the 1976 Judgement of Paris wine competition for their Chardonnay), and the California classic Merlot. 
Sonoma is the region for Pinot Noir and Zinfandel tastings. It's also a great spot if you enjoy sparkling wines, aromatic and light Chardonnays and red blends.
If you're looking for big name wineries with world class notoriety and all the bells and whistles like Sterling Vineyards (oh that sky gondola!), Chateau Montelena and Duckhorn Vineyards, then Napa Valley is your place. You'll find over 400 wineries in Napa which is close Sonoma's number of 425 wineries. 
For smaller, more boutique wineries that are a little off the radar Sonoma is the better choice. However, Sonoma does have popular wine labels such as Francis Ford Coppola and Jordan.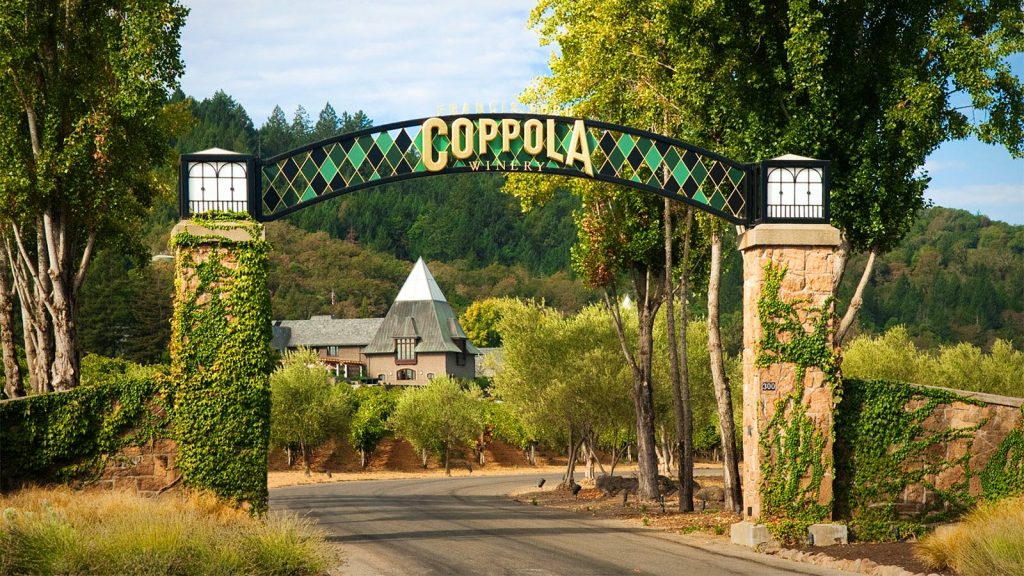 Nearly all of Napa Valley wineries require advanced reservations, whereas in Sonoma (although you'll find advanced reservations recommended), there are plenty of tasting rooms, like Coppola, where walk-ins are welcome. Napa Valley wineries are definitely more crowded than in Sonoma so expect lines and packed parking lots. 
Wine Tastings Available In Napa vs Sonoma
Overall Napa Valley has more luxurious tasting experiences. Many big corporations and wealthy individuals own wineries in Napa and just visiting a winery is an experience in itself that can be quite decadent — think plenty of cave tours, personalized seated tastings and lavish art collections to gush over. 
Sonoma has smaller, boutique wineries where most of them are family owned and run — think wineries located on family farms and acred property. Prices also reflect this too. Basic tastings in Napa can run upwards of $75-$100 where as Sonoma is in the $25 range.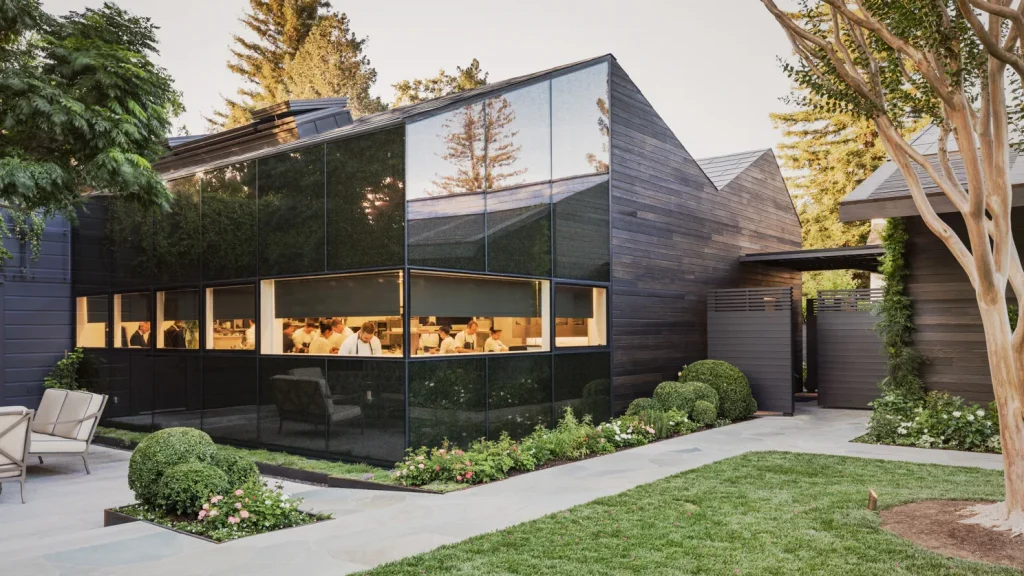 Napa Valley has some of the world's most famous restaurants including The French Laundry and Bouchon. Sonoma also has quality restaurants serving the best in California wine country cuisine on a smaller lesser-known scale, but also some high profile restaurants like The Girl & The Fig and the Michelin-starred SingleThread. There are also more picnic areas in Sonoma, whereas Napa Valley has restrictions on picnic areas with fewer of them.
In Napa Valley, you'll find hotels and resorts in the five-star family as well as diamond resorts like Auberge de Soleil and Meadowood. There are plenty of bed & breakfasts in Napa too, as well as small boutique hotels. In Sonoma, you'll find more affordable accommodations from well-known chains like Best Western and Hampton Inn & Suites.
Is Napa Or Sonoma More Expensive?
Champagne Taste
Napa definitely costs more than Sonoma, but you are paying for top shelf wine labels and experiences at luxury wineries. Some wine tasting experiences in Napa can run you upwards of $1,000 (you'll be cruising in a limousine!).
You can also choose to sip wine on a luxury vintage train via the famous Napa Valley Wine Train. 
Beer Budget 
Sonoma is slowly catching up to Napa as far as costs. What you don't spend in money wine tasting you'll probably spend at the pump filling up your car as you drive from winery to winery which can be very far apart.
You can get the Sonoma Passport or the Sonoma Tasting Pass where you can enjoy free wine tastings at exclusive wineries for a low flat rate. The Covet Pass is a pass for both Napa and Sonoma if you have time to do both on your next trip (the pass is good for 365 days). 
Napa Valley and Sonoma are not too different from each other. These wine country neighbors have a lot in common including great places to wine and dine.
Overall, if you're looking for a more high-end experience, full of Cabernet Sauvignon, and luxury wine tastings then head to Napa Valley.
If you're privy to a more a casual tasting experience, talking shop with the owners, sipping on Pinot Noir, and don't mind driving far distance, then Sonoma should be your next wine destination. 
Author: Tiffany Carter
Tiffany is a contributing writer to Armchair Sommelier. When she isn't writing about wine, the California native is touring local wineries (Hello Napa and Paso!) and filling her glass across the globe (Ciao, Tuscany!). She loves a full-bodied cab, but she plays favorites when it comes to a spicy Zinfandel or juicy Malbec. Her fridge is stocked with a bottle of sparkling rosé for emergencies. Hint: there's always an emergency. You can follow Tiffany @winetastetravel.
Taste Wine Like A True Armchair Sommelier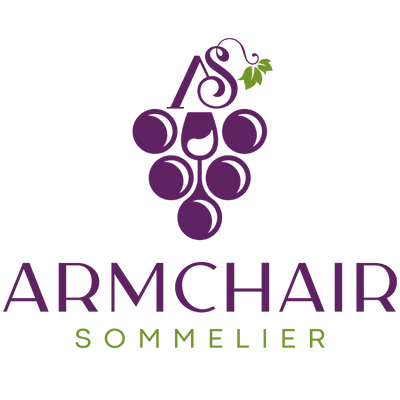 Spice up your next party with our FREE wine tasting guide! Learn what to look, smell, and taste for while appreciating your favorite bottle. We've also included a printable tasting notes template and a tasting wheel.