Ultimate Guide To The catalonia wine region
Planning a trip to the Catalonia wine region? Whether you're planning a trip or going in your mind, we've got you covered with our 2023 guide to the 10 Catalonia wine regions and how to travel from region to region.
We'll talk wine (obvi), where to stay, what to do and give you some delicious tasting notes by DO (Denominació d'Origen) and there will certainly be a buyer's guide.
Get inspired and excited for your trip and have wine shipped straight to your door. Just in time for your at home weekend in Spain.
Another one of my Carpe Vinum girlfriends is dusting off her passport — she's headed to Barcelona, Spain next month. So, the theme for Carpe Vinum this month is (you guessed it) The Wines of Catalonia.
Carpe Vinum is the super casual wine dinner club that I belong to. If you're interested in starting your own, check out our guide on how to plan a wine tasting at home in less than 30 minutes.
Table Of Contents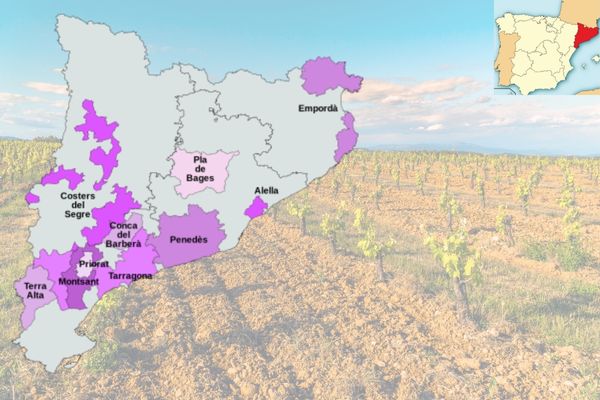 George Orwell published a book called Homage to Catalonia in 1938.
The book details his experiences in Spain during the Spanish Civil War.
It's difficult to imagine any experience in Spain without wine, and wine makes frequent cameos in the book.
Orwell's description of his encounter with a Spanish porrón is greatly amusing (at least to me):
"[We] drank out of a dreadful thing called a porrón. A porrón is a sort of glass bottle with a pointed spout from which a thin jet of wine spurts out whenever you tip it up; you can thus drink from a distance, without touching it with your lips, and it can be passed from hand to hand. I went on strike and demanded a drinking cup as soon as I saw a porrón in use. To my eye the things were altogether too like bed-bottles, especially when they were filled with white wine."

~George Orwell: Homage To Catalonia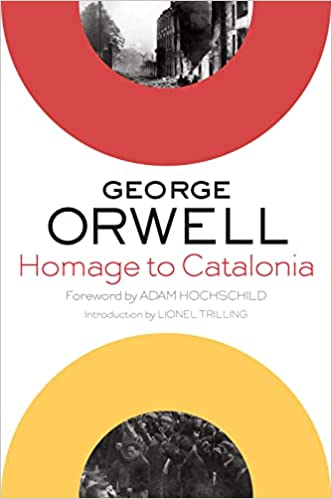 Seriously, I'm in love with this book. There's a reason it's a #1 Bestseller. And, it's cheap as chips for $10.
Anyhow…
The potential for a hilarious mishap with a porrón is significant. I really hope my girlfriend has at least one swig of wine from a porrón while she's in Barcelona.
And I hope she Instagrams the hell out of it!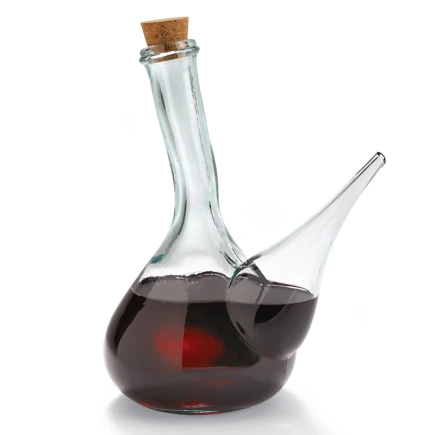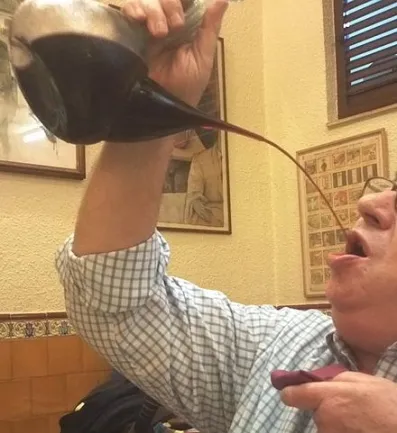 A History Of Catalonia Wine Region
In case you need a refresher . . . Catalonia is an autonomous wine region in northeastern Spain.
Though not independent, Catalonia has its own flag and its own language (Catalan).
It's worth noting that Catalan is distinct — it's not a dialect of Spanish. Catalonia has experienced varying degrees of autonomy throughout its history.
After the War of Spanish Succession (a pretty big yawn in World History textbooks), Catalonia lost its sovereignty.
And then it got worse — Catalonia found itself on the losing side of the Spanish Civil War (1936-39). As a result, Catalonian culture and language were all but crushed during the reign of Ferdinand Franco (1939-75).
Under Franco, it was illegal to use the Catalan, although it was still spoken (softly) in private homes.
When Franco died in 1975, a democratic constitution for Spain recognized Catalonia's autonomy and language.
Today, calls for Catalonian independence are back on the table in a big way — change is in the wind.
Circle back to Orwell. My favorite quote of the book is this observation: "For some reason, all the best matadors were Fascists."
It just makes me laugh . . . and suspect that Franco was a closet matador.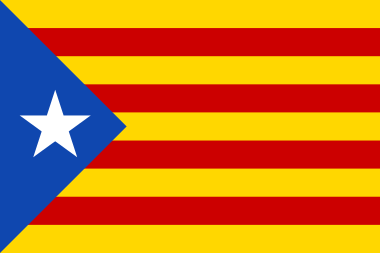 Catalonia Winemaking
Winemaking isn't new to Catalonia — wines have been made in Catalonia for thousands of years.
Catalonia has absorbed the influence of numerous cultures throughout its history, and wine has either ebbed or flowed in tandem.
Archaeological evidence suggests that the Phoenicians introduced winemaking to the region several hundred years before the Romans arrived there.
Catalonia wine flourished under the Romans, vines were neglected under the Moors, and the Christians shepherded a vineyard resurgence during the Middle Ages.
Incidentally, El Generalísimo was no friend to wine. During his reign, a lot of vineyards and grapes were neglected or uprooted altogether.
The theme in modern Catalonian winemaking is resurgence. Since the 1980s, Spanish wineries have been making a push to modernize.
And with modernization came cutting-edge wine making equipment, and an influx of young, motivated, well-educated wine makers — who are just beginning to put Catalonia wine on the world's wine map.
Climate Of The Catalonia Wine Region
Catalonia has a varied climate — dry and arid inland, but Mediterranean on the coast.
These climatic differences give the vineyards of the Catalonia wine region a huge portfolio of grapes, and an equally diverse range of wine styles.
Because of the area's proximity to France (just on the other side of the Pyrennes Mountains), Catalonia Cava is heavily influenced by Champagne, and still red wines are heavily influenced by French Rousillon.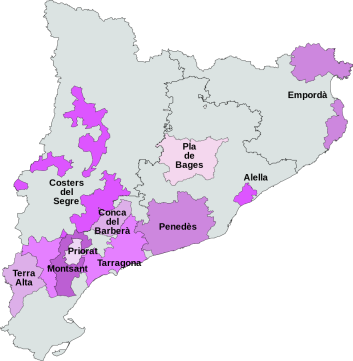 Important Catalonia White Grapes
Macabeo
Parellada
Xarel-lo (mostly for Cava)
Important Catalonia Red Grapes
Garnacha
Cariñena
Monastrell
Tempranillo
Where To Stay In The Catalonia Wine Region
There are loads of hotels and charming inns, in the Catalonia wine region. If you're interested in nightlife and making day trips in the wine regions you'll want to stay downtown Barcelona.
While you're in town your schedule is no doubt going to be packed with wine tastings and visits to the most amazing tapas bars.
Need to fill in some gaps in your itinerary on a tight budget? Check out these suggestions for some free things to do in Barcelona.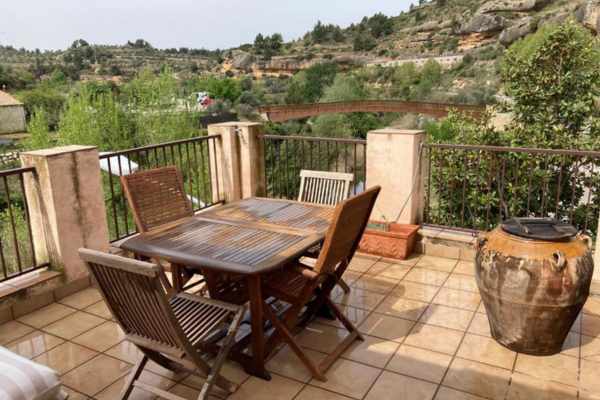 If you are looking at staying in any of the other wine regions, you're sure to find something to suit your style. Whether it's a sleepy villa (near Montsant) or lively beach resorts, you're covered.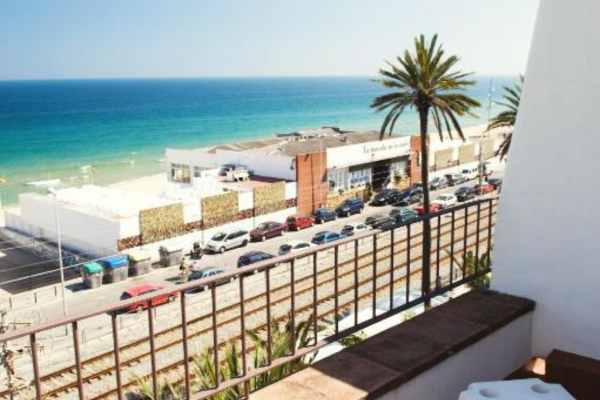 Map Of Catalonia Wine Regions
How To Get Around The Catalonia Wine Region
Here's where it gets tricky. Unless you're booking a tour, you will want to rent a car to travel around the region. But it must be compact. Think… Fiat-two-door compact.
Wine Tours In Catalonia
Learn to make Paella with bottomless wine (YES!)
Have wine and tapas with locals. This tour is a must do. You will get the opportunity to pick their brains about what else to do and see while you're in the region. Yes, most experiences are provided by locals, but this experience calls out the fact that they are local which means questions are encouraged.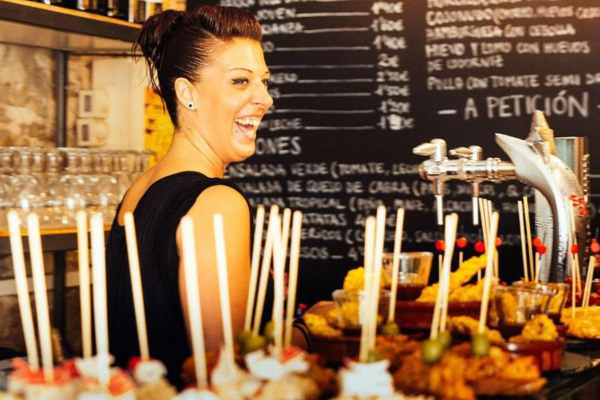 Venture into the countryside on this full day visit to Montserrat. A true Catalan multi-course lunch is provided and you'll get to tour a wine cellar with wine tasting. This is what you came for!
The 10 DO of the Catalonia Wine Region
Catalonia is home to 10 Denominació d'Origen (DO) regions, and 1 Denominació d'Origen Qualificada (DOQ) region — the Priorat:
Arguably, the most well-known wine in Catalonia is Cava, Spain's traditional-method sparkling wine.
And I love Cava! It's clean, crisp and deliciously cheap.
Don't get me wrong — I heart Champagne, but my wallet hearts Cava.
Penedès
Here's something important to know: Cava isn't a region — it's a style.
The name Catalonia Cava, or just Cava, doesn't derive from a place or a grape name.
Cava refers to the stone caves where the wines are aged. There are roughly 160 areas that are authorized to make sparkling wine and call it Cava, and most of them are located in the Penedès wine region of Catalonia.
Penedès was a pioneer in the modernization of Spanish wine, it was the first to use temperature controlled steel fermentation tanks.
The three classic grapes for making Cava are:
Macabeo — Usually the bulk of a Cava blend because the grape buds late, which insures against early frost damage. It's floral with honey and grapefruit flavors.
Xarel-lo — Xarel-lo is high in the antioxidant resveratrol. So, grab a bottle of Cava and drink up. You know, for medicinal purposes. Xarel-lo also lends Cava some earthy flavors that help distinguish it from French Champagne.
Parellada — Native to Catalonia, it grows almost nowhere else in the world. High in acidity, with green apple and citrus flavors.
Chardonnay, Pinot Noir, Garnacha, and Monastrell are also permitted in Cava — the last two are used especially for making Rosé Cava.
Priorat
Priorat is one of two DOC regions in Spain (the other is Rioja).
Garnacha is the primary grape of Priorat, followed closely by Cariñena.
Some Cabernet Sauvignon and Merlot are also used.
The name Priorat originates in the 12th century, when Carthusian monks planted a vineyard and started a priory in that location.
At the end of the 19th century, Phylloxera devastated vineyards in Priorat, and vineyards weren't replanted until the 1950s. The soil in Priorat is a somewhat unusual blend of quartz and slate called llicorella.
Vines grow on steep terraces and are harvested mostly by hand. Priorat wines are fairly high in alcohol, usually between 13-18%.
Alella
Located on the Mediterranean coast near Barcelona, this region makes mostly white wines.
The main grape here is Pansa Blanca, a local pseudonym for Xarel-lo. Red wines here are mostly Ull de Llebre, the Catalan name for Tempranillo.
Catalunya
Created in 1999, the Catalunya DO is a blanket appellation that applies to all the other little regions in the Catalonia wine region that don't have a DO or DOQ status.
Conca de Barberà
The focus in this region is on growing grapes for Cava production. Although, some Rosado is made from the local Trepat grape.
Costers del Segre
This is Catalonia's most inland wine region. A great many vineyards weren't replanted after the phylloxera epidemic, shifting focus to olive groves instead.
The main grapes here are Cabernet Sauvignon, Chardonnay, Macabeo, Merlot, Parellada, Pinot Noir and Tempranillo.
Emporda
This region borders the French Roussillon. The main grapes are Grenache and Carignan. Lots of Rosado is made here.
Montsant
This region is starting to gain international recognition for its still red wines, which are distinguished by older Garnacha and Cariñena grapevines.
Pla de Bages
The town was originally named Bacassis, after Bacchus, the Roman God of Wine. It evolved over time to Pla de Bages, or Plain of Bacchus.
The region is most known for its crisp, dry whites, but increasingly, international grapes like Cabernet Sauvignon and Merlot are taking root.
Tarragona
Most of the grapes here are used for Cava production. The region also produces some sweet, port style wines, which end up as communion wines for churches.
Terra Alta
This is the southernmost wine region in Catalonia, and also the region with the highest altitude (this makes sense, because Terra Alta translates to highlands).
During the Middle Ages, the Knights Templar are said to have tended grapevines here.
Terra Alta is known for Garnacha Blanca wines.
Want to bring your favorite Spanish wine home with you?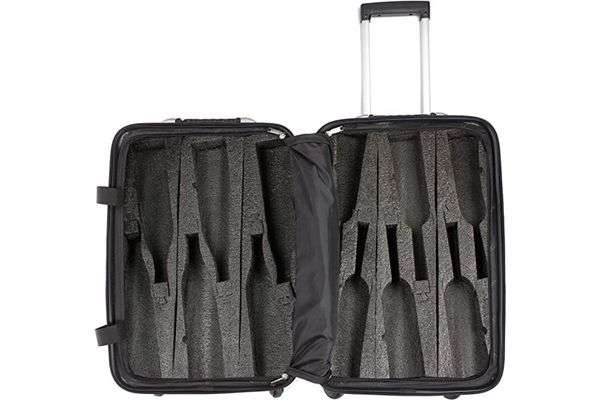 We recommend the VinGardeValise 12 bottle wine suitcase. There are a couple ways you can use this suitcase. One is, when you come home you only pack half the suitcase with wine and the other side clothes; or, what we do is bring a duffle bag to carry our clothes home. You can still check a duffle bag home btw, you don't have to schlep it around for all four connections.
Pro tip: you can also use the duffle bag to drop off your clothes to be laundered if you're doing an extended trip. Multiple uses for one duffle bag.
Catalonia Wine Buyer's Guide
Catalonia Wine FAQ
What wine is Catalonia known for?
The most traditional and popular wines of the region include Cava, a fresh style sparkling wine, dry white wines and powerful reds, known as "black" wine or vi Negre in Catalan.
How many wine regions are there in Catalonia?
The Catalonia wine region is home to 10 Denominació d'Origen (DO) regions, and 1 Denominació d'Origen Qualificada (DOQ) region — the Priorat: Arguably, the most well-known wine in Catalonia is Cava, Spain's traditional-method sparkling wine.  And I love Cava!  It's clean, crisp and deliciously cheap.  
What is the most popular wine in Spain?
Rioja, Tempranillo and Cava are among the most famous of all Spanish wines. And the best part is, aside from them being delicious, is that they're incredibly affordable.
What is the famous wine of Barcelona?
The Catalonia wine region closest to Barcelona is Alella. This region mostly produces white wine. However, Penedès wines are among the most popular wines to order in Barcelona among locals due to their variety.