The Best Finger Lakes Riesling: Reviews, Tasting Notes, And Buyers Guide
Finger Lakes Riesling is the most well known wine from the Finger Lakes wine region. How does is compare to German Riesling? Check out our tasting notes and buyers guide to find out.
The Finger Lakes are in New York. The area is 14 counties between Lake Ontario to the north and Pennsylvania to the south. 
There are a total of eleven "fingers" in the Finger Lakes.  According to Native American lore, the Finger Lakes were created when The Great Spirit imprinted his hand into the land.  Apparently, The Great Spirit had a few extra digits.
The Finger Lakes is a wine region on the rise. Not so long ago, the Finger Lakes would have been considered an under the radar wine region, but it's squarely on the radar now.  
The Finger Lakes region has attracted the attention of Paul Hobbs (California winemaker extraordinaire — Forbes Magazine called him "the Steve Jobs of wine") and Germany's Johannes Selbach (from Mosel Valley's Selbach-Oster).
They purchased a vineyard on the southeastern side of Seneca Lake.  Hobbs said it'll take them three years to plant.  Wanna guess what they're planting?  Riesling.
The Finger Lakes was the site of the 2015 Wine Bloggers Conference, and the destination for my next wine vacation.  
The Finger Lakes and Riesling are joined at the hip, and I was super excited to taste a few bottles of Finger Lakes Riesling in advance of my trip.  I like to think of it as research.  
But before I tasted, I needed to dust the cobwebs off the Finger Lakes wine section of my brain. 
The Finger Lakes wine region in New York is often compared with the Rhine region of Germany. 
Both regions benefit from the moderating influence of water — the Rhine River in Germany, and the Cayuga, Seneca, Keuka and Canandaigua Lakes in New York.  And, in both regions, Riesling Rules.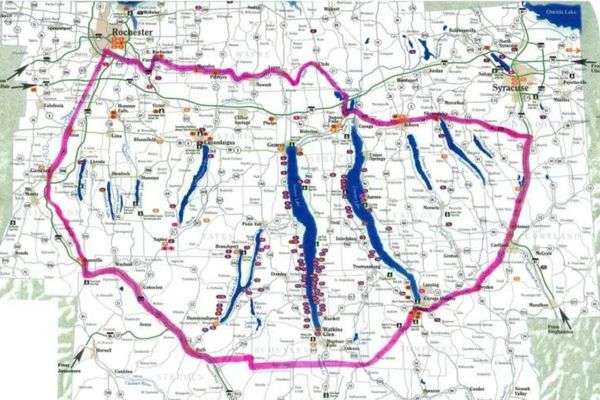 Prior to the 1960s, almost all of the grapes grown in the Finger Lakes wine region were Vitis lambrusca (native grapes like Niagara and Concord) or hybrids – not the European vinifera grapes needed to produce fine wines. 
Vitis vinifera grapes had been nearly impossible to grow in the eastern United States because they couldn't survive the harsh winters and brutal summers — and they had little resistance to vineyard pests & diseases found in the US.
Enter Ukrainian viticulturist, Dr. Frank Konstantin.  Konstantin is responsible for introducing vinifera grapes to the Finger Lakes region in the 1960s.  
Konstantin had experience growing vinifera grapes in the brutal cold of the Soviet Union, so he was convinced he could do it here, too.  He found success by grafting traditional vinifera varieties onto hardy native American rootstock.
The Finger Lakes wine region was just starting to take off in the early 20th century when Prohibition happened.
Prohibition wiped out most of the wineries in the Finger Lakes.  As Finger Lakes wineries slowly recovered from Prohibition, the Finger Lakes Riesling became the most successful vinifera grape variety.
Thanks to the Finger Lakes Wine Alliance there are over 9,000 acres of grapes planted in the Finger Lakes.  Of those, around 80% are still planted to native or hybrid grapes.  
That leaves roughly 20% planted to vinifera varieties. And of the vinifera varieties planted, Riesling accounts for 46(ish)%.
Riesling rules.
I love Riesling — especially a bone dry, mouth-puckering, acid-bomb of a Riesling.  There's just something about the way a dry Riesling showcases the purity of the fruit.  More and more Riesling producers are using the IRF (International Riesling Foundation) Scale on the backs of their bottles.  
The position of the arrow is determined by the winery, and helps consumers decide how dry or sweet a particular bottle of Riesling will be.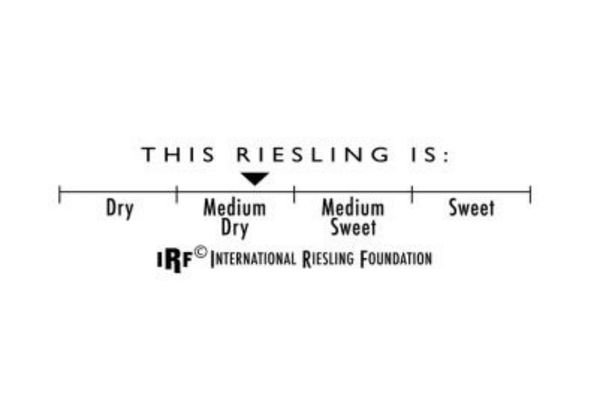 Drink any wine, any time, without ever pulling the cork. Whether you want a sip, a glass, or more, your last glass will taste just as amazing as your first.
Finger Lakes Riesling Tasting Notes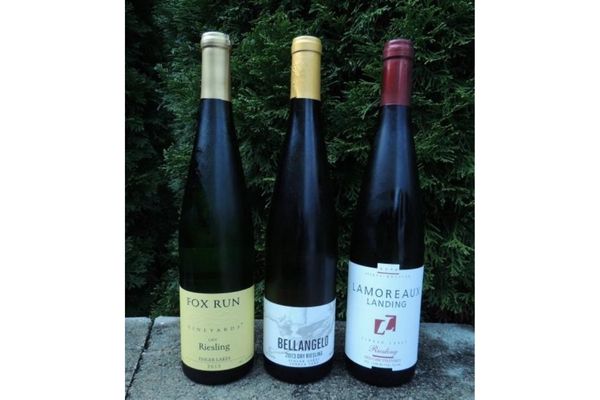 Bellangelo Finger Lakes Dry Riesling 2013 /87 points
Seneca Lake.  100% Riesling, from three different vineyards (Gibson, Morris and Tuller).  Aged in 93% stainless steel and 7% neutral oak.  There's such a freshness to this wine.  Bellangelo labeled this Dry on the IRF scale, and Dry it is!  Yay!!  Wet minerals, and flavors of green apple & lime.  A snappy acid beauty that needs a food partner.  My mouth is watering just thinking of the possibilities.
Fox Run Vineyards Finger Lakes Dry Riesling 2013 /86 points
Seneca Lake.  100% Riesling, harvested from three different Riesling blocks.  (Fox Run has 50 acres of grapes, 19 of which are planted to Riesling).  0.7% residual sugar, so Fox Run labels it right on the line between Dry and Medium-Dry on the Riesling scale.  Wet rocks on the nose, which always makes me a happy girl.  Medium body with citrus and stone fruit flavors.  Great acidity.  And just like that, I'm craving tuna tartare.
Lamoreaux Landing Red Oak Vineyard Finger Lakes Riesling 2013 /85 points
Seneca Lake.  Lamoreaux Landing has 100 acres of vines, with 20 separate vineyard blocks. 100% Riesling.  Single vineyard.  This Riesling is labeled Medium-Dry on the Riesling scale. Fermented in stainless steel.  More tropical and lush than the Fox Run and Bellangelo, with flavors of pear and pineapple.  And maybe a jicama.  Floral undertones.  Nicely balanced.  The touch of sweetness would make this killer with any spicy Thai food.
This summer, I have a feeling I'm going to run out of time before I run out of Finger Lakes wineries to visit.  But for sure, I will be setting my GPS for these three great Riesling producers.
Finger Lakes Riesling To Buy Now
Finger Lakes Riesling FAQ
The focus of the Finger Lakes Wine Region is the area's cool climate wines, like Riesling and Gewurztraminer.  But the region is also known for its red varieties such as Pinot Noir, Cabernet Franc, and Merlot, as well as other popular white varieties such as Chardonnay and Pinot Gris.
When we think of Finger Lakes wines, Riesling and Cabernet Franc can be considered the most well known grapes of the region since they can tell you a lot about the winemaker's individual approach to production, which Riesling is famous for.
Taste Wine Like A True Armchair Sommelier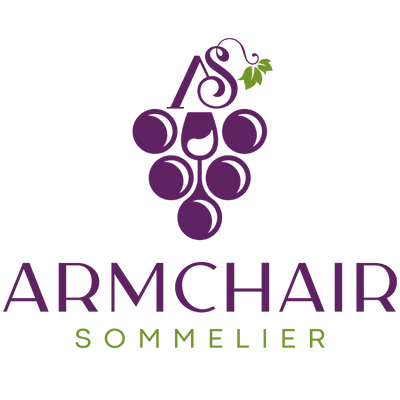 Spice up your next party with our FREE wine tasting guide! Learn what to look, smell, and taste for while appreciating your favorite bottle. We've also included a printable tasting notes template and a tasting wheel.