The Ultimate Guide to The Top 5 hungarian wine regions: Where To stay, what to do, how to get around
Down and dirty guide to Hungary's most famous wine regions. Learn how to travel around Hungary's wine regions, decode a Hungarian wine label, plus top rated Hungarian wine you should try now.
Hungarian Wine: What A Bor!
No, I did not just slight the viticultural traditions of an entire nation — the Hungarian word for wine is Bor. And Hungarian wines are anything but boring.
A couple of weeks ago, I participated in a Hungarian wine chat.
Several wine bloggers came together to discuss their impressions from the evening.
Why Should We Care About Hungarian Wine?
Because wine is a passport to the world. As wise Saint Augustine once said, "The world is a book, and those who do not travel read only one page."
As a wine lover, I don't want to read just Merlot or Chardonnay in perpetuity. I want to read new pages . . . and Hungary is a new page.
Hungary's Brief Wine Story
Hungary is famous for its decadent Tokaj wines. But beyond that (unless you're having dinner with Robert Parker and his merry band of wine critics), if you asked ordinary folks what they know about Hungarian wine, you'd probably get crickets.
Hungarian wine is definitely a niche — you have to seek it out. And seek you should.
The story of Hungarian wine mirrors a great many stories of European wine.
Wine begins and flourishes under the Romans
Comes close to ruin under 16th century Islamic Rule
Comes closer to ruin with the phylloxera epidemic in the late 1800s
Faces ruin yet again under Communism (which wiped out almost any shred of viticultural uniqueness in favor of mass production)
And finally . . . rebuilding, with an emphasis on shepherding the indigenous grapes to have their Phoenix moment and rise from the ashes of socialist farming.
Hungarian Trivia: The Hungarian language is known as Magyar.
It probably came from the Huns (you remember the Huns — the warlike nomads who terrorized much of Europe and Asia in the 3rd – 5th centuries), and is related to Finnish and Estonian.
Hungary has a rich folk tradition, evident in their national dress, embroidery and paintings.
Hungarian Wine Regions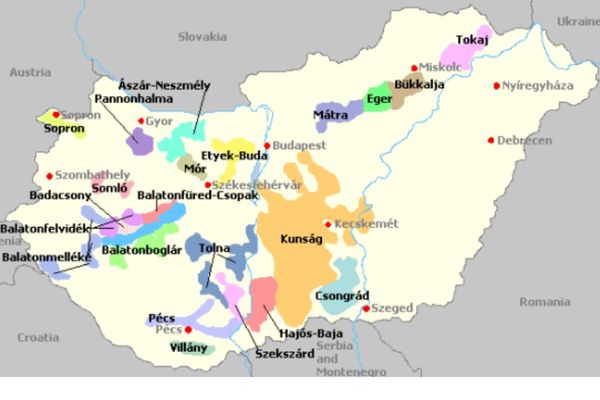 Wine has been made in Hungary since the days of Bacchus, and Hungary boasts 22 different wine regions.
There are 31 PDO (Protected Designation of Origin) areas in Hungary (which is the highest level) and 6 PGI (Protected Geographical Indication) areas.
All 22 Hungarian wine regions have PDO status. The reason there are more PDOs than wine regions is because some of them are the designated sub regions.
Where To Stay Around The Top Hungarian Wine Regions
Map Of hungarian wine region
Things To do around the hungarian wine region
If you're staying in or close by Budapest you can take a tour to Tokaj.
If you're looking for something a bit more culinary inspired this food and wine walk in Budapest is much loved.
Where to stay in the hungarian wine region
Tokaj is definitely worth an overnight stay. Tokaj is an UNESCO world Heritage Site but it's not just a place to sip wine. If you book a stay at Andrássy Kúria & Spa you can, you guessed it, relax in their incredible spa.
We suggest starting your Hungarian wine tour in Budapest, head west first and then end in Tokaj for some R&R. You had us at bathing grotto.
You can plan 3-4 days to take the entire trip to the top 5 wine regions in Hungary. Hungary is an incredibly beautiful country. But 6 days in Hungary would be, chef's kiss.
You should 100% rent a car.
Things to do in hungary That don't involve wine (Gasp!)
Obviously you're planning to taste wine in Hungary but if you're looking for other things to do that don't involve wine, we've got you.
Somló isn't only for wine tasting. Something to do in Somló that doesn't involve wine is hiking to the Somló Castle Ruins. A stay at NemCsuri Vendegház will have you feeling well rested and excited to take on your 3hr drive to Szekszárd.
Have you ever thought about taking a hot air balloon ride in Szekszárd? It's $135USD per person. Have you only budgeted for your wine tour in Hungary? That's okay! Hanging out in Szekszárd's old town center offers plenty of sites to be seen without wine. Inside the courtyard of the white neoclassic building are the remains of an 11th-century Benedictine monastery. The wine fountain you'll see is dedicated to Bacchus.
Next stop on your Hungarian wine region tour is is Villány. Villány is a short 1 hr drive from Szekszárd. If you leave Szekszárd in the morning, you can hit Villány and be on your way to Eger. In Villány make sure to stop at SAUSKA for a tasting (ok this stop does involve wine) be sure to drink water and have lunch before making your trek to Eger. Just know that Eger is about 3.5 hr drive from Villány.
There are some really gorgeous places to stay in Eger. Take a private tour with a local around the city (and taste some wine) but also experience the rich culture.
Want to bring your hungarian wine home with you?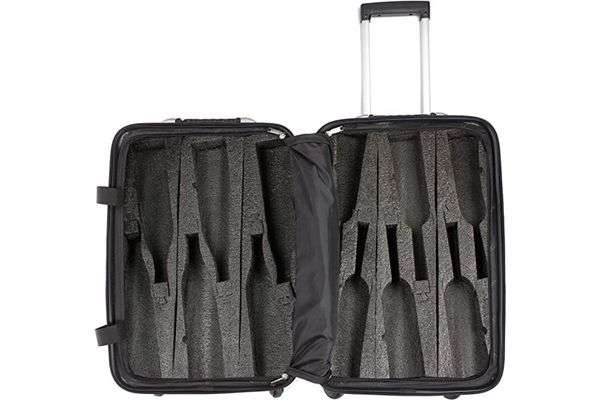 We recommend the VinGardeValise 12 bottle wine suitcase. There are a couple ways you can use this suitcase. One is, when you come home you only pack half the suitcase with wine and the other side clothes; or, what we do is bring a duffle bag to carry our clothes home. You can still check a duffle bag home btw, you don't have to schlep it around for all four connections.
Pro tip: you can also use the duffle bag to drop off your clothes to be laundered if you're doing an extended trip. Multiple uses for one duffle bag.
Top 5 Hungarian Wine Regions
Hungarian Wine Region- Szekszárd
Szekszárd is located in southern Hungary, just north of Villány. Both are premier red wine regions of about the same size.
But Szekszárd has a much lower profile than Villány. Viticulture here dates back to Roman times.
Szekszárd is known for its gorgeous landscape of vineyard-filled valleys.
The best Szekszárdi Bikavérs are high acid with full-body. Yum-O!
Kékfrankos and Kadarka are the grapes that Szekszárd is most known for, but there are also Merlot, Cabernet Sauvignon, and Cabernet Franc.
Eszterbauer "Nagyapám" Kadarka Szekszárd 2011 /86 points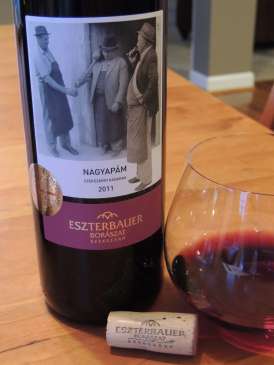 Hungarian Wine Label Decoding
Eszterbauer is the name of the winery — the Eszterbauer Family emigrated to Hungary from Bavaria in 1746.
Nagyapám means grandfather in Hungarian.
Kadarka is the grape, which is indigenous to Hungary.
Szekszárd is the name of the wine region. I love the 1930s black & white family photos on the wine label — what a great nod to family and history.
This wine is supposed to be served with a slight chill, so I threw the bottle into the fridge for half an hour before the tasting. Slight in color, very clear in the glass. There's a smokiness on the nose — not unpleasant, though. And the flavor? Won't you take me to…Funkytown??
Kadarka has some of peppery funk on it, but it's a fresh funk. Light-bodied, it's juicy and edgy at the same time. A beautiful expression of terroir! 13.5% ABV
I tried the Kadarka again on Day 2, and it went from Clark Kent to Superman!
Richness and character abound.
Be sure to decant this one before drinking!
Hungary is famous for its paprika — and it's national dish is Goulash (pronounced Gooyash), a cross between soup and stew. And I wish I'd thought to make some so I could enjoy it with this wine!
Hungarian Wine Trivia: Hungary's second most famous wine (behind Tokaji) is probably Bull's Blood of Eger, or Egri Bikavér.
According to legend, in the 16th century, Turks laid siege to the Castle of Eger.
Frightened villagers sustained Hungarian troops with red wine from their vineyards, and the Hungarian troops fought courageously and tirelessly — eventually beating back the Turkish army.
Rumors circulated that the wine the Hungarian troops drank was mixed with bulls' blood to give the soldiers strength.
Eger was saved, Bulls Blood wine was born. I got the impression during the chat that Bull's Blood is sort of a schtick wine, but I still want to try it.
Hungarian Wine Region- Tokaj
The dessert wines of Tokaj are legendary. Furmint is the most important grape used in the production of Tokaji, but Furmint is also used to produce dry white wines.
Bodrog Bormühely Lapis Furmint 2011 /85 points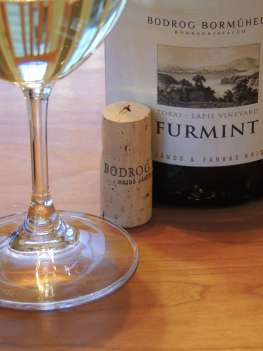 Hungarian Wine Label Decoding
Bodrog is a river in northeastern Hungary that converges with the Tisza River in the town of Tokaj. Anytime I see the word river associated with wine, I immediately think microclimate.
Bormühely translates to wine workshop. They're basically hand-picking the Furmint grapes that haven't been affected with botrytis.
Lapis is the name of the vineyard.
Furmint is the grape used in this wine.
Tokaj is the region.
100% Furmint. There's a sweetness on the nose of this wine — almost mandeln-like, but this is a bone dry wine. You'll think I'm nuts, but the sweetness reminds me of root beer (call it sassafras).
The oak aging is apparent, lending a creaminess to the texture of the wine. 13% ABV
On Day 2, the creaminess is even more intense, the finish longer, and the mineral notes much more apparent. This is a wine that craves time.
pro tip: decant this wine
Hungarian wine trivia: The Tokaj region and its famous wine sit on the highest of pedestals in Hungary. So much so, the Hungarian national anthem thanks God for dripping the sweet nectar of Tokaji into the region.
Hungarian Wine Region- Somló
Somló is one of the country's smallest wine regions. What it lacks in size, it makes up for in its interestingly unique and powerful wines.
Somló is located in northwestern Hungary, just north of Lake Balaton. It's known for dramatic landscape and mineral-rich terroir.
Fekete Béla Olaszrizling, Somló 2011 /84 points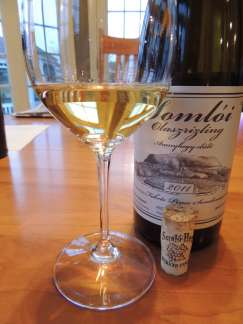 Hungarian Wine Label Decoding
Fekete is the name of the winemaker (Fekete Béla).
Olasrizling is the name of the grape. Olasrizling has several aliases — Graševina (Croatia), Welchriesling (Germany), Riesling Italico (Italy) and Laški rifling (Slovenia).
Somló is the wine region (the smallest wine region in Hungary and sitting on what used to be an underwater volcano).
100% Olaszrizling. The Fekete is a glass of minerals – the nose reminds me of a bottle of multi-vitamins. There's a lemon-sherry quality to it, as well. And even some saltiness.
Very strong finish of white pepper. Interesting.
Day 2: I'm getting a buttered vegetable note, maybe green peppers. The finish is a little chemical now. Huh. This wine is supposedly best after 2-3 years of aging — I would love to revisit this wine with some age on it. 14.5% ABV
Hungarian trivia: Did you know the Rubik's Cube was invented by a Hungarian engineer named Ernő Rubik? I never could solve more than two sides of that confounded cube!
Hungarian Wine Region- Villány
Villány is a warm region in the southernmost tip of Hungary (south of Szekszárd), famous for its bright red wines. It is 140 miles south of Budapest, near Hungary's border with Croatia, and only about 340 miles from the Adriatic Sea.
The sub-Mediterranean climate and volcanic soils are ideal for making wine.
The wines are well structured and elegant, with good tannins and a balance of fruit and earth.
Villány is most known for Portugesier and Kékfrankos. Grapes also grown here are Cabernet Franc, Cabernet Sauvignon, Merlot.
Cab Franc is the new "Diamond" of Villány.
The grape is widely planted in the region and can result in polished, velvety wines that burst with new world fruit but are rounded out by an old world earthiness.
Sauska Villany Cabernet Franc 2011 93 points
100% Cabernet Franc from Makár vineyards. The wines aged for 18 months in French oak barrels (2/3 used and 1/3 new).
Garnet red of good depth. Nose of blackcurrant, mint, chocolate, cinnamon, liquorice.
The palate is wonderfully balanced and structured, smooth with delicate and refined tannins.
This wine has class, depth and wonderful blackcurrant finish.
Day 2: we drank it all on day 1…
Out of stock on Vivino and Wine.com

Find A Similar Wine on Wine.com

Hungarian Wine Region- Eger
The Hungarian wine region of Eger is the northernmost red wine producing region, located in northeastern Hungary in the foothills of the Bükk mountains (about an hour-and-a-half drive from Budapest).
Hungary's most historic wine region, the charming city center of Eger, a castle (which is associated with the legend of Bull's Blood), and remnants from the period of Ottoman occupation.
The wine most associated with this region is the Egri Bikavér ("Bull's Blood") blend, which brought the region fame.
But the mass-produced Bikavérs produced under Communism also brought the region shame, and greatly damaged its reputation.
There are great high-quality wines coming from Eger these days, but the region still struggles to overcome its image problem.
Egri Bikavér is a fruity and spicy blend.
Out of stock on Wine.com.
pro tip: stay away from cheap Bikavér! There are still mass-produced Bikavérs, relics of the communist system, and they leave a lot to be desired.
Can't tell the difference? Ask your local wine shop for help.
Hungarian Wine FAQ
What is famous Hungarian wine?
Hungary's most famous wine is undoubtably Tokaji. The dessert wines of Tokaj are legendary.  Furmint is the most important grape used in the production of Tokaji, but Furmint is also used to produce dry white wines.
Are Hungarian wines any good?
Hungary's wine industry has been around for centuries and is known for being some of the best in Europe. You will enjoy all five Hungarian wines listed above, each having their own distinct flavors and originating in the top wine regions in Hungary.
What is a sweet Hungarian wine called?
Sweet wine is known as Aszú. This is the world-famous sweet, topaz-colored wine known throughout the English-speaking world as Tokaj. The Aszú wines show great structure, plenty of botrytis, depth and freshness with excellent complexity, all attributes of long ageing potential.
Is Hungary known for its wine?
Hungary has the best-known winemaking culture of the countries formerly located in Europe's Eastern Bloc. Its wine history predates the Roman Empire, and the country's most famous wine, Tokaji, first mentioned in the late 1400s, was adored for centuries by kings and queens.