your guide to molon lave vineyards
Molon Lave Vineyards
10075 Lees Mill Rd
Warrenton, VA 20186
I'm visiting Molon Lave Vineyards in Warrenton, Virginia and there's one wine in particular I'm very interested in trying. Let's take a tour together.
Over the years, I've visited a lot of Virginia wineries.  I'm gradually revisiting favorites, not so favorites, and new wineries so I can share the experience. 
According to Virginiawine.org, there are over 300 wineries in Virginia. Visiting all of them is starting to sound like Mission Impossible. But I'll do my best.
Molon Lave Vineyards is owned and operated by the Papadopoulos Family — the same folks who own Mediterranean Cellars in Warrenton, Virginia.
It probably goes without saying that the Papadopoulos Family is Greek. You can't have that many vowels in your name and not be Greek.
Greeks are some of the most friendly and passionate people on the planet — and these folks are no exception.
What Does Molon Lave Mean?
Molon Lave is a Greek phrase that translates loosely to, "come and get them".
Here's the backstory: At the Battle of Thermopylae in 480BC, Greek forces (led by King Leonidas of Sparta) were wildly outnumbered by Persian invaders.
The Persian army demanded the Greek forces surrender their weapons. King Leonidas responded, "Molon Lave!" or "Come and get them!"
The Persian army did exactly that, crushing the Greeks, but not before the Greeks inflicted some serious damage on the Persian Army.
So the next time you're in the mood to be defiant, you know what to say.
Molon Lave Vineyards is a beautiful property, and they've done a lot to encourage outdoor picnics.
You can even have your wedding at Molon Lave.
There are two indoor tasting rooms at Molon Lave. There are a couple of tables in the main tasting room, and then an adjacent room has a few more round tables, and the most spectacular dining table I've ever seen.
It used to be a dining table at a monastery in Greece (center of the room).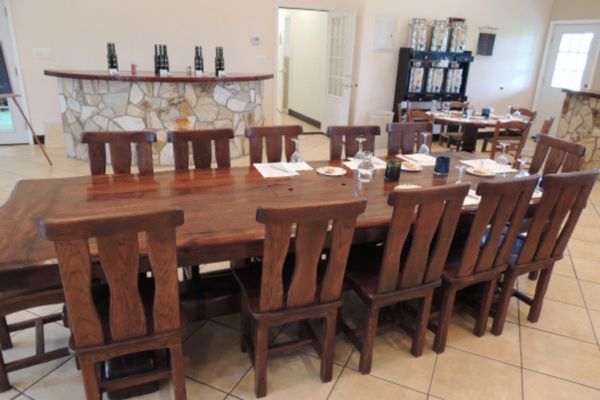 Just look at this table. THIS is a slab of wood. I offered up one of my kids as an indentured servant in exchange for the table, but they wouldn't let it go.
Hanging above the fireplace in the main tasting room is a print of the artwork that appears on a lot of the Molon Lave Vineyards wine labels.
We were told it's the artist's rendering of a spinning amphorae.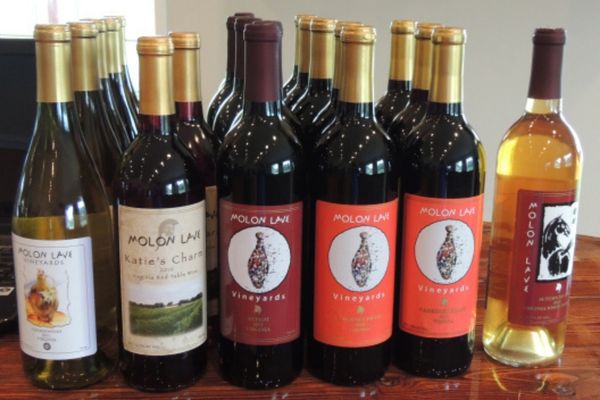 Molon Lave Vineyards Wine Tasting
Molon Lave currently has five acres of Cabernet Sauvignon, Merlot, Chardonnay, Viognier, Chambourcin,  Riesling, and Pinot Gris.  All of the grapes are sourced from vines planted on the property.  
I'm impressed — a total reflection of their little niche of terroir. And the people are really, really nice.
Molon Lave Vineyards Chardonnay
Aged 2/3 in oak and 1/3 in stainless steel. The nose is pretty benign.
Flavors are tart green apple, grapefruit and lemon. It seems a little out of balance — like a piano that needs to be tuned.
The finish is slightly bitter — no smoothness at all. And yet . . . this was the best wine of the tasting for me.
Drinkable, but ordinary.
Molon Lave Vinyards Autumn Nectar
This is a blend of Riesling, Pinot Gris and Viognier.  At 2.5% residual sugar, we were told this wine "straddles dessert and regular wine".  
That's another way of saying this wine can't decide whether it wants to be a dessert wine or a regular wine.
Simplistic and sweet, it lacks the complexity and balance to pull off "dessert wine". It was just flat for me.
Molon Lave Vineyards Katie's Charm
Easily the most compelling of the reds we tasted, Katie's Charm is 100% Chambourcin, fermented and aged completely in stainless steel.
I get loads of super sour cherry and a medicinal, metallic finish. Maybe it's one of those unusual, acquired tastes. Kinda like Norton.
Molon Lave Vineyards Merlot
Aged for 12 months in French oak. This is a thin, astringent wine.
Tastes like diluted cherry cough syrup, with a bell pepper chaser.
Molon Lave Vineyards Cabernet Franc
Aged for 12 months in American oak. An aggressive wine. Wildly out of balance.
The tannins need to chill the heck out.
This would pair nicely with a big slab of beef, I think.
Molon Lave Vineyards Kokineli
This is a softer, Rosé version of the traditional Greek white wine, Retsina.
Retsina is aged in pine tar vessels, which impart an intense pine flavor to the wines.
This was the wine I was most interested in tasting, but they were sold out of it. I even asked if they were sure they hadn't tucked a bottle or two under the bar . . . but no dice.
I guess I will have to wait until the release of the new vintage.
Molon Lave Vineyards Olive Oil Tasting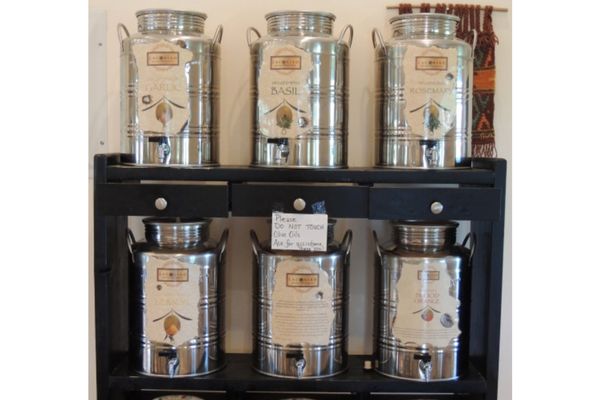 After we finished our wine tasting, we had the opportunity to do an olive oil tasting. I love these olive oil vats.
All of the olive oils are imported from Greece, and all of them were amazing.
A lot more amazing than the wine. My favorite was the garlic olive oil. SUPER strong — The Cullen's wouldn't come within 20 miles of this place!
If you buy a bottle of olive oil ($17/bottle), you can bring the empty bottle back to have it refilled. I'm sold!
The folks at Molon Lave are terrific — friendly, enthusiastic and warm. The tasting room is great, the property stunning. The Greek touches in the tasting room are unusual and intriguing. But the wine hasn't found its footing yet.