naked mountain winery and vineyards: review and tasting notes
Naked Mountain Winery
2747 Leeds Manor Rd
Markham, VA 22643
Before you plan your trip to Naked Mountain Winery and Vineyards, check out our review and wine tasting notes.
I've visited lots of Virginia wineries over the years.
According to Virginiawine.org, there are over 300 wineries in Virginia. Visiting all of them is starting to sound like Mission Impossible. But I'll do my best.
Drink Naked! It's just a suggestion, but it's easily one of the best winery slogans ever. I mean, if your winery is named Naked Mountain, you gotta have some fun with it, right?
Naked Mountain Winery And Vineyards History
Last week, self-proclaimed cellar rat, Aaron Menenberg, invited me to come out and do a tasting with him and Naked Mountain Winery winemaker, Seth Chambers.
Being able to taste wine and bend the ears of cellar rats and winemakers is a unique tasting experience, so it didn't take any arm-twisting to get me out there.
That said, it had been years since I'd last tasted at Naked Mountain Winery.
The first vines were planted at Naked Mountain in 1976, but in the last 3 years, Naked Mountain has seen both the arrival of new owners (Randy and Meagan Morgan), and a new winemaker (Seth Chambers).
Seth came to Naked Mountain Winery and Vineyards in 2011 via Pearmund Cellars and Phillip Carter Winery.
There is an actual Naked Mountain in Virginia — it's one of the peaks of the Blue Ridge, and it has an oxygen-rich elevation of 1,470 ft (450 m).
If you're from the west coast you may consider the Blue Ridge Mountains more like hills, not mountains (even though it is the oldest mountain range in North America).
John Marshall, the 4th Chief Justice of the United States, is rumored to have once owned part of the Naked Mountain Winery property.
The former history teacher in me is compelled to share this gem of a story from the Supreme Court Historical Society:
When the Court met in Washington, the Justices stayed in a boardinghouse – – the trip was too long, the session too short for their wives to accompany them — and Marshall's geniality brightened their off-duty hours. Justice Joseph Story handed down a tale still told at the Court. On rainy days the Judges would enliven their conferences with wine; on other days Marshall might say, "Justice Story, step to the window and see if it doesn't look like rain." If the sun was shining, Marshall would order wine anyway, since "our jurisdiction is so vast that it might be raining somewhere."
I think Justice Marshall and I would have gotten along just fine.
And I'm pretty sure he'd approve of grapes growing on Naked Mountain.
But enough with historical tangent.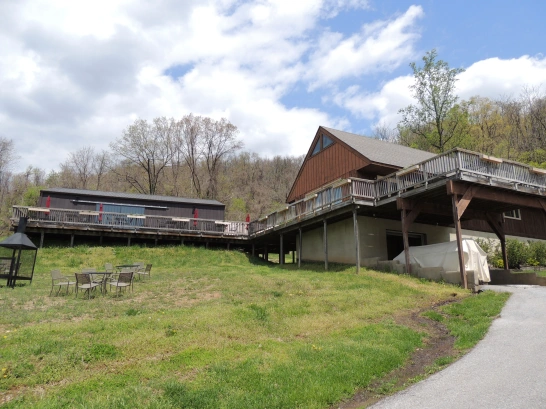 Naked Mountain Winery Tasting Room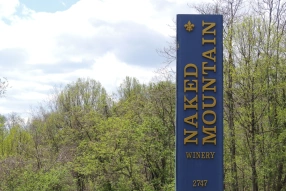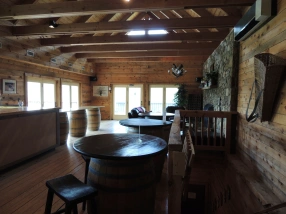 The tasting room at Naked Mountain Winery was designed to mimic a European ski chalet and they totally nailed it.
I half expected to see a ski lift out the tasting room window.
There's a lovely wrap-around deck with outdoor seating, as well as several other areas around the property where you can relax and enjoy a wine picnic.
Naked Mountain Winery has plans to expand and redesign the tasting room in the very near future.
Naked Mountain Winery Tasting Notes
Petit Manseng /90 points
100% Petit Manseng. Right out of the starting gate, this is an impressive wine.
Tropical nose, banana dominates. Crisp and bone dry, there's a sherry quality to it that I just love.
Finish lingers and lingers. Really, really digging this wine. Enough to take 3 bottles home with me.
Interesting side note:  Seth says there's been an increase in demand for Albariño in Virginia.  
I know Chrysalis does an Albariño, and I believe Ingelside does, too.
But keep your eyes peeled for that variety to show up with more and more regularity at Virginia wineries.
Barrel Fermented Chardonnay /87 points
100% Chardonnay. Chardonnay is Naked Mountain's flagship wine. It's widely distributed throughout Virginia — you can even find it at Costco.
Goldilocks oak on this wine — not too much, not too little, just right. The oak enhances the wine, rather than clobbering it.
Soft and buttery, flavors of apple and pear.
Chardonnay/Riesling /86
75% Chardonnay, 25% Riesling. Interesting — here's a blend I don't run across very often. Color me curious.
Typical Riesling notes of stone fruit and mineral peek through the tropical wave of Chardonnay.
Chardonnay Reserve /88
This Reserve is single vineyard, Middleburg AVA.  They didn't make very much of this wine, and it's not usually available for tasting.
I'm not sure about the aging process or amount of time but it seems that they are "reserving" this wine for something special and feel the label should bear "Reserve".
Seth pulled this out of his secret winemaker stash for us to taste. Beautiful, restrained use of oak. Loaded with apple, pear and almond notes.
I asked about single variety vs. blends in Virginia red wines. There's not one single grape that really shines on its own in Virginia, so, as a winemaker, his focus is definitely red blends.
Catamount Run Red /85
59% Cabernet Franc, 37% Merlot, 4% Norton.  A lightweight red, reminds me of a Beaujolais Nouveau.  
Definitely a gateway red — for those who are just dipping their toes into "real red" waters.
Carbonic maceration. Green pepper notes, spice and raspberry finish.
Cabernet Franc 2011 /84
80% Cabernet Franc, 20% Merlot. Seth reminded me that 2011 was a "challenging" vintage for Cab Franc in Virginia. Medium body.
Aaron had the quote of the afternoon with this observation: "Cab Franc is a wine that doesn't lie about where it's from."
Cranberry and tar, tar, tar.
Cabernet Franc 2010 /88
I sampled another from a secret winemaker stash, and Oh My Bacchus, what a difference!! The 2010 Cab Franc is full and soft and round.
This could be a master class in the difference vintage can make!
Raptor Red 2011 /88
43% Cabernet Franc, 19% Petit Verdot, 19% Tannat, 13% Merlot, 6% Cabernet Sauvignon. A Bordeaux-style blend. The heaviest of the reds we tasted, yet tame tannins. Cherry and pomegranate flavors.
I'm certain this wine is even better with food.
Old Vine Riesling /86
100% Riesling. The 38 year old vines that are used for this wine are all tapped out. They've been removed and replanted, so if you're hoping for more of this wine, you'll have to wait a few years for the babies to grow.
Light and decently balanced. 3-4% residual sugar.
SOAR /85
This is a Solera style dessert wine. Solera is a style of blending where wine from older vintages is saved and blended with wine from newer vintages.
Very port-like, with coffee & caramel flavors.
Naked Mountain Winery's Drink Naked
Naked Mountain Winery has four wines in their popular Drink Naked line.
The wine names are a fun play on the Drink Naked theme, and they are designed to be super-approachable, light and easy to drink — think patio wines.
All four of the wines lean to the sweet side, and because my palate tends to reject sweet wines, I only tasted two of the four — and I didn't rate them.
But I predict all 4 will be big sellers this spring and summer.
Birthday Suit
73% Chardonnay, 20% Seyval Blanc, 7% Videal Blanc
Light, easy and the driest of the bunch.
Skinny Dipper
90% Vidal Blanc, 10% Chardonnay
Make Me Blush
79% Cabernet Franc, 9% Vidal Blanc, 8% Merlot, 4% Norton
An off-dry Rosé, definitely more toward the sweeter side of the Rosé spectrum.
Strawberry and watermelon, uncomplicated.
Red Light Red 2012
33% Norton, 33% Cabernet Sauvignon, 22% Tannat, 12 % Merlot. Definitely sweet.
Cranberry with a kick.  Would rock a batch of Sangria. 
Naked Mountain Winery Tasting Information
WINE FLIGHTS
We offer a pre-selected, self-guided wine flight (5 Wines)
Once given the flight, you can enjoy it anywhere on the property.
$15/flight
WINE TASTINGS
In-person wine tastings are offered first come first serve for groups less than 6 people.
$20/tasting
GROUP TASTINGS
Reservations are required for groups of 6-15 people who are interested in an in-person tasting. If your party size is larger than 15, please reach out to events@nakedmtnwinery.com to inquire about your options.
To make your winery reservation please follow this link!
$25/person and a Naked Mountain wine glasses is included.