5 Celebrity Wines You Must Try!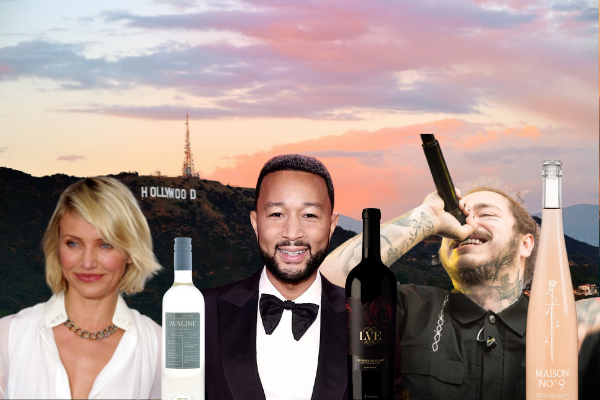 Today, celebrities are no longer recognized only by their Oscars and Grammy awards. There are dozens of stars in Hollywood who now sell refreshing, classy, and super affordable bottles of wine! As our wine consumption and adoration grow exponentially, many of them are now investing in wine production, releasing their brands of whites, reds, rosés, and sparkling wines.
You will find a drunken ocean of possibilities from the $300 Jay-Z Brut Champagne to Snoop Dogg's $13 19 Crimes Red Wine. Many of these wines are produced in some of the most renowned European wine regions and are crafted with care, displayed in beautiful bottles you will want to keep for a long time.
Here we have listed five of the best-ranked celebrity wines out there. Make sure to get yourself a bottle!
Mary J. Blige's Sun Goddess Wines
Mary J. Blige's wine is perfect for a hot summer day by the pool. The Grammy Award Winner, in collaboration with Fatinel Winery, decided to launch a brand that embodies her sunny and fresh energy – hence the Sun Goddess Wines, a collection of two varietals that became a hit.
The Pinot Grigio comes from the sunny regions of Venezia and grants you a fruity experience, with peach, melon, and berries taking over the palate. The Ramato technique (macerating the grape skin with its must) grants the wine a copper and pink-ish tone.
The Sauvignon Blanc, also from Italy, is a bit more acidic, with tropical tones from passion-fruit and bananas and even a little spice in the end. The color is yellow with greenish tones that represent the wine's freshness.
Post Malone's Maison No. 9

No one ever thought Post Malone would be releasing a wine collection, much less one that encompasses the classic "Provencal Pink" characteristics from the south of France. Maison No. 9 is a rosé that is bright, fresh, and light. A blend of Grenache with Cinsault, Syrah, and Merlot, this wine is summery and has Mediterranean tones like peach and candied sensations.
According to Posty himself, "rosé is for when you want to get a little fancy." The artist didn't even include his name on the bottle, which is long, simple, and well-designed.
Cameron Diaz's Avaline
Cameron Diaz collaborated with Katherine Power to create a line of white, red, and rose wines straight to the point, with a simple design and summer flavors. The wines from the brand Avaline are all made from a blend of different grape varieties that come together to create fresh sensations.
Avaline White comes from the Spanish region of Penedés. It is dry with a crisp and fresh finish, light-colored, and refreshing. The Rosé comes from France and is equally light and fresh, showing spring-like flavors like melon and zesty fruits. The Red blend, also from France, reveals notes of cherry and spice.
The wines here are vegan, organic, and have almost no additives, allowing you to taste the natural essence of each grape used in their confection.
John Legend's LVE
John Legend shows class in everything he does. When launching his wine brand, the musician invested in a well-designed bottle of rosé, which reflects his attention to fashion and minimalist excellence. Crafted in Provence, in the south of France, this wine has a pale pink color and summer notes from strawberries and white nectarines.
The LVE collection is a blend of Grenache, Cinsault, and Syrah, three grape varieties with lots of personality. It is the perfect wine to drink on a warm summer night, with its rich mouthfeel. Aside from the bottle of rosé, John Legend also invested in a canned version of the wine and other red and white varieties.
Sarah Jessica Parker and Invivo Wines' Rosé
It is of no surprise that the glamourous star of Sex and The City would eventually release her own brand of wines. In partnership with Invivo, Sarah Jessica Parker launched two collections of bottled wine that are perfect for a refreshing summer afternoon.
Her rosé wine, made from the classic blend of Cinsault, Grenache, and Syrah, has a stunning pink shade when poured into the glass. Complex summer flavors show notes of berries and minerals that contribute to the freshness of the wine. The white Sauvignon Blanc shows contrasting notes of acidic aromas (grapefruit) and tropical ones (passionfruit and honeysuckle), making the wine sweet and dry altogether.
Other Notable Celebrity Wines
While the five wines above are some of our favorite wines of the stars, there is a long list of actors and musicians putting out wines!
Sting and his wife, Trudie Styler, make wines in Tuscany.
Jason Priestly Brandon Walsh makes a Bordeaux style blend at Black Hills Estate Winery in Canada.
Jeff Gordon makes a Chardonnay. This one is a little scary
AC/DC makes a Sauvignon Blanc. This one is a lot scary.
Mario Batali makes an Italian red blend. Odds are there is an orange Croc hidden somewhere on this label.
My Three Sons actor Fred MacMurray has a namesake winery in Sonoma.
Dan Aykroyd makes an Icewine in Canada.
Leo Messi makes Malbec in Argentina.
Kathie Lee Gifford makes a red and white wine from California's Central Coast. Do they come with crazy straws?
Antonio Banderas makes a Ribera del Duero in Spain.
Dave Matthews makes wine in Sonoma (DreamingTree) and also owns Blenheim Vineyards here in Virginia.
Drew Barrymore makes a Pinot Grigio. Yes, that happened.
Celebrities have been investing in different ways to entertain us, and thank God some of them decided to go towards wine production! Sipping on a Post Malone rosé or a Dwyane Wade bottle of Chenin Blanc is the perfect way to enjoy a summer afternoon (or any afternoon in the year, for that matter).