Castello di Amorosa- Wine, history, fire and disney
As far as Napa Valley winery history goes, Castello di Amorosa has a lot going on.
We'll show you how to make the most of your trip to Castello di Amorosa including how to get there, hotels near Castello di Amorosa and other wineries near Castello di Amorosa.
Medieval castles don't exactly dot the landscape in Napa Valley, so when you see one, it tends to pull your focus. Meet Castello di Amorosa (aka, the Castle of Love).
And just so we're clear, this isn't a tasting room that someone glued a tower onto so it might look like a castle if you squint your eyes. This is a full-scale, historically accurate, actual, medieval Tuscan castle.
Except it's not in Italy. It's in Napa Valley, USA.
Castello di Amorosa- The History
Castello di Amorosa is the brainchild and obsession of owner and winemaker, Dario Sattui.
Mr. Sattui is the great-grandson of California pioneer, Vittorio Sattui, who founded V.Sattui Vineyards (in San Francisco) in 1885.
After Prohibition, the winery was closed for 50 years. In 1975, Dario Sattui resurrected the winery and moved it to Napa Valley, where it remains a fixture today.
Mr. Sattui purchased the 171 acre property that would become Castello di Amorosa in 1994. A life-long fascination with medieval architecture inspired him to spend the next 15 years and 40 million dollars building his Castle of Love.
That's equal parts brave and crazy.
The Castle of Love boasts 107 rooms, with four levels above ground, and four levels of wine caves and cellars below ground.
There are five defensive towers in Castello di Amorosa, a drawbridge, moat, tunnels, secret rooms, a great hall, a prison and torture chamber. Because what's a medieval castle without a torture chamber?
But it wasn't enough just to design and build a 107-room medieval castle in Napa Valley. Mr. Sattui used authentic, historically accurate building materials (i.e., grout made of lime, sand and water instead of cement — because they didn't have cement in the Middle Ages).
All the castle stones were chipped squared by hand. All the timbers were hand hewn. The doors were made with hand-forged iron nails. The roof tiles came from Italy.
This is serious commitment to historical accuracy. One departure from historical accuracy? Flush toilets.
The restrooms at Castello di Amorosa have faucets that look like castle gargoyles.
The word gargoyle comes from the old French gargouille, meaning throat. The practical purpose of gargoyles was to provide drainage for a church or castle. The secondary purpose was to scare the bejeezus out of people. Fun fact: A gargoyle can only be a gargoyle if it's serving as a water spout. Otherwise, it's a grotesque, which can be used solely for decoration.
In 2015, Castello di Amorosa added Morning Dew Ranch Estate and Vineyard to its portfolio in 2015 and the Pinot Noir is phenomenal.
Castello di Amorosa- The Disney Collab
Disney's The Quest – Filmed On Location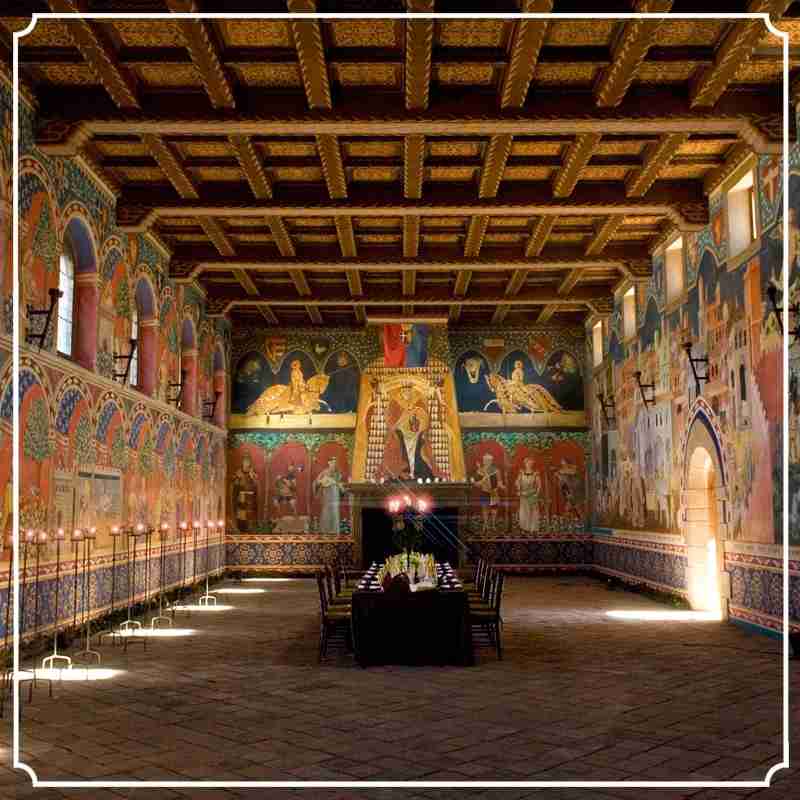 The show features a competition series that was filmed at Castello di Amorosa from December 2020 to March 2021. The show features challenges, mazes and puzzles throughout the Castle.
Think, "The Amazing Race" meets "The Lord of the Rings".
Filming took place throughout the Castle rooms and grounds. There was also filming in the forests surrounding Castello di Amorosa.
Castello di Amorosa- The Fire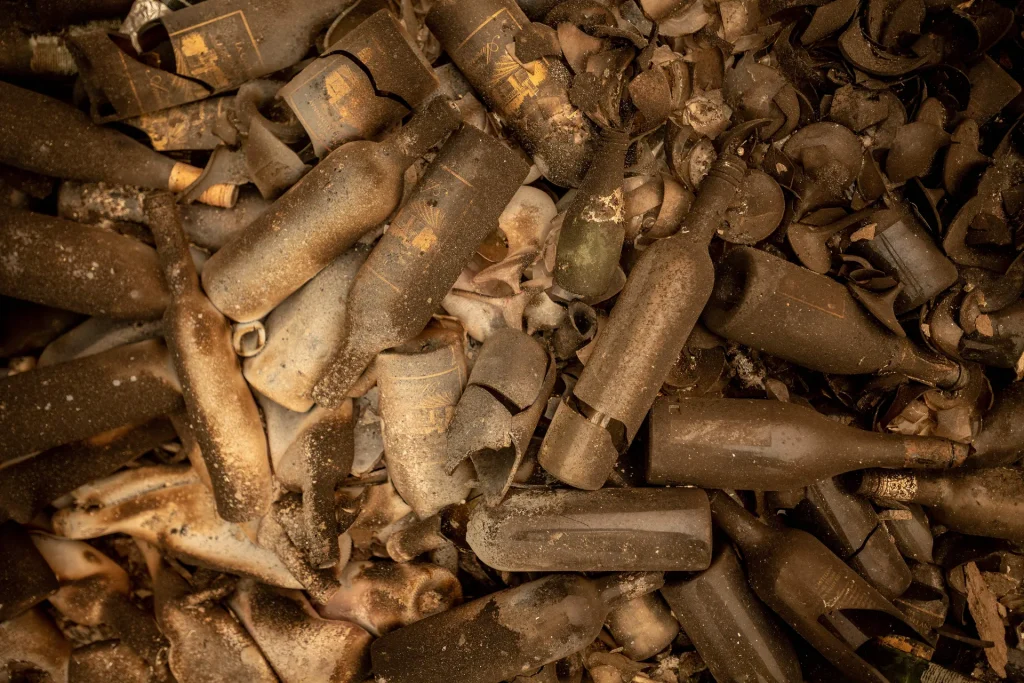 There are a lot of things that happened in my lifetime that I remember where I was. The Glass Fire was one of them.
The Glass Fire in California burned 1 acre every five seconds as it doubled in size. total acres burned were 67,484. 1,528 structures were destroyed and 282 were damaged.
The Castello di Amorosa did survive the fire, but its store of wine lost 120,000 bottles, a roughly $5 million loss.
On October 1, 2020 owner Dario Sattui writes in a letter posted to the winery's website, "Castello di Amorosa sustained significant fire damage to the Farmhouse building, a separate 15,000 square foot building across the crush pad about 50 yards from the castle.
Flaming embers landed in the grass near Highway 29 creating a massive fire that ripped up the hill to the Farmhouse before I knew it. My first response was to let our farm animals out of their pens, and then I raced to find a fire truck which responded quickly, but it was just too large a fire to handle."
Today, Castello di Amorosa has recently celebrated its 15th anniversary and it is thriving with two wines in their collection receiving 98 points (Morisoli-Borges Cabernet Sauvignon) and 97 points (single-vineyard Melanson Cabernet Sauvignon).
hotels near Castello di Amorosa
There are loads of hotels, charming inns and B&Bs close to Castello di Amorosa. Our top picks and most recommended by the Napa Travel Planning fb group, are The Harvest Inn and El Bonita to the south in St. Helena. In Calistoga, to the north, The Inn On Pine and Golden Haven Hot Springs are top picks.
Wineries near Castello di Amorosa
Okay, so your main attraction is Castello di Amorosa. You want to see the actual location of your favorite Disney films (pssst… Silverado Vineyards was owned by a Disney). But, you're also here for the wine, let's be serious. There are some major heavy hitters when it comes to bucket-list-wineries within a stones throw of Castello di Amorosa.
The St. Helena sub-appellation is arguably the best in the Napa AVA. There's a reason these wineries are considered "bucket list" wineries. This triple threat is Beringer, Schramsberg and Duckhorn.
Schramsberg is said to have the best sparkling wine in Napa.
Beringer and Duckhorn were both filming locations for A Walk In The Clouds staring Keanu Reeves.
Want to bring your wine from napa valley home with you?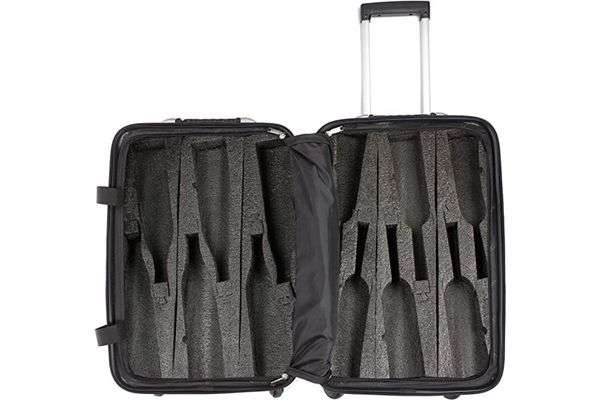 We recommend the VinGardeValise 12 bottle wine suitcase. There are a couple ways you can use this suitcase. One is, when you come home you only pack half the suitcase with wine and the other side clothes; or, what we do is bring a duffle bag to carry our clothes home. You can still check a duffle bag home btw, you don't have to schlep it around for all four connections.
Pro tip: you can also use the duffle bag to drop off your clothes to be laundered if you're doing an extended trip. Multiple uses for one duffle bag.
How To Get to castello di amorosa
If you are planning to be in wine country for a few days, it's best to rent a car. I'm not advocating for drunk driving but you'll want to run to the grocery or make a day trip to Bodega Bay possibly (and you definitely should).
We always recommend hiring a driver for the day if you plan on winery hopping (and you definitely should).
Map Of Hotels and wineries near castello Di Amorosa
Castello di Amorosa- The Wine
I was looking forward to tasting three wines. I love Sangiovese, (and chianti which makes a beautiful Super Tuscan when combined) and tomato sauce is the perfect pairing. I made lasagna to pair with the wines.
California has flirted with Sangiovese for years, but it's never really found a footing. There are over 500 wineries in Napa Valley, and according to Napa Valley Vintners, only 34 of them make a Sangiovese.
Sangiovese is a difficult grape to grow. It's thin-skinned, early to bud, slow to ripen, doesn't ripen evenly, susceptible to rot, and tends to overproduce on the vine. The potential for thin, uninteresting plonk is very real. So why bother?
With careful growing and clever winemaking, Sangiovese can be bliss. It's often blended with other dance partners (hello, Super Tuscans), but Sangiovese can also sing on its own.
Grab a bottle of Brunello (which must be 100% Sangiovese) and prepare for your epiphany moment. You can recover from the hit to your wallet later.
That, and if your winery is a full-scale, historically accurate, actual, medieval Italian castle, it would seem an oversight not to grow and make Sangiovese.
2015 Gioia Rosato di Sangiovese 🍷🍷🍷/88
The name Gioia means Joy, an apropos moniker. A deliciously dry Rosé made from 100% Sangiovese sourced from the Diamond Mountain District of Napa Valley. Aged 4 months in stainless steel.
A deep salmon color in the glass. Super engaging nose of strawberry, raspberry, watermelon, cranberry and rose petals.
Nicely balanced and refreshing, with flavors of sour strawberry, rhubarb and cranberry. Perfect for a warm day. 14.2% ABV.
2012 Napa Valley Sangiovese 🍷🍷🍷/89
95% Sangiovese and 5% Merlot, sourced primarily from the Sangiovese vineyard surrounding the Castello in the Diamond Mountain District, along with fruit from Mount Veeder and Atlas Peak. Aged for 22 months in French oak.
Medium garnet color. There's so much going on in this glass! The nose is cranberry, black pepper, sour cherry, smoke, vanilla, toast, nutmeg.
Dry and drenched in bright acidity, with flavors of cranberry, cola, smoke, black pepper and tobacco. There's a rustic, terra-cotta quality to this wine that kept me coming back for more.
An absolutely killer pairing with the homemade lasagna, too! 14.8% ABV.
I'm trying to resist a comparison to Chianti with this wine (because Italy is Italy and Napa is Napa), but if I close my eyes, I do feel a little Under the Tuscan Sun.
2012 La Castellana 🍷🍷🍷🍷/92
A "Super Tuscan" blend of 75% Cabernet Sauvignon, 15% Sangiovese and 9% Merlot. La Castellana means "Lady of the Castle". Aged for 20 months in French oak. Medium garnet color.
Highly expressive nose of sour cherry, smoke, tobacco, toast and vanilla.
Dry, with more assertive tannins than the 95% Sangiovese, but acutely balanced. Complex and intense with flavors of red currant, tobacco, cedar, toast and graphite.
I really hated to see the end of this bottle. I suspect this will only get better with a little cellar dust and time. Outstanding. 14.8% ABV.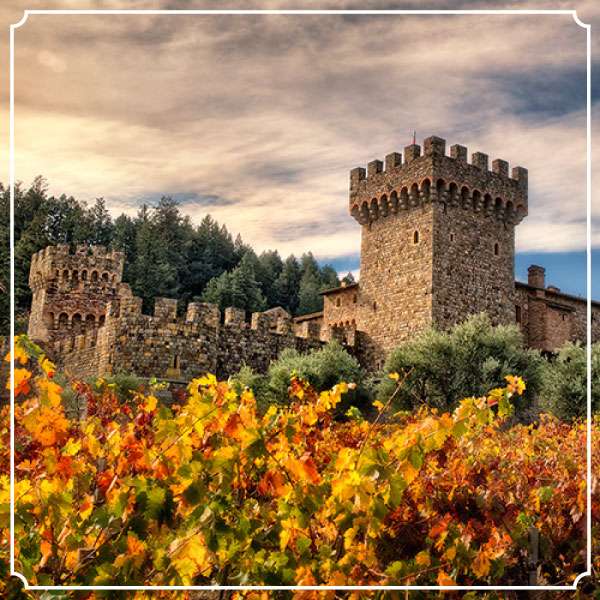 Want To Tour The Wide World Of Wine?
Ready to take your relationship with wine to the next level? Book a wine tasting trip! Viator (a Tripadvisor company) is the world's largest online marketplace for tours, activities, and attractions.
Viator has been a partner of Armchair Sommelier since our inception. We love partnering with them because our readers and Viator's trip operators have told us Viator is a great booking company to work with.
Still not convinced, let the reviews speak for themselves. We know you're a review junkie. So are we! We don't want to recommend a product that is going to offer you a bad experience. That said, there are no 100% guarantees in life.
Let me talk to you about my own experience with Viator. I have traveled all around the world. I've booked trips for myself, for my family, friends and even corporate travel (I will never do that one again so please don't ask me). I have used Viator every.single.time. And that's why I'm so excited to be a partner of theirs.
Castello di Amorosa FAQ
How much did Castello di Amorosa cost?
In 1994, Sattui purchased 171 acres for $3.1 million, then spent another $40 million to construct the castle, outbuildings, and the winery inside the castle. Construction began in 1995.
What is Castello di Amorosa famous for?
Castello di Amorosa is recognized first and foremost, as the castle of love, and for its beautiful Tuscan style wines, its collaboration with Disney and for the damage it sustained from the Glass Fire in 2020.
How much does it cost to go to Castello di Amorosa?
Tastings begin at $50 per person and reservations are required. A self-guided tour is included. $25 for children ages 2-20.
Is Castello di Amorosa worth visiting?
Castello di Amorosa is one of the most beautiful wineries in Napa Valley and offers a very unique experience. And the wine is delicious. It is definitely Tuscan with a Californian flair.
Did Castello di Amorosa burn down?
The Castello di Amorosa did survive the fire, but its store of wine lost 120,000 bottles, a roughly $5 million loss.
The Glass Fire in California burned 1 acre every five seconds as it doubled in size. total acres burned were 67,484. 1,528 structures were destroyed and 282 were damaged.
What was filmed at Castello di Amorosa?
Disney's The Quest was filmed on location​. Filming took place throughout the Castle rooms and grounds. There was also filming in the forests surrounding Castello di Amorosa. 
When was Castello di Amorosa built?
Castello di Amorosa was built in 1994 after the property was purchased. Building was complete 15 years after construction began.