What i learned from my ferrari trento tasting
For our most recent wine club night, our theme was Ferrari Trento. We tasted four Ferrari Trento bubbles. You can easily duplicate our efforts. Check out the pairings we enjoyed.
My fellow wine club participants have some serious kitchen chops. I'm not totally inept in the kitchen, but lumped in with this crowd, I feel like a gate-crasher on the set of Master Chef.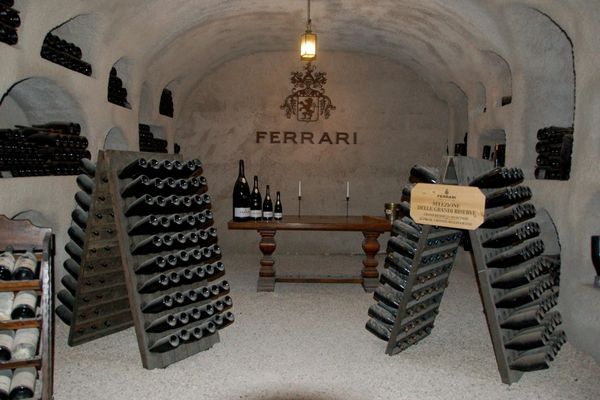 Ferrari Trento Story
1. Ferrari Trento is a family-run winery, only it's run by the Lunelli Family, not the Ferrari Family. This is because founder, Giulio Ferrari, had no heirs. He hand-picked Bruno Lunelli to take over the reigns in 1952. Today, Bruno's grandchildren run the winery.
2. Ferrari Trento is located in the Trentino-Alto Adige, the northernmost region in Italy. Trentino is the southern half of that region.
It's a mountainous province, which butts up against The Dolomites (the Southern Alps), and is sandwiched between Lombardy to the west and Veneto to the south and east.
3. The Trento DOC was the first DOC in Italy devoted to sparkling wines made in the Metodo Classico.
Trento DOC = mountain viticulture. Vineyards are located on the slopes of the Dolomites, at 300-700 meters above sea level. The Alps provide a rain shadow to the valley, and large diurnal temperature shifts.
4. Trento DOC has an ideal soil diversity, consisting of dolomitic rock, fluvial deposits, porphyry (igneous rock), moraine debris, and volcanic deposits. These soils = delicious minerality in your bubbles glass!
5. Ferrari Trento won the "Sparkling Wine Producer of the Year" title at the Champagne and Sparkling Wine World Championships in 2015. In the final round of competition, they beat out Charles Heidsieck and Louis Roederer.
That's a pretty big deal.
6. Ferrari was the first winery to plant Chardonnay in Italy.
7. There are four grapes permitted in Trento DOC sparkling wine: Chardonnay, Pinot Noir, Pinot Meunier, and Pinot Blanc. Sound familiar? Chardonnay and Pinot Noir are the most dominant.
8. In the Trento DOC, all grapes must be hand-harvested.
9. Ferrari is the poster-child for the Italian Art of Living — an appreciation for history, culture, cuisine, and the simple beauty in nature . . . a daily celebration of life, friends and family.
10. All of the Ferrari Trento vineyards are being converted to organic and sustainable cultivation methods. Underscoring the need to be a contributing member to the health of the land, weed killers and insecticides are banned at Ferrari.
11. Worms and bees are essential to the Ferrari vineyards. The bees pollinate biodiverse plantings between the vineyard rows. And eventually, those plantings are plowed into the soil, creating the perfect habitat for worms. And the worms help make the soil a happy place for the grapes.
12. Italian sparkling wine doesn't always mean Prosecco. Sometimes it means kick-ass, cool-climate bubbles!
13. I have a definite preference for kick-ass, cool-climate bubbles.
Ferrari Trento Wine Tasting And Pairings
Ferrari Brut /87 points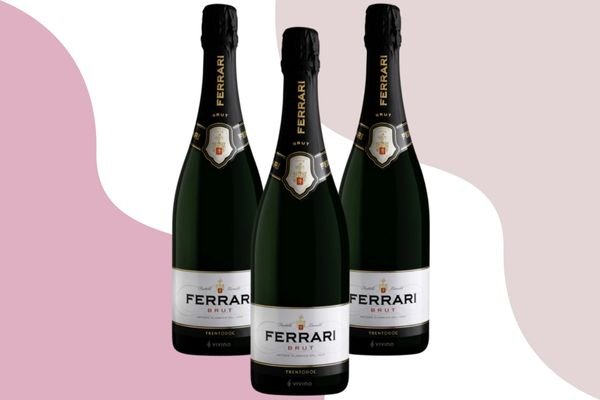 100% Chardonnay, aged for 24 months on the lees. The color of old hay.
Medium intensity, but youthful. Red delicious apple and pear, with lovely mineral notes, and a wink of pine nuts on the finish.
Ferrari Trento Brut Food Pairing
Kumomoto Oysters
Butternut Squash Ravioli w/ Sage Butter Prosciutto
Seared Scallops over Creamy Myer Lemon Risotto
Agar (a sea vegetable puree)
Trentino Grana Padano Cheese (Grana Padano is the local cheese, similar to Parmigiano-Reggiano)
Risotto alla Valdostana (Risotto with Fontina cheese and white wine)
Popcorn!
Ferrari Trento Rosé /89 points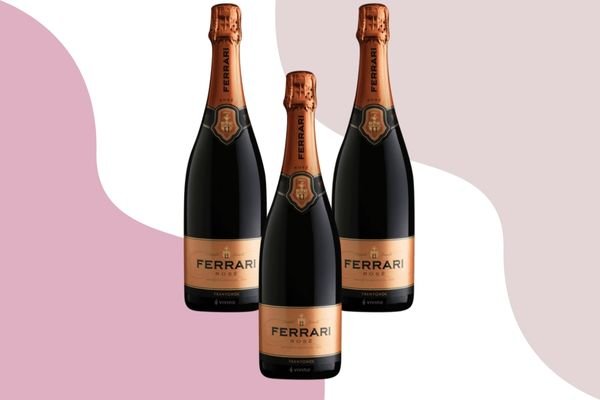 Ferrari Trento Rosé is a blend of 60% Pinot Nero, 40% Chardonnay, aged for 24 months on the lees.
Ferrari Ambassador, Jamie Stewart, likened the color of the Rosé to sunlight on the shell of a Vidalia Onion.
I was going to go with copper-pink, but Jamie's description works, too.
Strawberry, rhubarb, and roses. Elegant.
The finish reminds me of homemade pie crust.
Ferrari Trento Rosé Food Pairing
Omelettes
Truffles
Margherita Pizza
Prosciutto Wrapped Mozzarella
Buccatini Carbonara (pasta with prosciutto, egg yolks and Parmigiano-Reggiano)
Pork Chops and Parmesan Gruyère Polenta (a pairing suggested by Jamie Stewart, because the Rosé has a ravenous appreciation for fat).
Carne Crudo with Golden Ostera and Black Truffle Creme (this belongs in the over-achiever category)
Chicken Fried Fois Gras with Aged Gruyère, Pancetta and Maple Syrup
Red Snapper pan seared with Shishito Peppers, Honeydew, and Mango Passionfruit Reduction (I'm starting to get a serious kitchen-inferiority complex here . . . do you have anything kitchen-mortals can make? Can we go back to popcorn?)
The best quote of Rosé night belongs to Jamie Stewart . . . Life is spectacular. Forget the dark things. Take a drink and let time wash the dark things away to wherever time washes dark things away to.
Ferrari Perlé /90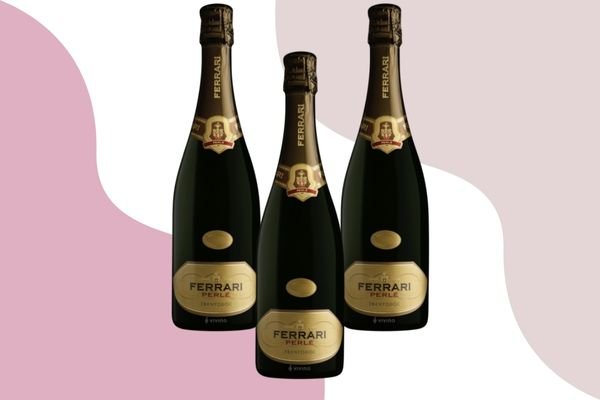 100% Chardonnay, aged for 5 years on the lees.
Super deep golden-yellow color. Bubbles for miles. Mmmm, yeast.
Pear, apple, creme brûlée, honey.
More structured than the Brut, complex and elegant. If someone offers to pour you a Ferrari Perlé, don't decline.
Ferrari Perlé Food Pairing
Caprese Salad
Chicken Fajitas
Seared Tuna and Butternut Squash with Alfredo Sauce
Culatello Wrapped Grissini (salt-cured meat similar to prosciutto, wrapped around a breadstick)
Quote of the Night (Jamie Stewart again): Perlé puts Champagne in a corner in a fetal position sucking its thumb in vexation and humility.
So there. Take that, Champagne.
Giulio Ferrari Riserva del Fondative 2001 /92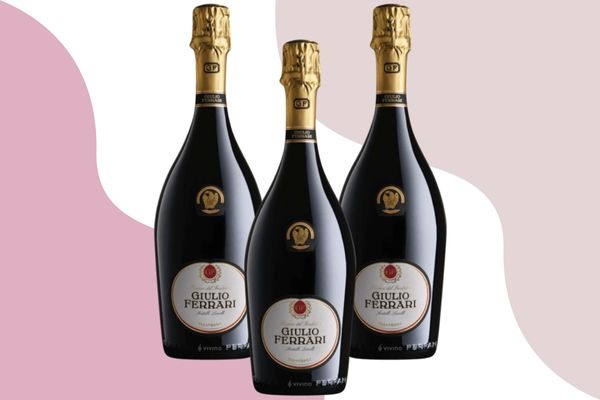 100% Chardonnay, aged for 10 years on the lees. Giulio is only made in the best vintages, the first bottle was made in 1972.
Someone said this wine has a slight cheese-like aroma, and well, power of suggestion . . . it kinda does.
Lean, but full and rich. Golden raisins, toasted brioche, almonds. A finish from here to next Tuesday. A truly special wine.
Quote of the Night: On the difference between Ferrari and Franciacorta (another sparkler from Italy) . . . Our wines are firmer in texture and structure. The absence of Pinot Bianco means no soluble baby aspirin acid (an aspartame flavor and texture).
From here on out, if you don't throw baby aspirin into a tasting note, you're doing it wrong.
Giulio Ferrari Riserva del Fondative Food Pairing
Paté
Roasted Salmon with Garlic Butter and Creamy Spinach Orzo
Mozzarella in Carrozza (this translates to Mozzarella in a carriage . . . no idea why mozzarella needs a carriage)
Smoked Salmon, Arugula, and Lobster Ravioli with Prosciutto Asparagus
Langostino & Caviar (Langostino = little lobster en Español)
Riso Mantecato (Rice in butter, white wine, Fontina cheese, and white truffles)
Salted Roasted Walnuts (Finally! We've circled back to my kitchen speed.)
Buy All Four Ferrari Trento Bubbles
Ferrari Trento FAQ
How much does Ferrari Trento cost?
The Ferrari Trento bubbles we tasted during our wine club ranged from $25-$150.
Is Ferrari Trento Champagne?
Ferrari Trento bubbly is widely known in Italy and throughout Europe, but not so much in the US. Ferrari Trento uses the same grapes and methods used in making Champagne but it's not grown or made in Champagne. So it is called sparkling wine.
Is Ferrari Trento Good?
Ferrari Trento is one of the world's leading sparkling wine producers. It was named Sparkling Wine Producer of the Year at the Champagne & Sparkling Wine World Championship. The brand is known throughout Italy and beyond and is the most recognized wine brand in Italy.
Is Ferrari Champagne related to Ferrari cars?
Although the company is unrelated to the car producer of the same name, Lunelli mentioned how his grandfather had known car designer Enzo Ferrari and at one time the companies engaged in mutual promotion. Talk about confusing.