Emeril's Muffaletta: Wine Pairing Challenge
I love all things Muffaletta and all things wine. But I wondered what wine to pair with my Muffaletta? I used Emeril's Muffuletta recipe, and there's a lot of different flavors and textures going on here. Let's dive in.
Today is also Fat Tuesday, or Mardi Gras. Not something I usually (ever) celebrate, but a photo of a Muffaletta sandwich (the classic New Orleans nosh) popped up in my feed the other day, and I got a craving.
Making a Muffaletta requires a trip to the grocery store. No biggie, right?
Wrong.
Snow fell from the skies above Washington, DC last night. The Federal Government was closed. Everything was closed, really.
We have a mammoth 4 inches of snow here at Casa Armchair Sommelier, which is enough to shutter schools for at least 2 days.
(I have a theory that our schools shut down at a ratio of 2:1 — inches of snow to days closed).
I'll pause for a moment so Boston can mock us.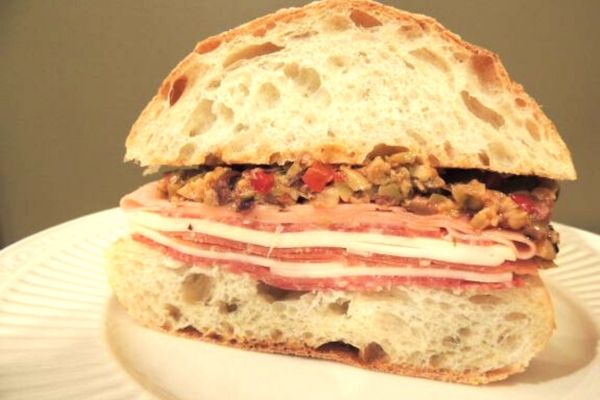 Muffaletta Wine Pairing And My Grocery Store Aggression
Yesterday was President's Day, so The Govies and a huge swath of schools had the day off.
Combine that with an impending snow apocalypse, and my grocery store was under siege. It took me 10 minutes to find a place to park! And inside was no better — total cart gridlock.
Everyone in the store was suffering from a complete lack of situational awareness. You wouldn't park your car in the middle of an intersection, get out, and walk down the street, so why is it OK to do that with your cart in a store?!? Grrrrr. Adding to the misery, it's always the carts with the extended Speed Racer toddler cab (aka the mobile petri dish), which have all the maneuverability of a 1970s Cadillac land yacht.
The Origin Of Muffaletta (Muffuletta)
Right, the Muffaletta.
The Muffaletta has its origins at a grocery store near a farmers market in New Orleans.
Sicilian farmers would come into the grocery store for lunch, and order an assortment of meats, cheeses, bread and olive salad.
At first, they would eat all of the components separately, but eventually, it dawned on someone to stack everything between two slices of bread, and voila! The Muffaletta sandwich was born.
I can't get enough olive salad on this sandwich. But in my house are olive haters, so they have theirs sans olive salad, which means they pretty much ate a ham sandwich.
Did you know olives are the number one hated food in the world. I was shocked and horrified as well.
Muffaletta Wine Pairing
Comment Below With Your Favorite Wine Pairing
What wine to pair with my Muffaletta?
I used Emeril's Muffuletta recipe, and there's a lot of different flavors and textures going on here.
The bread is pretty benign, but I've also got assorted meats (mortadella, prosciutto and Genoa salami — some fattier than others), provolone and mozzarella cheeses, and the acidic olive and marinated veggie salad.

Chateau d'Esclans Whispering Angel Rose 2021
My gut said Rosé — it struck me as a good compromise between the meats and the acid in the olive salad. But you could absolutely pair this with an Albariño.
And so far, it's working just fine. The acids aren't necessarily tamed with the Rosé, but they're at least playing nicely together in the sandbox.
Happy Fat Tuesday!
Muffaletta Wine Pairing FAQ
What wine goes with kalamata olives?
Brown and kalamata olives pair well with red wines such as Pinot Noir. The deep velvety flavor of Pinot Noir pairs well with the sweet brininess of Kalamata olives. Rosé pairs well with the olive salad on the muffaletta sandwich.
Does red or white wine go with jambalaya?
Creole Jambalaya, which contains tomatoes, pairs best with medium-bodied and acidic wines such as Chianti, white Rioja, Zinfandel and Pinot Noir. Acidity in your wine is a must, otherwise, the acidity in the tomatoes will make your wine taste flat and metallic.
What wine goes with olive tapenade?
It's best to pair tapenade with a bright acidic wine because green olives are quite acidic.
– Sparkling White Champagne
– White Vouvray
– Grüner Veltliner
– Albariño
– Rosé Ventoux
– White Rioja