8 Sizzling Pairings For Wine With Mexican Food
Time to read: 4-6 minutes
WARNING: DO NOT READ HUNGRY
And, in case you're wondering, our favorite is the Al Pastor pairing.
If I had to guess as to one reason why Mexican food is so popular (and it's not really a guess, trust me, I freaking love Mexican food) I would say it's because Mexican cuisine is so diverse. From fine dining to street food and everything in between there are so many amazing dishes! So let's talk about pairing wine with Mexican food.
In just a single dish you might experience waves of flavors, aromas, and textures. Spicy, high acid salsas mesh with tender well-seasoned meats, salty cheeses, fresh herbs, and fluffy tortillas.
That's not even scratching the surface of all that Mexican food has to offer.
You can even use Mexican food and wine pairing for your next wine tasting party.
Because Mexican cuisine is so rich in flavor, it can be hard to tweeze out enough nuance to make a solid wine pairing.
Perhaps that is why Mexico has the reputation for choosing light beers or Tequila as their alcohol of choice.
Now, I'm not about to dismiss a good margarita or Pacifico, but I'd like to think – since this is a wine blog and all – that we should at least try to make some excellent wine pairings. What wine goes best with Mexican food?
Luckily, Mexico has done much of the work for us. It may be hard to believe, but Mexico is actually the birthplace of North American wine.
Today the industry is alive and well with wines ranging from good to downright outstanding.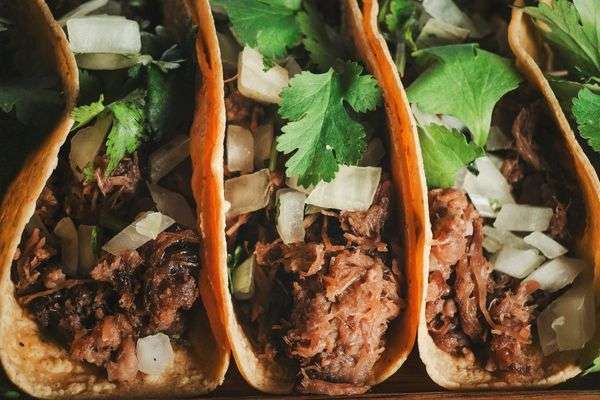 Mexico's Many Wine Regions: Surprise!
Mexico first established the New World as a wine-producing region in 1597 when the first winery, Casa Madero, was built. This winery remains in Mexico today in the Valle de Parras region.
As dated as Mexico's wine history may be, it wasn't until the 1990s that some young winemakers honed their craft and created the industry as it is known today.
Mexico's most notable wine region is Baja California, where roughly 90% of the wine in Mexico is made. The Baja Peninsula stretches over 1,000 miles and is divided by the Sierra de Baja California mountain range.
These mountain ranges allow the west side of the peninsula to be cooled by the Pacific Ocean breeze, thus creating a pleasant Mediterranean-like climate.
Within the Baja region, there is one valley that has been dubbed "Mexico's Napa" and produces some of the most exquisite wines in Mexico and South America. I'm talking about Guadalupe Valley, or Valle de Guadalupe.
Here, winemakers produce everything from Nebbiolo to Cabernet Sauvignon to Chenin Blanc and Sauvignon Blanc, to name a few. Seriously, these guys make everything.
Pairing Wine With Mexican Food: Now For The Good Stuff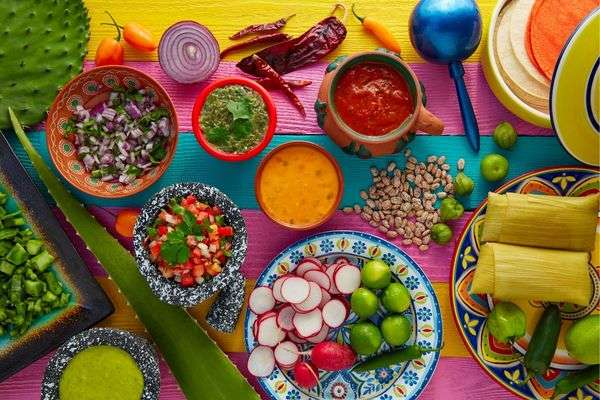 Best White and Rosé Wines With Mexican Food
When it comes to food that is high acid, spicy, or herbaceous, you can usually assume a good bottle of white wine will pair nicely with these Mexican food flavors.
Sauvignon Blanc (Valle de Guadalupe) Monte Xanic, Viña Kristel Sauvignon Blanc 2021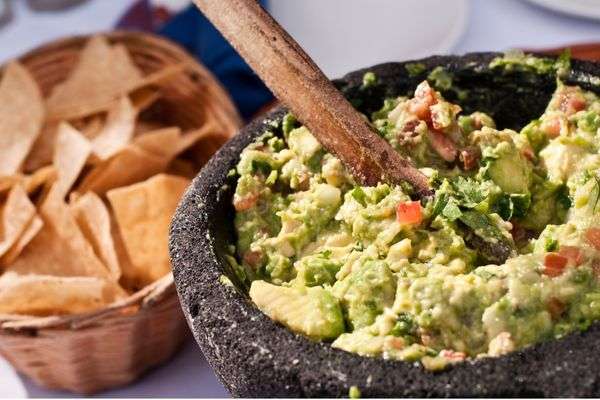 Sauvignon Blanc is an aromatic and high acid wine with herbaceous, green, and floral aromas. Therefore, it only makes sense that we pair it with similar herbaceous food.
Best Mexican Food Pairing For Sauvignon Blanc: Anything with verde (green) such as guacamole, enchiladas verde, or tacos with cilantro
Chenin Blanc (Valle de Guadalupe) Bodegas Henri Lurton, Le Chenin 2018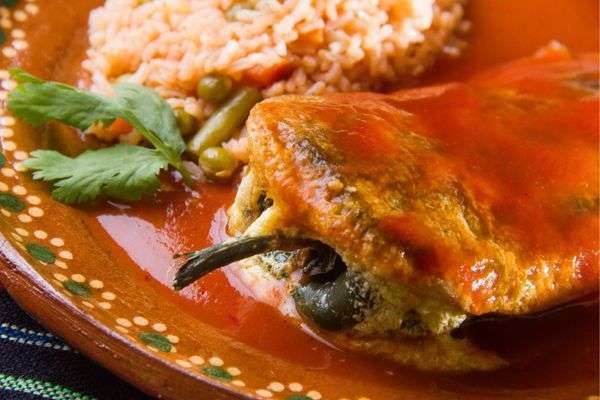 It's no wonder Chenin Blanc grows in Mexico, since it is one of the more sturdy white grape varieties that is able to grow in cool, moderate, and warm climates.
With a warm climate Chenin, expect tropical and stone fruit flavors. Pair with spicy and highly seasoned foods.
Best Mexican Food Pairing For Chenin Blanc: Spicy dishes like chiles rellenos, huevos rancheros, or hot pico
Rosé (Valle de Guadalupe) Monte Xanic, Grenache Rosé 2020
Rosé makes for an excellent pairing when you need a crisp, high acid wine with plush red fruit flavor. This rosé in particular is made from Grenache, which gives us a brilliant hue and bright fruity flavor. Pair this wine with seafood and bright flavors.
Best Mexican Food Pairing For Rosé: Seafood tacos and fruity pico (who doesn't love pineapple pico!?)
Cava (Spain) Campo Viejo, Cava Gran Brut Reserva N.V.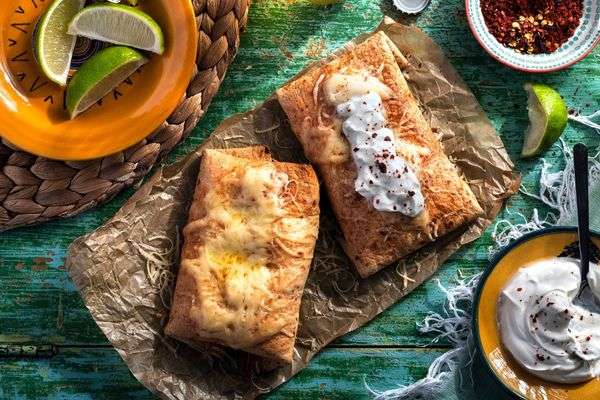 If you know us by now, you know we always favor sparkling wine for obscure food pairings. That's because sparkling wine is – sparkling! It's also cold, low alcohol, and usually has a touch of sweetness. All of these details combine to make an exquisite pairing for anything spicy or oily.
Best Mexican Food Pairing For Cava: Fried deliciousness such as tostadas, chimichangas, or chilaquiles
Best Red Wines With Mexican Food
Mexico's red wines are notorious for being exciting, seemingly random blends of grapes that otherwise would never dare meet.
This makes for an exciting pairing challenge, to which I say, challenge accepted!
Cabernet Sauvignon (Valle de Guadalupe) Vena Cava, Cabernet Sauvignon 2018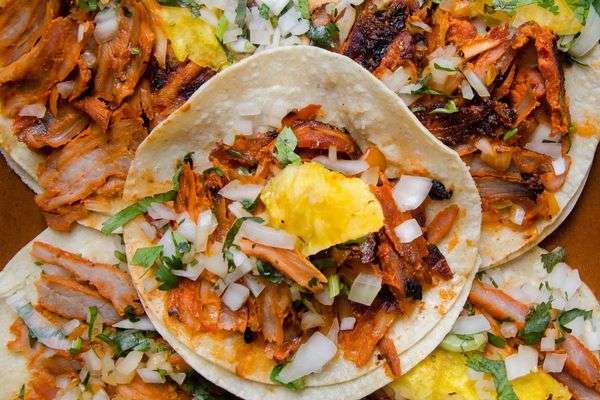 If you love Napa Cabs, then you're really going to enjoy this pairing. Valle de Guadalupe has a remarkably similar climate to California, with a consistent warm climate and constant breeze. Pair this Cabernet (or any Cabernet) with richly-seasoned meats.
Best Mexican Food Pairing For Cabernet Sauvignon: Seasoned meats, like barbacoa, chorizo, al pastor
Tempranillo (Valle de Guadalupe) Vena Cava, Tempranillo 2018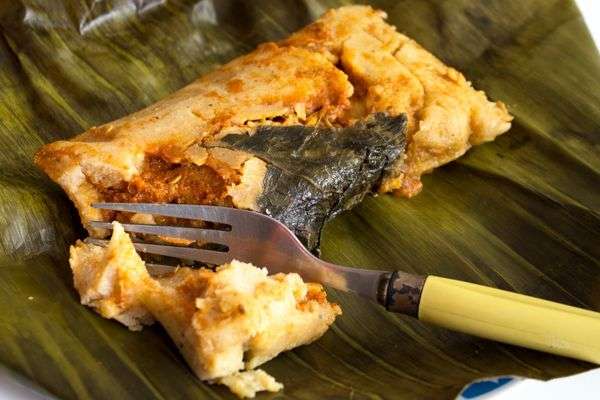 Tempranillo is one of Guadalupe's specialities, though you would usually see it as a blend. This specific bottle has excellent plum and cherry notes that would pair nicely with hearty dishes and light spices.
Best Mexican Food Pairing For Tempranillo: Masa dishes like tamales or enchiladas
Nebbiolo (Valle de Guadalupe) Casa Magoni, Nebbiolo 2019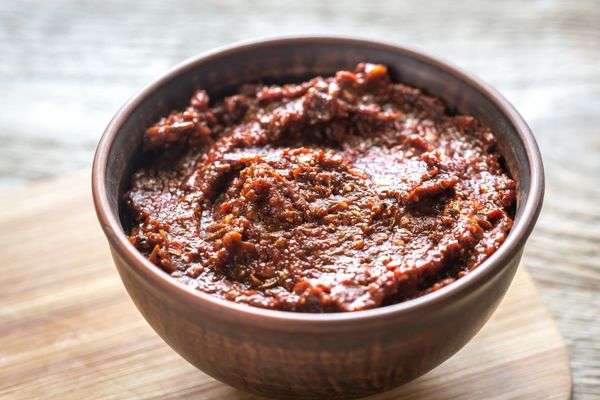 Fun fact about Mexico's Nebbiolo, due to transportation mishandlings, it's likely that the cuttings brought over from Italy that were called Nebbiolo may be a combination of varietals instead.
Either way, this Nebbiolo is layered with lovely chocolate, tobacco, and dark fruit notes that make it a great accompaniment to dark, rich sauces.
Best Mexican Food Pairing For Nebbiolo: Mole or adobo sauces
Cabernet, Merlot & Tempranillo Red Blend (Valle de Parras) Casa Madero, 3V Cabernet Sauvignon – Merlot – Tempranillo 2020)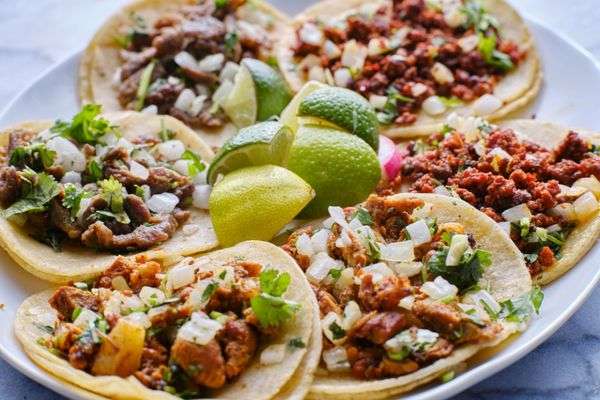 Because of the long history and complete lack of labeling structure, it isn't uncommon to see an unorthodox blend such as this one. Actually, most of Mexico's red wines are "unorthodox" blends.
This cowboy-style compilation of Bordeaux and Tempranillo varietals makes for an exciting wine best paired with tacos.
Best Mexican Food Pairing For This Red Blend: Tacos with meats such as lengua, tinga, or chorizo
Final Thoughts To Pairing Wine With Mexican Food
Mexican food is rustic, complex, and rich with dueling and exciting flavors. When confronted with a complicated pairing, I dare say we've done a good job, yet again!
If you're ever stuck at your local wine shop struggling to make a decision, just remember to pair food and wine as either complimentary (think opposites attract) or congruently (same-same.) And as always, you can never go wrong with a bottle of sparkling!
FAQ Pairing Wine With Mexican Food
Sources:
My tongue. Plus:
Karen MacNeil. The Wine Bible. New York: Workman, 2015. Print.
Information on Valle de Guadalupe, wine-searcher.com

Author: Olivia Abramson
Olivia has been immersed in all things food and libations for nearly a decade. When she's not cooking or sipping on a glass of vino, she's running a small tasting room for a boutique winery located on the beautiful Hood Canal in Washington State. She spends her free time bikepacking around the Pacific Northwest with her fiance and checking out all the local breweries. She also enjoys writing for her own personal food and wine blog, Liv Eats Local. Follow her IG: @olivia_abramson for pictures of her cute dog, Tater, and their van-lifing adventures – and check out her blog liveatslocal.com for recipes and stories of tipsy travels.