Smith-Madrone: Wine Review And Food Pairing
The Making Of Smith-Madrone
Brothers Stu and Charlie Smith founded Smith-Madrone Winery (in the Spring Mountain District of Napa Valley) in 1971 — that's some serious longevity.
If your winery has been open for 44 years, you're doing something right. So, I get the Smiths, but who is Madrone?
Turns out, Madrone is a what, not a who. Madrone is a type of tree found on the winery grounds.
I guess if you're going to hyphenate your winery name, Smith-Madrone sounds more Old World sophisticated than Smith-Smith.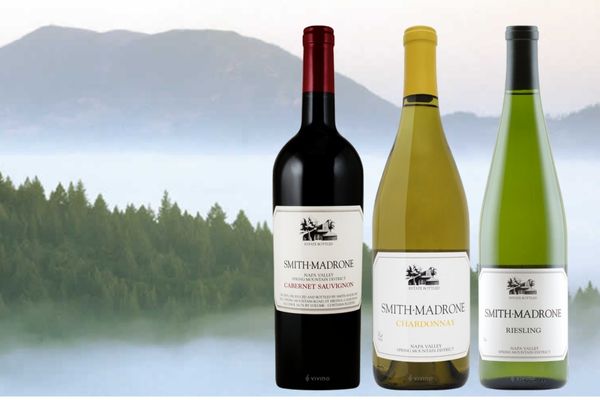 Tasting Smith-Madrone Wines Solo
If I've been able to distill any kind of wild generalization for Napa Valley terroir, it boils down to this — wines from the Napa Valley floor tend to be more powerful and fruit forward.
Wines from the mountain area AVAs tend toward a leaner style, with great acid, and mineral & spice elements taking center stage.
So, here's where Napa Valley terroir becomes important. The Spring Mountain District is a cool climate, mountain appellation — the vineyards there are planted on the eastern slopes of the Mayacamas Mountains (the range separating Napa Valley from Sonoma Valley).
Elevations range anywhere from 400 to 2,600 feet. The vineyards at Smith-Madrone are planted at 1,200 to 1,900 feet with 35% slope grades.
Will my wild generalization be reflected in the Smith-Madrone wines?
Smith-Madrone Riesling ⭐⭐⭐⭐ / 92
100% Riesling. Easily one of the best US Rieslings I've tasted of late. So many American Rieslings succumb to the off-dry siren song (and end up being cloying), but not this one.
This one is gloriously dry with teeth-twinging acidity and precise balance. Pale golden hue. Nose is chalk and minerals with a passing whiff of grapefruit.
Flavors of peach and green apple. Acid lovers of the wine world — this one's for you!
Smith-Madrone Chardonnay ⭐⭐⭐⭐ / 92
100% Chardonnay. Fermented in new French oak for 8 months. Pale amber color. The nose is somewhat restrained — some faint buttered toast and pears.
Lean and elegant, with superb acidity and a graceful oak presence. Definitely more to an old world style than new.
Creamy mouthfeel with flavors of lemon curd and allspice, I feel like I'm drinking a lemon meringue pie.
Finishes with a wedge of minerals that goes on for a minute (which is as long as I could wait before having another sip).
Smith-Madrone Cabernet Sauvignon ⭐⭐⭐⭐ / 92
83% Cabernet Sauvignon, 10% Cabernet Franc, and 7% Merlot. Aged for 19 months in French oak.
Lovely garnet color. Nose is all funk (I'm Team Funk, so this makes me giddy) — white pepper, leather, tar, cedar.
Shows great restraint and finesse. Fruit definitely takes a back seat to funk (I'm struggling to come up with a dominant fruit note).
I'm thinking currants in a cigar box. Great balance with layers of complexity. A massive finish. I've had Napa Cabernets that weren't this good at twice the price.
My Smith-Madrone Wine Ratings
I've been told (more than once) that I'm a little stingy with my wine ratings. I certainly don't mean to be stingy, just honest.
If I rate a wine 90+ points, it's because it was memorable — it blew my socks off, and I didn't want the bottle to end.
Smith-Madrone . . . consider my socks blown off!
All three of these wines are a textbook study in the expressions of cool climate, mountain terroir. They're lean, restrained, and focused. I'll admit to pushing Napa Valley wines (especially Napa Chardonnay) to the back of my wine bus as too much for too much (a little over-done and more than a little over-priced).
But after tasting these wines, I think I've found my Napa sweet spot — the mountains!
Want to bring your smith-madrone home with you?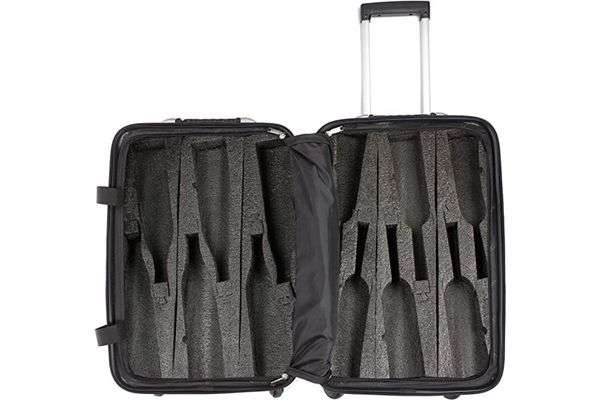 We recommend the VinGardeValise 12 bottle wine suitcase. There are a couple ways you can use this suitcase. One is, when you come home you only pack half the suitcase with wine and the other side clothes; or, what we do is bring a duffle bag to carry our clothes home. You can still check a duffle bag home btw, you don't have to schlep it around for all four connections.
Pro tip: you can also use the duffle bag to drop off your clothes to be laundered if you're doing an extended trip. Multiple uses for one duffle bag.
Pairing Chicken Marbella With Smith-Madrone Wine
And how did each of the wines fare with the Chicken Marbella?
Riesling — Excellent. The acidity is perfectly balanced with the food. Especially adept at taming those green olives.
Chardonnay — The oak and heat become slightly more pronounced with food. There's a bitterness that gets you on the back end now. Still, not an unpleasant pairing.
Cabernet Sauvignon — There's something about those prunes that ties this pairing together — it really emphasizes the cigar box note. Food throws the acid slightly off balance, but even then, it's not until the back, back end.
Chicken Marbella is a dish that's in constant fall-winter rotation.
It couldn't be easier to make — the only tricky part is remembering to thaw the chicken and get it into its marinade bath several hours before you want to eat it.
Chicken Marbella is a recipe that came out of the Silver Palate Cookbook in 1979. If you've had Chicken Marbella before, chances are, it's because someone made it for you. Because if you were simply flipping through the cookbook and read the list of ingredients, you'd think, "Eeeew! What kind of unholy alliance of foods is that?!?"
But once you try it, you'll fall in love! I've made this dish dozens of times for dinner guests, and dozens of guests have gone home with a new recipe (everyone always asks for the recipe).
It's a pretty eclectic mix of ingredients. Prunes and green olives, together? And a real head-scratcher as far as a wine pairing.
Thanks, Smith-Madrone, for bringing a little sunshine into my cold, gray, and snow day.
Want To Tour The Wide World Of Wine?
Ready to take your relationship with wine to the next level? Book a wine tasting trip! Viator (a Tripadvisor company) is the world's largest online marketplace for tours, activities, and attractions.
Viator has been a partner of Armchair Sommelier since our inception. We love partnering with them because our readers and Viator's trip operators have told us Viator is a great booking company to work with.
Still not convinced, let the reviews speak for themselves. We know you're a review junkie. So are we! We don't want to recommend a product that is going to offer you a bad experience. That said, there are no 100% guarantees in life.
Let me talk to you about my own experience with Viator. I have traveled all around the world. I've booked trips for myself, for my family, friends and even corporate travel (I will never do that one again so please don't ask me). I have used Viator every.single.time. And that's why I'm so excited to be a partner of theirs.
Smith-Madrone FAQ
Who owns Smith-Madrone winery?
Brothers Stu and Charlie Smith founded Smith-Madrone Winery (in the Spring Mountain District of Napa Valley) in 1971 — that's some serious longevity.
How many wineries are in Napa Valley?
Napa Valley is home to more than 400 wineries in its 30 mile span. There are several American Viticultural Areas or AVAs in Napa. From south to north, you'll find Carneros, Oak Knoll, Yountville (and adjacent Stags Leap District), Oakville, Rutherford, St. Helena and Calistoga.