17 Bold Blends: Timeless Red Wine Cocktails To Try Today
Red wine cocktails are our timeless rebels, refusing to be outshone by fleeting trends. Think of them as the James Dean of the beverage world—classic, mysterious, and eternally cool.
Today, we're diving into a realm where the velvety allure of red wine meets the pulsating beats of modern mixology. We're about to unearth concoctions that have weathered every storm, remaining as relevant as a meme you can't help but share.
In a world that's ever-evolving, some things remain beautifully unchanged—cue the clink of glasses and the rich, velvety notes of red wine. But hold onto your stemware because we're not stopping there. We're diving headfirst into diverse recipes for timeless red wine cocktails you can try to recreate today.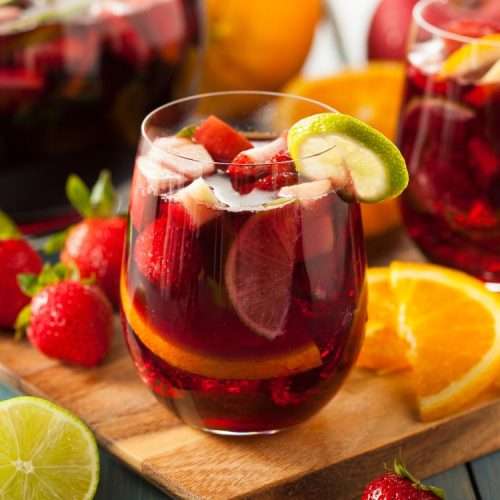 Red Sangria Recipe
This luscious concoction begins with a bold red wine base, where the deep notes of berries and cherries set the stage for a tantalizing experience. But it doesn't stop there; red sangria is a sensory celebration featuring fresh fruits—citrus slices, juicy oranges, and plump berries—that take each sip to new heights.
Ingredients
1½

bottles

Cabernet Sauvignon

1

cup

Brandy

¼

cup

granulated sugar

2

oranges

cut into ½" rounds

2

lemons

cut into ½" rounds

2

limes

cut into ½" rounds

2

apples

cored and cut into ½" cubes

2

cups

chilled sparkling water
Instructions
Orange juice, sugar, brandy, and Cabernet should all be combined in a big pitcher. Stir until the sugar melts.

Add apples, oranges, lemons, and limes. Stir.

Incorporate sparkling water and mix thoroughly.

Serve right away over ice or refrigerate overnight.
Video
Mulled Wine
What types of drinks do you like to serve for your Christmas party? Do you flavor your mulled wine with any additions?
Want the ideal celebratory beverage? Your guests will be excited for this easy Gluehwein or Mulled Wine recipe, which has a tasty dash of rum!
Ingredients
2 clementines
1 lemon
1 lime
200 g caster sugar
6 whole cloves
1 cinnamon stick
3 fresh bay leaves
1 whole nutmeg, for grating
1 vanilla pod
2 bottles Chianti or other Italian red wine
2 star anise
Instructions
Remove thick peel layers from the lime, lemon, and clementines using a speed peeler.
Combine the sugar, peel pieces, and squeeze in the clementine juice in a large saucepan set over medium heat.
Add the bay leaves, cloves, cinnamon stick, and ten to twelve gratings of nutmeg. Once the vanilla pod has been cut in half lengthwise, add it to the pan and mix enough red wine to cover the sugar.
Bring this to a boil after letting it simmer until the sugar has completely dissolved into the red wine. Maintain a rolling boil for around 4 to 5 minutes or until a gorgeous, thick syrup is achieved. (We want to thoroughly infuse and combine the sugar and spices with the wine, creating a great basis of flavor. Making the syrup foundation first is crucial because it must be very hot; if you do this while the two bottles of wine remain there, the alcohol will burn out.)
Once the syrup is complete, reduce the heat to low, stir in the remaining wine, and star anise. After the wine has warmed up nicely, about five minutes, transfer it into glasses that can withstand heat and serve.
Red Wine Spritzer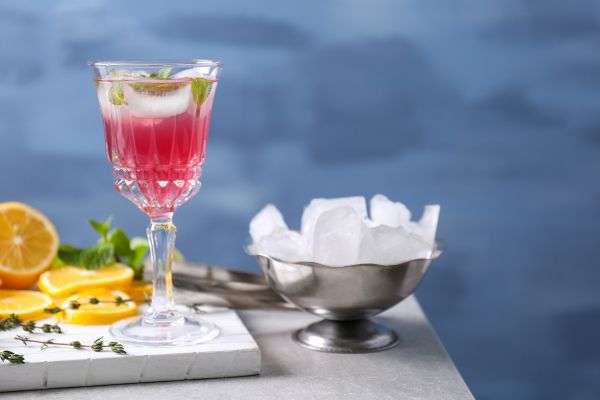 Too busy to make a sangria? Mix up a Red Wine Spritzer instead! It's bubbly and refreshing at the same time as being fruity and full-bodied. This is a quick and easy summer cocktail that tastes like sangria without requiring any extensive preparation.
Ingredients
4 ounces red wine, chilled if possible (but not necessary)
4 ounces soda water
Orange slice, for garnish
Instructions
Add the soda water to a glass with the wine and stir.
Add garnish and enjoy.
Devil's Margarita
The Devil's Margarita is a tantalizing concoction that combines the smooth allure of premium tequila, the citrusy burst of lime, and a devilish kick from the red wine that ignites the senses. It's a play between devilish daring and refreshing respite, creating a balance that keeps you coming back for more.
Ingredients
1 ½ ounces White Tequila
¾ ounces Lime Juice
¾ ounces Simple Syrup
1 ounces Red Wine
Garnish: Lime Wheel
Instructions
Pour the tequila, simple syrup, and lime juice into a shaker glass filled with ice. Shake well.
Using the back of a bar spoon, carefully pour the red wine over the strainer mixture in the glass's base.
Sprinkle a lime wheel on top.
Kalimotxo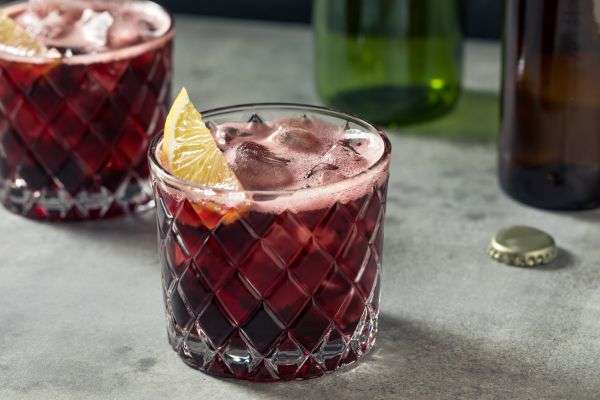 The unapologetically rebellious lovechild of red wine and cola – the Kalimotxo. Famous throughout the Basque Country, this simple beverage is also known as calimotxo or calimocho.
It starts with a base of robust red wine, and then, in a move that turns convention on its head, cola joins the party. The result? A surprisingly delightful fusion that's equal parts sweet, tannic, and fizzy.
Ingredients
3 ounces Rioja wine
3 ounces Coca-Cola
1 squeeze lemon
Garnish: lemon slice
Instructions
Pour all the ingredients into an ice-filled wine glass or rocks glass.
Place a slice of lemon on top.
Francophile
The French brandy Calvados, Rioja red wine, cinnamon simple syrup, fresh lemon juice, and water are the main ingredients of the Francophile cocktail. The red Spanish wine, with its characteristic aromas of black cherries, plums, and herbs, melds perfectly with Calvados's rich apple and oak backbone. To keep on course, look for a medium-to-full-bodied wine with lots of tannins and some acidity if you can't find Rioja.
Ingredients
1 ½ ounces Rioja red wine
1 ounce Calvados
3 ounces water
¼ ounce lemon juice, freshly squeezed
½ ounce cinnamon simple syrup
Garnish: apple slice
Garnish: cinnamon stick
Instructions
Fill a small pot with the wine, Calvados, water, cinnamon simple syrup, and lemon juice.
Warm over medium-low heat before it simmers.
Remove from the heat, transfer into a thick cup, and decorate with a cinnamon stick and a piece of apple.
1870 Sour
Picture yourself in a dimly lit, oak-paneled bar where the air is rich with the aroma of aged spirits. The 1870 Sour Cocktail is your ticket to that refined atmosphere, a nod to the sophistication of yesteryear.
Crafted with meticulous attention to detail, the 1870 Sour starts with a foundation of quality whiskey, but what sets it apart is the following symphony of flavors—freshly squeezed lemon juice for a zesty kick, a hint of syrup for sweetness, and crowning glory, a touch of red wine.
Ingredients
¾ ounces von Stiehl Lodi Zinfandel Dessert Wine (Zin Port)
2 ounces Whiskey
½ ounces Lemon Juice
¾ ounces Maple Syrup
1 tbsp Blueberry Jam
Instructions
After mixing all the ingredients, shake them dry for ten seconds.
Add ice and shake for an additional fifteen seconds.
Fill a chilled or frozen 8-ounce mason jar or cocktail glass with the mixture.
To make Zinfandel float on top of the mixture, spoon it on top.
Tinto De Verano
Sangría is most people's conception of a summertime wine-based drink from Spain; however, that is actually for tourists. Tinto de Verano, or summer wine, is actually what Spaniards drink in the summer. Tinto de Verano is traditionally made in Spain from Casera, a highly arid soda water. Lemonade is also popular, though.
Ingredients
Instructions
Fill a jug to the brim with ice cubes.
Pour in the vermouth, wine, and Casera or lemonade. Stir well.
Squeeze in a few orange wedges, and serve over more ice, garnished with an orange slice and perhaps a paper umbrella.
Ginger And Red Wine Fizz
It's easy to think of sangria when you're trying to make red wine cocktails. It goes nicely with outdoor dinner parties and is fruity with a tasty alcoholic add-in. But you can use red wine to make other cocktails besides this one. For this Ginger + Red Wine Fizz, you'll need a fine, fruity red wine, like Pinot Noir.
Ingredients
Ice
2 ounces red wine, such as Pinot Noir
2-3 ounces ginger beer
½ ounce orange liqueur, such as triple sec or Cointreau
Rosemary sprig, for garnish
Instructions
Pour ice into a glass and set it aside.
Stir in a triple sec, ginger beer, and red wine.
Add a sprig of rosemary as a garnish and stir to mix.
Raspberry Red Wine Spritzer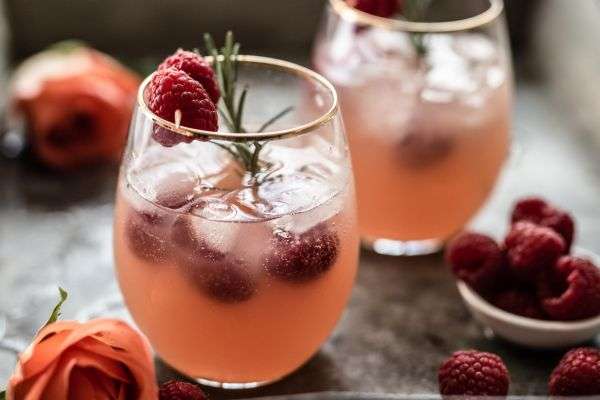 An afternoon in the sun or a hearty lunch go perfectly with a Raspberry Red Wine Spritzer. A large serving of deep red wine rounds out the tart yet sweet raspberries and the lightness of the seltzer. Add a few rosemary sprigs on top to finish this straightforward spritzer.
Ingredients
1 cup raspberries
16 oz red wine
24 oz Limoncello LaCroix seltzer
orange bitters as needed
rosemary sprigs to garnish
Instructions
Line four glasses with two to three raspberries apiece. Using a spoon, muddle the raspberries. Fill halfway with ice if preferred.
Pour equal parts red wine and seltzer into each glass.
Add some orange bitters and give them a good stir.
Add more raspberries and a rosemary leaf as garnish. Enjoy!
Citrus Peach Red Wine Spritzer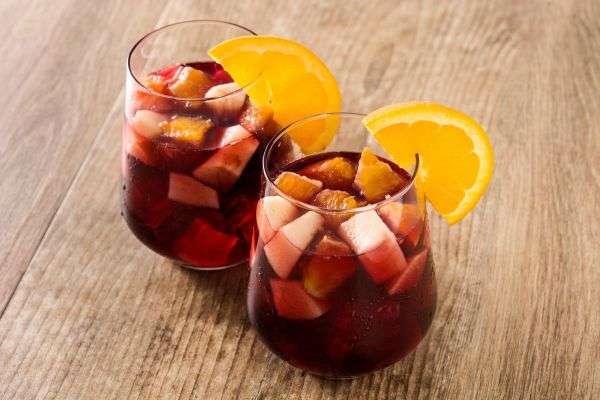 A tasty way to enjoy summer is with a Citrus Peach Red Wine Spritzer. Just four basic ingredients—fresh, luscious peaches—are used. You can use any citrus-flavored soda and add a little extra peach flavor by adding some peach nectar (juice).
Ingredients
Red wine (chilled)
Peach citrus soda or other citrus soda or peach sparking water (chilled)
Fresh or frozen peach slices
Orange bitters
Ice
Instructions
Half-fill a large glass with ice.
Add some slices of peach.
Add two to four ounces of cold red wine.
Put some chilled soda or seltzer in the glass.
Pour in a couple of bitters.
Blend while gently smashing the peaches.
Cabernet Cobbler Cocktail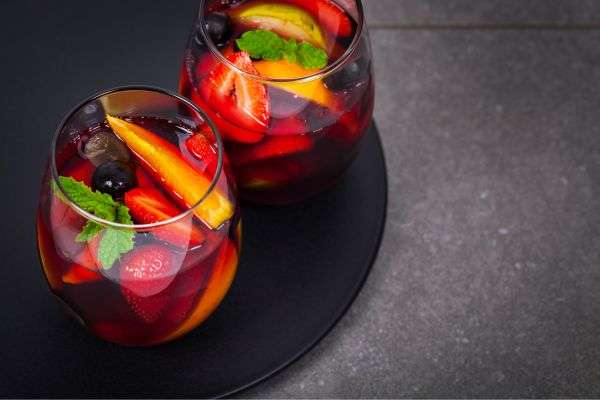 Crafted with care, the Cabernet Cobbler starts with the velvety embrace of Cabernet Sauvignon, chosen for its depth and character. But here's where the magic unfolds—the sweetness of sugar and effervescent from soda water and a hint of citrus create a symphony of flavors that dances on your palate like a summer breeze.
Ingredients
1 tsp of superfine sugar (or sugar)
2 ounces of chilled soda water (or Watermelon-Cherry Kool-Aid)
1 tsp of fresh lemon juice
4 ounces of chilled cabernet sauvignon red wine
Instructions
In a large wine glass, dissolve the sugar in the lemon juice and water.
Pour in the Cabernet Sauvignon wine and add some cracked ice. Gently stir.
Serve with a slice of orange as a garnish.
Strawberry Slushies
The Strawberry Red Wine Slush Cocktail refreshes your senses and elevates your sunny escapades. Imagine the lusciousness of red wine meeting the vibrant sweetness of ripe strawberries, all blended to icy perfection. Served in a frosty glass and garnished with a strawberry on the rim.
Ingredients
1 cup red wine (choose a red wine with fruity notes)
2 cups fresh strawberries, hulled and sliced
2 tablespoons sugar (adjust according to your sweetness preference)
1 cup ice cubes
Optional: Fresh strawberries for garnish
Instructions
Pour the red wine into an ice cube tray and freeze until solid. This may take a few hours or overnight.
Hull and slice the fresh strawberries.
Combine the frozen red wine cubes, fresh strawberries, sugar, and ice cubes in a blender.
Blend the ingredients until you achieve a smooth and slushy consistency. You can add more ice or sugar to reach your desired texture and sweetness if needed.
Pour the Strawberry Red Wine Slush into glasses.
Garnish with a fresh strawberry on the rim of the glass for an extra touch of elegance.
Call Me A Cab Red Wine Cocktail
Picture a fusion of premium vodka, luscious fruit liqueurs, and a splash of citrus, all conspiring to create a cocktail that commands attention. Served in a chilled glass and garnished with a slice of lemon or perhaps an edible flower, Call Me A Cab Cocktail is an invitation to revel in the allure of upscale indulgence.
Ingredients
1 ounces Vodka
2 ounces Lemonade
Float 2 ounces Red Wine on top
Instructions
Choose a stylish glass for your cocktail, such as a wine or highball glass.
Fill the glass with ice cubes.
Pour 1 oz of vodka over the ice. This provides the cocktail with a clean and crisp base.
Follow up with 2 oz of lemonade. The lemonade brings a refreshing citrusy kick to the mix.
Carefully float 2 oz of red wine on top of the cocktail. Pour it gently over the back of a spoon or down the side of the glass to create a distinct layer on the surface.
Add a lemon twist or a few berries for a decorative touch and a hint of flavor.
Red Moon Over Manhattan Cocktail
Red Moon Over Manhattan is an elegant cocktail recipe ideal for a formal soirée in the city or a night sipping cocktails at home. It combines the rich tastes of your favorite bourbon with an opulent, full-bodied red wine.
Ingredients
2 ounces Red Wine
0.5 ounces Bourbon
0.5 ounces Simple Syrup
1 Round Ice Sphere
2 Maraschino Cherry
Instructions
Combine all the ingredients and shake with ice for 20 seconds.
Rub the cocktail glass's rim and spritz an orange peel inside.
Add in the ice ball and pour the drink through a strainer onto the ice.
Garnish the glass with two cherries on a cocktail stirrer.
Devil's Sunset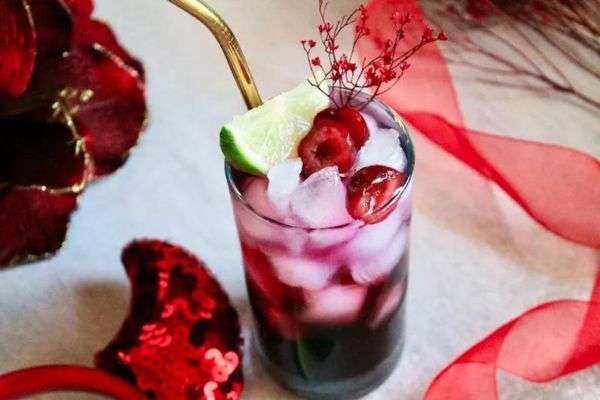 For those times when you want something akin to a red wine margarita—a popular cocktail topped with red wine—the Devil's Sunset tequila cocktail is ideal. With a similar flavor profile, this easy-to-make and delicious substitute contains tequila, sugar, red wine, champagne, and fresh lime.
A delightful combination of red wine, tequila, fresh lime, and citrus taste, this simple red wine tequila drink is completed with a cool burst of cherry sparkling water. This sparkling Devil's Sunset cocktail is what you've been looking for if you want something incredibly simple but still unique.
Ingredients
1 ½ ounces Red Wine Dry – Such as Pinot Noir or Merlot
½ ounces Simple Syrup
½ ounces Blue Curacao
½ ounces Silver Tequila
1 wedge Fresh Lime for squeezing in
1 Sparkling Water for topping off
Instructions
Mix the red wine and simple syrup in a tall, thin cocktail glass using a bar spoon.
Add more fresh ice to fill the glass to the brim. Pour a bit of blue curaçao and silver tequila into the red wine mixture and squeeze in one fresh lime wedge for garnish. Using a bar spoon, stir everything until well blended.
Use the bar spoon to stir it more carefully before adding a dash of sparkling water.
Add lime wedges and freshly cut cherries as garnish.
Serve right away.
Lucifer Morningstar Cocktail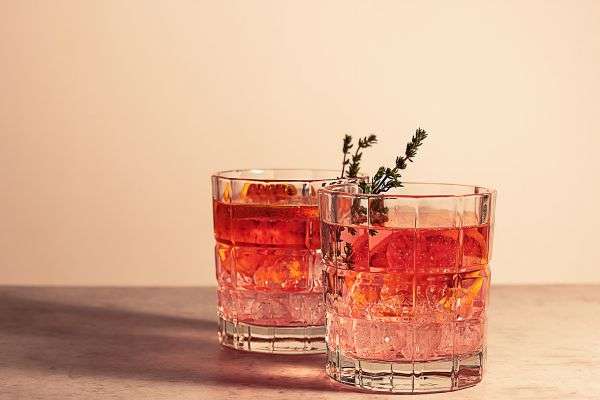 The Lucifer Morningstar Cocktail is the ideal adult-only beverage for your Halloween party. The red drink, made by mixing spiced rum, red wine, and ginger beer, is a variant of the traditional Dark & Stormy cocktail. Red wine and silver shimmer dust create the devilish red color and magic while combining spices from ginger beer and dark rum gives the cocktail a seasonal flavor!
Ingredients
1½ ounces Spiced Rum
1½ ounces Red Wine
¼ ounces Vanilla Syrup
1 tsp Silver Cake Shimmer/Lustre Dust
2 ounces Ginger Beer
Maraschino Cherries
Instructions
Pour the spiced rum, red wine, vanilla syrup, and shimmer dust into an ice-filled glass.
Toss lightly to mix.
Add ginger beer on top, then swirl gently once more.
If desired, garnish with cherries.
Mastering A Cocktail Recipe Of Red Wine Blend
Whew, we've just embarked on a wild ride through the universe of red wine cocktails, and I must say, mastering this mix has been nothing short of a flavor-packed adventure!
We've swirled, sipped, and mastered the art of cocktail wizardry, where each ingredient is a superhero in a cape, bringing its own flair to the party. I can't help but feel like I've just wrapped up the season finale of the hottest mixology show in town.
In the grand finale of our red wine blend cocktail escapade, it's not just about measurements and mixing—it's about creating a symphony that makes your taste buds do a happy dance.
Related Articles
Red Wine Cocktails FAQs
What can be mixed with red wine?
You can mix red wine with:
Fruit Juices: Try orange, cranberry, or pomegranate juice for a burst of fruity flavors.
Soda or Sparkling Water: Create a refreshing spritzer by combining red wine with soda or sparkling water.
Liquors: Experiment with spirits like brandy, cognac, or even vodka to add depth and complexity.
Herbs and Spices: Infuse your red wine with herbs like rosemary or spices like cinnamon for an aromatic twist.
What is the best red wine for cocktails?
The best red wine for cocktails depends on personal preferences and the specific cocktail you're making. However, versatile reds like Merlot, Cabernet Sauvignon, or a fruity Zinfandel are commonly used in various recipes. Choose a wine that complements the other ingredients in your cocktail.
What alcohol can I add to red wine?
You can add various alcohols to red wine to create unique and flavorful cocktails. Some popular choices include:
Brandy: Adds warmth and a touch of sweetness.
Vodka: Provides a neutral spirit to enhance the cocktail without overpowering the wine.
Cognac: Elevates the richness and complexity of the drink.
Liqueurs: Experiment with fruit-flavored liqueurs or herbal liqueurs for added depth.
What not to mix with red wine?
While there's room for creativity, some combinations may not be the best. Avoid mixing red wine with:
1. Overly sweet mixers
2. Citrus overload
3. Strongly flavored spirits
4. Too many ingredients
Remember, the key is balance and experimentation. Mix with care, and you'll discover delightful combinations that suit your taste buds.