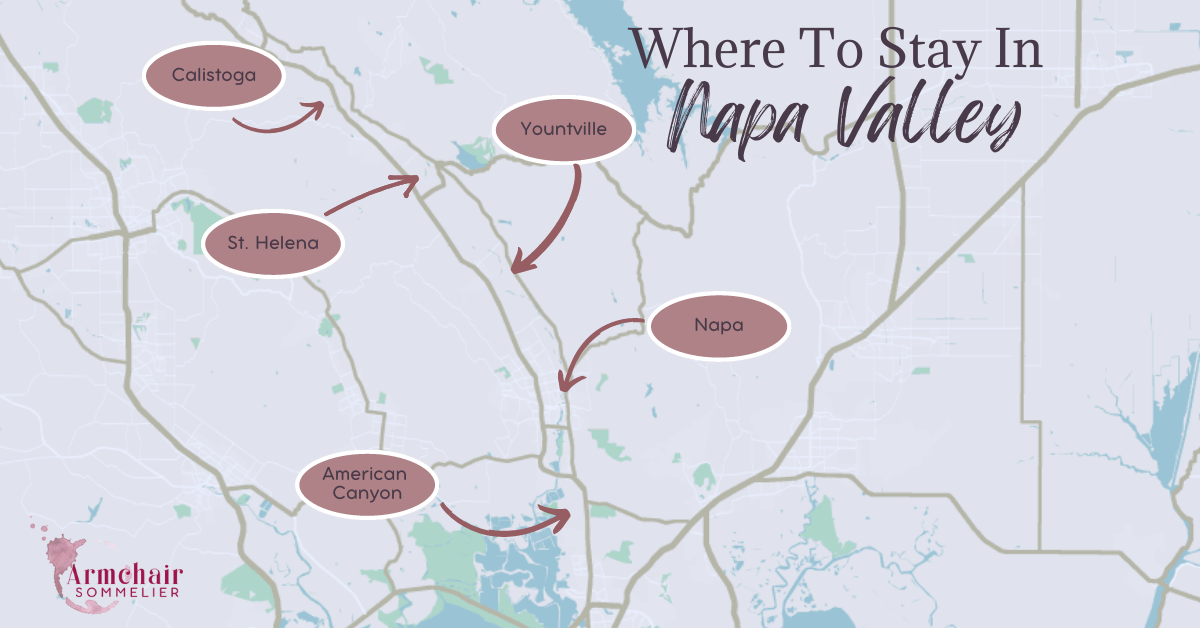 Your Guide To The Best Areas To Stay In Napa Valley
Time to read: 4-6 minutes
Do you know about the five charming wine towns to stay within Napa Valley? 
 So you've heard of the five boroughs of New York City, but have you heard of the five wine "boroughs" of Napa Valley? Each small town within the Napa Valley gives a fresh take on wine country and offers unique tasting experiences, overnight stays and exciting events as part of your overall Napa Valley vacation.
Napa
The town of Napa is like attending a family reunion with a bunch of different personalities sharing brews and burgers at the annual barbecue. Napa is funky, fun, and classy all at the same time which gives you plenty of options of where you want to stay, play, and "wine" down on your visit. 
Where To Stay
There are plenty of bed and breakfasts in Napa, as well as wine county-style inns, but if you want to have a bit of fun and soak up the nightlife in Napa (one of the few towns that have it), stay at the Andaz. While it's a concept hotel from big chain Hyatt, it's more of a boutique hotel with all the modern amenities putting you right in the middle of downtown surrounded by shops, restaurants and tasting rooms. You won't have to go far for entertainment, the Andaz features live music on the outdoor terrace and in their lobby and you're just within walking distance to the famous Oxbow Market and Napa Valley Wine Train. 
Best Wine Tasting Experiences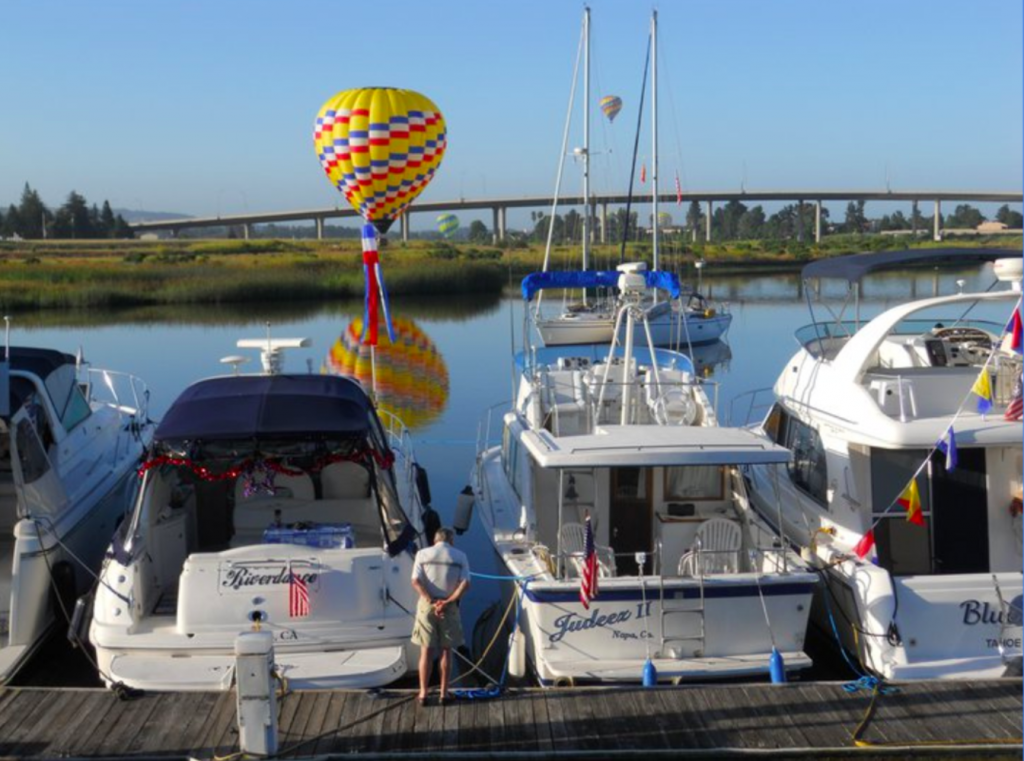 There are plenty of wineries to float your boat in Napa, but if you literally want to take sail enjoy a winemaker cruise. Here's you'll board a yacht at the Napa Yacht Club and enjoy a four-course dinner with wine pairings. From a 50-foot catamaran yacht, you'll enjoy views of the Napa River while learning about its history and ecology. 
Notable Restaurants
It's not just a barbecue, it's an experience. The Bounty Hunter Wine Bar and Smokin' BBQ in downtown Napa is a local favorite with some of the best outdoor BBQ and happy hour you'll find in the valley. Try the beer can chicken served just as it should be — whole and atop a can. You'll also find over 400 wines and an 18-page wine list. 
Attractions
Bottle Rock is the premiere music festival to attend if visiting Napa around Memorial Day weekend. The Coachella of Northern California attracts such talent as Stevie Nicks, P!nk, and Foo Fighters. Bottle Rock blends music with food and wine. You'll find wine tasting tents set up from your favorite wineries and food stations hosted by some the best restaurants in town with additional chef demonstrations sponsored by Williams-Sonoma. 
Yountville
As one of the more walkable towns in Napa Valley, Yountville is a place to wine and dine if you have a thick stack of Benjamins to spend. Filled with some of the most high end restaurants in Northern California including the legendary eatery French Laundry, Yountville is your one-way ticket to fancytown.  
Where To Stay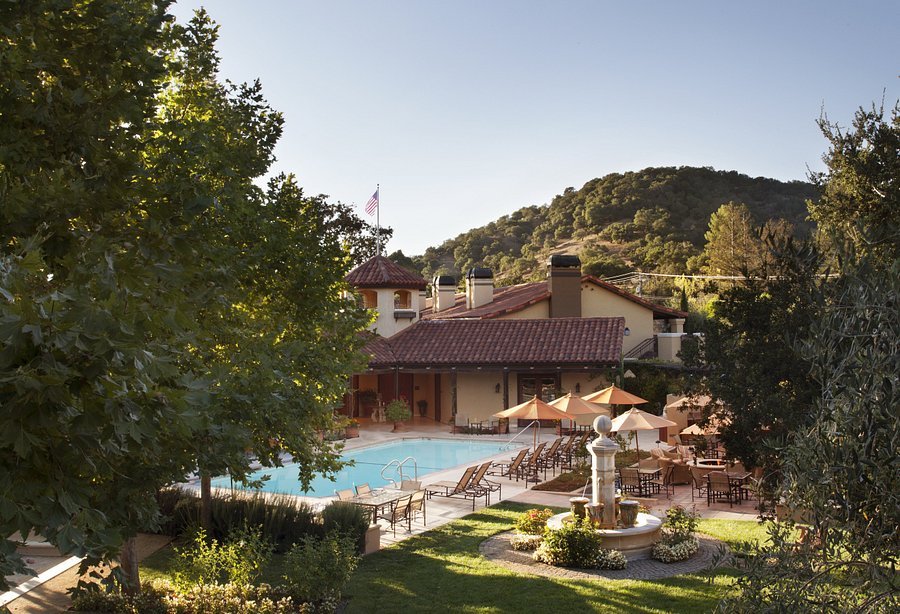 While there are plenty of elegant, high-end hotels in Yountville, you'll find the Napa Valley Lodge a relaxing and more down-to-earth hotel experience as it's away from the town's traffic and sits quietly within a vineyard. It's located at the beginning of Yountville and within walking distance to all shops, restaurants, and tasting rooms. 
Wine Tasting Experiences
Rock and roll your way to wine tasting at Cliff Lede Vineyards where you'll have a one-of-a-kind tasting experience with their award-winning wines just on the outskirts of Yountville. Take a tour of the winery to find the rows and rows of vineyards named after the owner's favorite rock albums and songs like "Dark Side of the Moon" and "My Generation". Don't forget to take a tour of the state-of-the-art wine caves. 
Notable Restaurants
If you're lucky enough to get a coveted reservation at French Laundry, congratulations! But for the rest of us diners, we'll be over at RH Yountville, the modern dining experience from Restoration Hardware where you can shop, dine and taste wine in the historic Ma(i)sonry building. End the night with an espresso from the barista bar as you relax under the crystal chandeliers in their outdoor living rooms. 
Attractions
During your stay in Yountville, download the online walking map and audio tour or stop by the town's welcome center to do the Yountville Art Walk. Tour the outdoor sculptures down Washington Street featuring art from across the world. 
St. Helena
Classic beauty can describe the quaint and sophisticated town of St. Helena where you'll find a bustling Main Street filled with restaurants, shops and tasting rooms. Throughout the town take note of the landmark wineries and Instagram-famous eateries. 
Where To Stay
A clawfoot bathtub, wood-burning fireplace and private outdoor balcony with views of Napa Valley's rolling hills is what your wine-fueled dreams are made of. Southbridge Napa Valley is a modern-day hotel in the heart of St. Helena that features all the charm of a classic wine country inn. Guests get free access to their spa amenities including heated lap pool and invigorating eucalyptus stream room. 
Wine Tasting Experience
It's a long and winding road to get there, but Pride Mountain Vineyards is worth car sickness as it features some of the best cabs in Napa. Here's a secret insider tip you won't find anywhere else — Pride Mountain Vineyards is not only an exceptional winery to visit during your Napa Valley stay, but has a little known picnic spot down the hill that features a tree swing and remnants of the old Summit Winery founded in 1890 on the same property. 
Notable Restaurants
Gott's Roadside Diner may look like a vintage roadside diner, but it was actually founded in 1999 by the Gott Brothers. Here you'll find Instagram-worthy foods like their crispy tofu burger, cauliflower fries, and kimchi burger. Don't leave without trying one of their famous hand-spun milkshakes. 
Attractions
For a perfect day in St. Helena add one rented bike from St. Helena Cyclery, stop at the St. Helena Farmers Market (Fridays) for some fresh local treats, and then tour the Robert Louis Stevenson Museum, the writer of such classics as Treasure Island and The Strange Case of Dr. Jekyll and Mr. Hyde. Sprinkle wine on your adventure with a stop at Beringer Vineyards for a self-guided walking tour and visit the downtown tasting rooms on Main Street where you'll find historic buildings and street lamps from the early 1900s. 
Calistoga
Soak up all the wine and relaxation in this spa-friendly destination with small-town vibe where there are plenty of shops, tasting rooms, and hot springs to keep you drunk on self-love. The town was founded in 1862 by the state's first millionaire, Sam Brennan and made to be the hot springs resort destination of Northern California. 
Where To Stay
After wining all day, kick back at Indian Springs Calistoga where you can continue your rustic vineyard vacation in one of their historic cottages and bungalows that spreads over 17 acres. There's a spa, Sam's Social Club restaurant with artisanal cocktails and you get even get your zen on at the Buddha Pond. Don't miss the Olympic-sized mineral pool. 
Wine Tasting Experiences
Don't settle for the expected when wine tasting, take your palate to Tank Garage Winery, a 1930s gas station where you can taste a selection of their California blends in edgy wine bottles with labels featuring one-of-a-kind art and photography. Be a gangster and ask about their secret speakeasy in the back. 
Notable Restaurants
Feed your appetite with a taste of the old west at Cafe Serafornia. Not so much in food, but in its no frills, no attitude, reasonably-priced entrees in a no-reservations diner that has been serving all-day breakfast to visitors and locals since the 1890s. Hot tip: get there early to avoid the lines! 
Attractions
Put down your wine glass for a breather while you enjoy the natural wonders of Calistoga. After you enjoy one of the many mineral pools including Calistoga Spa Hot Springs and Dr. Wilkinson's Backyard Resort, take your rested soul to Old Faithful Geyser where you can partake in the thrill of seeing this infamous geyser erupt every 30 to 40 minutes.
American Canyon 
Sitting at the very southern tip of Napa Valley, American Canyon is the town known for being the most approachable with easy access to San Francisco, affordability, and close to kid-friendly attractions. It's down-to-earth vibe is visible in the many trails and parks you can explore. 
Where To Stay
Accommodations are usually the priciest part of a vacation, but you'll find budget-friendly hotels in American Canyon like Doubletree by Hilton Hotel & Spa, Fairfield Inn & Suites, and Holiday Inn Express. While they are not your quintessential cozy Napa Valley Inn, you can't beat that free breakfast. 
Best Wine Tasting Experiences
All of those Napa Valley wineries you hear and read about are found north of American Canyon, however while visiting this town take advantage of the lesser known wineries and tasting rooms like Jamieson Ranch, an old west-inspired vineyard with inviting outdoor wine cabanas and a restaurant featuring ingredients from the chef's own organic garden. 
Notable Restaurants
Make your next meal an adventure when you embark on the Napa Valley Taco Trail. Tour the best taco spots in the valley that starts in American Canyon at two taquerias — Tacos Michoacan and Los Cantaros Restaurant.
Attractions
While American Canyon may seem like a stopping ground before you head into the more populated towns of Napa Valley, you'll find golf is quite the draw in this small wine town. From the Chardonnay Golf Club to the Eagle Vines Vineyards and Golf Club, practice your swing while working out your wine arm muscles, sipping and putting on the green. 
As you can see, there's so much more to Napa Valley when planning your visit. Each town within the valley has its own unique offerings and can make your vacation so much more exciting and fulfilling when taking time to explore each of the individual towns. 
Author: Tiffany Carter
Tiffany is a contributing writer to Armchair Sommelier. When she isn't writing about wine, the California native is touring local wineries (Hello Napa and Paso!) and filling her glass across the globe (Ciao, Tuscany!). She loves a full-bodied cab, but she plays favorites when it comes to a spicy Zinfandel or juicy Malbec. Her fridge is stocked with a bottle of sparkling rosé for emergencies. Hint: there's always an emergency. You can follow Tiffany @winetastetravel.
Taste Wine Like A True Armchair Sommelier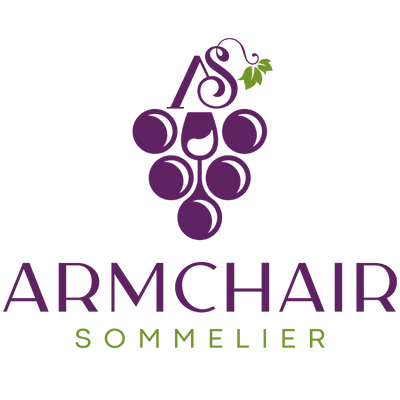 Spice up your next party with our FREE wine tasting guide! Learn what to look, smell, and taste for while appreciating your favorite bottle. We've also included a printable tasting notes template and a tasting wheel.