dog friendly wineries napa Valley: A Traveler's Guide
If you're wondering which are the dog friendly wineries in Napa Valley, you've landed in the right place. We're answering all the how-to-visit-Napa-with-your-dog Qs.
Share your next wine country experience with your most loyal friend in none other than Napa Valley. Napa is known as the nation's premier destination for wine tasting, but also the perfect place to enjoy a glass of wine with your beloved pet.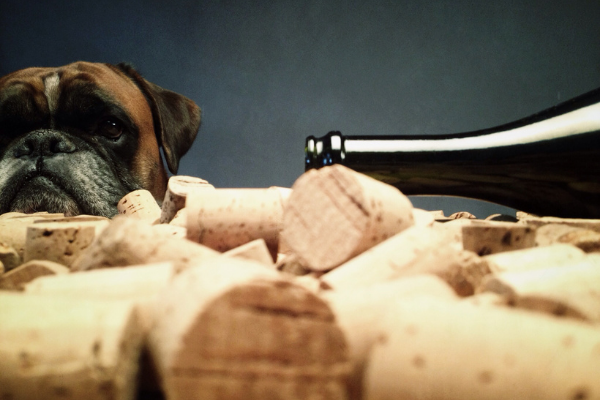 Let's face it, if your dog could talk, he'd be a master sommelier — sniffing fine wines and pinpointing every aroma and note.
"Oh yeah, I taste tennis balls, wet rock, and leather shoes in this glass".
There are plenty of dog friendly wineries in Napa to keep you and your furry pal drunk on sun rays and relaxation.
Are Dogs Allowed At Napa Valley Wineries?
The short answer is some do, some don't. Keep reading for specific Napa wineries that are definitely pet friendly. That said, many wineries in Napa Valley do allow dogs on the grounds, on patio spaces, or even into tasting rooms.
Before You Take Your Pet Wine Tasting
Call ahead to the winery to get their most up-to-date pet policy. Even if the website says "We're a dog friendly winery in Napa" ask if pets are allowed inside or outside the tasting room and make your reservation accordingly.
Find out if there are any poisons/toxins on the property that could be harmful to your pet such as tulips.
When booking your reservation, note that most wineries do not allow pets inside their wine caves for tours and wine tastings.
Tips For Your Napa Wine Tasting With Your Dog
Keep your pet on a leash at all times
Do not leave your pet unattended
Bring a portable water dish with you
Bring pet food/snacks and toys to keep your pet occupied
Be sensitive to others who may not be comfortable around dogs
Check-in with your pet — are they stressed? Not all pets love wineries as much as you do
Make sure there is adequate shade for your pet, especially in the hotter summer months
Be respectful to the winery — the owners, other guests, and the winery grounds
Clean up after your pet
Our Favorite Napa Valley Dog Friendly Wineries
Domaine Chandon Is A Dog Friendly Winery In Napa
Your four-legged friend is welcome at Napa's sparkling wine destination. While there are no pets allowed inside the tasting room, you can enjoy your bubbles outdoors. You and your pet can walk the beautiful grounds and dine al fresco in their picnic area.
Domaine Chandon
1 California Drive.
888-242-6366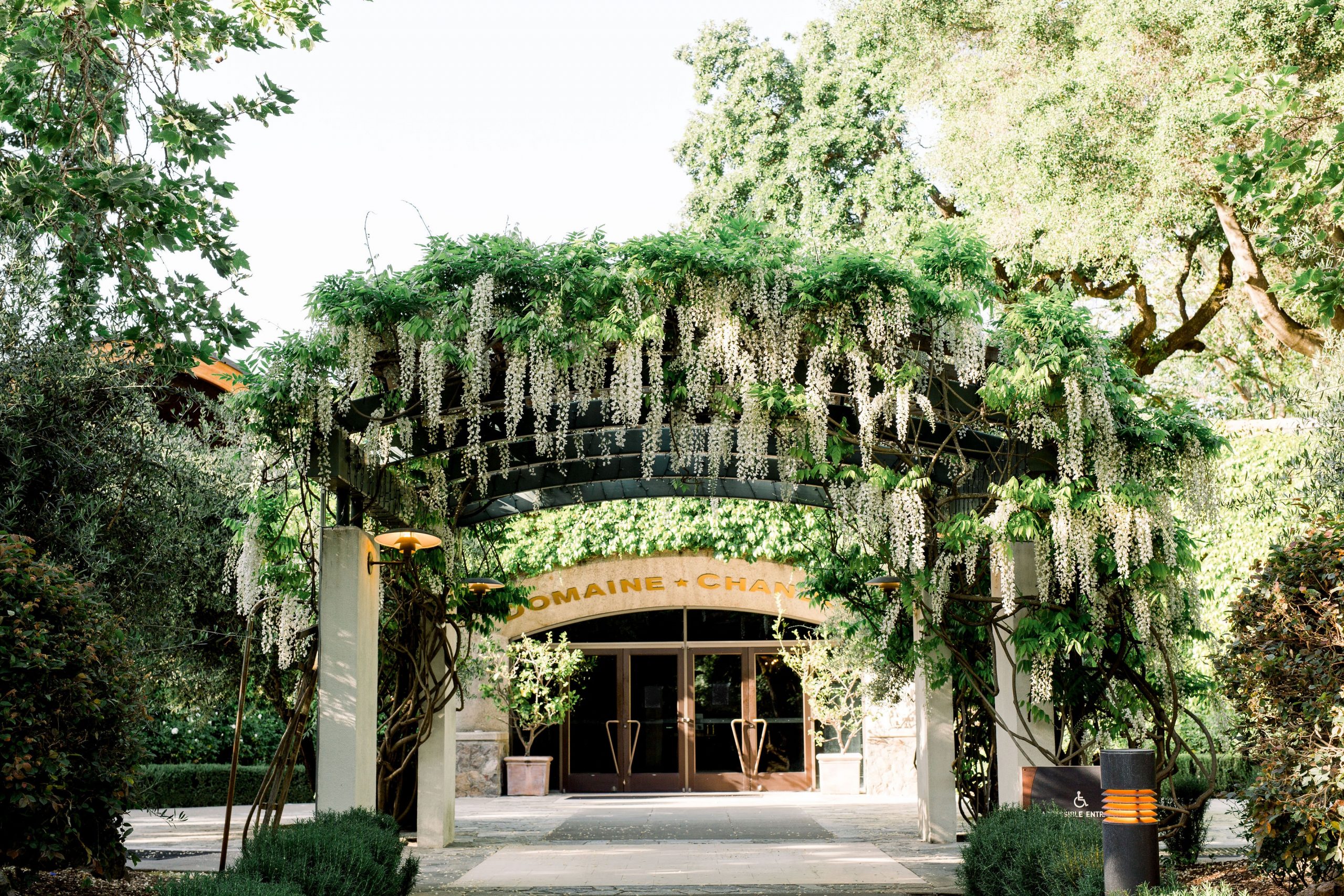 Frenchie Winery at Raymond Vineyards
Don't plan your canine wine tasting trip without adding Frenchie Winery to the itinerary. An entire area of Raymond Vineyards is dedicated to the owner's bulldog, Frenchie, where your pup can be wine country chic in its own dog suite with a doggie bed made from wine barrels. Dogs are provided with water and treats and are allowed both on the patio and inside the tasting room.
Frenchie Winery / Raymond Vineyards
1585 St. Helena Hwy.
707-963-3141
---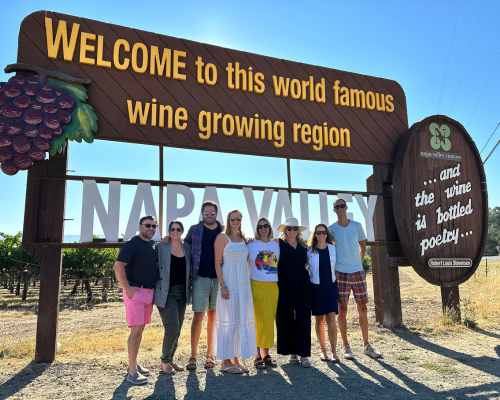 Planning a trip to Napa but don't know where to start, or worse yet, you're 10 hours deep and frustrated? You won't want to miss our Napa Trip Planner!
---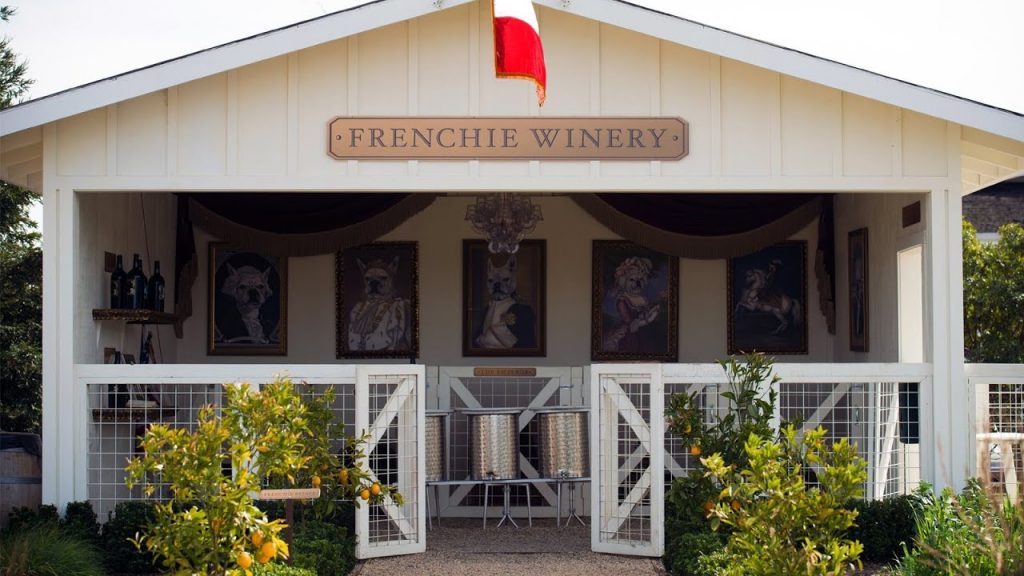 Grgich Hills Estate
The 100% Certified Organic vineyard at Grgich Hills is also 100% pet friendly. Enjoy a flight of their estate grown wines on their outdoor patio with your pet by your side while soaking up the sunshine overlooking their breathtaking vineyards.
Grgich Hills Estate
1829 St. Helena Hwy.
707-963-2784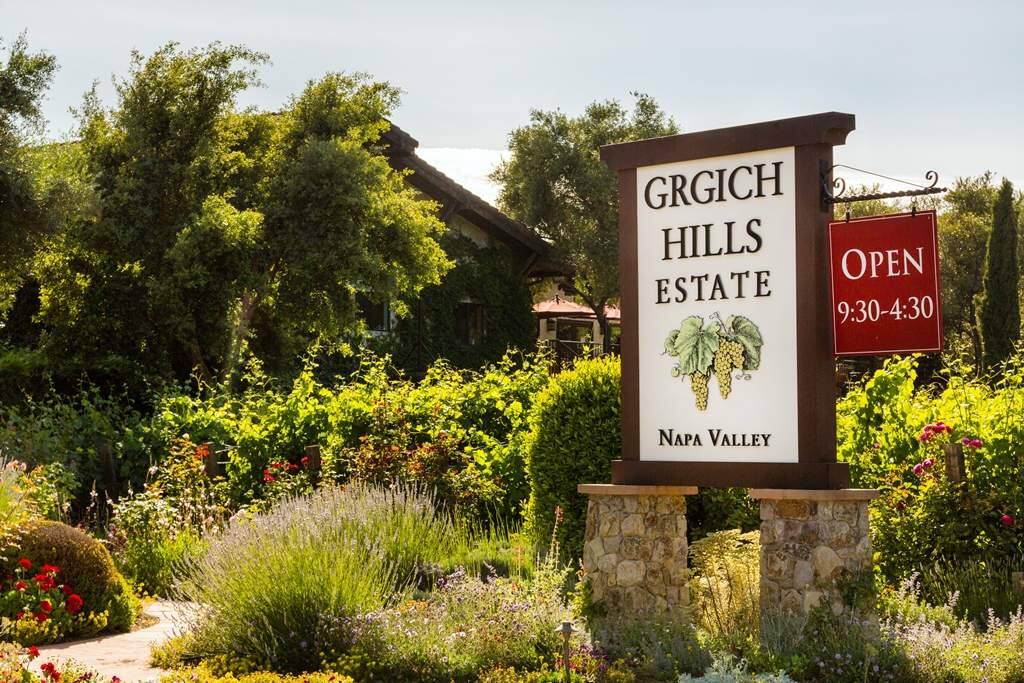 HALL Wines
You'll feel right at home at this family-run winery which boasts award-winning Cabernet Sauvignon and Vintage Sauvignon Blancs. Explore the wonderland of sculptured art on the grounds of HALL Wines with your pet.
After, catch a flight of their 90+ point wines outdoors where your furry friends are welcomed with open arms. The owners are such pet lovers, they have hosted Harvest Hounds in the past, a charity event where they raise money for shelter dogs in Northern California.
Hall Wines
401 St. Helena Hwy. South St.
707-967-2626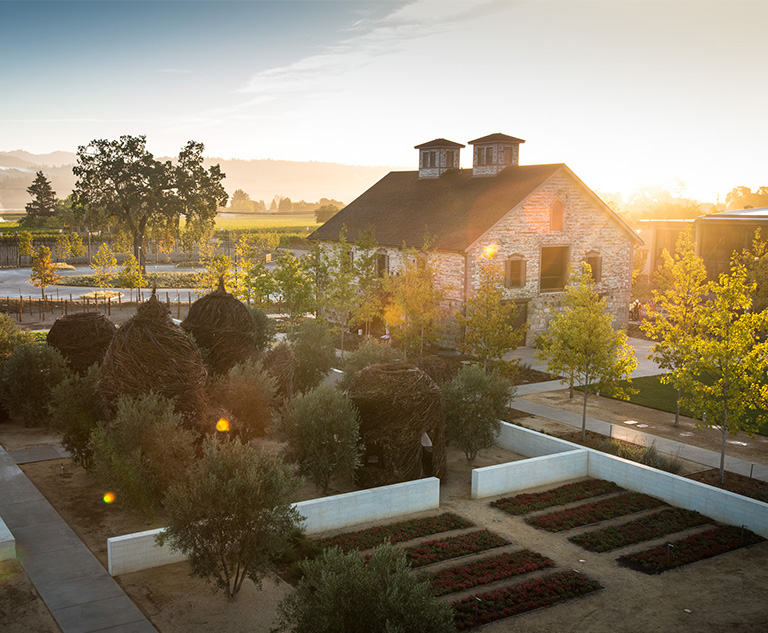 Honig Vineyard and Winery
The folks at Honig Winery make dogs an integral part of their winemaking process. The three golden retrievers on staff are known as "sniffer dogs" and are used to detect those pesky mealybugs, a threat to vines that are hard for you and I to spot with the naked eye. Dogs are welcome for an outdoor tasting where their human friends can try their two bestselling varietals — Cabernet Sauvignon and Sauvignon Blanc.
Honig Winery
850 Rutherford Rd.
800-929-2217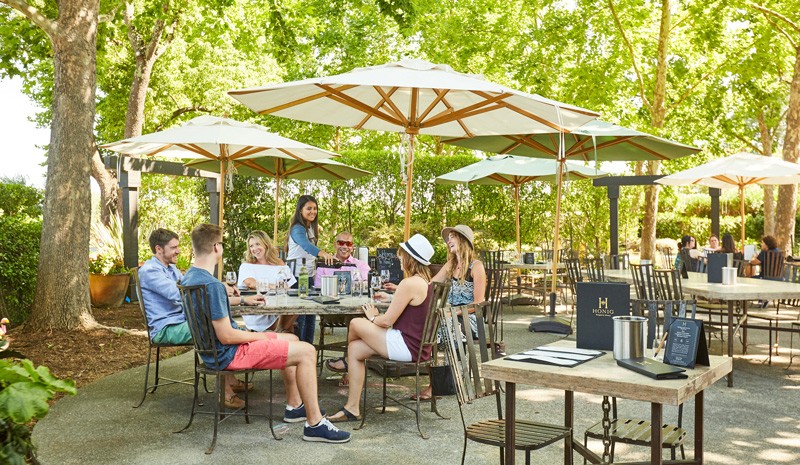 Migration Winery
The wine tasting experience at Migration (from the Duckhorn portfolio of wines) is not just for humans.
Dogs are given the VIP treatment at their outdoor space with a special Barkuterie board made with a custom Migration branded biscuit, duck sausages and Mother Hubbard treats.
How sweet is that?
Make sure you reserve this treat when booking your reservation.
Migration
1451 Stanly Lane
707-415-2298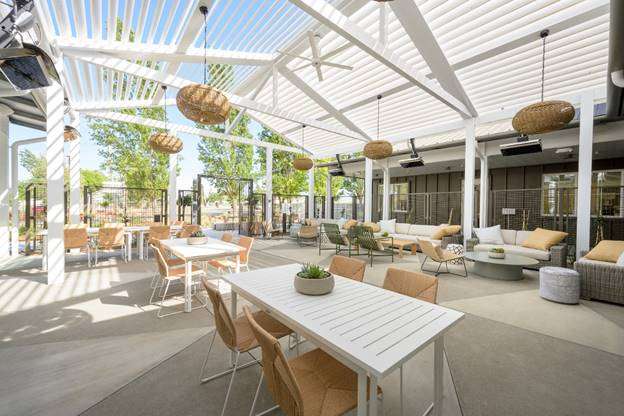 Trefethen Family Vineyards
This stunning family-owned and operated winery was built during Napa's Golden Age in 1886 and its three-level design is one-of-a-kind in Napa Valley. It's one of the first wineries you and your pet will see as you drive down Highway 29.
This sprawling farm estate with an outdoor garden is the perfect place to relax with your pet as you sip on their award-winning estate wines.
Trefethen
1160 Oak Knoll Avenue
707-255-7700
Tres Sabores Winery
When there is an entire page on their website dedicated to their wine dogs, you know you and your pup have found the perfect doggy+hooman wine destination. Tres Sabores is a women-led, organic winery, boasting that there are usually more dogs than humans at the winery.
Their large pack of golden retrievers will greet guests upon arrival and make sure you are enjoying your wine with one hand and offering doggy head scratches with the other.
Tres Sabores Winery
1620 S. Whitehall Lane
Phone: 707-967-8027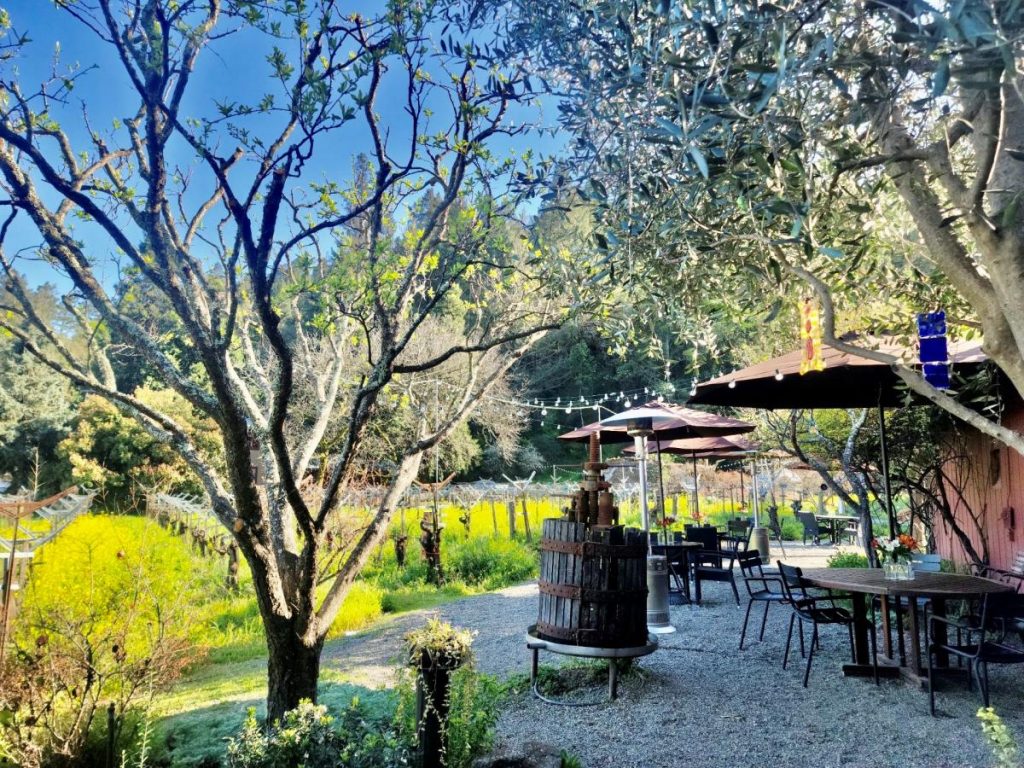 want to bring wine country home with you?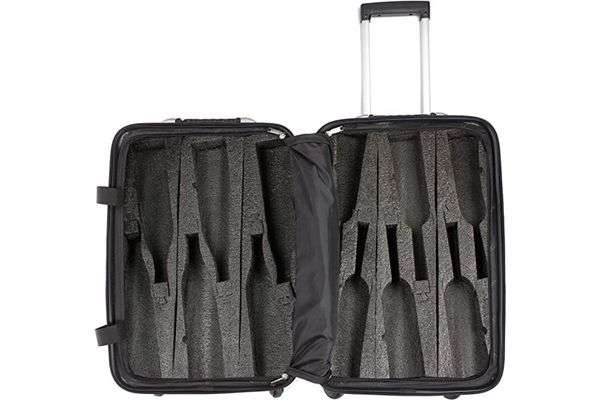 We recommend the VinGardeValise 12 bottle wine suitcase. There are a couple ways you can use this suitcase. One is, when you come home you only pack half the suitcase with wine and the other side clothes; or, what we do is bring a duffle bag to carry our clothes home. You can still check a duffle bag home btw, you don't have to schlep it around for all four connections.
Pro tip: you can also use the duffle bag to drop off your clothes to be laundered if you're doing an extended trip. Multiple uses for one duffle bag.

Author: Tiffany Carter
Tiffany is a contributing writer to Armchair Sommelier. When she isn't writing about wine, the California native is touring local wineries (Hello Napa and Paso!) and filling her glass across the globe (Ciao, Tuscany!). She loves a full-bodied cab, but she plays favorites when it comes to a spicy Zinfandel or juicy Malbec. Her fridge is stocked with a bottle of sparkling rosé for emergencies. Hint: there's always an emergency. You can follow Tiffany @winetastetravel.